This post may contain affiliate links
Whether you are an experienced guitar pedal builder, or just starting out – breadboarding your circuits is something every builder should do. As this can help you understand how the internal components will interact with one another, and troubleshoot issues without having to deal with deconstructing your build.
While breadboarding your builds is always a great idea in the guitar pedal building process (or any circuitry for that matter), it can be a rather time consuming process, since you must reconnect the switches, jacks, and potentiometers every time you prototype a build.
However, something recently caught my attention…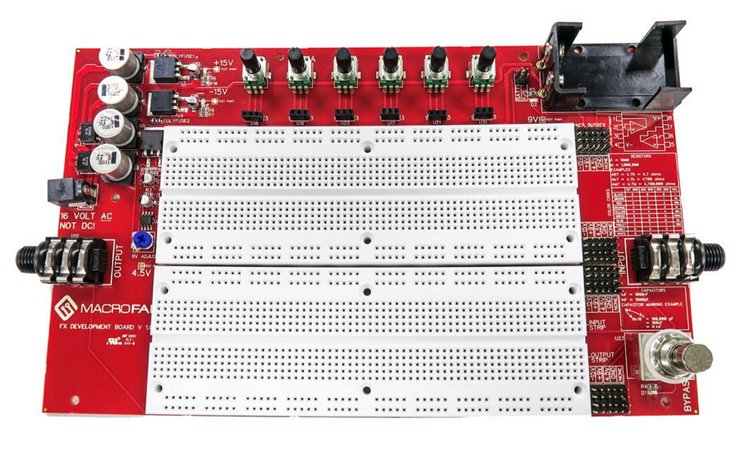 The FX Dev Board from MacroFab.
The FX Development Board (which is currently being crowdfunded here) is an open source, audio electronics prototyping platform – which allows a builder to utilize its solderless breadboards, interfacing peripherals, and multi-rail power supply to build their pedals and other audio electronics.
I know you may be thinking, "Well… what does that all mean?"
In short, it means: the world of DIY pedal building just got better.

The FX Dev Board helps significantly cut prototyping time with its built-in components. This eliminates the need to connect the switches, jacks, and potentiometers – since they are all housed on the development board.
So what is on the FX Dev Board?
6 Potentiometers
9V Battery Holder
Input & Output Jacks
True Bypass 3PDT Switch
Two Breadboards
Power Supply with Adjustable Power Supply Connections
The above parts are all integrated into the FX Dev Board, so you don't have to worry about making a mess of wires and potentiometers every time you prototype a build. Here is an in-depth look at its features:

How Much Does the FX Dev Board Cost?
There are currently two pricing options available
$150 for just the FX Development Board
$190 for the FX Development Board + A Wire Jumper Kit + A Steel Enclosure
Both options come with downloadable build templates to help get you started. We believe these prices are incredibly fair, due to the sheer versatility & usability of this tool.
Keep in mind, this is a preorder. The FX Dev Board is still under development, and will not be shipped until April 14, 2017.
Overall, the FX Dev Board is a massive leap forward in the guitar effects building world, and we are incredibly excited to see this project move forward!
Are you just starting out in pedal building? Check out our DIY Guitar Pedal guide for some help with getting started!