This post may contain affiliate links
As your guitar pedal collection grows and you slowly start running out of places to hide them around your house, you may find it is time to sell a few pedals to clear up some space. 
While the thought of selling one of your beloved guitar pedals is extremely sad, doing so is actually a decent way to bring in some extra cash in exchange for pedals you aren't using anymore. 
But what are the best places to sell guitar pedals? 
Below you will find a list of the best options for selling your used guitar pedals – both online and locally. We have also created a step-by-step guide on how to list your pedals to sell online which you will find at the bottom of the page.
The Best Places to Sell Used Guitar Pedals
Reverb (Our top choice)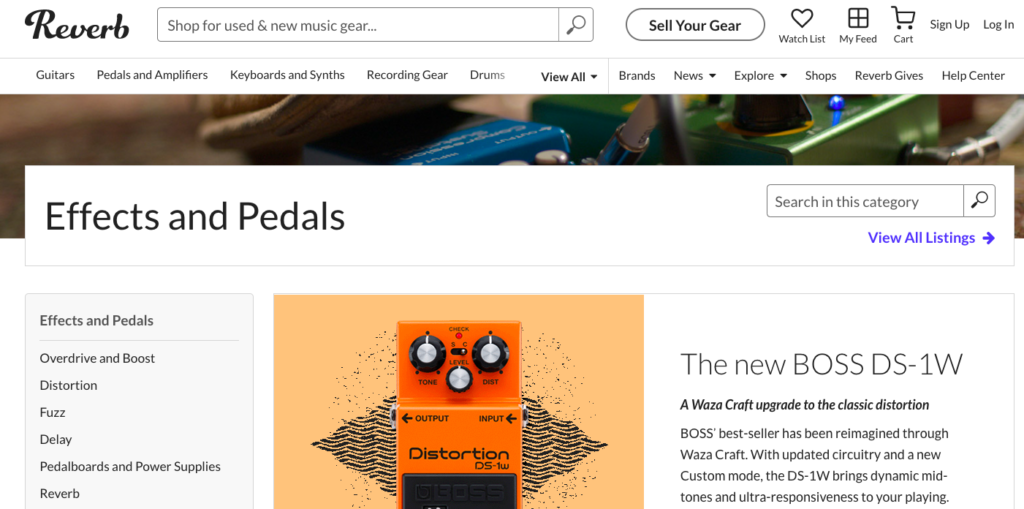 When it comes to selling guitar pedals, my #1 choice is selling them on Reverb. If you aren't familiar, Reverb is an online marketplace specifically for musical equipment – it's like the eBay of gear. While a lot of companies use Reverb to sell their new pedals, it is an incredible platform for selling used gear too. 
One massive benefit of selling used guitar pedals on Reverb is that the website has a worldwide reach – so your listings will be seen by many more people than if you were just trying to sell your pedals locally. You, of course, will need to worry about shipping your pedal if you sell it to someone in a different state or country, but Reverb allows you to factor in shipping costs to your listing price so the buyer will take care of it.
To learn more about selling used guitar pedals on Reverb, head over to Reverb.com to set up your account!
Note: Reverb does take a small percentage of each sale for a listing fee (5%) and payment processing fee (2.7%) – but you still end up with 92.3% of the sale price in the end. So if you sell a pedal for $100, you will make $92.30 after the Reverb fees – not too bad considering all of the benefits of using the platform.
Gear Forums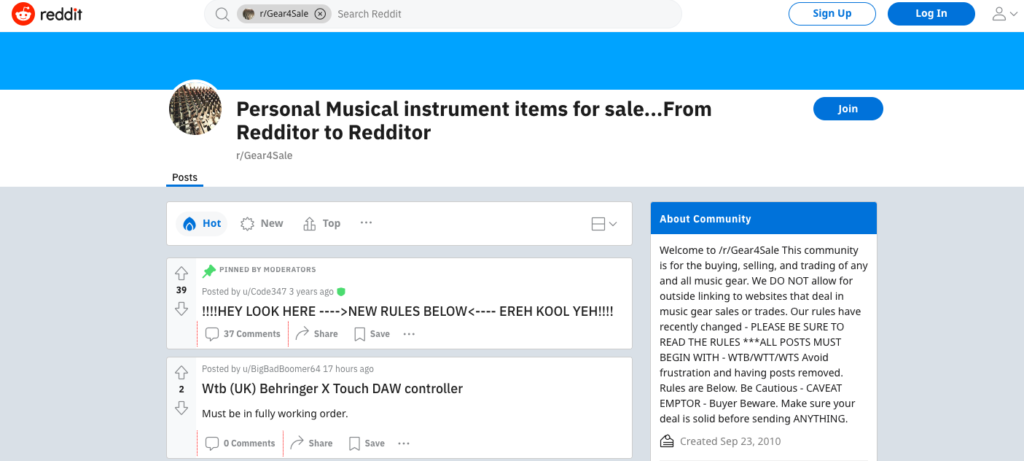 Another option for selling used guitar pedals online is listing them on gear-related forums. There are an endless amount of gear forums on the internet, but two major options are The Gear Page or specific places on Reddit (like the /r/Gear4Sale subreddit).
Forums like those listed above can be a good place to try selling used guitar pedals, however, may not be as secure as the other online options mentioned, as they are completely peer-to-peer. That said, the moderators of those forums have solid rules in place to help ensure both buyers and sellers are as protected as possible – just be careful when selling or buying gear on forums.
If you decide to use a forum to sell your used pedals, be sure to check out the forum's rules first to ensure you are posting correctly – otherwise, you may get suspended or banned from using the forum entirely.
Some forums are free to list items for sale and others do charge fees for doing so. Just be sure to read the rules surrounding "for sale" posts for each specific forum.
Facebook Marketplace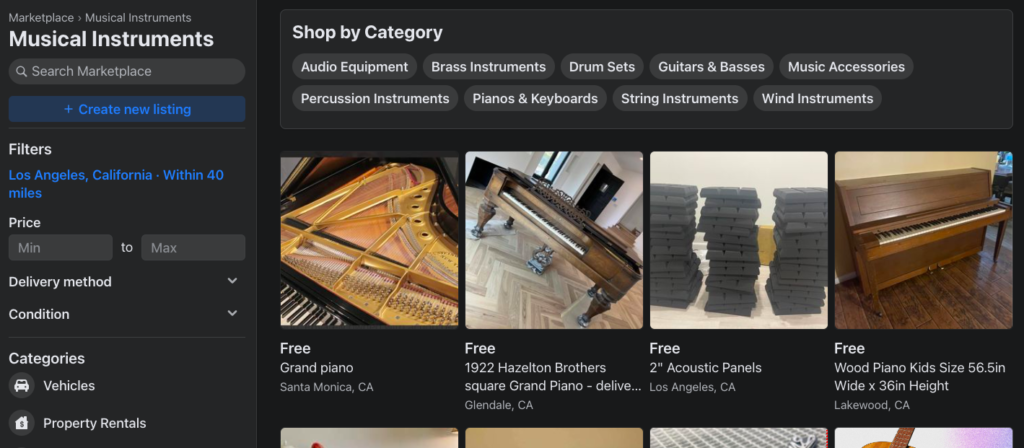 Another place you can try to sell your used guitar pedals is the Facebook Marketplace. This is an especially good option for selling gear locally.
But your success with selling gear on the Facebook Marketplace may depend on the gear community in your local area. If you live in a smaller town or in a place with a not-so-interested-in-gear community, you may not get much interest in your pedals. Of course, you can also list items available to ship on the Facebook Marketplace, but at that point, it may be a better option to just use Reverb to sell your pedals online.
Safety Tip: If you are selling pedals locally, and need to meet up with somebody to make the exchange, make sure you do it in a safe area like a busy parking lot or coffee shop.
Craigslist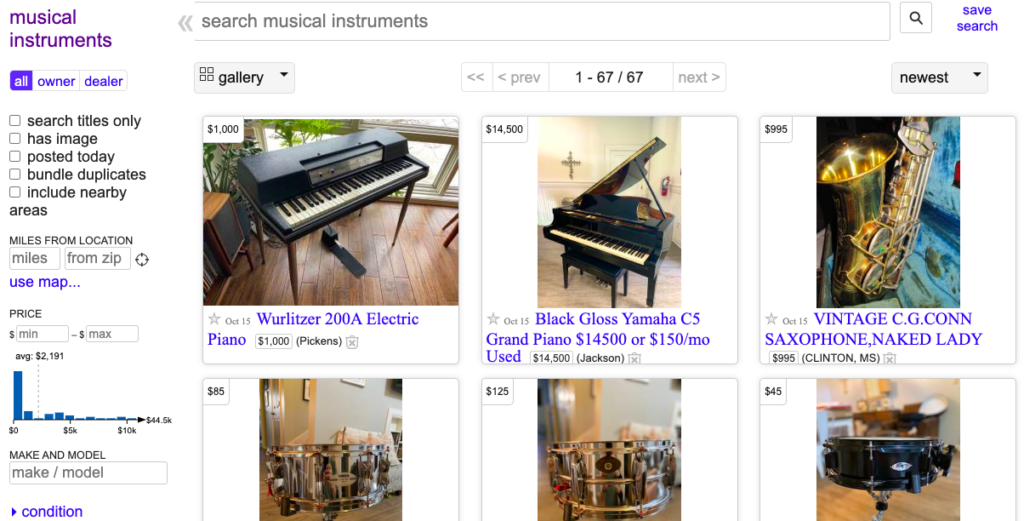 Craigslist is still a wonderful option for selling used guitar pedals in your local area – and it is quite easy to use. Like the Facebook Marketplace, your success may depend entirely on the interest in your area, but it is definitely worth a try.
If you are not familiar with Craigslist, simply find the Craigslist page for your area here. Then you will see a "Music Instr" section under the "For Sale" category. Here, you will see all of the current listings in that area. You'll need to click "Post" at the top of the screen, and then follow the steps to create your listing (make sure you list it in the correct "Music Instr" category!). And you're all set. 
Just like I mentioned with the Facebook Marketplace if you sell a pedal locally and need to meet up with the buyer to make the exchange – be sure to do it someplace safe, like a busy parking lot or a coffee shop. People are weird. 
Social Media
If you have a large number of like-minded gear nerd friends on Instagram or Facebook, it could be worth making a post there about the pedals you are selling. Include photos of the pedal and some more information on what the pedal is and the price you are asking for it.
Of course, this is quite similar to listing the pedal for sale on Craigslist or Facebook Marketplace, but you may end up selling the pedal to a friend, which is always fun (and maybe they'll let you come play with it for old time's sake!)
Guitar Retailers and Local Music Shops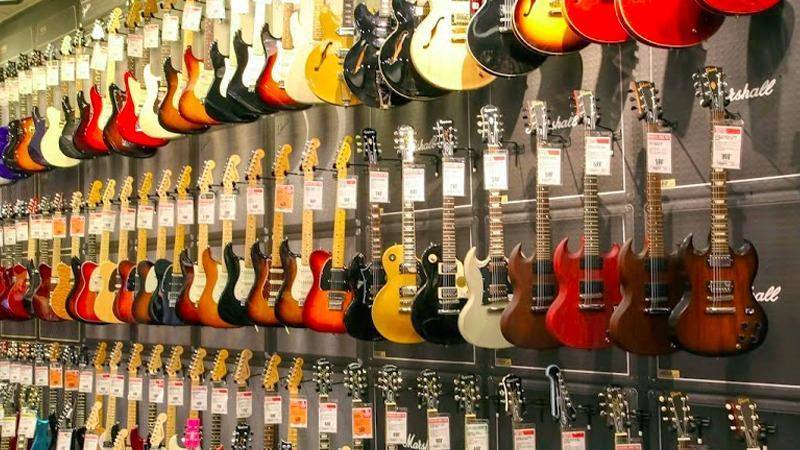 If you have tried all of the aforementioned options and can't seem to sell your guitar pedal, the last option you can try is selling or trading it at a guitar retail store, like Guitar Center or Sam Ash. These stores will usually buy used gear from you if it is in good condition, but they typically don't offer much money for used pedals – which is why I would recommend trying to sell your pedals one of the other ways mentioned above first. 
That said, stores like these usually do offer some cool trade-in deals, so if they have a piece of gear that you want it may be worth it to trade in your used pedal towards the cost of the new piece of gear! 
Local music stores in your area may offer the ability to sell or trade-in your used gear to them, so check them out!
How to List Guitar Pedals to Sell Online
Now that you know where to sell used guitar pedals, here's a helpful guide on how to ensure your listings stand out in the crowd.
Step 1: Clean the pedal
Nobody wants a guitar pedal that is dusty and covered in cat hair. Before taking photos of your pedal to list online, take a couple of minutes to dust it off (Tip: use a Q Tip to clean up around the knobs and hard-to-reach places). If you have velcro on the bottom of the pedal, chances are it is gross, so consider taking it off and replacing it. 
Step 2: Take Good Photos
After you clean the pedal, take some time to snap a few good photos of all sides of the pedal. DO NOT just take a lazy, blurry photo of the pedal sitting on the floor. Find a nice place in your house with a clean backdrop – maybe on a table against a plain wall or somewhere nice outside). Take a photo of not only the front of the pedal, but also the sides, top, bottom, and back of the pedal. If there are any chips in the paint or damaged areas, be sure to take a close-up photo of that area so buyers are aware of it.
If you need some inspiration, head over to Instagram and check out the photos that pedal companies are posting of their pedals! Or check out some existing used pedal listings on Reverb to see what other sellers are doing.
Step 3: Choose Where You Want to Sell the Pedal
Figure out if you'd like to sell your guitar pedal online, like on Reverb or on a forum, or if you'd prefer to sell it locally on Craigslist or Facebook. 
Step 4: Create Your Listing
Once you have decided where you want to sell it, it is time to make a listing. Follow the steps that the selling platform provides to create the listing and be sure to be descriptive. 
When writing your post title, you will usually want to write it like BRAND NAME – PEDAL NAME. If the pedal is unique, be sure to include that. For example LIMITED EDITION – BRAND NAME – PEDAL NAME
Then upload your photos to the listing.
Finally, you will want to write the description. Here you can explain what the guitar pedal is and why you are deciding to sell it. If there are unique features like if it is a limited edition pedal or if it has been modified, include that here too. If there are any issues with the pedal (cosmetic damage…etc) you will want to be honest and talk about it here – include photos of said issues so there won't be any confusion once someone actually buys it.
Note: Each platform will have different requirements for creating listings. Some will require you to select various categories or provide further details – just follow the steps each platform provides and you will be good to go!
Step 5: Sell the Pedal! 
After you've created your listing it's time to sit back and wait for the money to roll in! If you sell the pedal online, it is important to verify that the payment is good-to-go and then be quick about shipping the pedal out to the buyer. Remember to add padding to your package so your pedal doesn't get smashed up in the back of a shipping truck. If you can, get a tracking number to keep an eye on the shipment.
If you are selling the pedal locally, then you can arrange a time and place to meet up with the buyer to make the sale. As mentioned above, be careful when doing this. Agree to meet in a busy area, like a parking lot or a coffee shop, and maybe bring a friend!
Now that you have sold your pedal, it is time to shop for some new pedals! If you're on the hunt, check out our guitar pedal shopping guides for some of our top pedal picks! Or check out the Pedal Haven merch store for some rad stickers, shirts, hats, and more!