Backstory: A little over a year ago, I was on the hunt for a clone of the beloved Triangle Big Muff, an early version of the Electro Harmonix Big Muff that surfaced in the late 60s and went into production in 1971. The Triangle Big Muff has a very distinguishable fuzz tone, which sounds massive when playing heavy power chords. If you know me at all, I have an indescribable love for heavy, fuzzed-out tones that will rattle the pictures off the walls of whatever room the rig is in. In short, I wanted one.
However, the Triangle Big Muff is extremely rare nowadays, meaning that these pedals – if you can find them – are incredibly expensive. Here is one on Reverb selling for $700. Therefore, I had either get rich or find a clone. I settled for the latter.
I spent quite a bit of time scouring Google and asking fellow pedal lovers for their opinions, and I eventually came across, and ordered a pedal from, a company based out of Chicago called, Chicago Stompworks.
About Chicago Stompworks
Chicago Stompworks is a boutique guitar pedal company who recreates many of the vintage guitar pedals that are sought after today. However, they aim to keep their pedals rather affordable. In fact, their tagline is, "Boutique Pedals for the Working Guitarist". Pretty neat!
Chicago Stompworks builds these high quality vintage pedal clones with a modern twist, including noiseless, true-bypass wiring and 9v power supply capabilities. Some of their popular clones are one called "Mr. Vermin", a vintage ProCo RAT clone with a LM308N chip, and the "Fat Bald Guy", a late 70s-style Muff pedal with a massive amount of tonal options. They have a really cool selection of clone pedals available on their website!
Chicago Stompworks definitely has a lot of pre-built pedals in stock to choose from, but a unique aspect of their company is their Custom Builds. This is the option that I went with, and I will talk about the pedal I received from them below. These custom builds give you the ability to choose which of their vintage pedal-inspired circuit options to put in the pedals – while also giving you the ability to chose the enclosure, LED, knob, and 9v jack colors. This means you can add a lot of personal touch to the build they create for you. If you're having trouble deciding on a circuit, don't worry, you can do a 2 in 1 option with two separately-switchable circuits within one pedal.
Here are the circuit options that Chicago Stompworks provides for their custom builds.
– RAT V2 Clone
– TS808 Tubescreamer Clone
– Maestro MFZ-1 Clone
– OD-250 Grey Spec Clone
– Red Llama Clone
– VLO Clone
– Bluesbreaker Clone
My Pedal From Chicago Stompworks
As I briefly mentioned above, I went with the custom 2 in 1 option. On one side I chose the original pedal I was looking for, the Triangle Big Muff. On the other side I chose the TS808 Tubescreamer clone, because… well, I've always wanted a TS808 clone. I went with bright white LEDs, white knobs, and a blue, spun-aluminum enclosure.
Here is the pedal I received from Chicago Stompworks.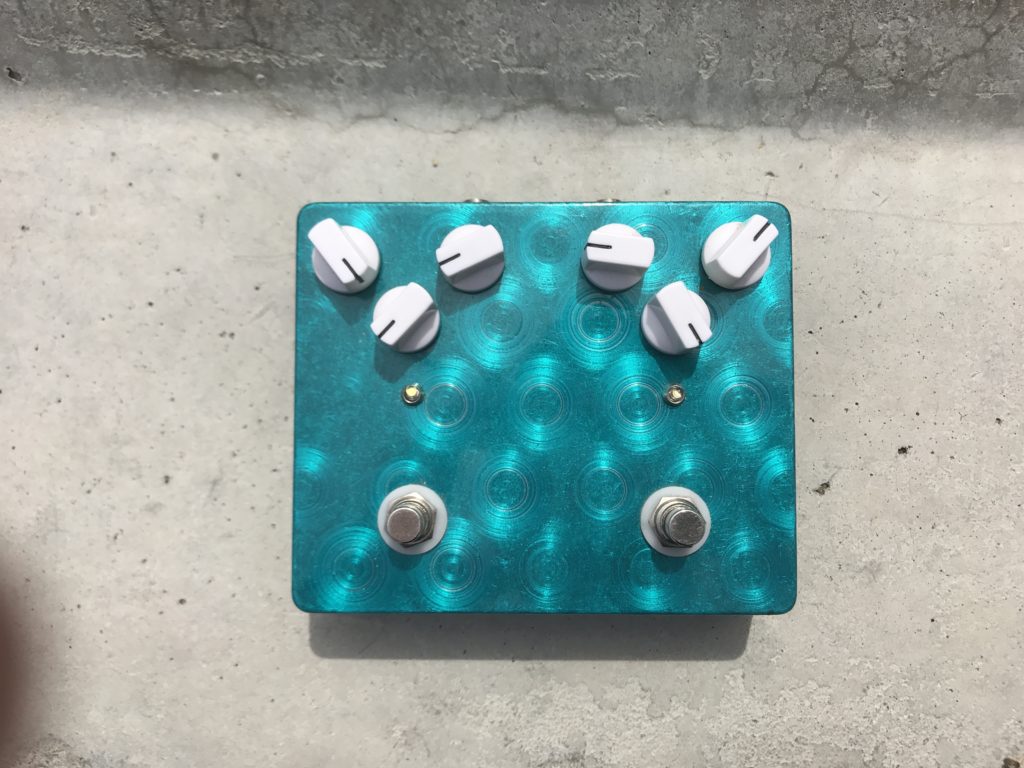 The Quality
This pedal not only looks wonderful, but it feels great as well. It has a very sturdy feel to it, and you can tell it is built to endure the thousands of stomps that it is destined to receive in its lifetime. I have taken this pedal on many tours, played a number of shows with it, and it has taken a beating – but it has held up the entire time. Their website states that they use high quality parts within their builds, and this shines through in the way the pedal sounds.
The Triangle Big Muff Clone Circuit
I chose my build to have the Triangle Big Muff circuit first in the chain. Normally, I would have the fuzz after an overdrive, but I already had an Ibanez TS9 that I could put in front of the pedal. Anyway, the Triangle Big Muff clone from Chicago Stompworks sounds massive. This side of the pedal unleashes itself the moment it is turned on. Letting out huge, thick, "wall of sound" type fuzz when strumming power chords, but it has a tight enough sound so you can still play lead riffs without it getting too out of hand. This clone provides plenty of fuzz, without sacrificing those mid and low end frequencies. The Triangle Big Muff from Chicago Stompworks will not only rattle the pictures off of the walls, it will probably take the walls down with them!
The TS808 Tubescreamer Clone Circuit
On the other side of the pedal is the TS808 Tubescreamer Clone circuit, and it is pretty true to its name. This side of the pedal offers that rich, overdriven TS808 tone that we all know and love. It works well on its own to provide that extra kick to saturate solos and bring some more textures into the tone, but it also sounds wonderful when used in a stacked overdrive setting with the Triangle Big Muff side of the pedal. It really turns this 2 in 1 pedal into a 3 in 1 pedal.
Parting Thoughts of My Custom Build from Chicago Stompworks
Chicago Stompworks hit it out of the park with this custom build, and with a price tag of only $149.99, it was worth every penny. I would definitely recommend that you take a look at the options that Chicago Stompworks has provided on their website!
Pedal Haven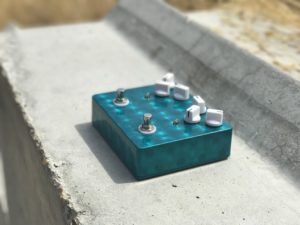 Chicago Stompworks Pedal