This post may contain affiliate links
The Nano is a micro-sized, transistor-based clean boost pedal – hand built by AWOL Pedals, in Tennessee.
This boost pedal fits in the palm of your hand, and will take up virtually no space on any pedalboard. However, for what the Nano lacks in size, it clearly makes up for in usability! Let's check it out!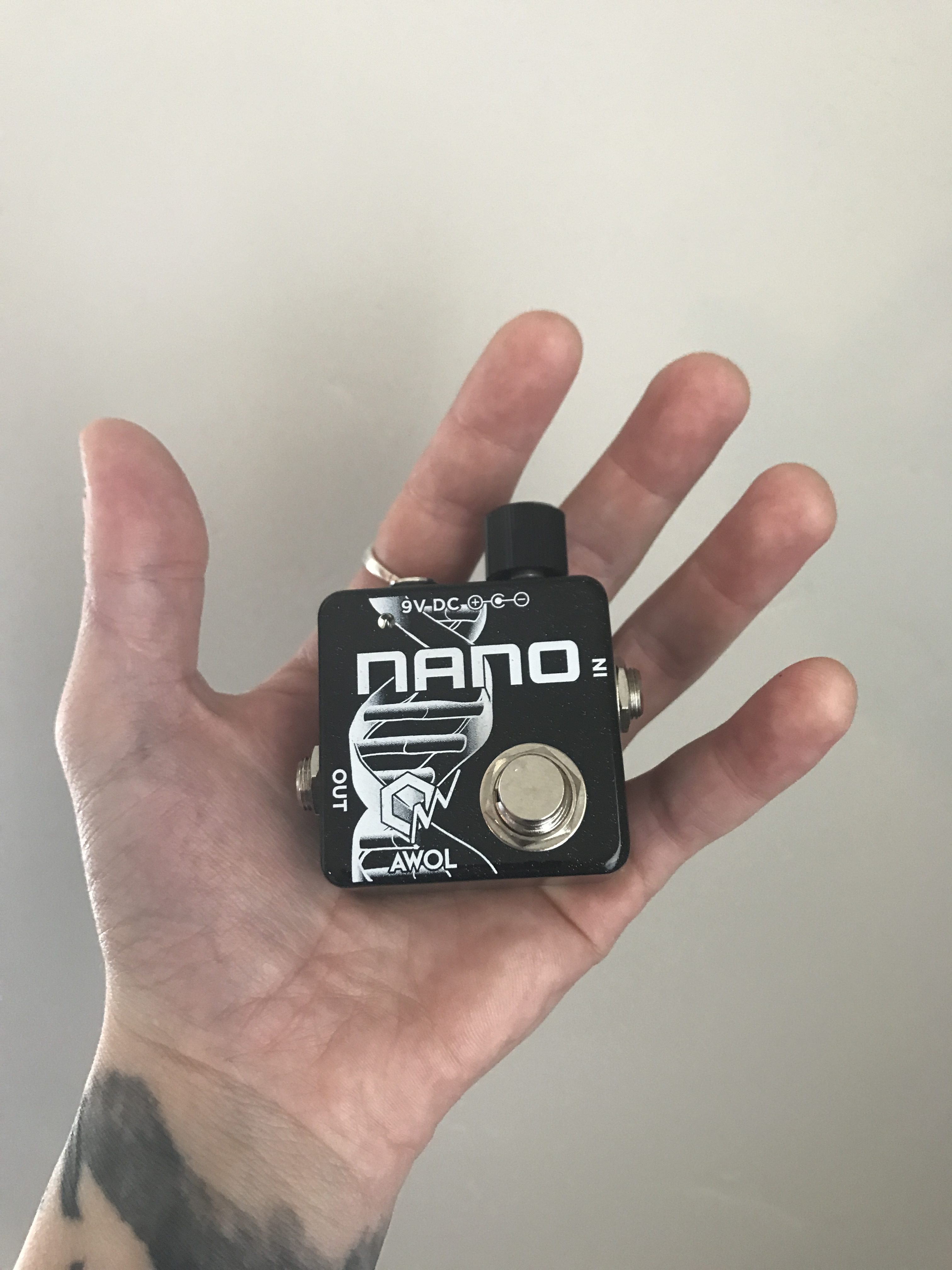 The Nano acts as your typical boost pedal, but it allows you to dial in the level of the boost down to a science. I have found that this pedal's tone ranges anywhere from a slight, unity-gain boost in your instrument's volume, all the way to a soaring, rich tone that mimics a beautiful over driven sound.
Aside from being incredibly small, the Nano clean boost pedal has a rather minimalist design when it comes to its features. Of course, it has all the basics: An input jack, an output jack, a footswitch, and a 9v power supply jack. However, a rather unique feature to this pedal is the knob to adjust the "level" of the boost pedal's output is mounted to the top of the pedal! That means that there will be nothing in your foot's way when you want to stomp on this pedal and rock out!
How Can You Use the Nano Boost Pedal by AWOL Pedals?
The Nano Boost Pedal sounds amazing on its own. Like I mentioned before, this pedal can dial in sounds from harmonic cleans, to rich over-driven tones. It all depends on your style of playing! Making it a great pedal to pick up, just to use on its own!
Yet, if you are anything like me, you love stacking overdrive pedals and different drive options. The Nano seems to love being paired up with just about any drive pedal. In the video below, I test out the AWOL Pedal's Nano with my Fuzz pedal from Built By Ryan – as well as an Ibanez Tube Screamer. Spoiler alert: It sounds amazing!

As you can see, the Nano really interacts well with other pedals, no matter where it sits in your effects chain!
If you run the Nano before your drive section, it really pushes them to their full potential. Unlocking some really sweet, harmonically rich tones!
If you run the Nano boost after your drive section, it can give your tone the extra "pick me up" you need to cut through the mix for your lead riffs and solos.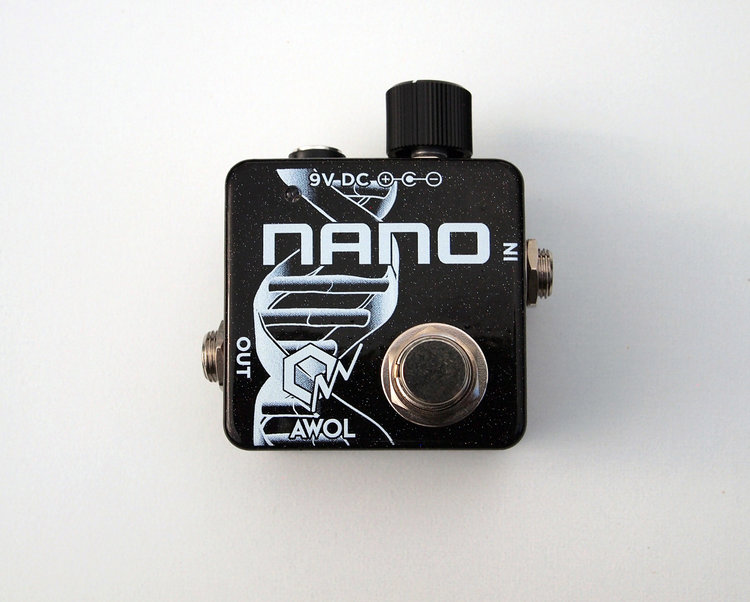 Overall Thoughts of the Nano by AWOL Pedals
This is a truly amazing little box. Whether you are looking to bring your solos to life, or help bring a new voice to the other pedals in your arsenal – the Nano is the tool for the job! The folks at AWOL Pedals have given this boost a great price, and the Nano's extremely small size will make sure that it fits perfectly on your board!
You can learn more about the Nano or purchase it here on the AWOL Pedals website.