Affiliate Disclosure: This post contains affiliate links.
The ultimate backpack for guitarists on the go.
Whether you're touring, playing local gigs, or just taking your gear over to your friend's house to jam – moving your amp, guitar, pedals, and cables can be an arduous task.
Enter D'Addario's Backline Gear Transport Backpack.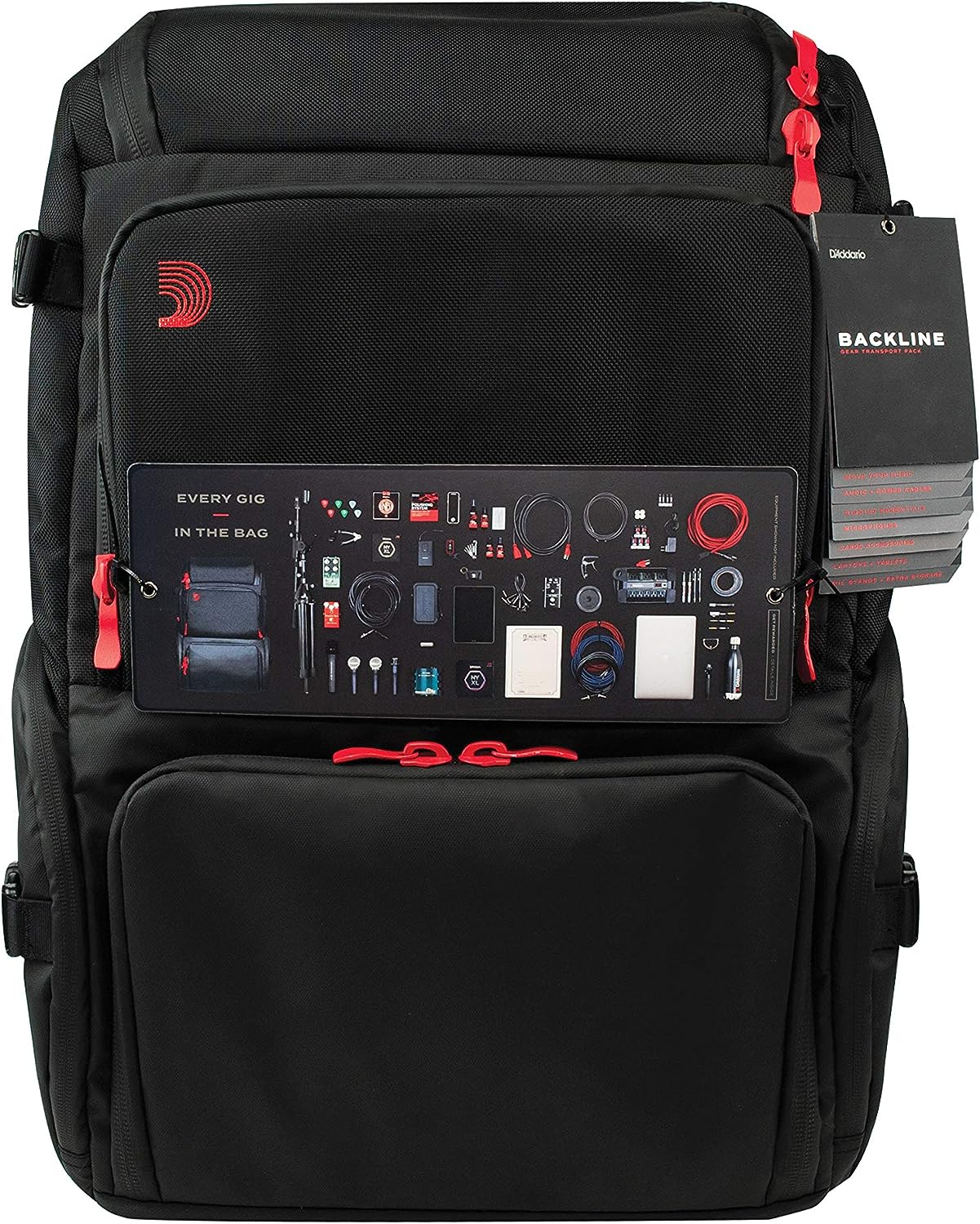 WHERE TO BUY
Amazon.com (ad/affiliate link)
---
The Backline Gear Transport Backpack is designed with musicians on the go in mind – complete with modular storage for all of your cables, padded slots to safely store microphones, secure laptop storage, straps to hold a mic stand, and plenty of space to house pedals and more.
And, perhaps most exciting, it has a built-in bottle opener on one of the shoulder straps.
The Backline Gear Transport Backpack's design eliminates a lot of the headaches that many guitarists face when transporting their gear – condensing this entire spread of gear into just one, easy-to-carry backpack: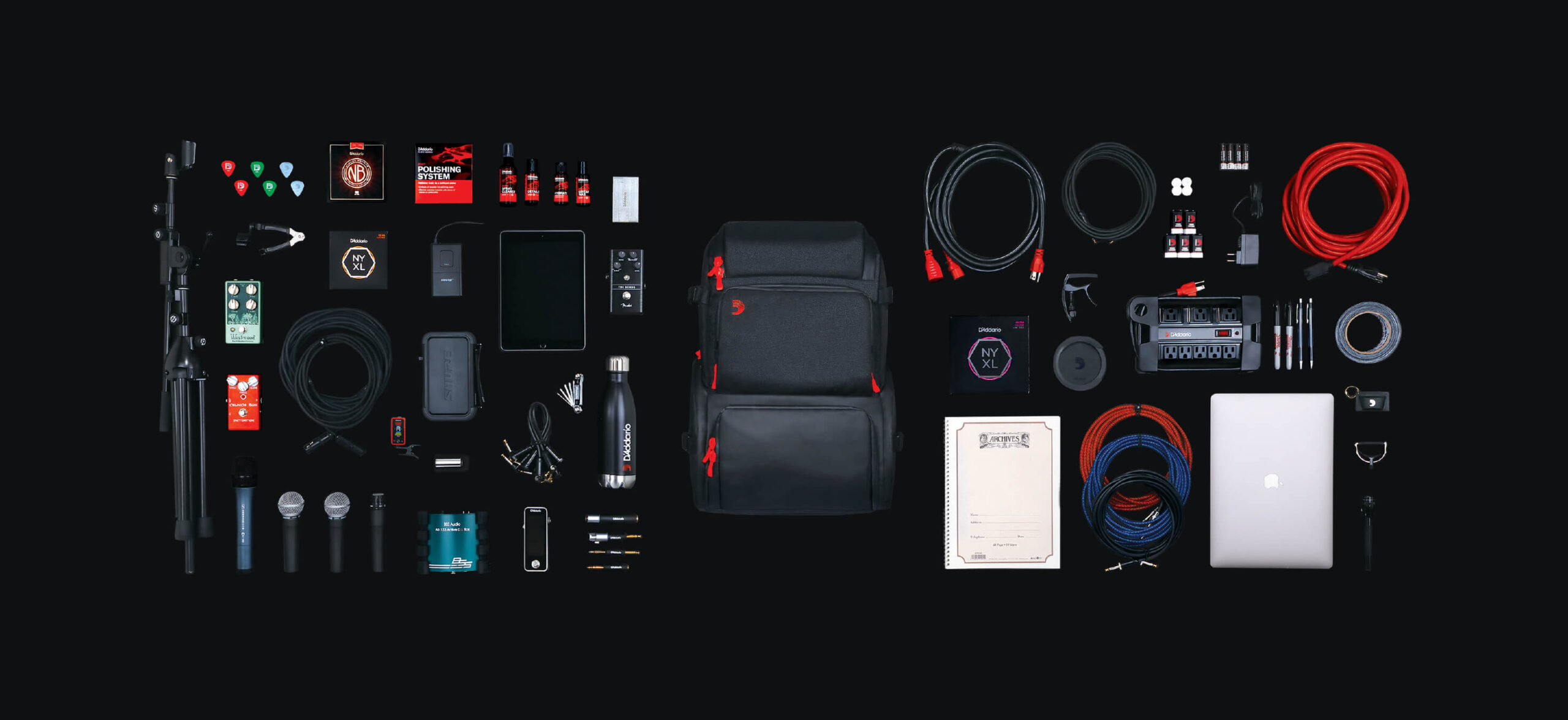 Let's dig into some of the features of this bag:
The first thing to note about the Backline Gig Bag is its construction. Yes, it has a ton of exciting features, but those mean nothing if the bag is badly built. Well, have no fear, because the Backline bag features heavy construction, water-resistant zippers, and padding inside and out to keep you and your gear comfortable.
Modular Cable Storage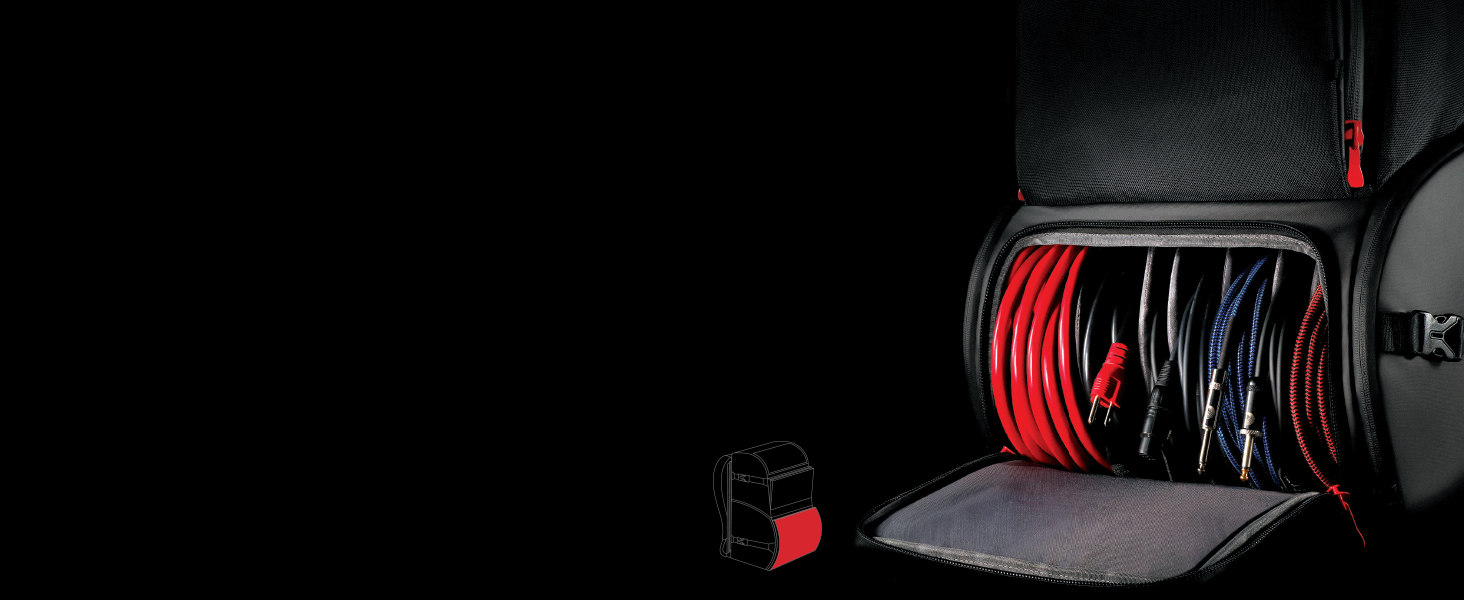 One of the more exciting things about this bag is its modular cable storage pouch. We all know how much of a nightmare it is to pull a tangled mess of cables out of your backpack. Well, the Backline's cable pouch features 6 partitions that create up to 7 different slots for you to neatly wrap and store your cables in. This allows you to keep your cables wrapped, separate from one another, and most importantly – untangled.
Plenty of Storage for Large Accessories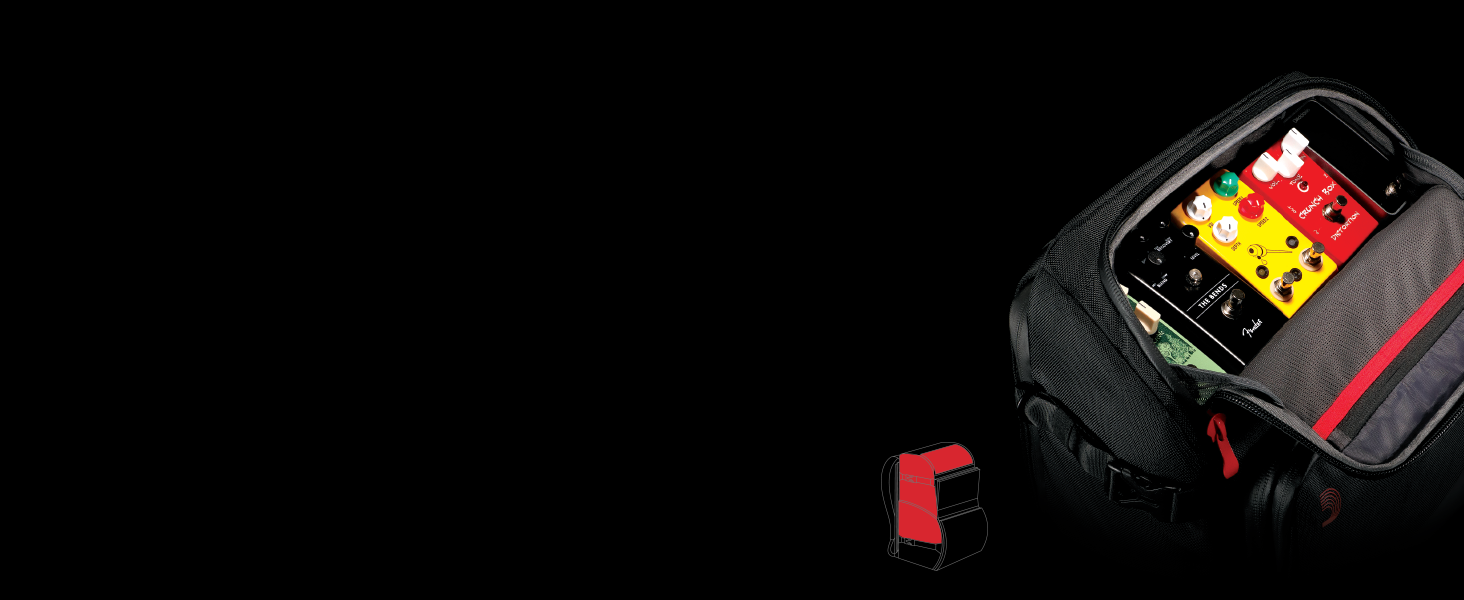 The main pocket of the Backline bag offers up a ton of room for you to store your guitar pedals, recording interfaces, or anything else you may need. This main storage area has three different partitions that you can use to keep your stuff organized and easily accessible. 
Discreet Laptop Storage Compartment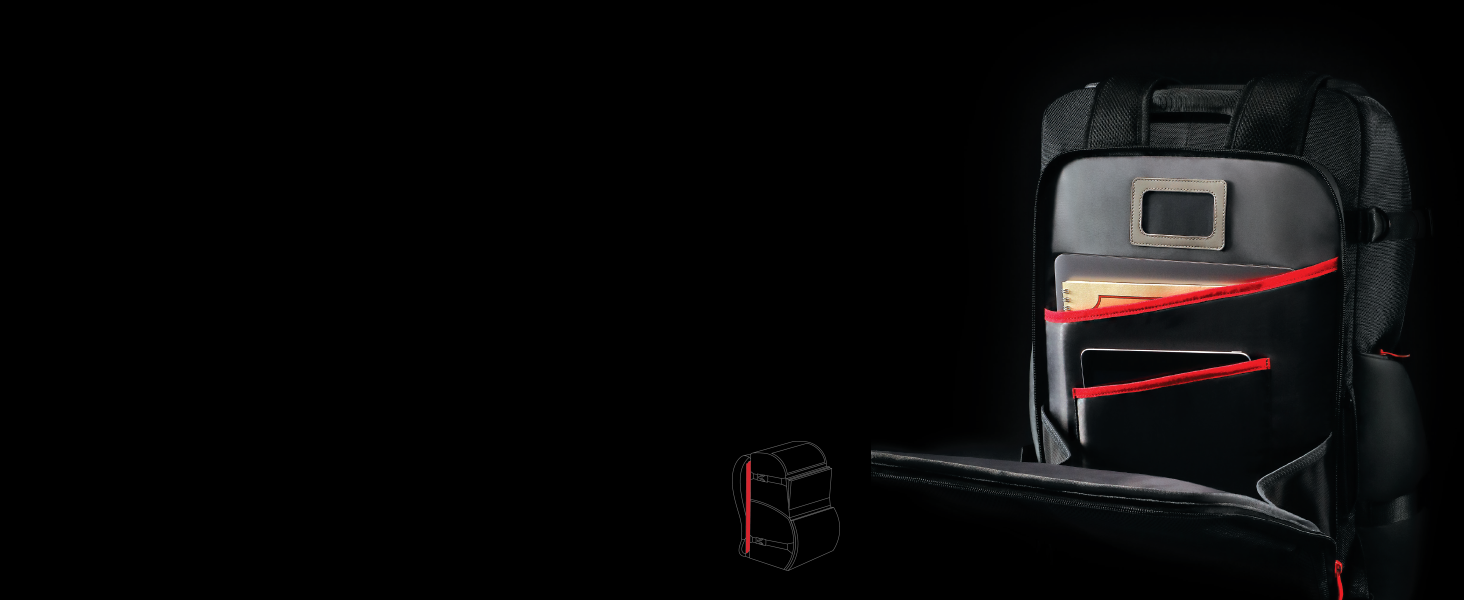 The Backline Gear Transport bag also features a secure, discreet laptop storage pocket. This pocket is padded to keep your devices safe and big enough to house most laptops with extra room for a tablet or notebook.
Microphone & Mic Stand Storage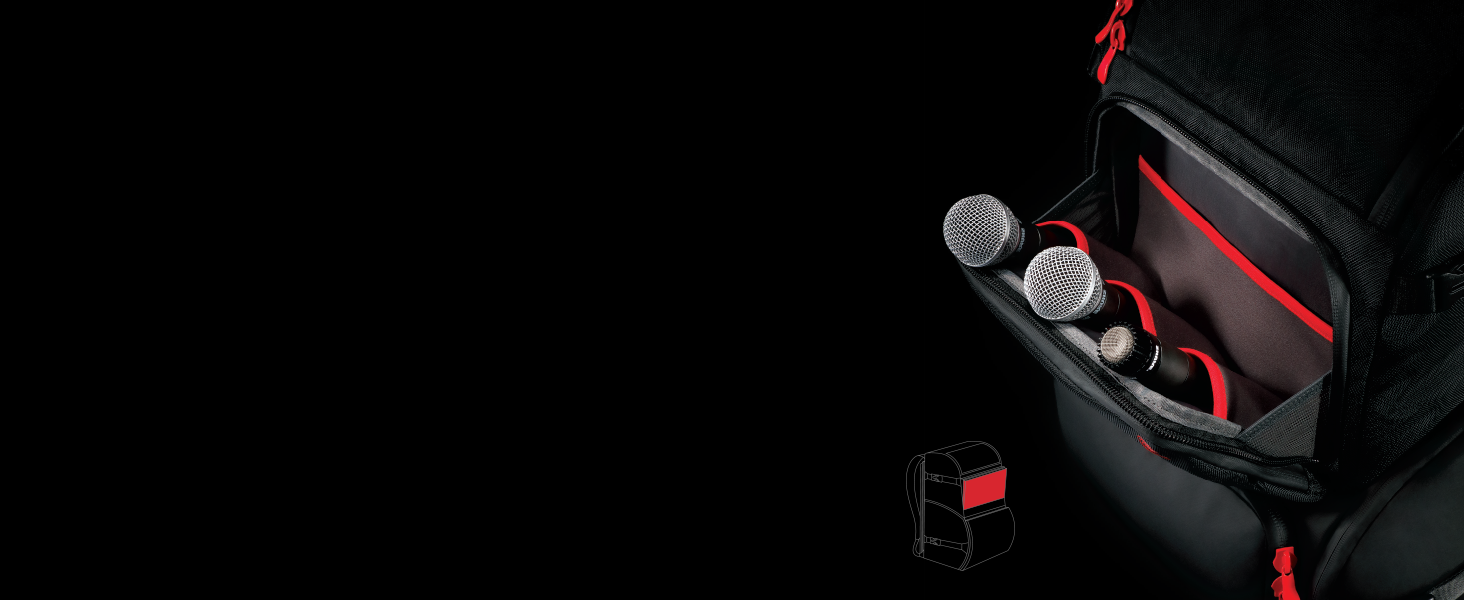 The bag also has a dedicated microphone storage compartment that features padded slots to hold up to three standard-sized microphones and one wireless microphone.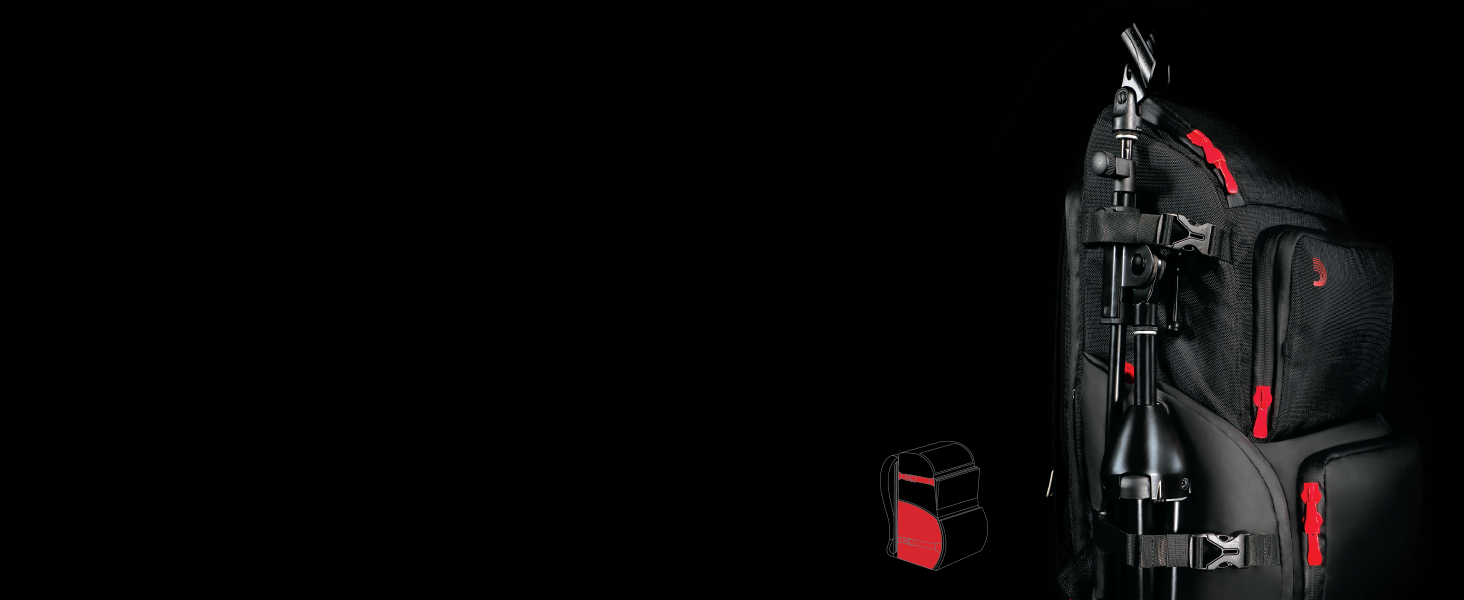 On the side of the bag, you'll find straps that can be used to carry your microphone stand.
Front Accessories Pouch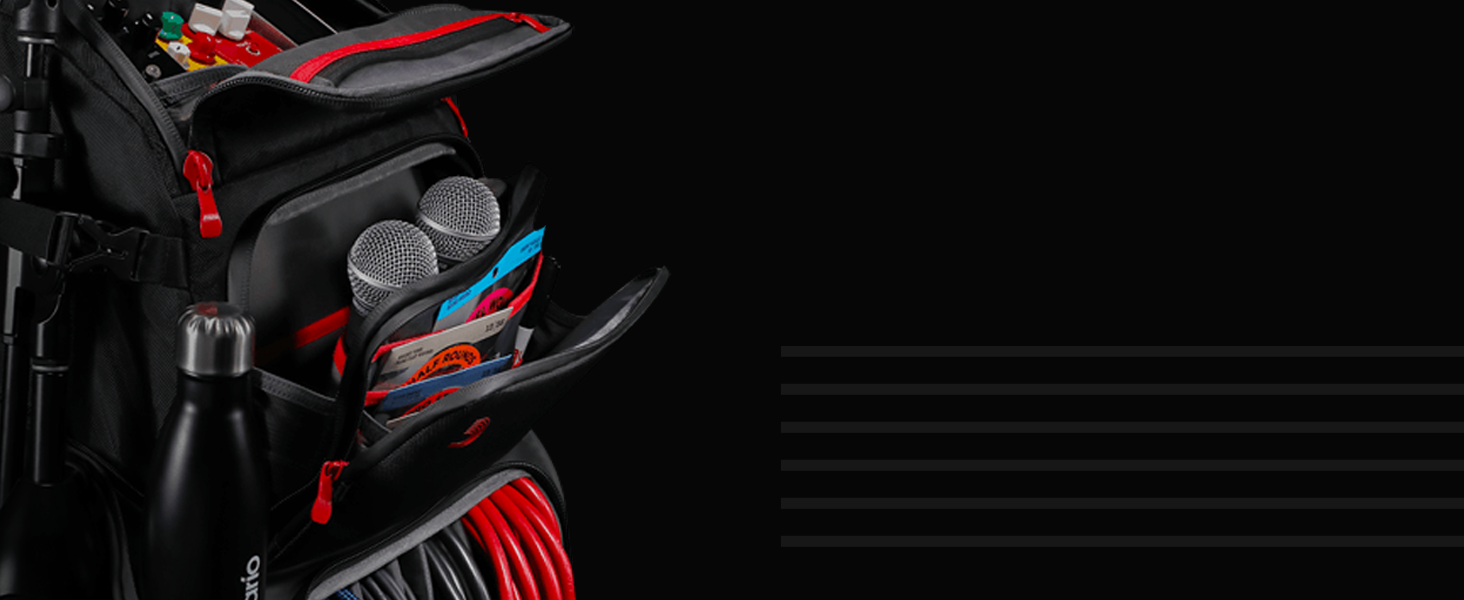 The front of the bag features an accessory pouch that you can use to keep your string packs, picks, notes, or anything else safe and in one place.
The Backline Gear Transport Backpack has a ton of smaller features, like a water bottle storage compartment on the side, an additional side storage pocket, small zippered pockets inside of the compartments, padded shoulder straps, and just an overall great design.
WHERE TO BUY THE BACKLINE GEAR TRANSPORT BACKPACK
Amazon.com (ad/affiliate link)