This post may contain affiliate links
Virginia-based post-punk/new wave band, Widow Rings, sat down with me to talk about their current gear setups. Widow Rings has released an incredible EP and three singles in 2020 and is getting ready to release a brand new EP in February 2021.
You can listen to their latest single here:

Pedal Haven: To start, could you introduce yourselves?
Caleb: Yeah, I'm Caleb and I play rhythm guitar, synth, and do vocals.
Pez: I'm Pez, I play bass, synth and do backup vocals.

Mikey: Mikey, lead guitar.
Pedal Haven: Are there any specific bands or artists that you'd consider to be influences on the Widow Rings sound?
Caleb: These don't sound like they'd go together, but for what we play and write I'd say Depeche Mode, New Order, The Killers, Alkaline Trio, and Jawbreaker.
Pez: The big ones for how I approach my parts are The Killers, International Noise Conspiracy, The Damned, and Joy Division/New Order. Really most things Peter Hook's worked on.
Pedal Haven: You mentioned Widow Rings has put out an EP and three singles in 2020 – and you have a brand new EP set to release this February. How has 2020 affected the way you release music? Since shows are off the table… does that allow you to have more time to write and record new music?
Caleb: Well, initially we were just going to write some songs and focus more on gigging for the first half of 2020 until about the fall. Obviously, that option left the table really fast. So we made the choice to not play any shows until it was more safe and responsible to do so, and instead focus on just creating stuff in focused bursts. On day 2 of everything being locked down, we recorded an EP that was put out in, like, mixtape form this last July. It was 2 songs and 2 remixes.

Then in October, there was a re-recording of a song from our demo that people liked at gigs, then just a few weeks ago there was another single. I record and engineer everything we do, so there's a lot of remote work done at any given time so we can stay creative. We didn't want to sit quietly by and lose any sense of the forward momentum we felt we were gaining.  
Pedal Haven: What can we expect with this new EP? Will it sound similar to the incredible track you released in December, A Little Forever? Or are you taking things in a different direction?
Caleb: Well, A Little Forever won't necessarily feel out of place. I'd say the EP is about 50/50 synths and guitars. When the synths come forward, the guitars are always there, but they're just providing more of a texture. So it's gonna be like half very driving, guitar-centric stuff and half more danceable synthwave type stuff.
Pedal Haven: Okay… let's talk about gear! Can you talk us through the signal chain for your pedalboards? Also… What guitars/basses and amps are you currently using?
Caleb: So in terms of my signal chain I go from an Outlaw Effects Six Shooter tuner, into a DOD Ice Box that is pretty much on 80% of the time. That goes into an Earthquaker Devices Plumes for my main dirty tone, into an Earthquaker Acapulco Gold for when I need to really make the guitars blow up. From there, I go into a Walrus Audio Slo Reverb, to a Boss HF-2 Flanger, and finally an EHX Pulsar Tremolo.
My main guitar is a Fender Modern Player Jaguar that I painted black, with two Bareknuckle Supermassive 90 pickups, a Mastery bridge, and the tone knob cut out. For some overdubs, I used a Fender Mustang that's totally stock. They're both set up with Ernie Ball Power Slinkys. The amp is an Orange OR15 head through a Peavey 212 from the 70s. I took the logo off it a while ago to paint something on the grill cloth, but I'm lazy.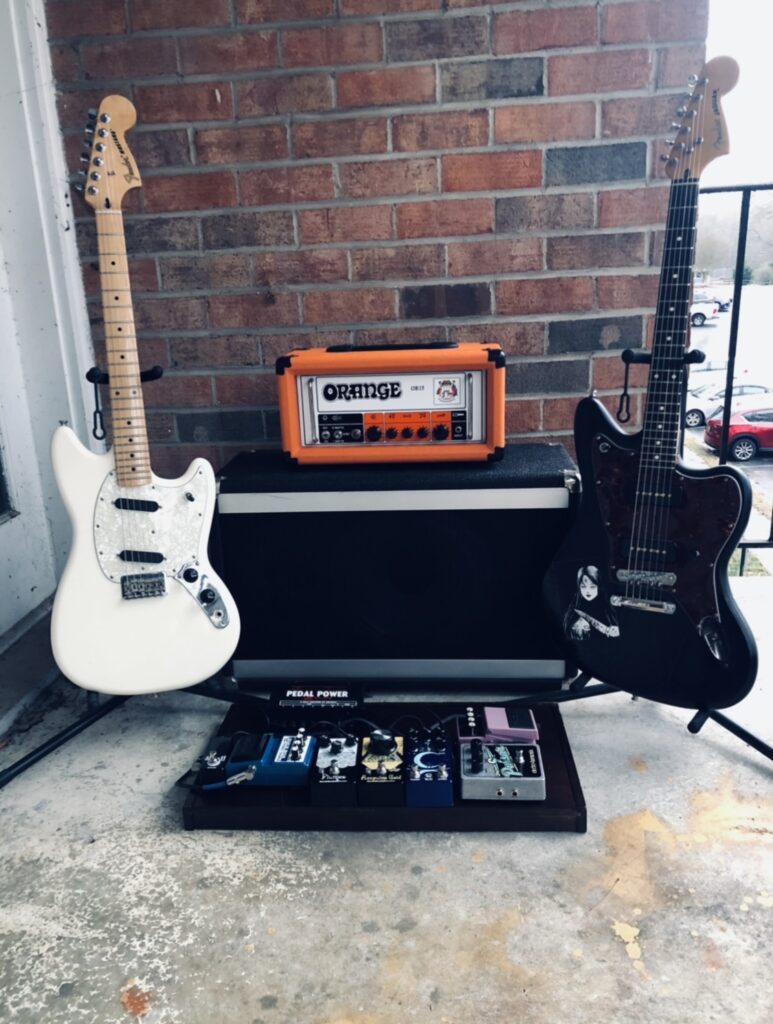 Pez: I run two separate outs when we record. I go into a Walrus Audio Deep Six compressor and then into a Darkglass Vintage Deluxe. From there channel one goes right out, and then channel two goes through a Walrus Audio Julia chorus and then into a Radial DI Box.
My bass is a MIM Fender Jazz, with Seymour Duncan Quarter Pounders and a Hipshot bridge. That's set up with D'Addario NYXLs 45-100. For an amp, I use a Gallien-Kruger 400RB head through an SWR 2×10 stacked on a GK CX410.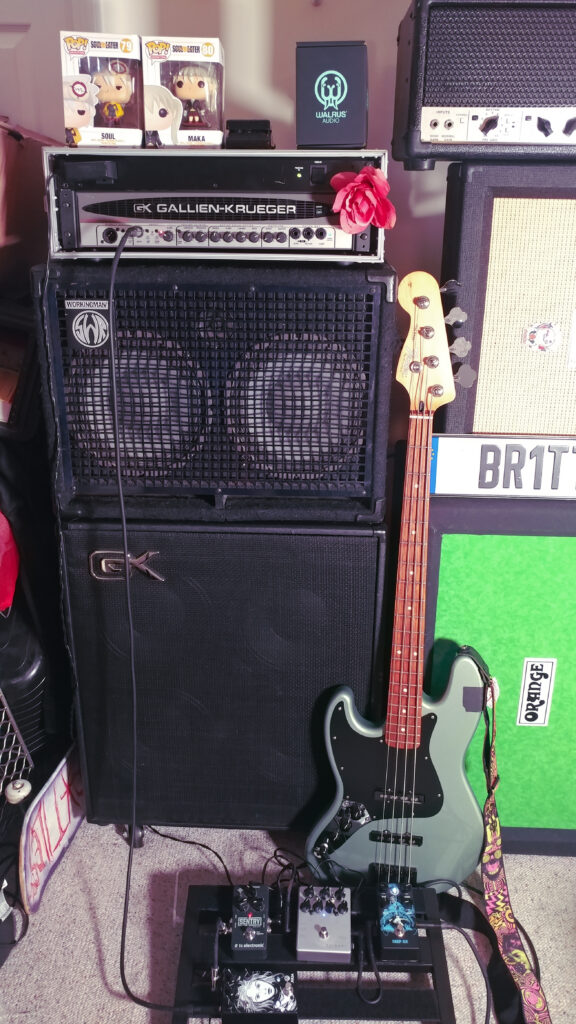 Mikey: I go into a Line 6 HX Stomp for loading all the different effects chains we use song to song, and then change stuff up from there. From there it goes into a Digitech Whammy 4. On any given song, I've at least got the "Scream 808"  and "Simple Delay" settings on, with other effects here and there as they're called for.
For guitars, I'm running two different Sterling Music Man Stingrays. My main is a matte black SR30, and my backup is a sunburst SR50. Both of those have the tone knobs removed and replaced with killswitches. Those are set up with Ernie Ball Beefy Slinkys. My amp is a Peavey Supreme running into an EVH 212.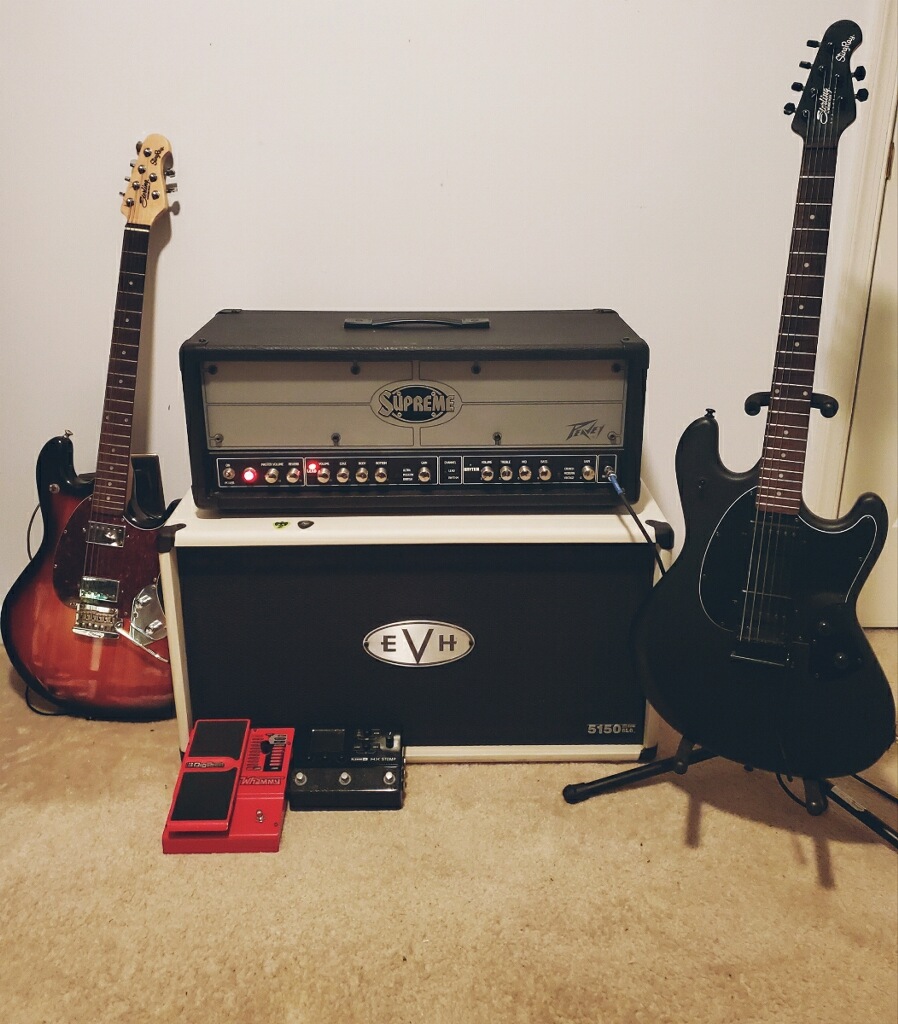 Pedal Haven: Is there a pedal in your setup that you absolutely can't live without?
Caleb: Probably the Plumes, honestly. 
Pez: My Darkglass Vintage Deluxe.
Mikey: The HX stomp.


Pedal Haven: Are there any guitar/bass pedals on your wishlist? Or a pedal that you wish existed but doesn't?
Caleb: I really want a Rainbow Machine from EQD or one of those reissue Boss Waza Craft HM2s that are coming out.
Pez: The Orange Bass Butler. 
Mikey: Since getting the Helix I haven't thought about individual pedals too much, but I do want the Aira Effects Ross Drive.
Pedal Haven: Where can people find Widow Rings online?
Bandcamp: https://widowrings.bandcamp.com/
Instagram: https://www.instagram.com/widowrings/
Facebook: Facebook.com/widowrings
Twitter: Twitter.com/widowrings
SpaceHey: spacehey.com/widowrings