This post may contain affiliate links
If you are not a guitar player, shopping for the guitarist in your family can be a tough task.
Whether it's for birthdays, Christmas, or any other gift-giving holiday – it is hard to navigate the endless sea of guitar gear and gadgets in order to find the best gifts for guitar players.
In order to help with this, we sat down and compiled a list of awesome gifts for any guitarist across all skill levels.
In this article you will find:
The Best Gifts for Any Guitar Player (essential tools for guitarists of all kinds)

The Best Gifts for

Beginner

Guitarists

The Best Gifts for

Intermediate

Guitarists

The Best Gifts for

Advanced

Guitarists
The Best Gifts for Any Guitar Player
Before we dive into gifts for beginner, intermediate, or advanced guitar players, here are a few fun gifts that any guitar player would love to have.
Guitar Picks
There is a curse among all guitar players – we are constantly in need of guitar picks. They are always getting lost, and it is always good to have a stash of guitar picks available for whenever you need them.
This 24 pack of Fender Premium Guitar Picks is a great gift option for any guitar player. It offers a few different options of picks in different thicknesses (thin, medium, and heavy) so it is sure to have some picks for any guitar player's preferences – and a couple of new thicknesses they can try out.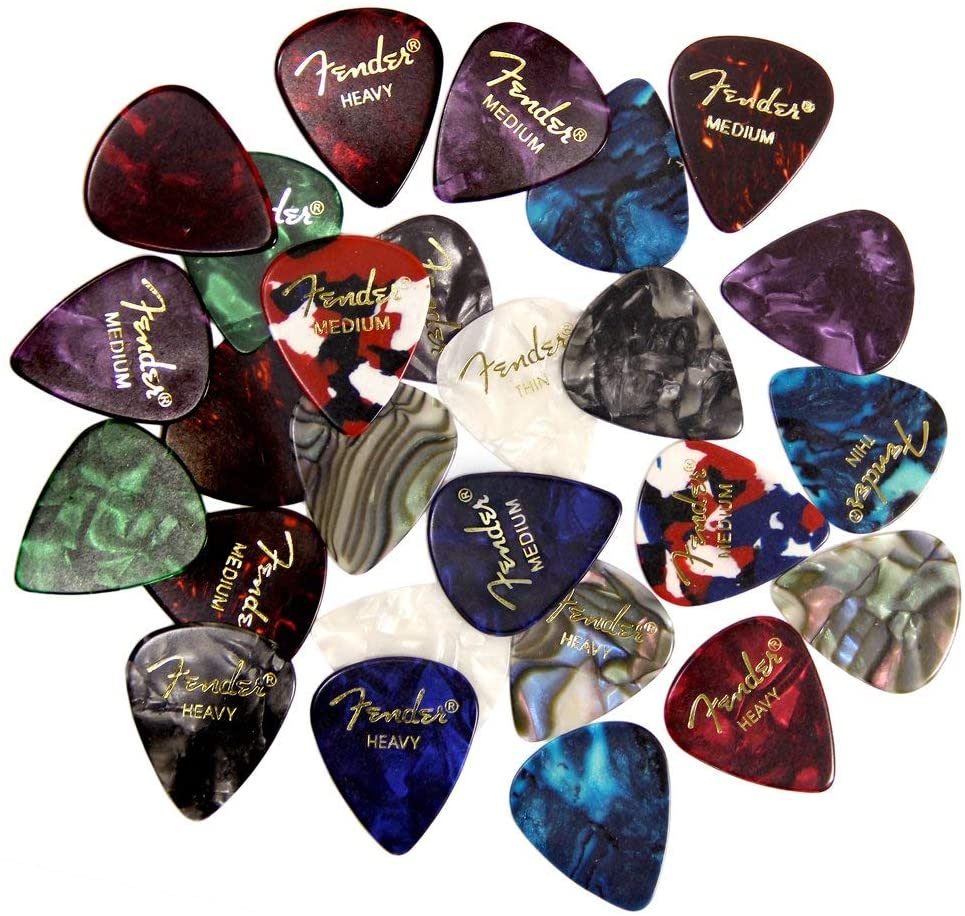 Fender Mustang Micro Headphone Amp 
The Fender Mustang Micro is an amazing gift for a guitar player. It allows a player to plug their guitar and a pair of headphones directly into it, and they can rock out without waking up the entire neighborhood. 
The Fender Mustang Micro also has an interesting set of effects and amp models built into it, so a guitar player can tweak it to their liking.
And it is battery-powered, so it can be used virtually anywhere – a good gift for travelers!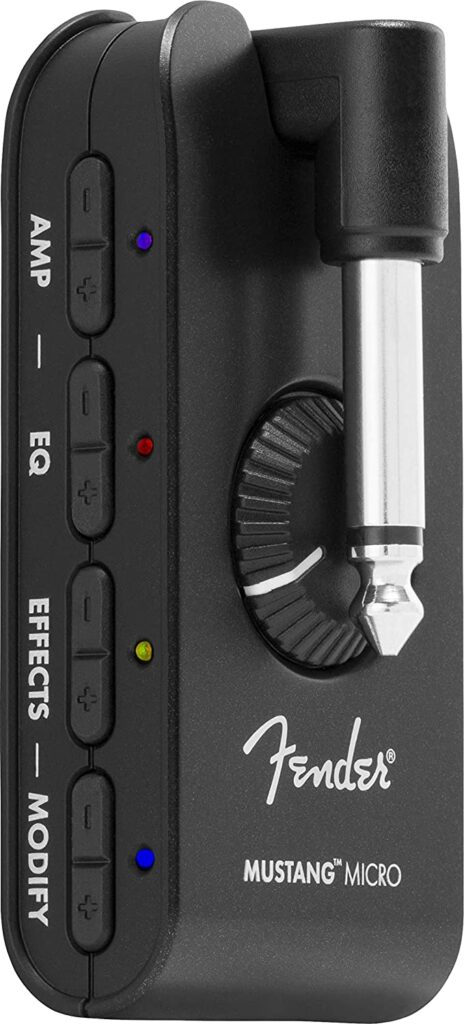 Guitar Cables
Similar to guitar picks, a guitarist can never have enough cables. After all, they are what carries the sound from the guitar to the amp, and it is wildly inconvenient if they break (and they always break at the worst possible time). Giving a guitarist a backup cable as a gift is an amazing idea!
This 18.6' long Fender instrument cable is a good, reliable option. It is long enough to work for any guitar player, whether they are playing at home or on stage. However, Fender also offers a 10' and a 30' option if you're looking for a shorter or longer guitar cable.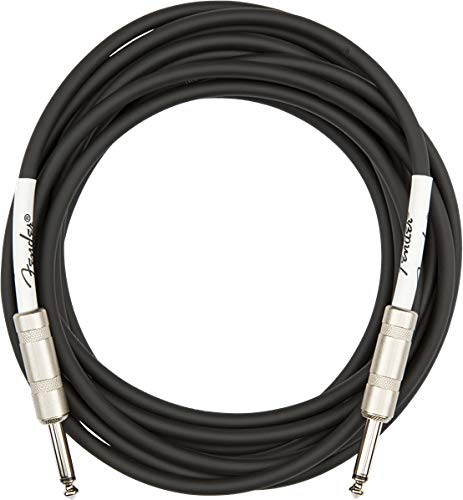 Guitar Strings
Every guitar player needs strings. And Ernie Ball brand guitar strings are a great option for a gift. They are high-quality, affordable, and trusted by countless guitar players in the industry. 
Of course, all guitar players prefer different types of strings for their guitars, but this three-pack of Ernie Ball "Regular Slinky" strings are a safe bet for just about any guitar player.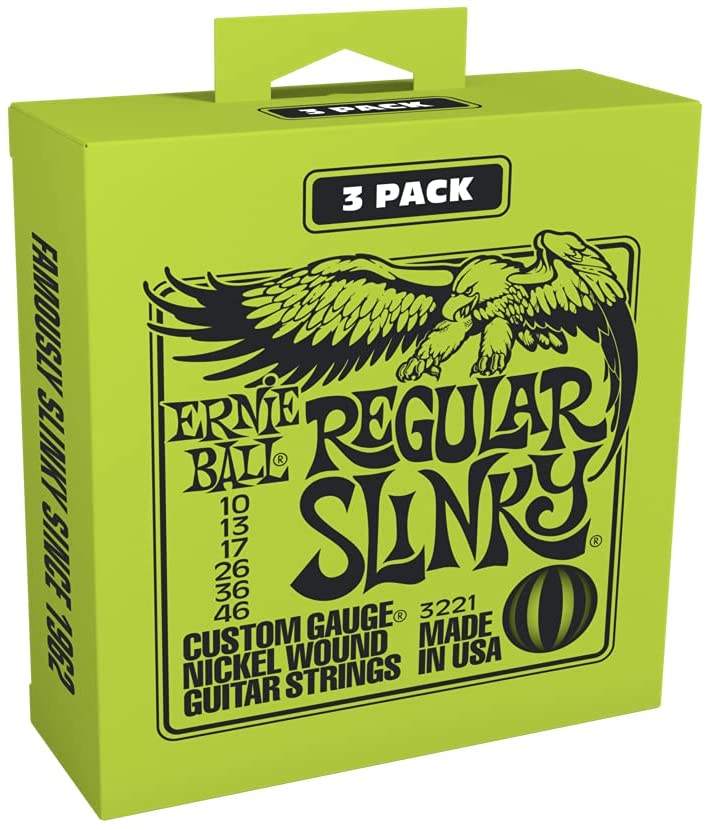 String Winder
A string winder is something that all guitar players need, but most of them never have. A string winder makes changing your guitar strings an absolute breeze. 
This String Winder from D'Addario is an absolute must-have for any guitarist's setup. It is small enough to fit in any guitar case and even features a handy string cutting tool!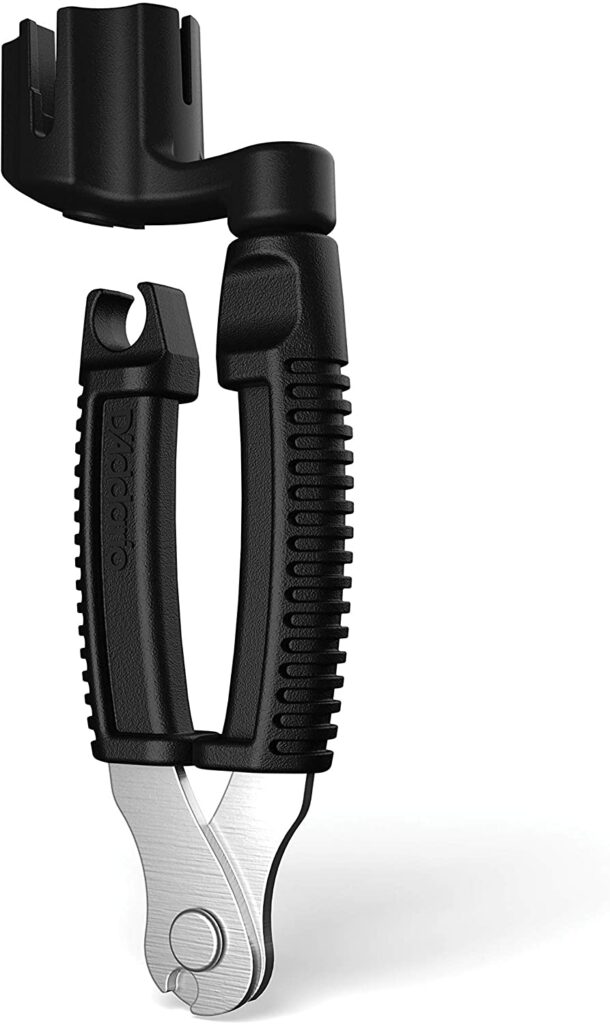 A Pedal Haven Shirt (or some stickers)
Shameless self-plug here! Of course, having a Pedal Haven shirt won't make somebody a better guitar player, but it will sure make them look a lot cooler when they're playing guitar. 🙂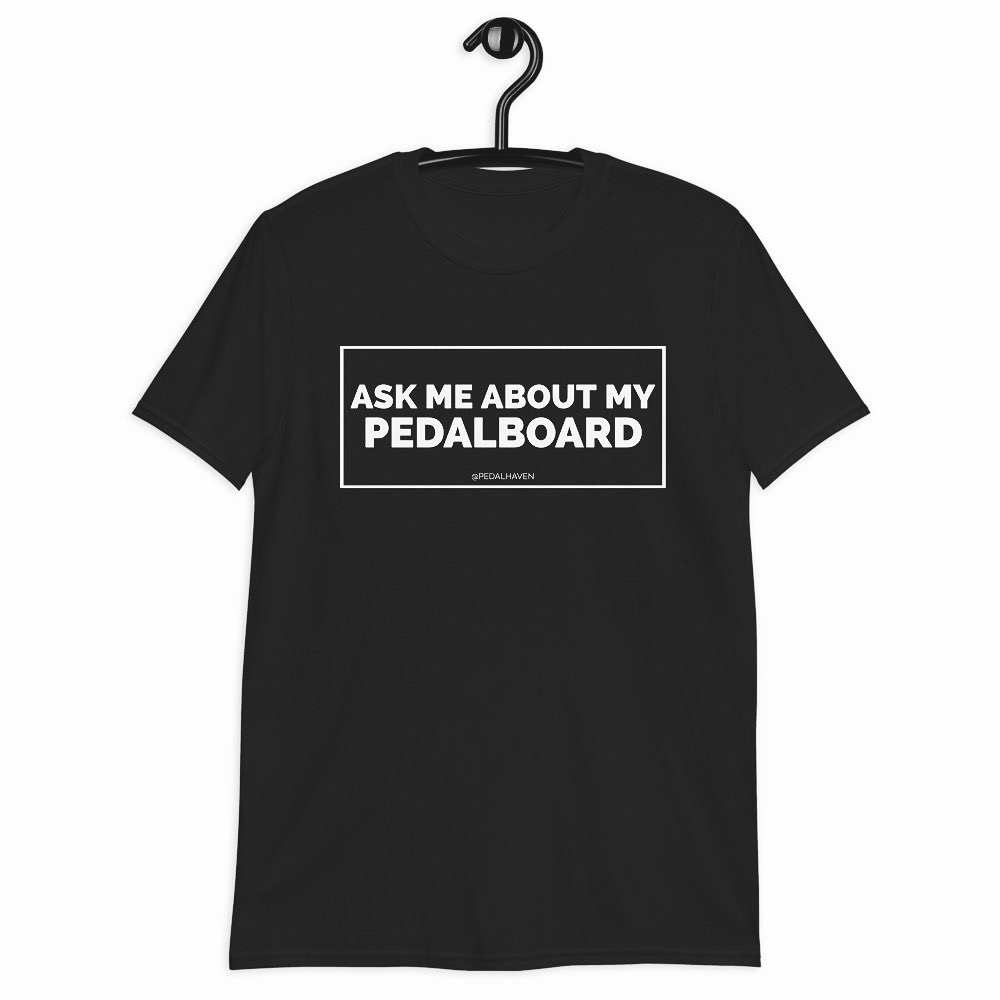 Gift Cards for Guitar Gear
Maybe not as exciting as the other guitarist gift ideas above, but if you are completely unsure of what a guitar player may need, a gift card is always an awesome option. This gives them the freedom to buy whatever they need to suit their guitar playing needs.
Amazon eGift Card
Amazon gift cards always make for good gifts. Amazon has a huge variety of different guitar gear available, so whoever you're giving this to will have a lot of options to choose from. 
Reverb.com Gift Card
Another great place to get a gift card from is Reverb.com. If you aren't familiar with Reverb, it is essentially eBay, but for musicians. There is a massive amount of new and used gear on Reverb, and a gift card from here is an awesome gift for the musician in your life.
The Best Gifts for Beginner Guitar Players
It is exciting news when someone in your family decides to start playing guitar! But shopping for beginner-friendly guitar gifts can be a bit daunting. Here are a few picks for some awesome gifts for beginner guitarists.
Fender Squier Stratocaster Guitar and Amplifier Pack
If someone is just toying with the idea of playing guitar, they may not even own their own guitar and amplifier to get started. This beginner pack from Fender includes a high-quality Fender Squier Stratocaster (an awesome first guitar), a small 15 watt Fender 15G amplifier (with a headphone jack so they can play silently), a guitar strap, a gig bag to carry the guitar in, cables, picks, and a 3-month subscription to Fender Play (Fender's amazing online lesson program). 
In short, this has everything that a beginner guitarist needs to get started.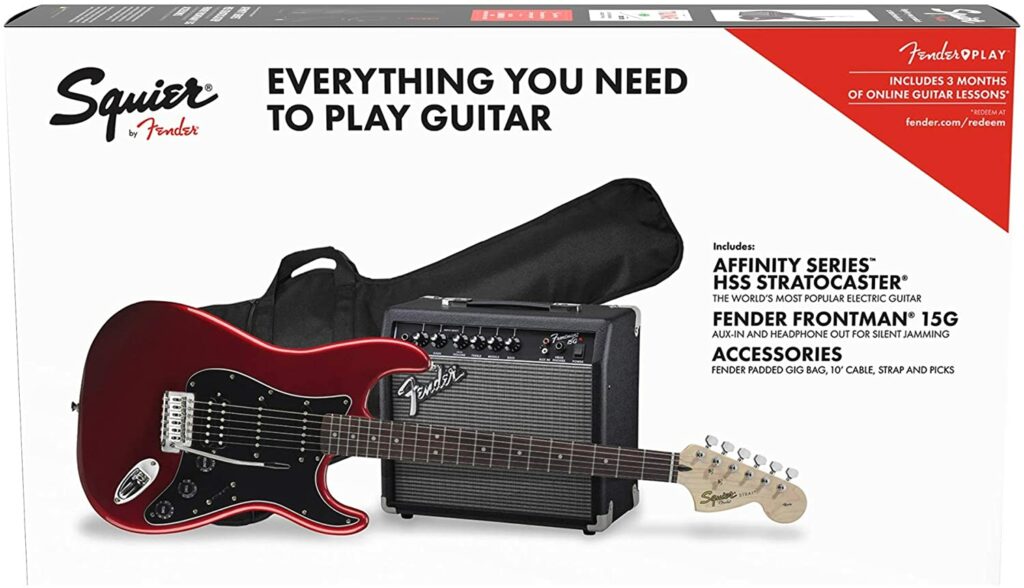 Fender Squier Bullet Telecaster Beginner Pack
An alternate option to the beginner pack above is this Fender Squier Bullet Telecaster pack. While this pack does not include an amplifier, it is about $100 cheaper and still offers a great set of tools for a beginner. The pack includes a Fender Squier Bullet Telecaster, a gig bag, a clip-on headstock tuner, a guitar strap, picks, and some lessons from Fender Play.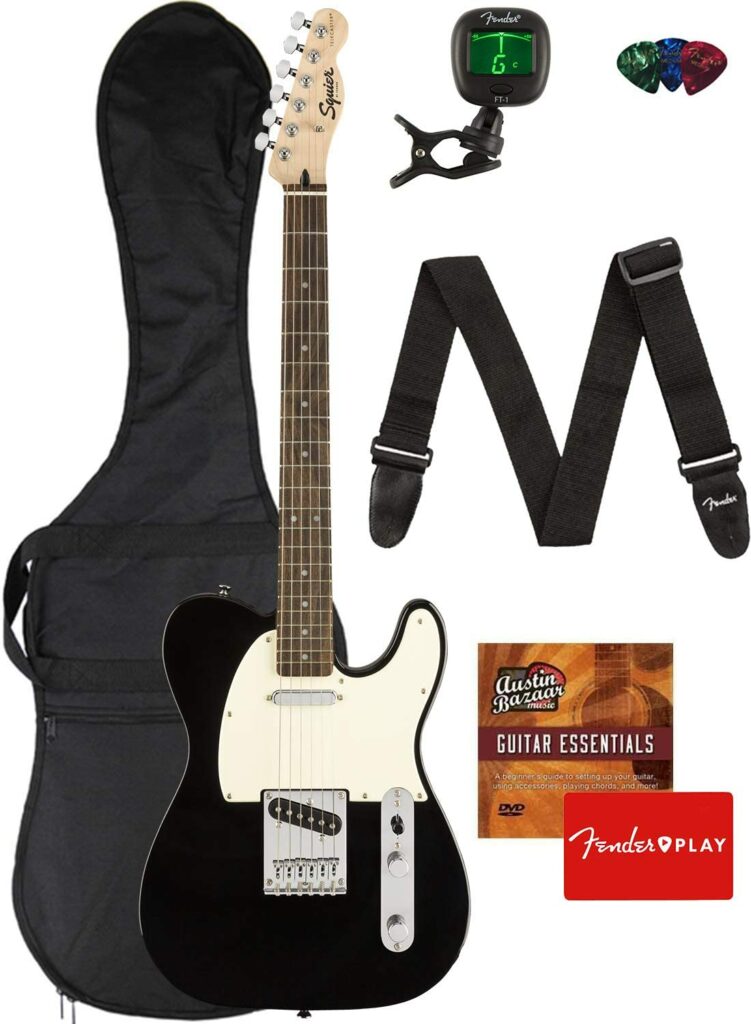 Fender Frontman 10G Amplifier
If you're looking for a guitar amp for a beginner guitarist, you don't need to break the bank on a big, expensive amp. This Fender Frontman 10 watt guitar amp is more than enough to get somebody started! It is small and compact, and won't be excessively loud (great for somebody to play in a bedroom), and even has a headphone jack so they can play silently while still hearing all of the goodness of the amp in their headphones.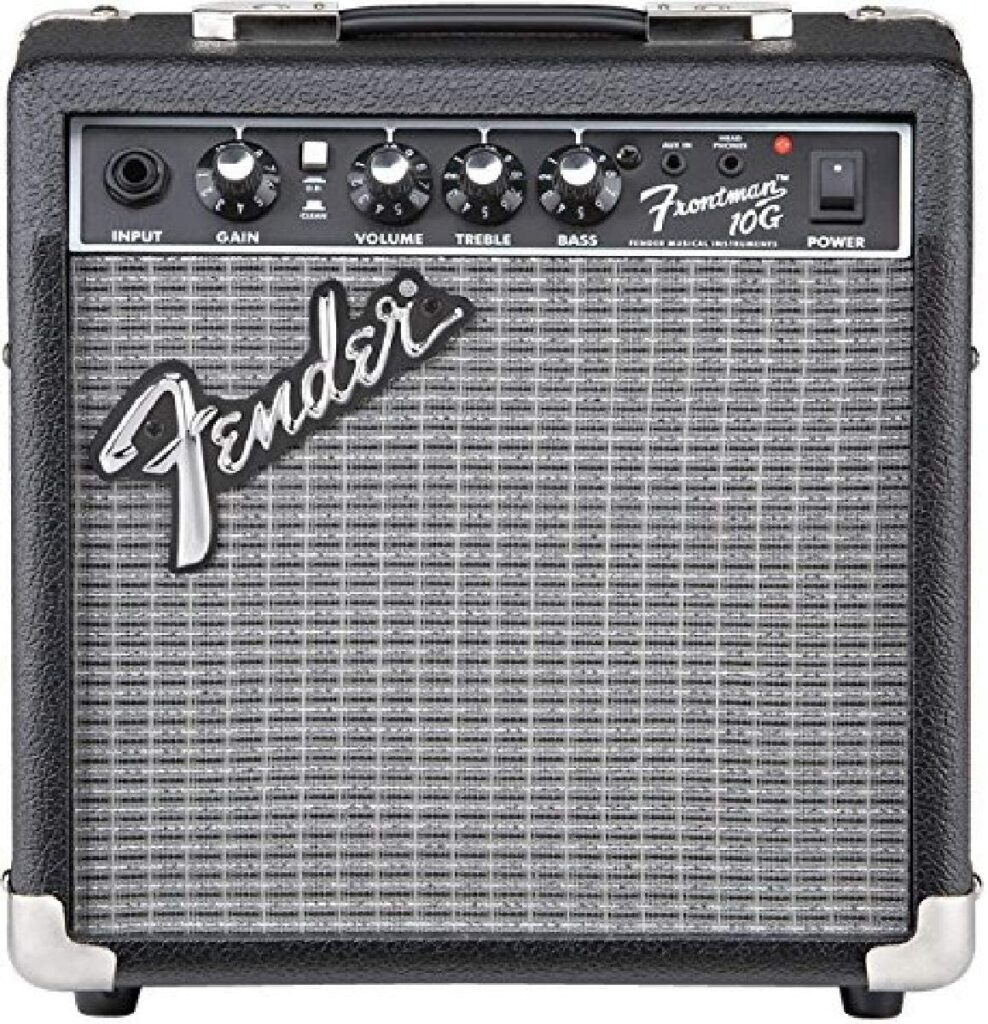 Headstock Tuner
Every guitar player needs a tuner. A clip-on headstock tuner is a great gift idea for a beginner guitarist because they are cheap, reliable, and easy to use.
There are a lot of different headstock tuners available, but this Micro Headstock Tuner from D'Addario is a great option. It is precise, discrete, and small enough to be kept on their guitar at all times without getting in the way.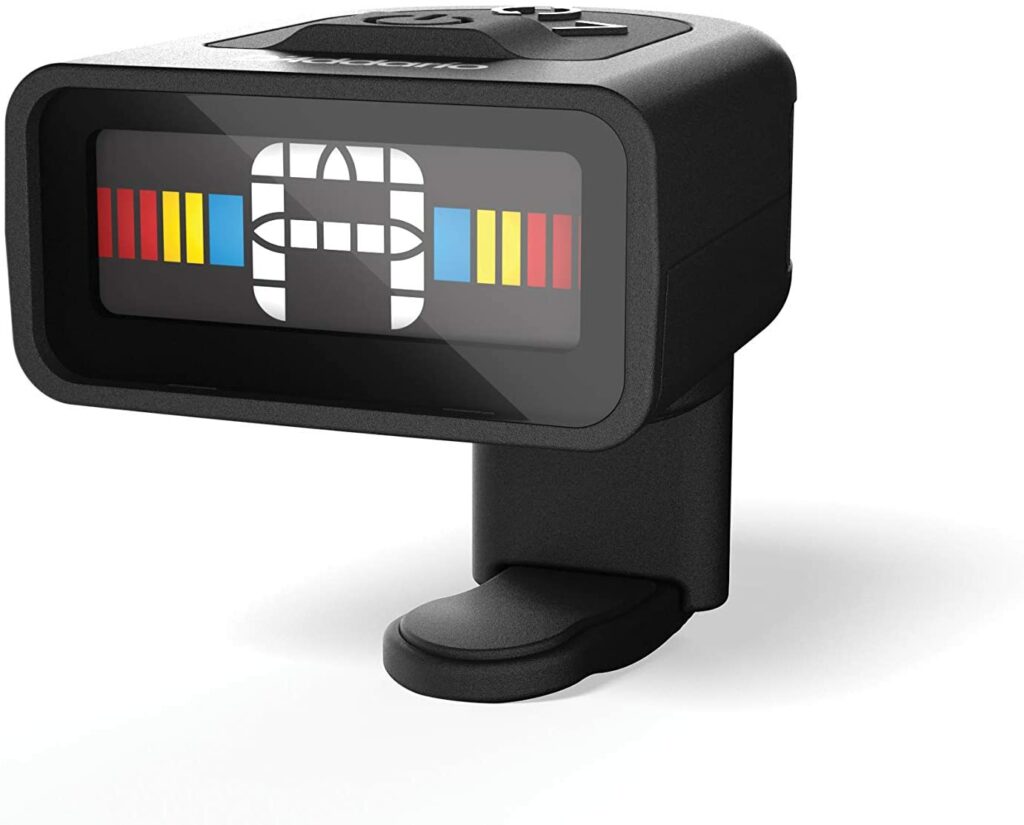 Boss DS-1 Guitar Distortion Pedal
If the beginner guitarist you are shopping for is into rock and roll music, then the Boss DS-1 is an incredible gift. This is one of the most iconic guitar pedals in history and is a great introduction to the wide world of guitar effect pedals. 
Of course, you can buy the Boss DS-1 pedal on its own, but this Boss DS-1 bundle includes the Boss DS-1 pedal, all of the necessary cables to add it to an existing guitar player's setup, and a few guitar picks.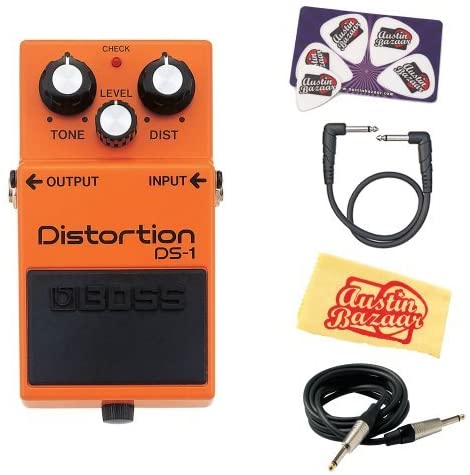 Introduction to Guitar Books
Having a book on how to play and understand the guitar can be a great tool for a beginner guitarist. Today, there are an endless amount of guitar teaching options available, with YouTube and various other online outlets, but sometimes it's great to just have a book to teach you the basics.
The Guitar All-in-One for Dummies Book teaches you everything you need to know about owning and playing the guitar. From playing your very first notes to understanding music composition and theory, maintaining your instruments, and much more.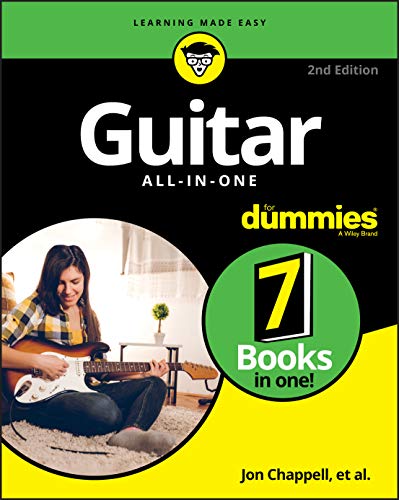 The Best Gifts for Intermediate Guitar Players
Buying gifts for intermediate guitar players is a lot of fun! Intermediate players typically will already have a guitar and amplifier setup and usually have a pretty decent understanding of what they are doing when it comes to playing guitar. But there are a lot of interesting gift ideas out there for intermediate guitarists. Here are a few to choose from:
Guitar Pedals
Guitar effect pedals are an exciting part of the electric guitar world. There is a multitude of different guitar pedals available today, and each one can serve as a tool to achieve a certain sound from your guitar. 
An intermediate guitarist might have one or two guitar pedals already, but with so many options available, you can never have too many guitar pedals. Here are a couple of fun guitar pedal gift ideas:
JHS Pedals 3 Series Fuzz Pedal
Fuzz pedals are amazing tools to have in any guitar-playing setup. This 3 Series Fuzz pedal from JHS is a high-quality, affordable fuzz pedal that any guitar player would love to have in their setup.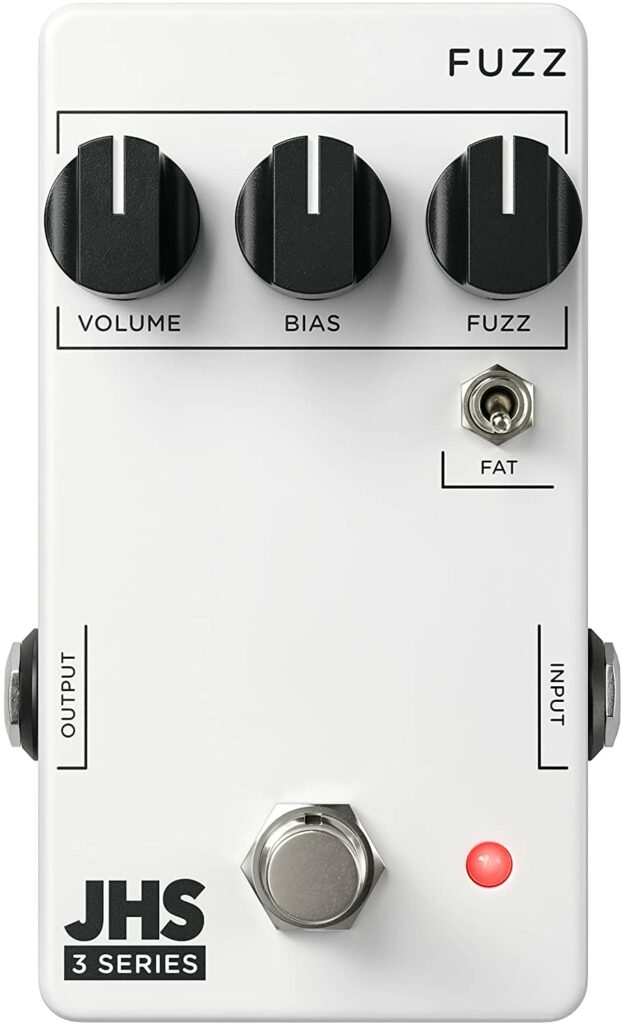 Electro Harmonix Soul Food Overdrive Pedal
Another fun pedal is the Soul Food from Electro Harmonix. This iconic overdrive pedal is a great gift for any guitarist and is a great tool to have in a guitar rig. The Soul Food is inspired by one of the most iconic pedals of all time, the Klon Centaur, and was recently featured in our list of the best Klon Centaur clones. This is definitely a fun gift idea!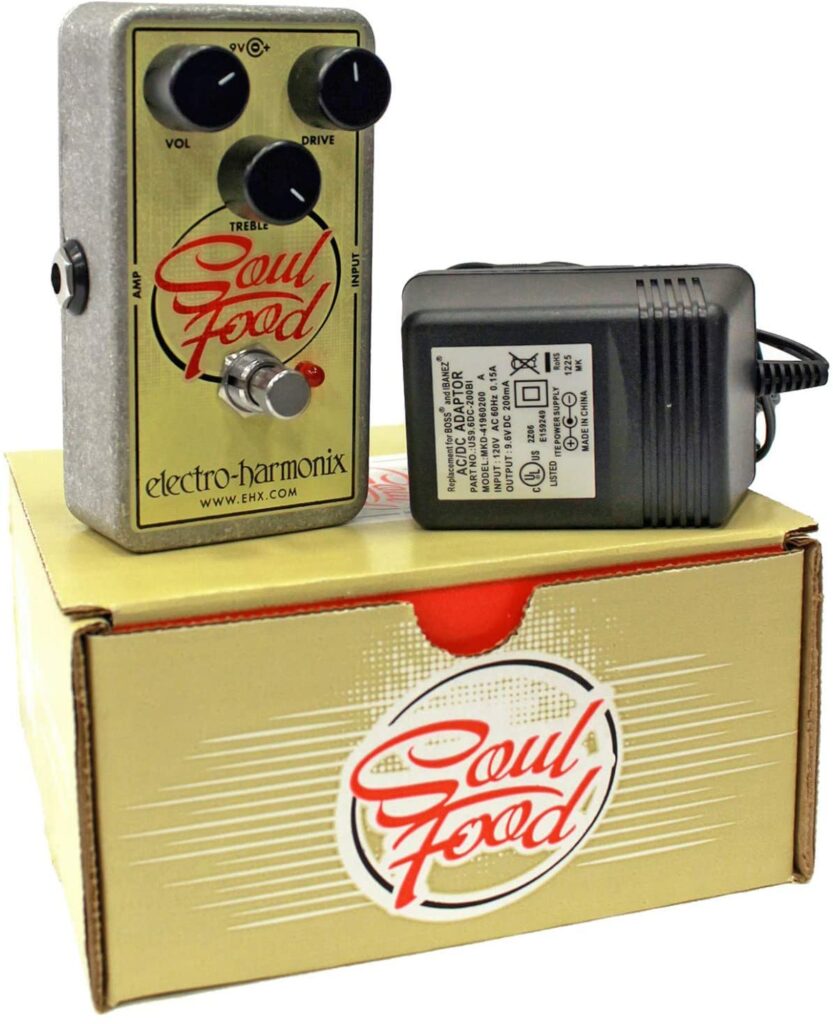 Zoom MS-70CDR MultiStomp Effect Pedal
If you are shopping for a guitar pedal for an intermediate guitarist but aren't sure which one to get, the Zoom MS-70CDR is a fantastic choice. It is a multi-effect pedal, meaning it offers multiple guitar effects. The MS-70CDR offers a wide range of chorus, reverb, and delay effects – and is surprisingly high-quality based on its price tag. I personally own one of these and use it all the time in my setup.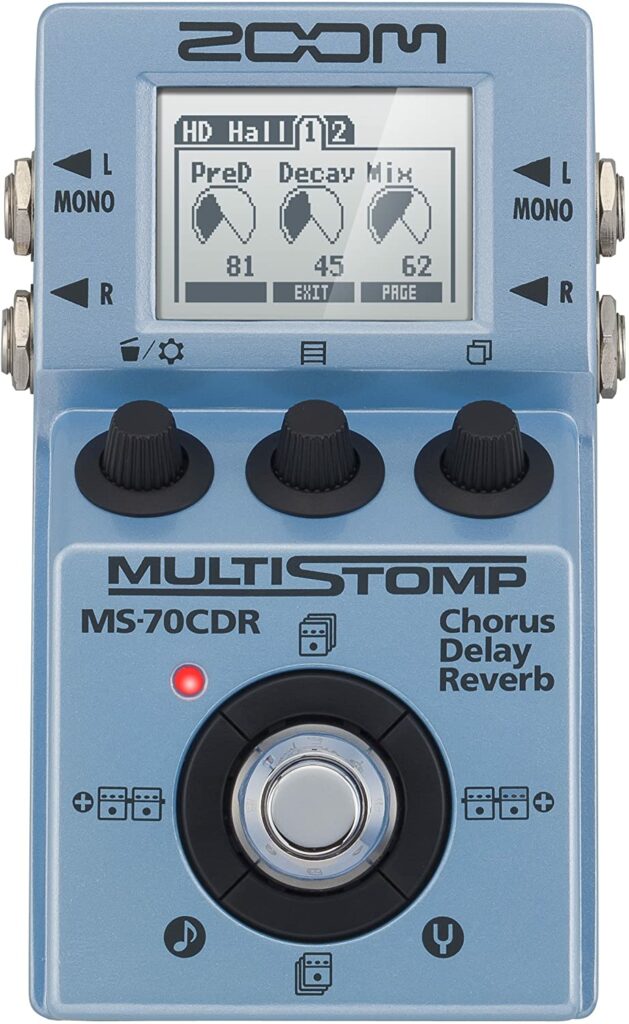 A New Pedalboard
If the guitarist you are shopping for already owns a few guitar pedals (or you are buying them some) then a pedalboard is another awesome gift option. A pedalboard allows you to keep all of your guitar pedals hooked up, conveniently, in one place.
This pedalboard pack includes a 22"x12.6" pedalboard, a carrying case, a roll of velcro to help attach guitar pedals to the board, and some zip ties to help keep all of the cables secured.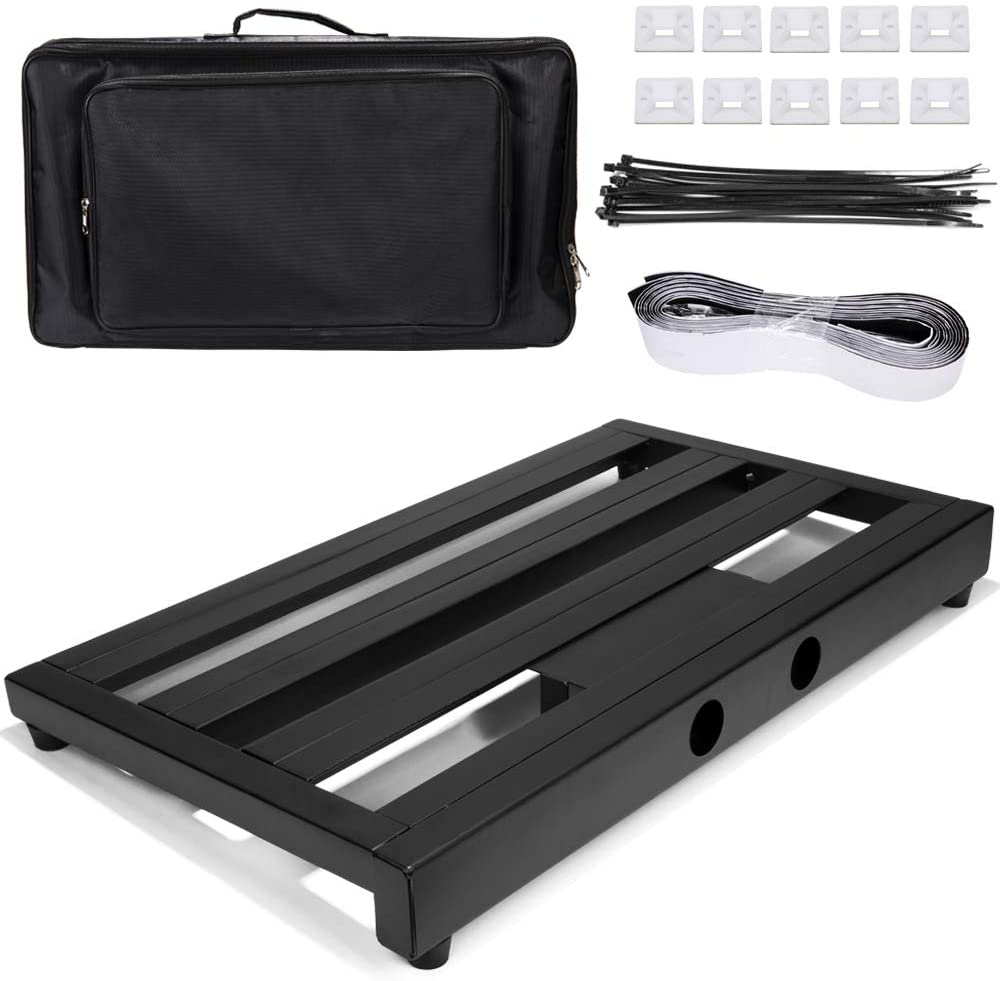 Patch Cables for their Guitar Pedals
While we are on the topic of guitar pedals, patch cables are something that all guitar players need, but never have enough of. Patch cables are used to connect different guitar pedals to each other so the guitar signal can be passed through them into the amplifier. An absolute must-have, and a gift that any guitar player will love.
There are a number of different options for patch cables available – with different brands, styles, and lengths to choose from. But this 6 pack of 6" long patch cables from Audioblast are a good option for a gift. They are high-quality, affordable, and have a low profile so they don't take up too much space.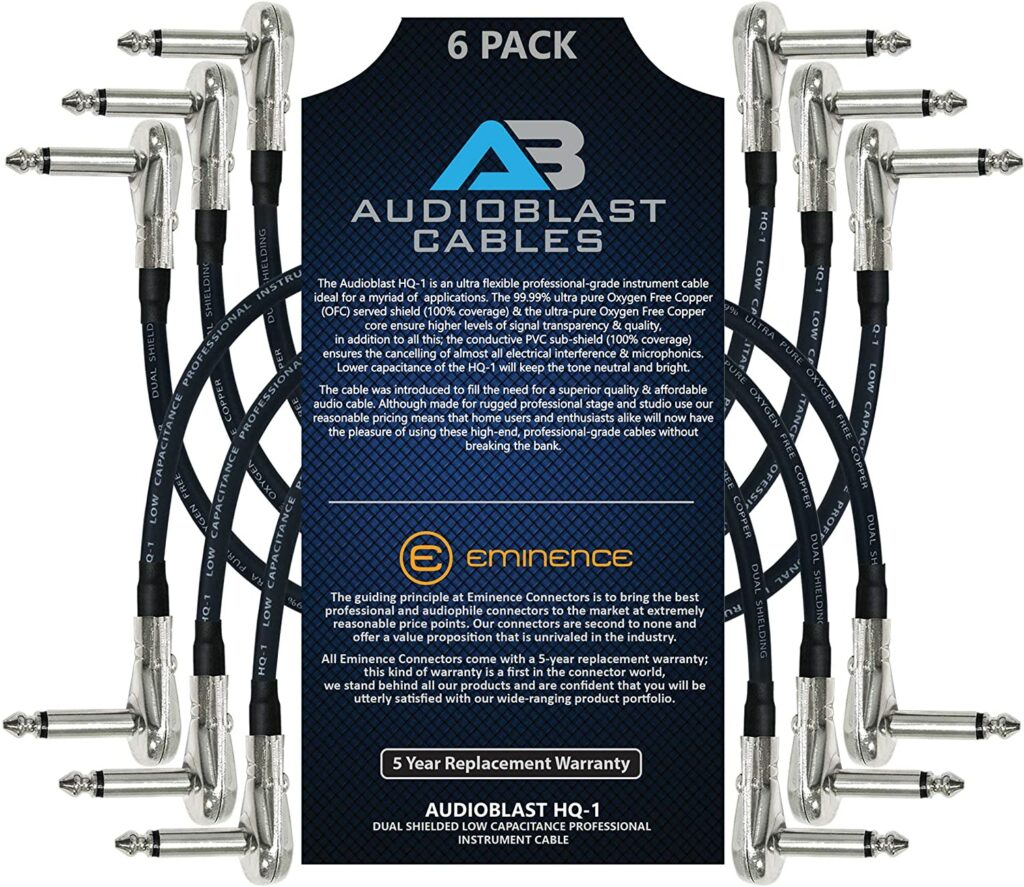 Pedalboard Power Supply
If you are shopping for a guitarist that has a few guitar pedals, then a power supply to power all of their guitar pedals simultaneously is an amazing gift! Most intermediate guitar players may not have a power supply, so this will be a huge upgrade to their setup.
The 1 Spot Pro from Truetone is one of the most trusted guitar pedal power supplies available today. It offers 12 independent outputs (it can power up to 12 pedals at once) while remaining quiet and reliable.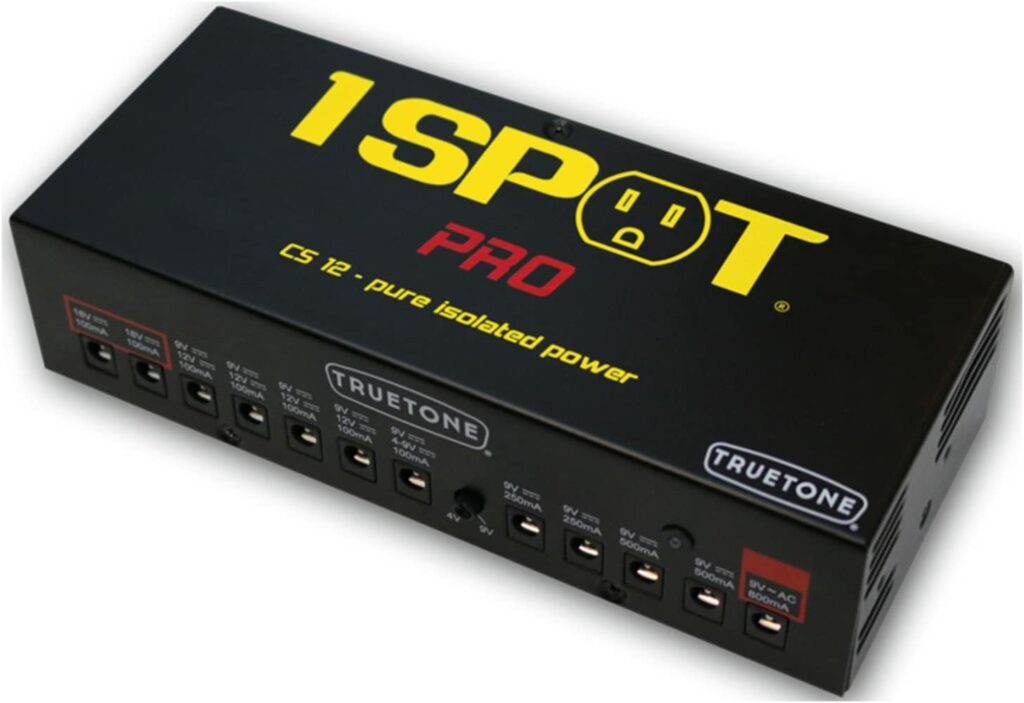 Another great (and much cheaper) power supply option is the DC Brick from MXR. It has slightly fewer outputs (only 10) but is $100 cheaper than the 1 Spot Pro featured above. Despite the cheaper price tag, the DC Brick is still a high-quality power supply that will work for virtually any guitar player's pedal setup.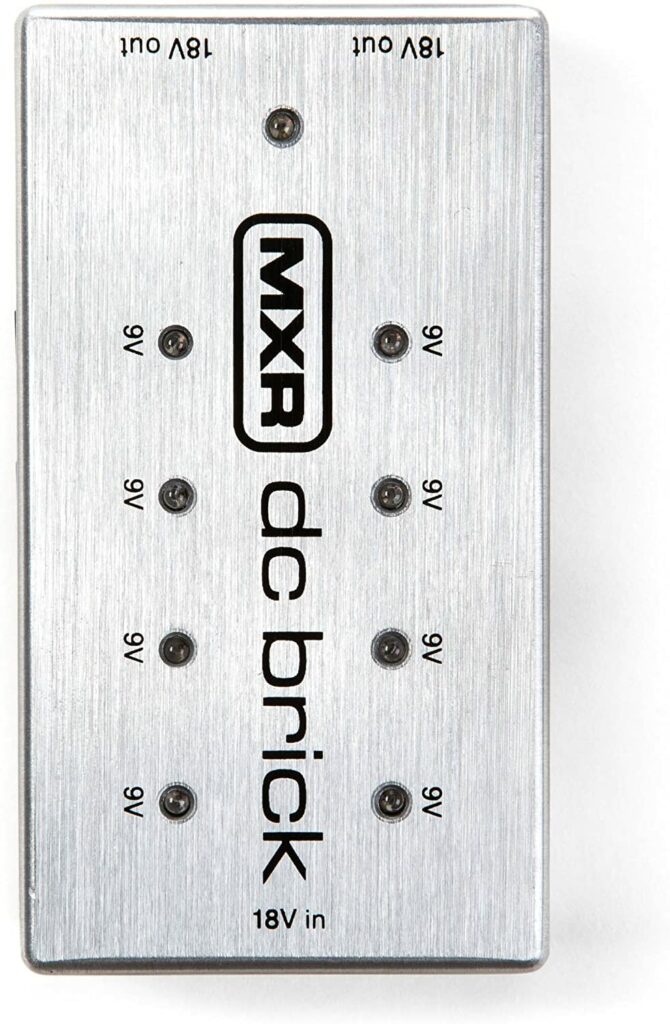 The Best Gifts for Advanced Guitar Players
Advanced guitar players are perhaps the hardest guitarists to shop for. They have been playing a long time, and already have a good understanding of what they like when it comes to their guitar setup. But not all hope is lost… There are still quite a few fun options for gifts to give to an advanced guitar player! 
A New Guitar
No matter how long they've been playing, no guitar player will be sad about getting a new guitar. A new guitar can be an inspiring tool for even the most seasoned musician – causing them to be excited about playing guitar again. 
Of course, there are hundreds of thousands of different guitars to choose from, but you can never go wrong with a classic Fender Telecaster. It is an iconic guitar across all different genres of music. And even if they already have a Telecaster in their arsenal, they may not have THIS one.

Positive Grid Spark Amplifier
The Spark Amplifier from Positive Grid is a somewhat new and exciting addition to the guitar world. On top of being a great-sounding amplifier to use at home or in the studio, the Positive Grid Spark can connect to your smartphone, which unlocks a whole new world of fun. 
Using the app, the Positive Grid Spark gives a guitar player access to 10,000+ different amp and effect presets to choose from. Plus you can import your favorite songs into the amplifier and it allows you to jam along with them in real-time (and it even helps you learn songs by displaying the guitar chords used while you're playing along). On top of all of that, the Spark has a multitude of other features that are useful for any guitar player's setup.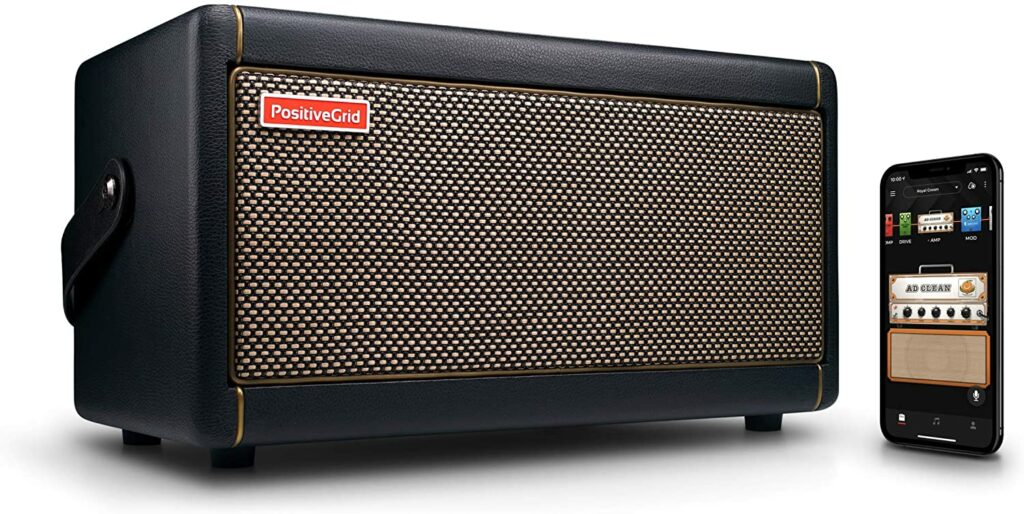 A DIY Guitar Pedal Kit
A DIY guitar pedal kit is an awesome gift for the tinkerer in your family. What is more exciting than building a guitar pedal that can become an integral part of your guitar setup? Building a guitar pedal is an amazing learning experience, and can even lead to a whole new hobby of building guitar pedals.
There are a lot of DIY guitar pedal kits out there, but this "Build your Own Fuzz" kit is a great gift option for a DIY guitar pedal kit. It includes everything you need to build the pedal, from the circuit board and parts to the enclosure and wires.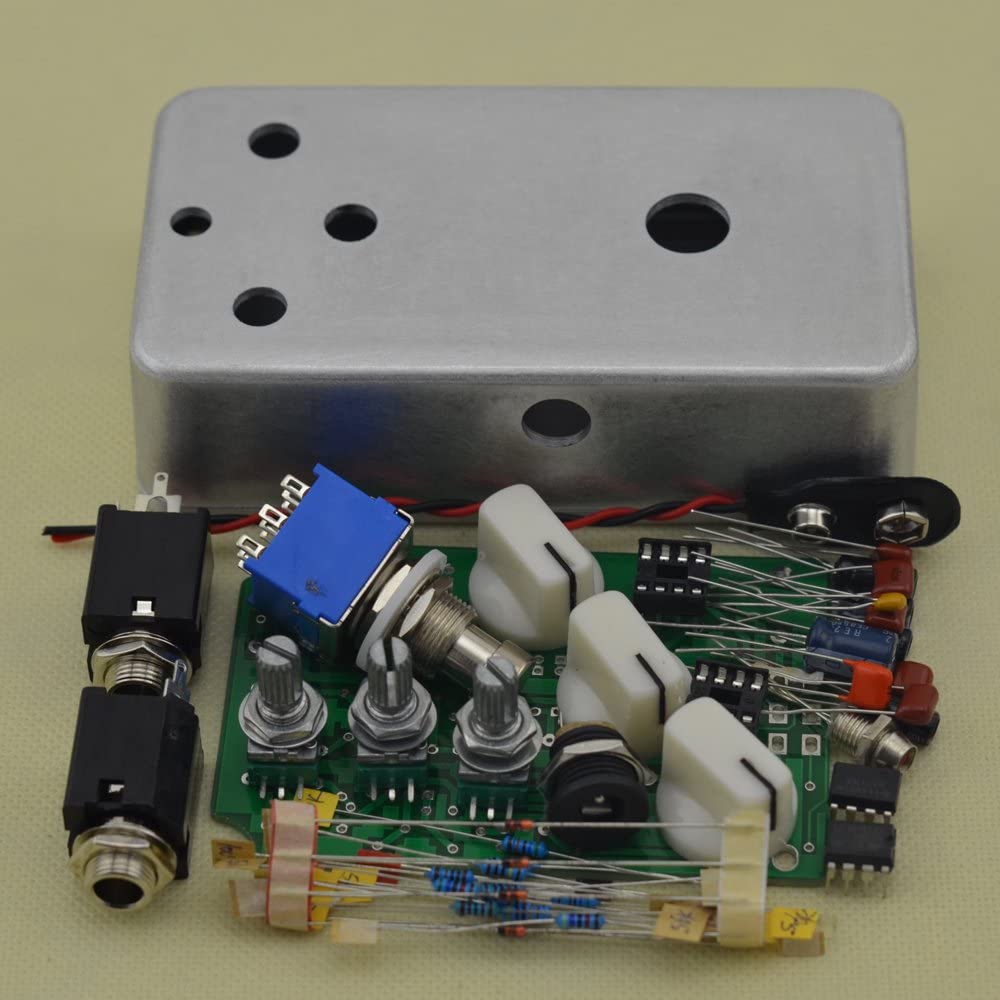 Note: These kits require a few extra tools, like a soldering iron to solder parts to the circuit board and a few hand tools to put everything together. If you're buying this for someone who is already a bit of a tinkerer, chances are they already have everything they need. However, here's a nice resource that covers every step of how to make guitar pedals.
DIY Guitar Kit
Much like the guitar pedal kit above, there are also kits available to build your very own guitar! While these are a bit challenging, they are hugely rewarding to build! And what is better than building yourself your very own guitar? 
This DIY Electric Guitar kit from Solo Guitars is an incredible DIY guitar kit, and it is pretty cheap! The kit includes everything you need to build your very own custom guitar. All of the heavy-duty woodworking has been done, so it is just a matter of putting it together. These are so much fun to make and would be a great gift for the guitarist that has everything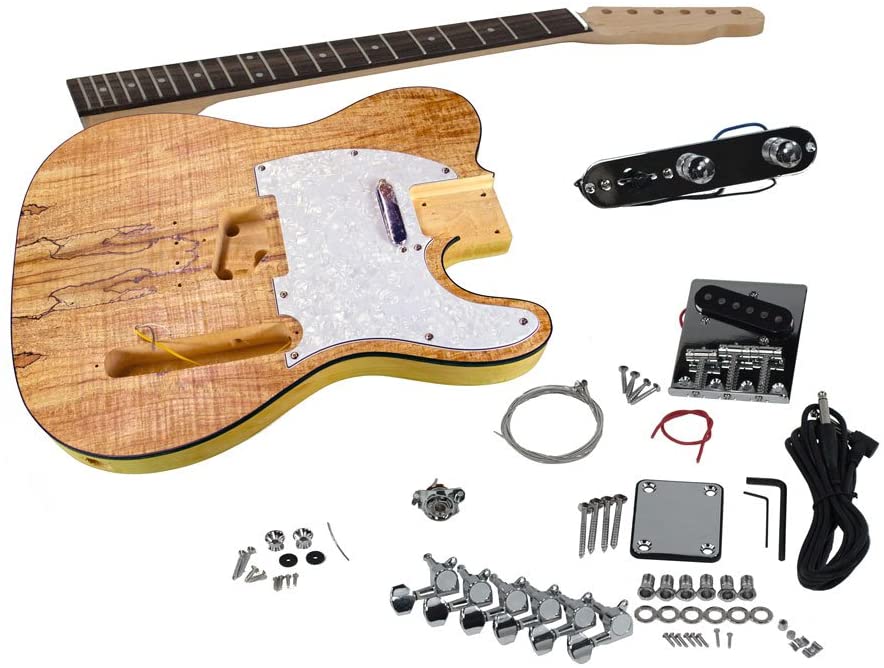 A Guitar Slide
A guitar slide is something that not many guitarists own, but they are really fun to use! A slide allows a guitar player to utilize a new guitar-playing technique, and can definitely boost their guitar-playing skills! This glass slide from Ernie Ball is super cheap and a lot of fun.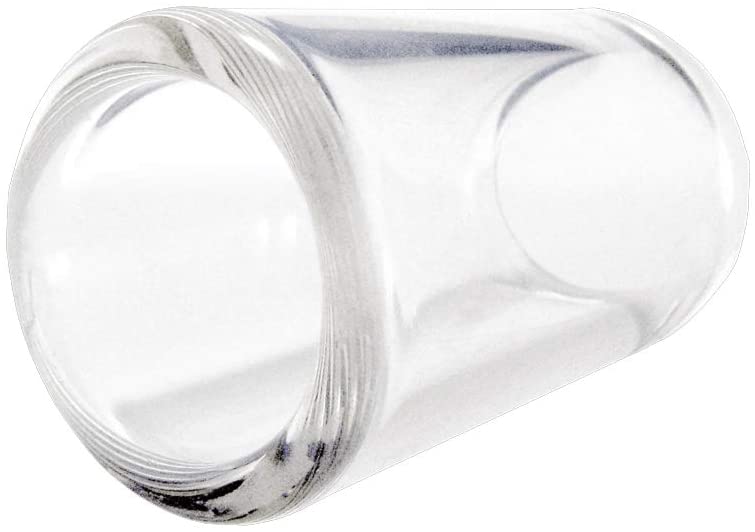 A Guitar Pick Maker
A guitar pick punch allows you to create guitar picks out of virtually anything. Old credit cards, driver's licenses, hotel room keycards… basically any sort of thin, plastic you have laying around the house. 
This guitar pick punch from Pick-a-Palooza includes the pick punch, some starter strips of plastic to make guitar picks out of, and a nifty guitar pick holder key chain. This is a fun gift for the guitar player that has everything because we can almost guarantee they don't have one of these!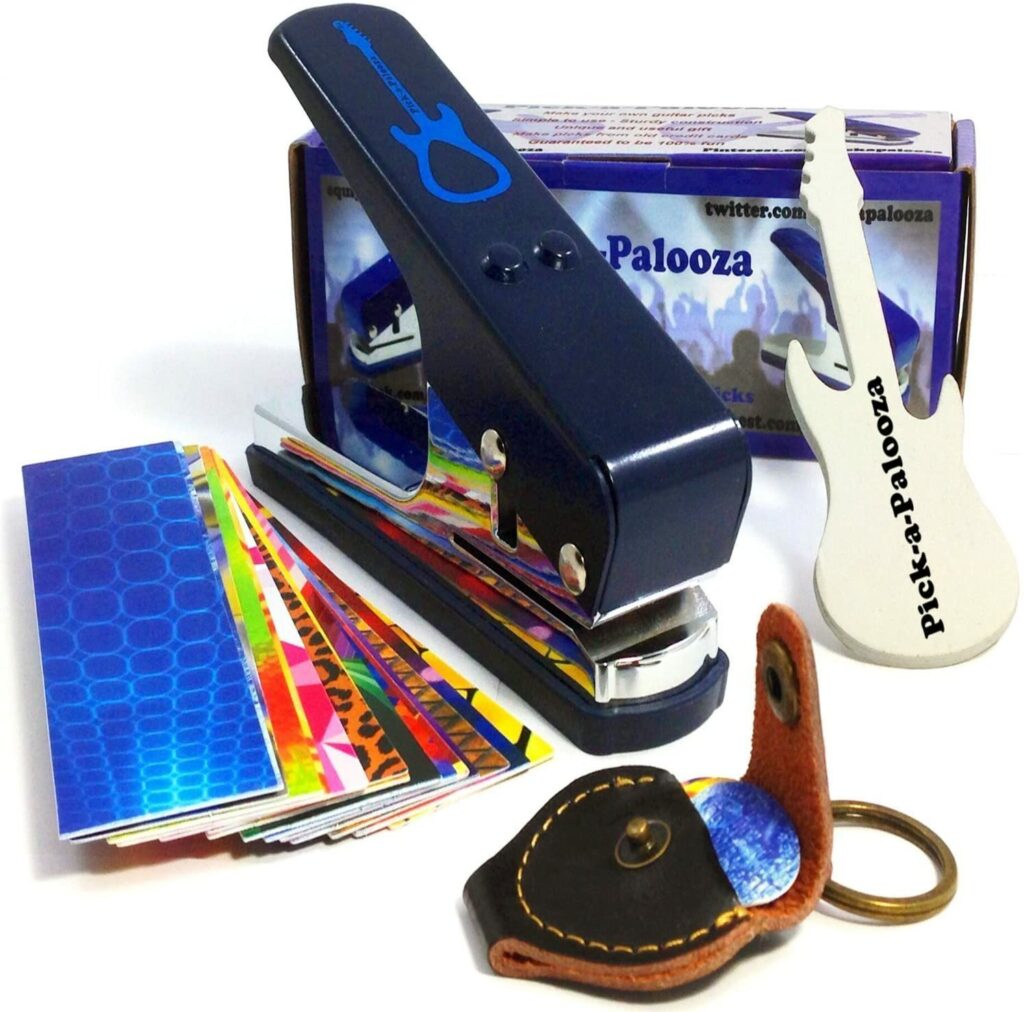 Boss RC-5 Guitar Looper Pedal
A looper pedal is another fun gift idea for an advanced guitar player. These pedals allow a player to record their guitar playing into the pedal and play it back so they can play on top of the recording. It is like playing guitar with a friend, except the friend is yourself.
The Boss RC-5 is equipped with 13 hours of recording time, and 57 different drum rhythms that you can turn on and off to accompany your playing. This is a really cool gift for the guitarist that plays at home all the time.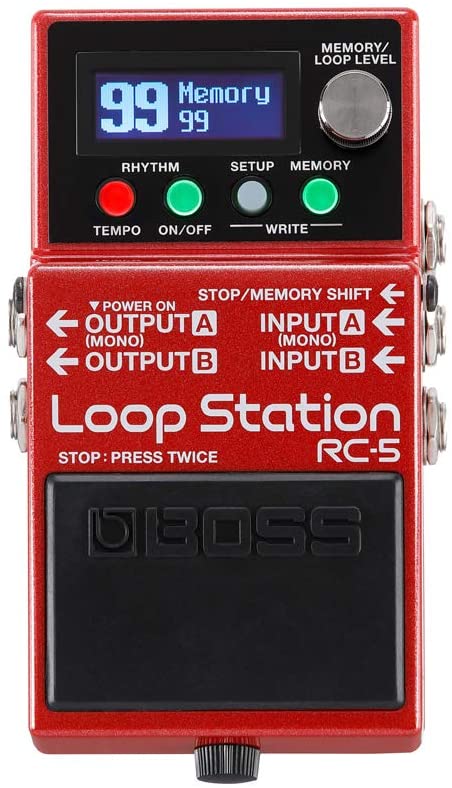 This Ridiculous Guitar Amp Mini Fridge
Nothing accompanies playing guitar like a nice, cold beer (or soda, or water, or whatever else)! This mini-fridge is designed to look like an iconic Marshall guitar amplifier – an incredible addition to a guitar player's studio!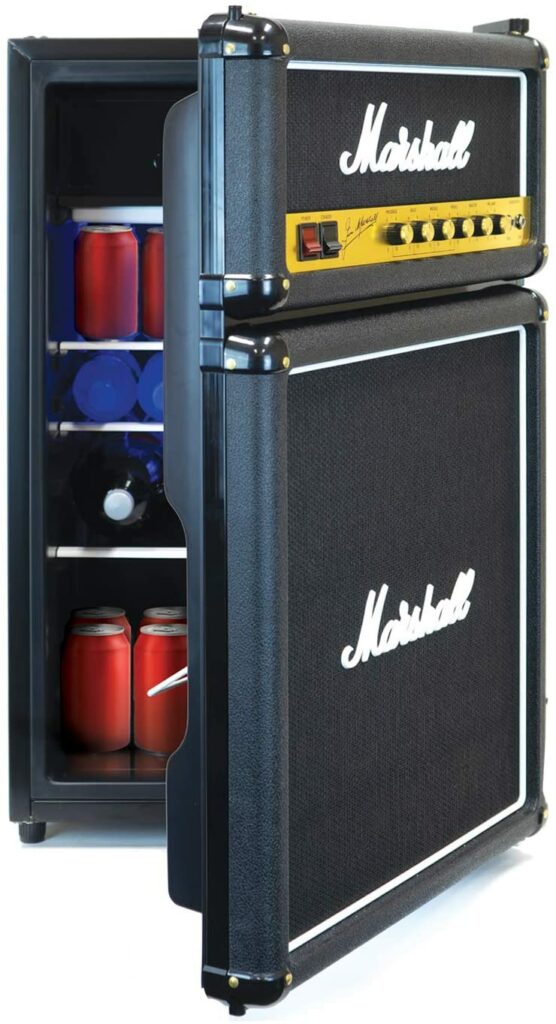 A Guitar Amp-Inspired Key Holder
A fun addition to a guitarist's living space. The Marshall Jack Rack allows you to live out your rockstar dreams by giving you a cool place to hang your keys. The Jack Rack is made to look like an iconic Marshall amplifier and is sure to be a fun gift for the guitarist in your life.