Whether you have been browsing various gear forums, checking out your favorite guitarists' pedalboards, or scrolling through the @PedalHaven Instagram account – chances are you have seen a lot of different compressor pedals. 
However, if you're new to the guitar pedal world, or just aren't quite sure if a compressor pedal is right for you – then this guide will help you wrap your head around what exactly a compressor pedal can do for you. 
 What Does a Compressor Pedal Do? The Guitar Compressor Pedal Explained
The main function of a compressor pedal is to intensify (or beef up) an instrument's sound. Compressor pedals do exactly what it sounds like, compress your signal. They do this by reducing loud sounds and amplifying quieter sounds, which makes a much more consistent sound from note to note, and also allows notes to sustain for much longer.
This is especially popular for guitarists (and bassists!) who typically play with a clean tone because notes played on a "clean" guitar can lack sustain – meaning the sound dies out rather quickly. Compressing this sound will allow the notes to extend much longer without the need for distortion or overdrive.
Do I Need a Compressor Pedal?
The truth is: it depends. If you're playing the blues, probably yes. However, if you've never tried one, we'd suggest giving it a chance. Perhaps pick up a cheap compressor pedal, like a Donner Ultimate Comp ($37 on Amazon), and see how you feel. It may be exactly what you've been missing. If you find yourself playing with a "clean" tone, or use an electric acoustic guitar, then a compressor pedal is always a great tool to have in your arsenal to help liven up your sound.
Compressor pedals are also great if you incorporate these techniques into your guitar playing:
-Finger Picking
-Hammer-Ons and Pull-Offs
-Harmonics
Compressor Pedal Settings
Okay, so you got a compressor pedal – Now what? 
Much like any guitar pedal, a compressor is no different. By that, we mean different settings will help you accomplish different goals. If you're a blues guitar player, you may prefer wildly different settings than a country music player. And of course, everybody has different gear, playing styles, and preferences. 
When it comes to setting your compressor pedal, the best thing to do is dial all of the knobs to "noon" (pointing straight up) – and then tweak the various settings to your liking. 
How to Use a Compressor Pedal
As we mentioned above, a compressor pedal is used to help add some bulk to your guitar's overall sound. Many guitarists turn on their compressor pedal at the beginning of their set and never turn it off until they are done playing. However, if you have a certain part in a song that could benefit from more sustain, perhaps a wild solo or a pretty finger-picked part, you may only need to turn it on for that moment. 
It is best to bring your compressor to your band's practice and test out playing different riffs with or without the compressor. This will allow you to pick out parts where the pedal really benefits your overall sound.
Where Should You Put Your Compressor in your Effects Chain?
You should always think about how you order your pedals on your pedalboard. Much like any effect, a compressor pedal will offer different tonal options depending on where it is in your signal chain. Most of the time, it is best to put your compressor first. That way it sends a clear, consistent sound through the rest of your effect pedals. 
Here are a few frequently asked questions on where a compressor pedal should go. 
Compressor Before or After Overdrive?
A compressor typically is placed before any overdrive effects in your pedal chain. Of course, this is open to experimentation, because some overdrive and compressor pedals will react differently to one another. Give both options a try!
EQ Before or After Compressor?
Typically you will want to place your EQ pedals before any compressor pedals. This will usually lead to a more warm, rich tone. It really depends on the sound you are looking to achieve, so definitely try out different combinations.
Compressor Before or After Wah?
In this situation, the wah pedals are almost always first. Having a compressor after a wah pedal helps bring out the "vocal" qualities of a wah pedal. 
What is the Best Compressor Pedal?
We have put together a list of the best compressor pedals for both new and seasoned musicians. To help even more, we have broken this list into two sections: guitars and bass guitars. 
Best Guitar Compressor
Boss CS-3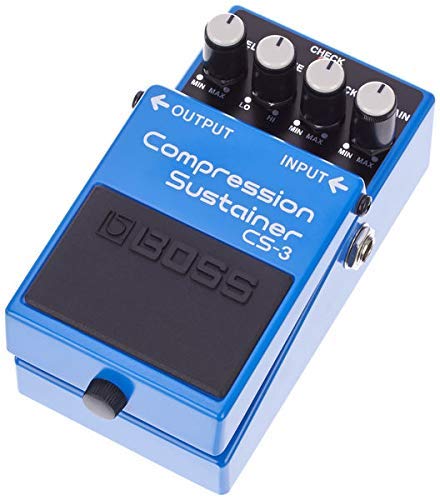 Perhaps one of the most popular compressor pedals, the Boss CS-3 is a powerhouse of a compressor. The CS-3 does not have any tricks up its sleeve – It is just a straight-up great compressor pedal.
Empress Effects Compressor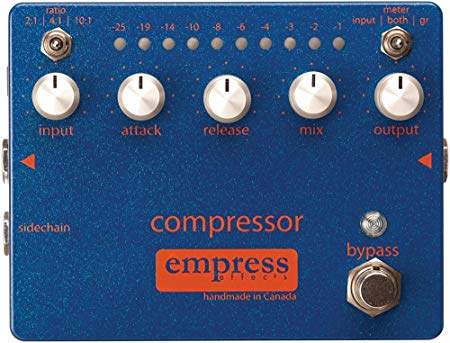 If you're looking for a bit more options for sculpting the tone of your guitar, then the Empress Effects Compressor may be your answer. With three different compression ratios onboard and a "mix" knob, there are a ton of tonal capabilities here in this pedal.
Wampler Ego V2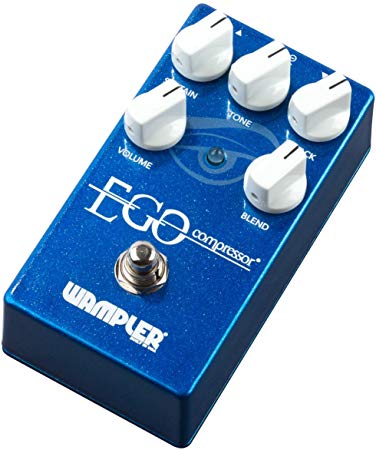 Another compressor with a lot of options available. With its standalone "blend" knob, the Ego from Wampler allows you to blend your compressed tone into your sound, allowing for a lot of control of its output.
JHS Whitey Tighty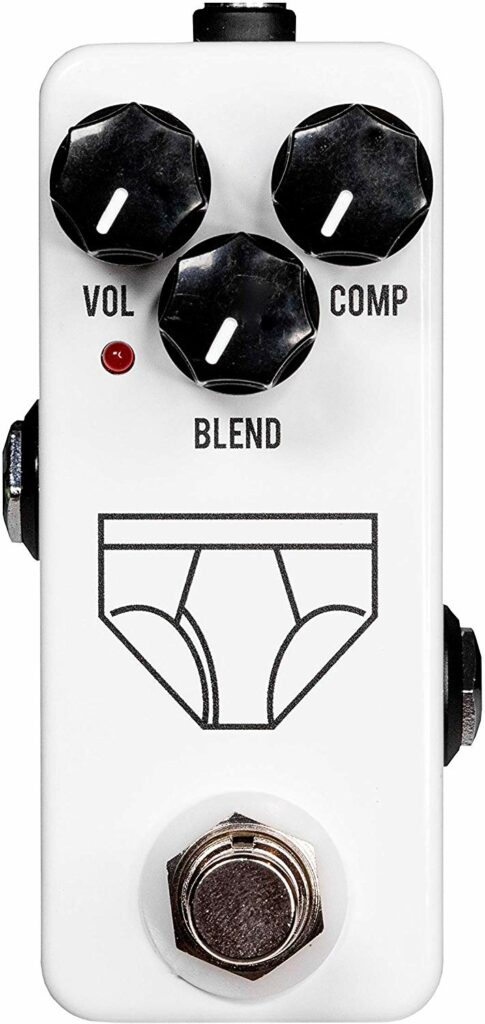 The Whitey Tighty is an FET compressor that packs a lot of punch for its size! The smaller enclosure of this pedal means it does not take up as much real estate on your pedalboard – making it a great option for those with a lot of pedals already. 
Xotic SP Compressor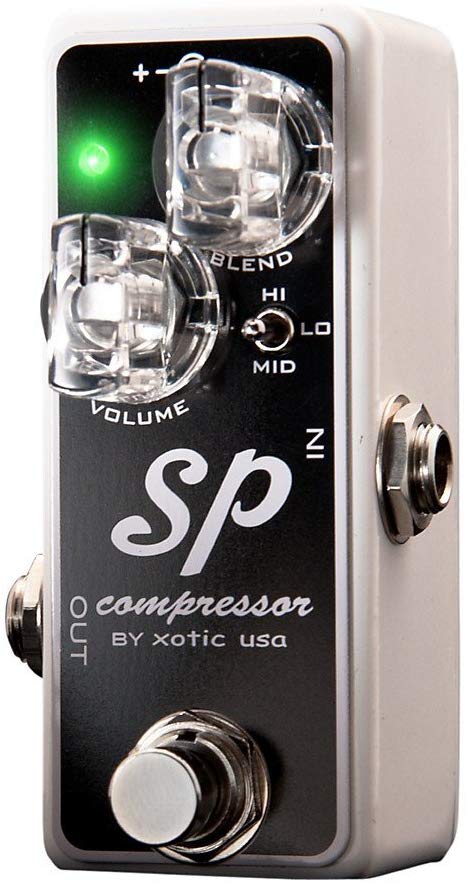 Another tiny compressor pedal with a lot of potential. It's two-knob design still allows for a lot of customization. This little compressor is wildly popular among guitarists from all genres. 
Best Bass Compressor Pedal
MXR M87 Compressor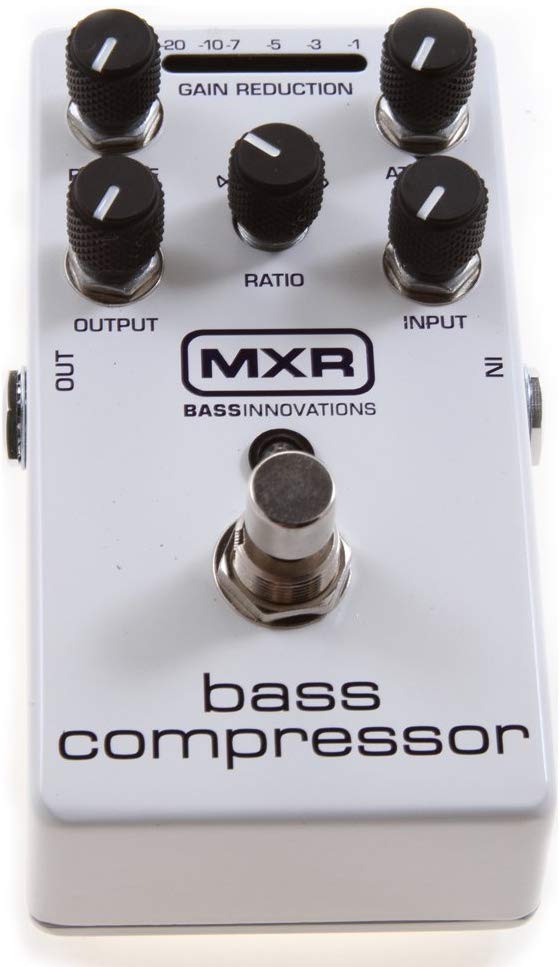 When it comes to bass compressors, the M87 offers a large variety of options when it comes to sculpting your tone. With independent attack and release controls, you can adjust your compression settings very precisely. 
Electro-Harmonix Bass Preacher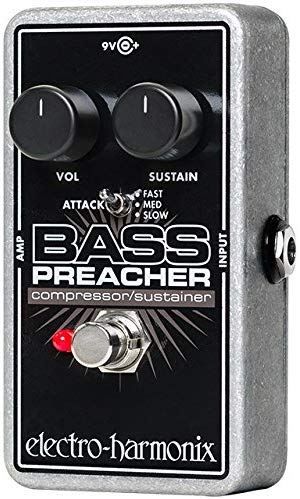 The Bass Preacher is a two-knobbed beast from EHX. The pedal offers an "attack" control in the form of a switch, allowing you to choose three different attack settings on the fly. 
TC Electronic Spectra Comp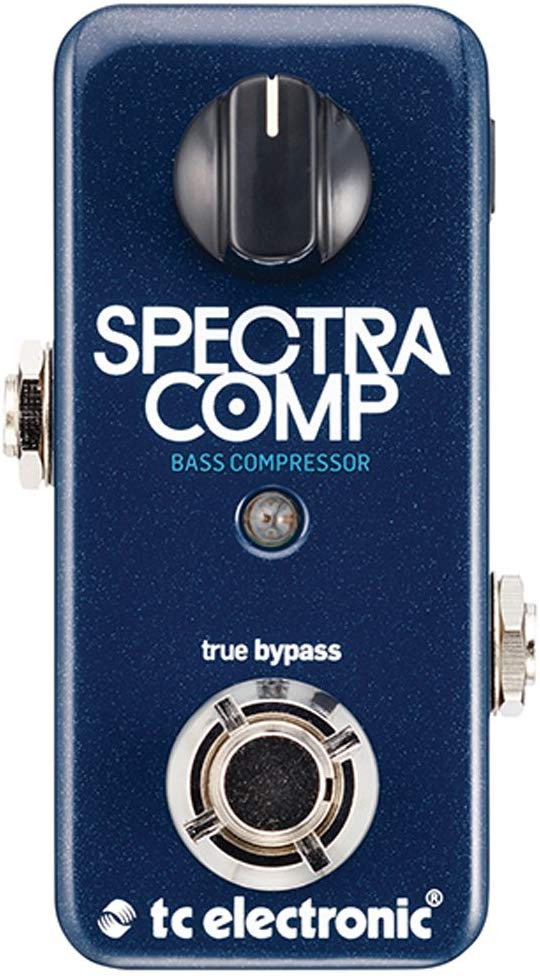 The Spectra Comp is a studio-grade compressor in a tiny format. TC Electronic's "Tone Print" technology allows you to choose different compressor settings from their vast library of options. 
Darkglass Hyper Luminal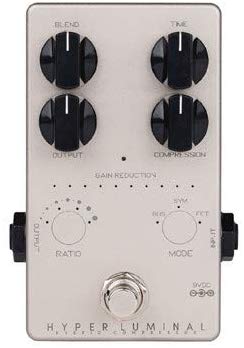 A bass guitar pedal can always benefit from a "Blend" knob, and the Hyper Luminal has that – plus a multitude of other options on board. The Hyper Luminal is a fantastic choice for the more experienced bass player.
We hope this helps you understand a bit more about compressor pedals! Please feel free to reach out to us if you have any questions.
Pedal photos courtesy of Amazon