This post may contain affiliate links
If you've been following the @PedalHaven Instagram account, you may have seen that I built a little DIY pedalboard out of wood to use at home. 
I have been really wanting a medium-sized pedalboard for quite some time. Before building this, I only had the option of a small 17"x6" pedalboard or a massive 30"x18" board – And while both are great options, I wanted something in the middle.
Then I started thinking, "Why not just build one?" 
So I did.
Now, I would like to preface this… I am definitely not that handy and am not particularly good with woodworking, and this is definitely not a 'professional' pedalboard – but it gets the job done. And if I can do it – so can you!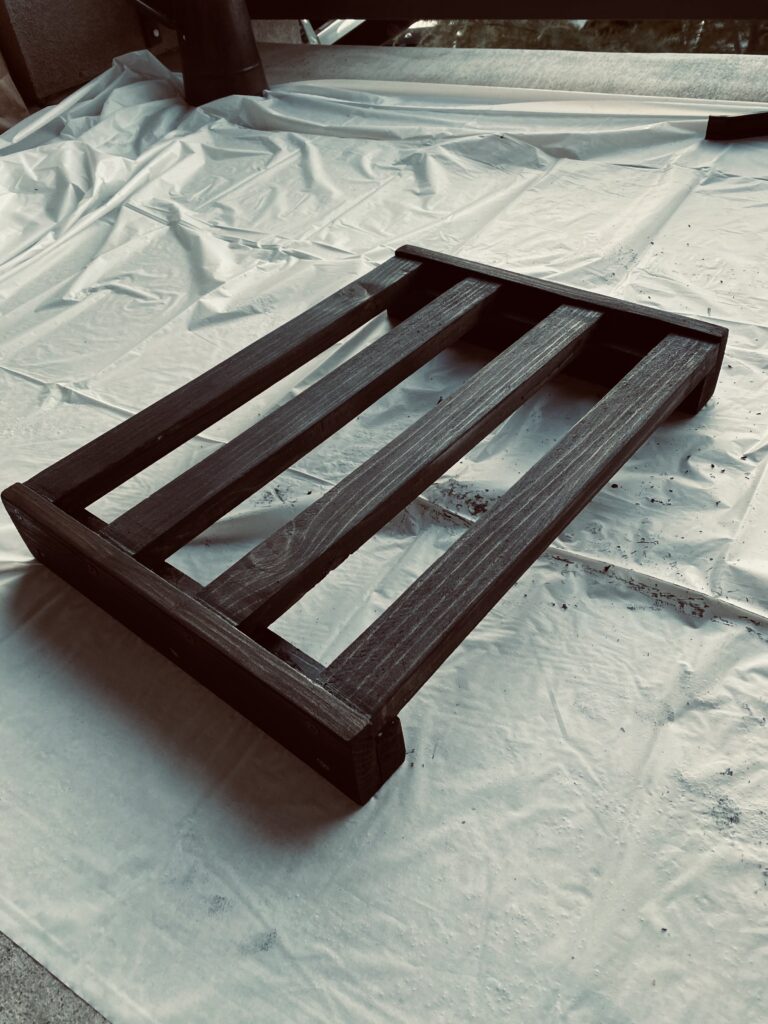 The build still came together rather easily – so I figured I would share a bit about how I built it in some sort of guide in case anyone out there is thinking about building their own pedalboard. 
And after all was said and done, I only ended up spending about $8 on wood from Home Depot, because I already had the rest of the necessary tools on hand. 
However, if you have absolutely no tools or wood on hand, you can still get everything you need for the build for just shy of $100 (probably less if you're good at finding deals!). I do realize at that point, it may be cheaper to go out and buy a cheap pedalboard, but where's the fun in that?!
Anyway, let's dig into the build:
Here's what you'll need to build the DIY Wooden Pedalboard"
How To Build Your Homemade Pedalboard
The build itself was really simple and came together in less than an hour. The main takeaway here, I think, is just making sure to properly measure the boards and be as precise as you can when cutting them in order to ensure things line up properly when putting it together (and you won't have to do a ton of sanding as I did).
Here is the build plan for the pedalboard. Apologies in advance for the drawing here: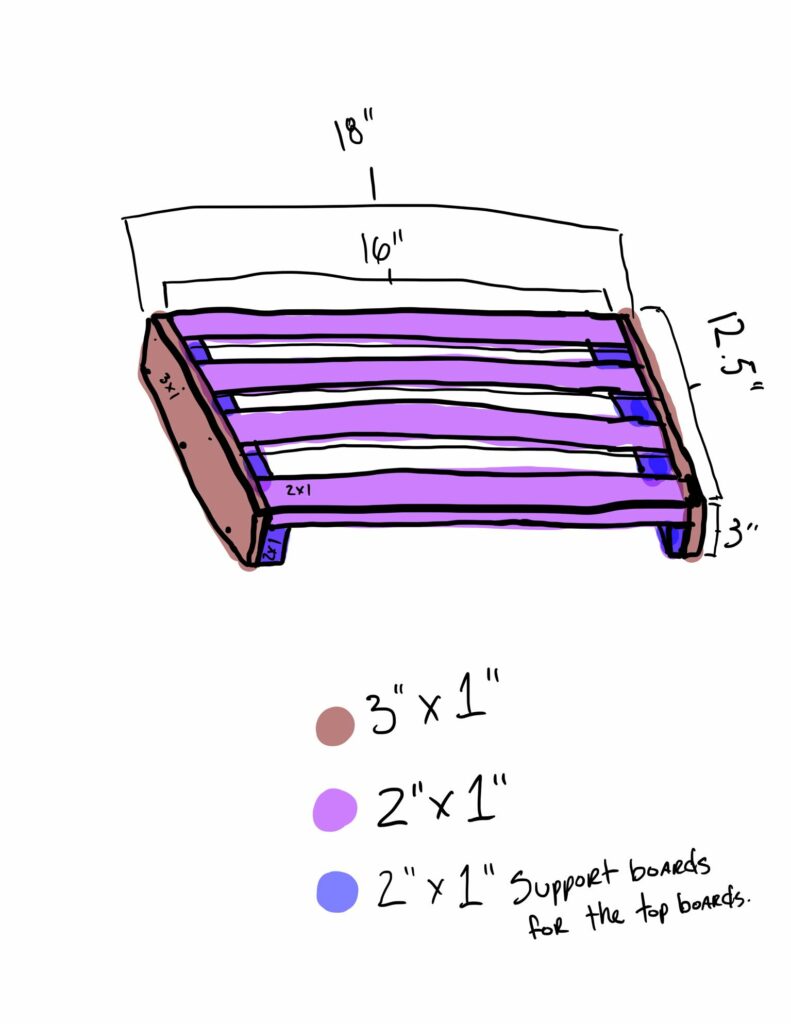 I went with an 18"x12.5" pedalboard. Of course, you can make this any size you'd like to accommodate for your pedal setup, but this seemed like the perfect size for me.
Step 1: Cut the Wood
I started by cutting out all of the pieces I needed for the build and laying it out to ensure it looked how I wanted it to. 
Step 2: Screw it all Together
Once I was happy with that, I went ahead and screwed everything together (be sure to drill pilot holes before driving your screws into the wood to avoid cracking the wood. I started by screwing the 3×1 boards for the sides (highlighted in brown above) to the 2×1 support boards (highlighted in blue). Once those were screwed together, I went ahead and attached the top slats to the sides.
Step 3: Sanding
Once it was all screwed together, I went over the entire pedalboard with 80 grit sandpaper to smooth out the rough edges and sharp corners. Then I went over it with 120 grit sandpaper, and finally 220 grit for a nice, smooth finish. 
Step 4: Stain
After the sanding was done, I blew off all of the sawdust and applied a coat of stain to all surfaces of the pedalboard. I ended up putting two coats of stain on it in total. You could also opt for spray painting the pedalboard or even just sealing it with oil for a natural finish.
Step 5: Finishing Touches
Finally, I added strips of Velcro across the top surface of the pedalboard, and I flipped the board over and applied the rubber feet to the bottom. 
And that's it! 
Overall, it was quite simple to put together and was actually a really fun little weekend project! If you're looking to build your own pedalboard, I hope this little guide helped you in some way. If you do build one, send me a DM on Instagram – I'd love to see it! And if you have any questions along the way, feel free to reach out to me here or send me a message on Instagram anytime.
Once you've built the pedalboard, here's a handy guide on how to organize your pedals on your pedalboard.