Italian pedal makers, Mastro Valvola Pedals, just announced the release of their latest pedal, OFF1.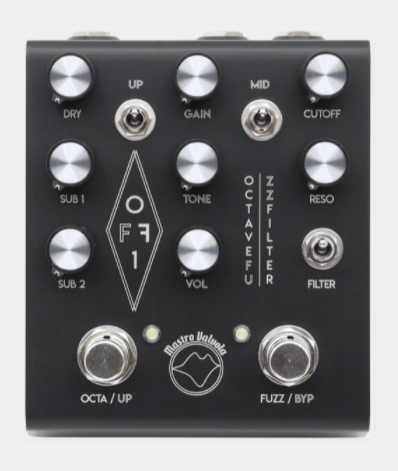 OFF1 features 3 standalone analog circuits in series: Fuzz, Octave, and Ladder Filter.
The Octave and Fuzz circuits can be used individually or combined to create wild and experimental synth-like sounds. 
Mastro Valvola OFF1 Synth Demo:
When using OFF1, your instrument's signal is first met by the octave circuit. After that, your signal runs through the fuzz and ladder filter circuits. 

Here is a bit more information about the three different circuits inside of Mastro Valvola's OFF1:
OFF1's Octave Circuit:
The Octave Circuit in OFF1 adds two different sub octaves (-1 octave and -2 octaves) underneath your original sound. The pedal features a Dry control to dial in how much of the octave sounds you want to be mixed into your original sound, and each octave has its own volume control for maximum customization.
OFF1's Fuzz Circuit:
While capable of producing a wide range of fuzz tones, OFF1's fuzz circuit "doesn't like being compared to other fuzz tones". On the front of the pedal, you have control over the fuzz circuit's volume, tone, and gain. And you have two toggle switches that work with the fuzz circuit: a Mid switch that affects the mid frequencies and an Octave Up toggle switch that engages an octave-up effect reminiscent of the old octave-up fuzz tones of the '60s and '70s.
OFF1's Filter Circuit:
The Ladder Filter Circuit of the OFF1 is similar to those of the most legendary synths, with controls over the filter's resonance and cutoff. You can also use an external expression pedal or CV source to sweep the filter's cutoff. 
OFF1 Highlights
Analog Circuits

Synth-like Ladder Filter

2 different footswitch configuration modes

Both footswitches can be used in latching or momentary mode

Expression or CV control input
For more details, sound demos, or to order – head over to the Mastro Valvola website.