This post may contain affiliate links
Following the reissue of their Stereo Chorus Flanger pedal, TC Electronic has just announced the release of their latest pedal, the INFINITE Sample Sustainer.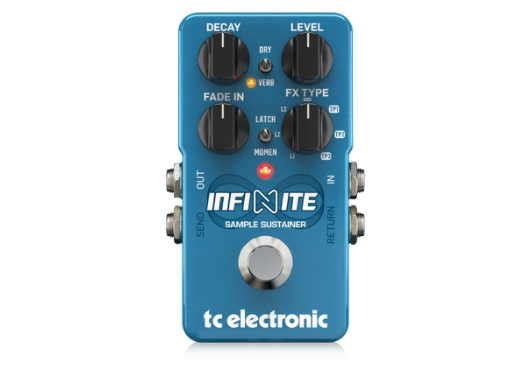 The INFINITE Sample Sustainer captures a moment of sound, a note, or a chord, and sustains it indefinitely, creating an ambient pad for you to play over.
"The name says it all. With INFINITE on your board, you'll be able to capture and sustain a moment in audio. If DITTO LOOPER is like the camera on your phone where you can loop a video sequence, INFINITE is like the Polaroid for sound, allowing you to build amazing soundscapes and captivating moods whenever and wherever between now and forever. Instant sound snapshots so to speak!"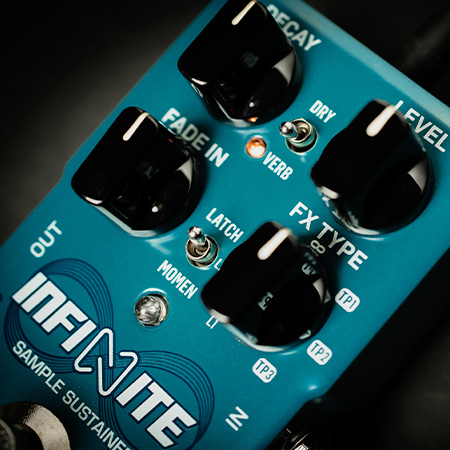 The INFINITE Sample Sustainer has several different modes available via the "FX Type" knob. 
L1: Sustains a single sample at a time.
L2: This allows you to sustain two different samples on top of one another.
L3: This allows you to sustain up to three different samples on top of each other.
Infinite: This allows you to stack and sustain an indefinite number of layers.
TP1, TP2, TP3: These modes allow you to use TC Electronic's TonePrint software to create and upload your own custom modes for the pedal.
INFINITE also has an onboard reverb and modulation engine under its hood, via the "Dry/Verb" toggle switch, which helps shape the sustained sounds into more interesting soundscapes.
INFINITE has a toggle switch to select between latching or momentary switching, meaning you can engage the pedal by pressing the footswitch in "Latch" mode – or you can engage it by pressing and holding the footswitch in "Momen" mode, and the effect stops when you release the footswitch. 
INFINITE also features an effects loop that applies any other pedal in your arsenal to the sustained signal. Meaning you can sustain a note, and run the sustained note through an overdrive pedal, chorus pedal, delay pedal, or anything else you can imagine. Whatever effects you put into the effects loop only affect the sustained sound.
INFINITE has a Decay knob that dials in the length of your sustained sounds. A Fade In knob that controls the pace of new layers. And a Level knob to adjust the overall output of the pedal. 
For more information on TC Electronic's new INFINITE Sample Sustainer, head over to their website to learn more.