This post may contain affiliate links
In the guitar world, there aren't many things more exciting than playing through a cranked tube amplifier. 
But if you are on a tight budget or playing guitar in an apartment where you can't crank your amp's volume to 10, then having a 100 watt Marshall JCM800 may not be an option for you. 
Thankfully, we are seeing a rise in "Amp in a Box" style pedals, which can help you achieve the feel and classic tones of some of the most iconic tube amps without breaking the bank (or your lease agreement).
Below we've compiled a list of our picks for the best "Amp in a Box" pedals available today.
What are "Amp in a Box" Pedals?
Before we dig into the best "Amp in a Box" style pedals, let's talk about what they are. 
"Amp in a Box" pedals are different from your standard overdrive or distortion pedal, but they do share a few of the same characteristics. However, instead of simply adding overdrive or distortion to your sound, "Amp in a Box" pedals are made in a way to emulate the sound and feel of an actual amplifier. 
Many of the best "Amp in a Box" style guitar pedals are based on some of the most favored guitar amplifiers in history, like Marshall Plexi amps or Vox AC30s. These pedals are made to have the same response and sound of an actual amplifier – meaning you can put them into an otherwise clean amp (or an amp modeler or straight into a cabinet simulator) and still achieve the glorious tones of the amps they are trying to replicate.
The Best Amp in a Box Pedals
Wampler Pedals – Plexi-Drive Deluxe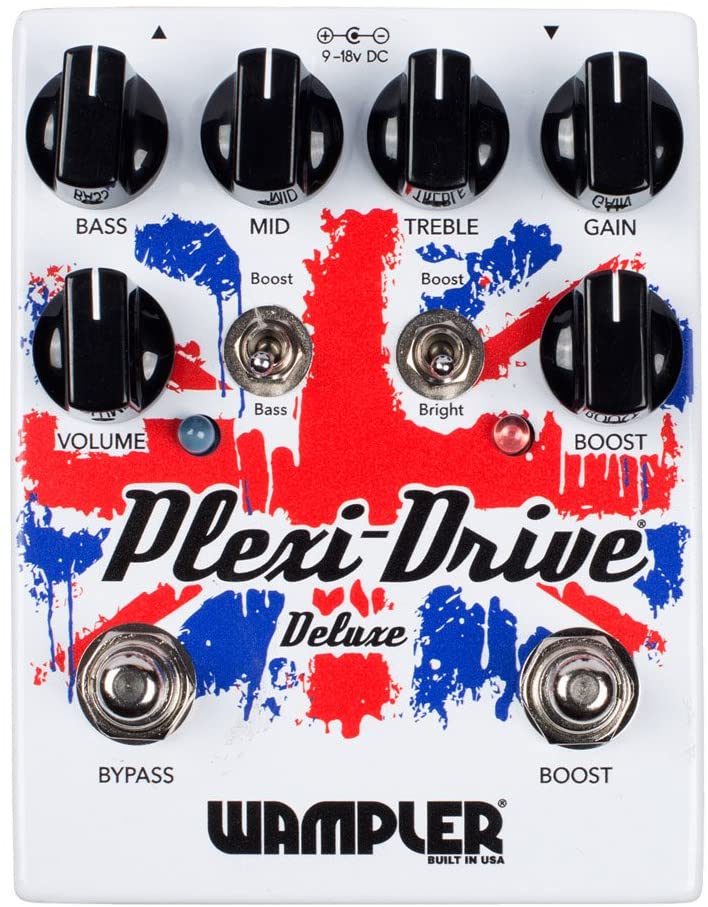 If you're looking for the best Marshall in a box pedal, the Plexi-Drive from Wampler Pedals is an amazing choice. This pedal is built to replicate vintage Plexi tones but gives you a considerable amount of control over your tone with a large number of knobs and switches. 
The Plexi-Drive offers up a three-band EQ section, gain control, and a pre-gain boost and toggle switches to boost your low and high-end frequencies individually. Making it possible to get Marshall Plexi style tones from virtually any amplifier.
WHERE TO BUY
---
Wampler Pedals – Plexi Drive Mini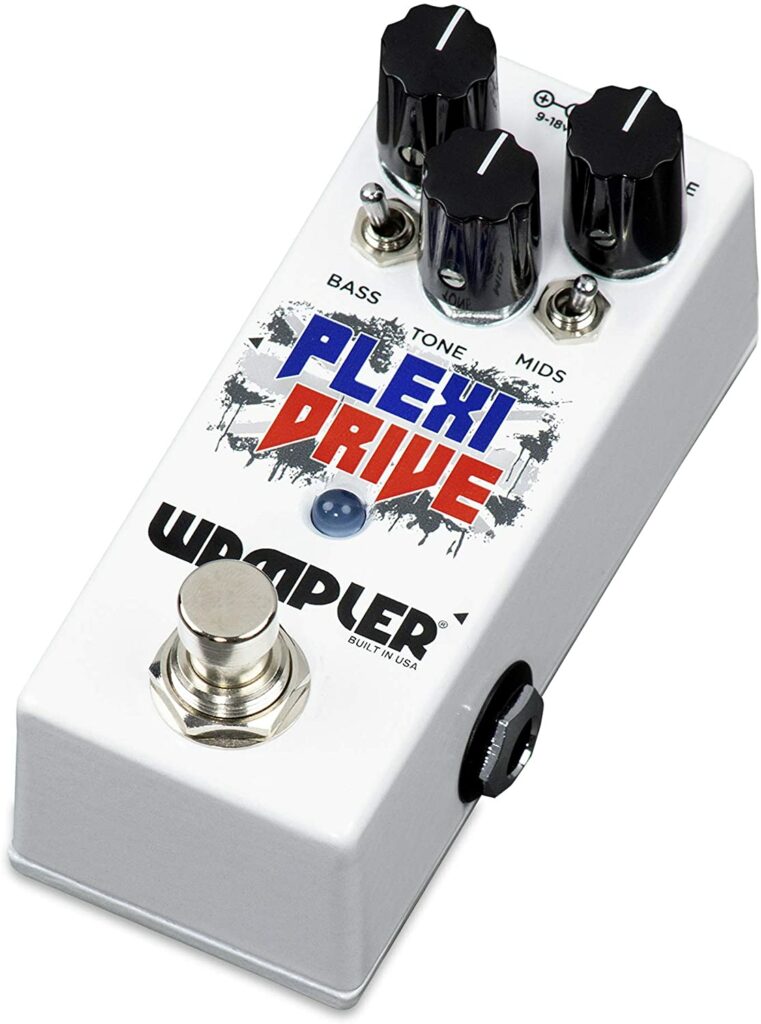 If you're looking for a smaller, more affordable Marshall-inspired pedal, Wampler's other Marshall in a box pedal, the mini version of their Plexi-Drive is a great choice. The Plexi-Drive mini has slightly fewer tonal controls but is retrofitted into a much smaller, pedalboard-friendly enclosure with a considerably smaller price tag too- and it still sounds great!
WHERE TO BUY
---
Electronic Audio Experiments – Model feT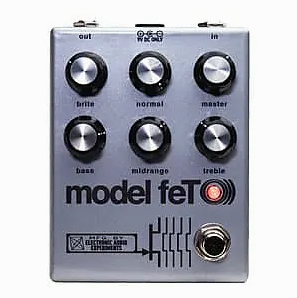 The Model feT from Electronic Audio Experiments is a transistor-based preamp pedal modeled after the legendary Sunn Model T amplifier. This is an exceptionally good "amp in a box" pedal for those seeking more heavy guitar tones.
Although the Model feT can produce crushing, doom-metal-level, distorted tones – it remains clear and present which makes it very useable when running other drive pedals with it.
WHERE TO BUY
---
MXR – EVH 5150 Overdrive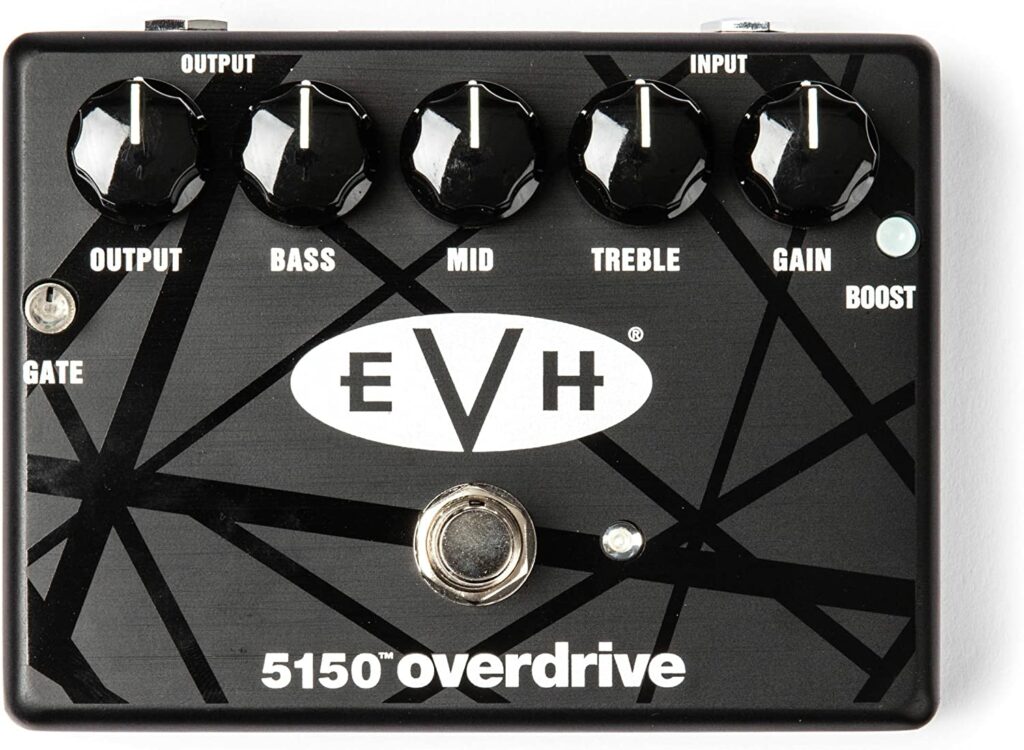 The Peavey 5150 is an iconic amplifier in both the classic rock and metal worlds. The EVH 5150 Overdrive from MXR was designed in close collaboration with Eddie Van Halen and is made to produce the same sound and feel as a Peavey 5150 amplifier. 
The EVH 5150 Overdrive features a three-band EQ and independent volume and gain controls. Aside from that, the 5150 Overdrive has an onboard boost and noise gate to help you really dial in your tone.
WHERE TO BUY
---
EarthQuaker Devices – Acapulco Gold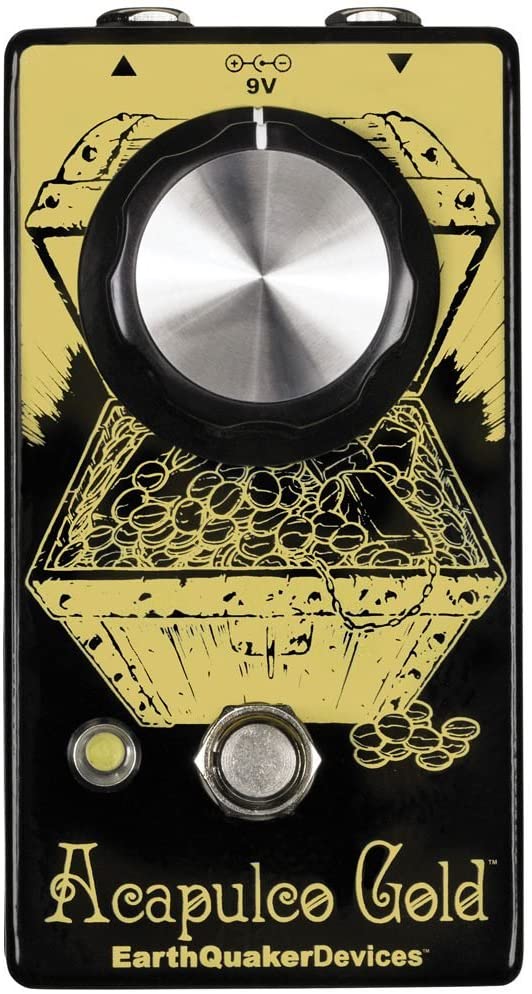 If you are a fan of Sunn amplifiers, the Earthquaker Devices' Acapulco Gold should absolutely be on your radar. The Acapulco Gold is modeled after a cranked vintage Sunn Model T amplifier and does an amazing job of capturing that tone. 
The Acapulco Gold has one massive knob on the front of it which controls the output volume of the pedal, so you can get that cranked Model T tone with your guitar's volume knob turned all the way up. But as you roll back your guitar's volume knob, the Acapulco Gold cleans up rather nicely.
WHERE TO BUY
---
Whimsy Machines – Short Stack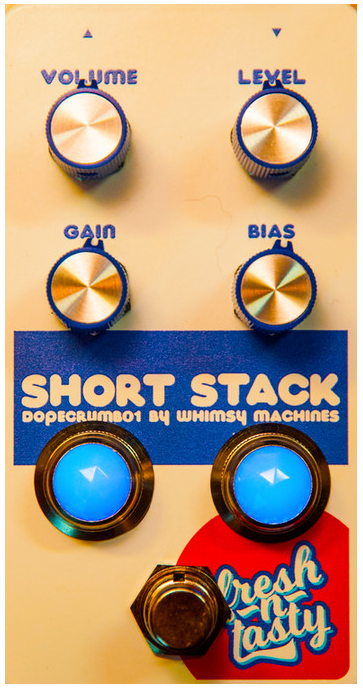 The Short Stack from Whimsy Machines is a fairly new addition to the guitar pedal world. While the Short Stack is more of a preamp pedal, it still has a lot of the characteristics of these "Amp in a Box" style pedals, so I wanted to add it to the list. This pedal provides anything from clean amplifier-style tones to full-blown cranked amp distortion.
The Short Stack features an intuitive control layout, giving you control over the input and output levels, gain, and a unique bias control to help shape your sound. The Short Stack also has a hidden switch inside the pedal that allows you to switch between "Full Stack" and "Half Stack" modes, each providing a different gain and clipping response. You can view our demo of the Short Stack here.
WHERE TO BUY
---
Xotic Effects – SL Drive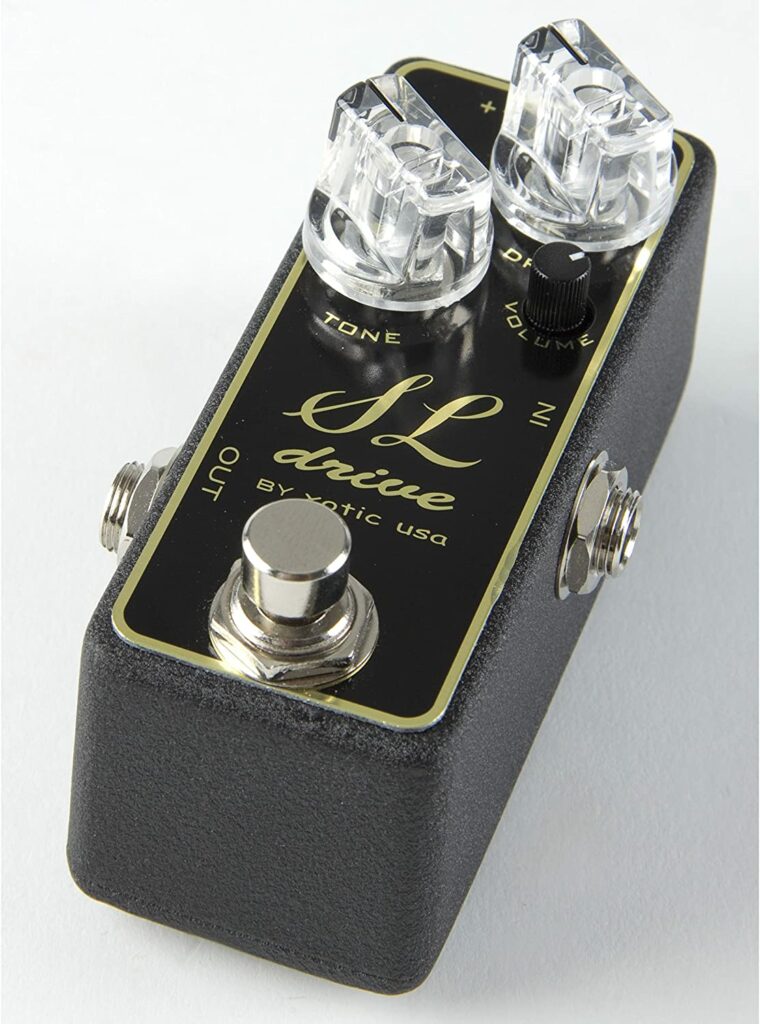 Another Marshall in a box pedal is the SL Drive from Xotic Effects. This is a mini-sized distortion pedal that faithfully delivers the classic Marshall Super Lead tones of the past. This British-style distortion pedal has an organic-feeling response and delivers amazing Super Lead-style saturation. 
Despite the SL Drive's small stature, it features independent controls for Drive, Tone, and Volume – ensuring you can dial in a large combination of different amp-inspired sounds. 
WHERE TO BUY
---
JHS Pedals – Angry Charlie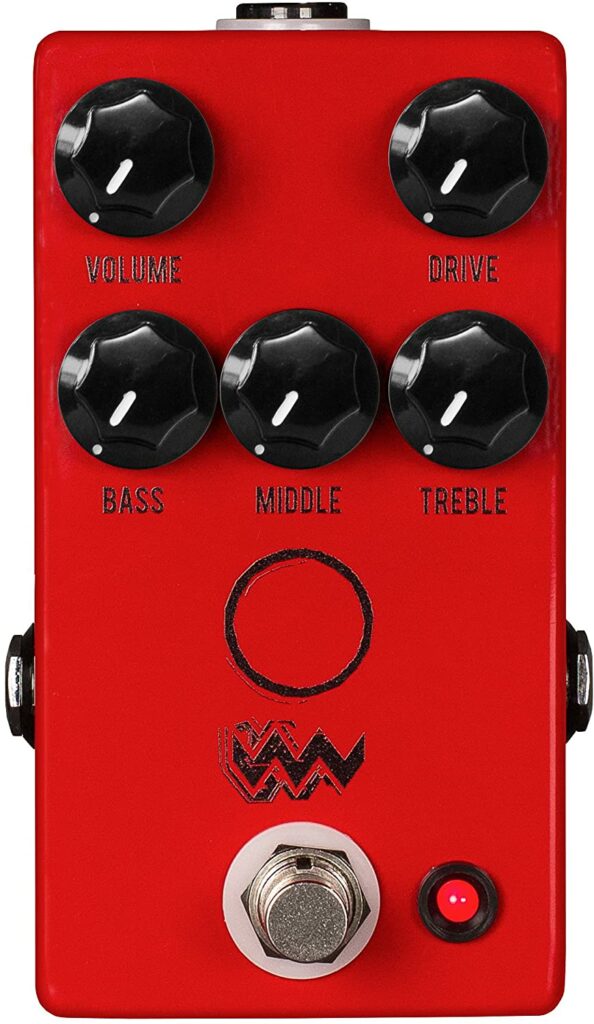 To many, the Marshall JCM800 is the perfect tube amplifier. The Angry Charlie is JHS Pedals' take on it. This "Marshall Amp in a Box" pedal replicates the classic JCM800 tone rather convincingly and can deliver tones ranging from bluesy Hendrix-style sounds to the high-gain sound that we all love from a cranked Marshall amp. 
The Angry Charlie features a convenient three-band EQ to adjust your bass, mids, and treble frequencies – and also gives you the ability to dial in the amount of drive you'd like. The Angry Charlie also responds well to your guitar's volume knob, and it cleans up well as you roll off your guitar's volume.
WHERE TO BUY
---
Mooer – 004 Day Tripper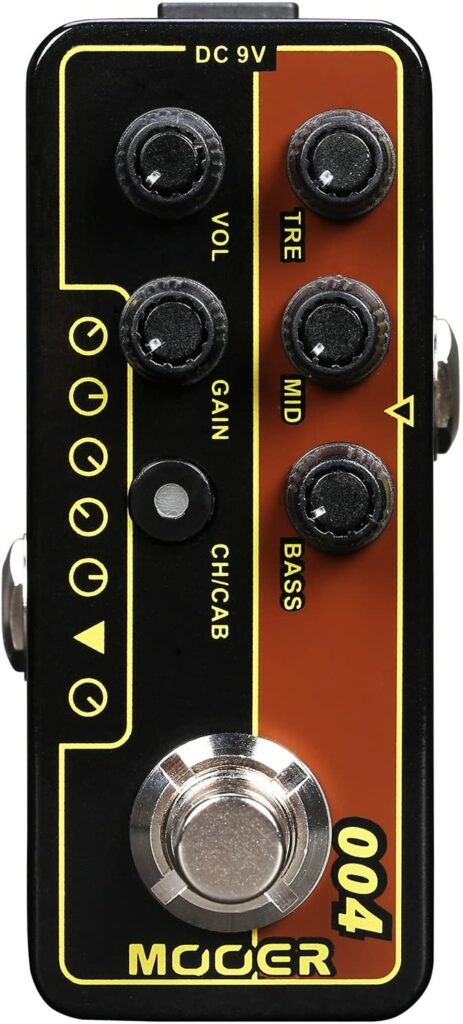 The Vox AC30 is a legendary amplifier. And the 004 Day Tripper from Mooer is made to be a Vox AC30 in a box, giving you AC30-inspired tones in a miniature-sized pedal that is friendly to both your pedalboard and your budget.
Despite its size, the Day Tripper has a ton of features packed into it. Including an independent three-band EQ and independent gain and volume controls – making it rather versatile for any style of guitar-playing. On top of that, you have the option to have two separate channels in the pedal that you can switch back and forth between, and it even has a built-in speaker cabinet simulation to give it an even more amp-like feel.
WHERE TO BUY
---
Keeley Electronics –  El Rey Dorado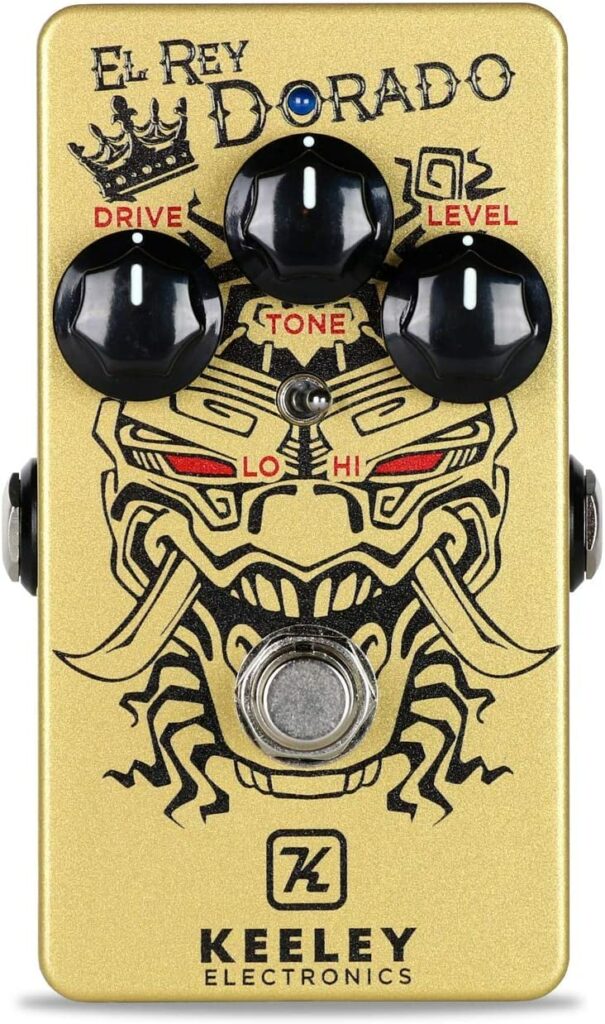 Another contender in the Marshall Plexi-inspired "Amp in a Box" pedals is the iconic El Rey Dorado from Keeley Electronics. One of the reference points used for designing the El Rey Dorado was Robert Keeley's very own Marshall JTM 45/100 full-stack, and this pedal definitely gets close to replicating that sound. 
The El Rey Dorado features an easy-to-use control scheme, giving you control over the drive, tone, and volume of the pedal. But the El Rey Dorado also houses a toggle switch that allows you to switch between Low and High gain modes – ensuring that this pedal covers the entire range of Plexi-like sounds.
WHERE TO BUY
---
Revv Amplification – G3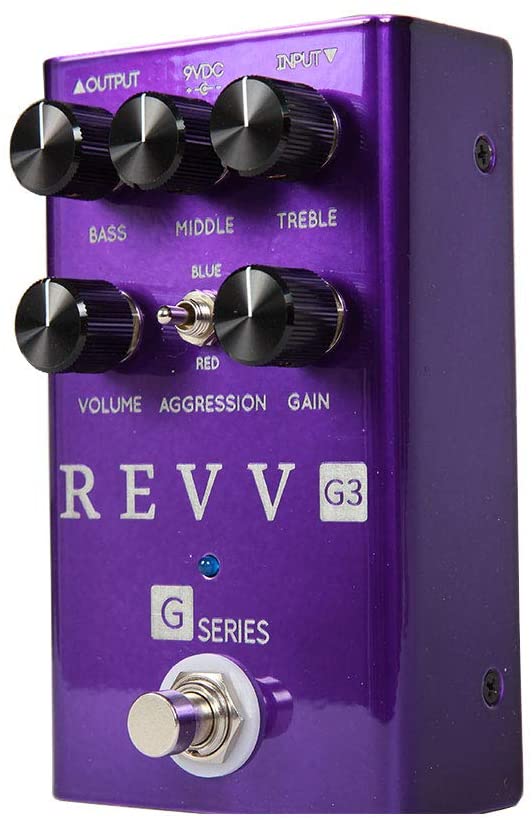 If you live in the metal world, you're probably familiar with Revv Amplification. Their G3 pedal is part of their G Series line and is made to capture the purple channel of a Revv amplifier. The G3 is a great pedal to turn any amp into a chugging, modern metal machine.
The Revv G3 has a familiar control setup, with individual knobs to adjust your gain and volume, while also giving you the ability to change your bass, mid, and treble frequencies independently. The pedal also has a three-way "aggression" switch with three different styles of gain to shape your sound.
WHERE TO BUY
---
Revv Amplification – G4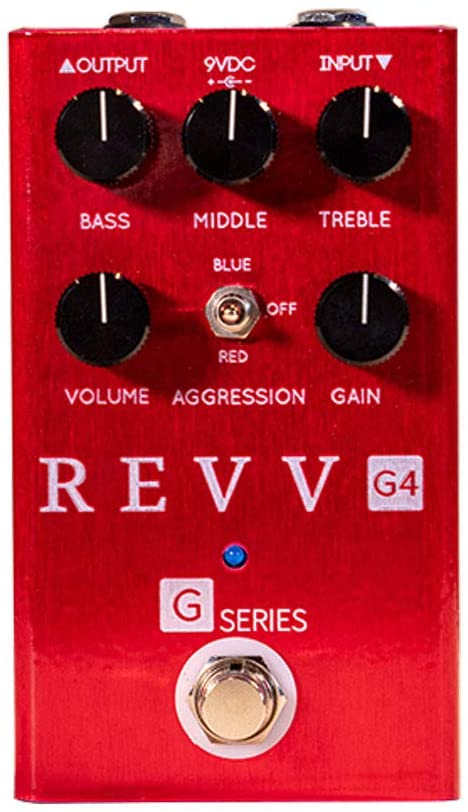 Alternatively, Revv Amplification also offers a Revv G4, which has a similar form factor to the G3 but is based on a Revv amp's Red Channel. This is a solid "Amp in a Box" pedal for anyone seeking out big, distorted, metal amp tones.
WHERE TO BUY
---
Vertex Effects – Steel String Supreme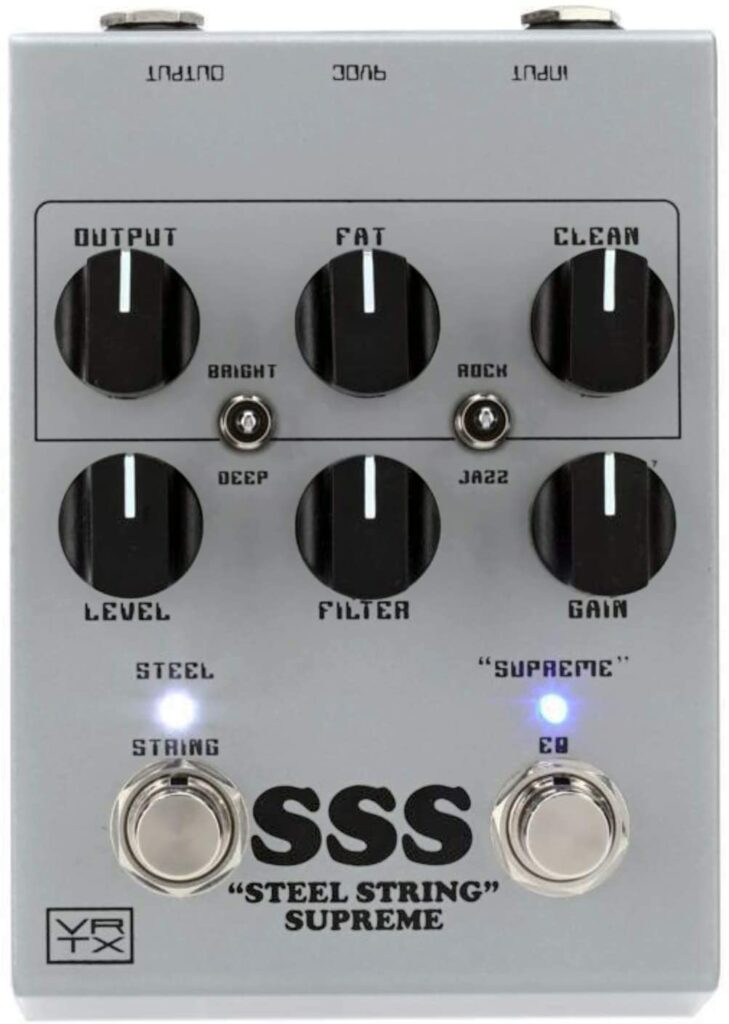 The Steel String Supreme from Vertex Effects is an "Amp in a Box" pedal that is based on an original run of an extremely rare amplifier – the Dumble Steel String Singer. This is a great amp in a box choice for anyone trying to capture those compressed and sparkly John Mayer-esque tones.
The Steel String Supreme provides an active EQ, a bright/deep switch, a rock/jazz switch, and independent gain and level controls, allowing you to dial in tones ranging from a nice clean boost to amp-like overdrive.
WHERE TO BUY
---
Friedman Amplification – BE-OD
The BE-OD from Friedman Amplification is based on their very own BE-100 amplifier. The BE-OD pedal delivers authentic British amplifier tones, in a compact pedal format. This "Amp in a Box" pedal delivers tones ranging from a slight amp-like breakup to full-on gain-at-max destruction.
The BE-OD features six different tone-shaping controls on the front of the pedal. Giving you the ability to adjust your bass, mid, and treble frequencies along with the volume, gain, and presence. Making it an all-around amazing "Amp in a Box" style pedal.
WHERE TO BUY
---
Do you have G.A.S. (Gear Acquisition Syndrome)? Check out our other guitar pedal shopping guides for more top guitar pedal picks!