The UK's ThorpyFX just released their latest fuzz pedal, THE BONEYARD.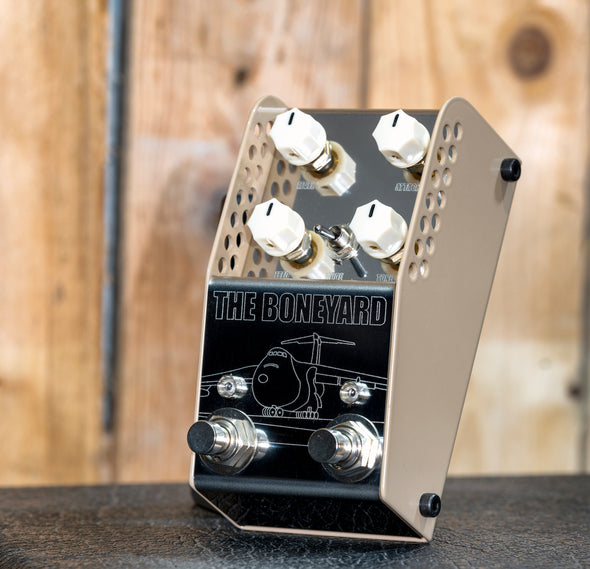 The BONEYARD fuzz is ThorpyFX's take on the iconic Tone Bender. But it's not just a Tone Bender clone. ThorpyFX wanted to create a pedal that would cover the tones of all Tone Bender variants in one pedal – and after extensive testing and research, the BONEYARD was born.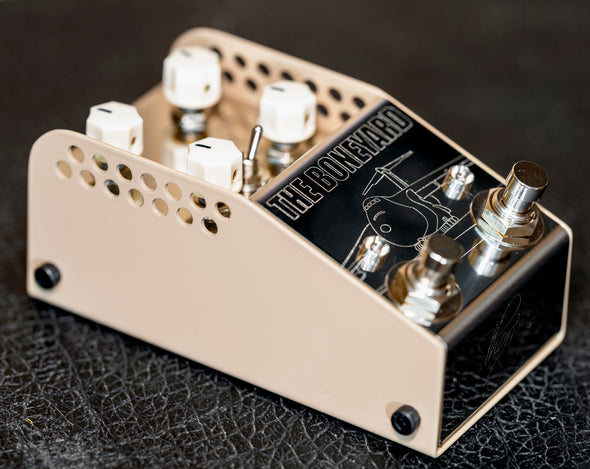 This germanium fuzz pedal offers a wide range of Tone Bender-style sounds with an expanded set of controls to shape your tone.
Level Knob: The "Level" knob adjusts the output volume.
Attack Knob: The "Attack" knob adjusts the level of fuzz.
Mode Toggle Switch: The "Mode" switch to change between either two or three transistor fuzz.
Tone Knob: The "Tone" knob lets you dial in your EQ.
Feed Knob: The "Feed" knob acts as a bias knob, allowing you to adjust the voltage supplied to the circuit, resulting in a variety of different fuzz sounds.
Left Footswitch: The Left Footswitch bypasses the Tone knob. Removing the tone knob from the circuit results in a gnarlier, unfiltered fuzz sound.
Right Footswitch: Turns the pedal on/off.
For more information, demos, or to order the BONEYARD, head over to the ThorpyFX website.