This post may contain affiliate links.
Shimmering, otherworldly, octave reverb. You definitely don't have a pedal like this on your pedalboard.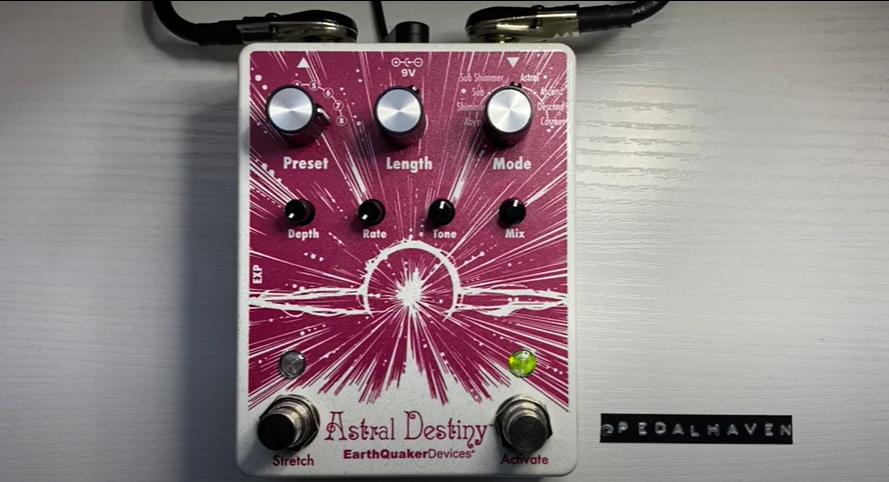 Earthquaker Devices has certainly made some weird pedals throughout the years, but the Astral Destiny is something special. The Astral Destiny is a modulated octave reverb pedal that is capable of creating anything from massive ambient soundscapes to shimmering reverb sounds.
The Astral Destiny features eight different octave reverb modes, eight editable preset slots to create and save your favorite sounds, expression pedal functionality, and a lot of interesting tone-shaping controls. 
When I first got the Astral Destiny, I was not sure what to expect. I thought it would maybe be a bit too strange for me to use. But since then, it seems to always be either on my pedalboard or sitting right next to my recording setup in case I need to quickly plug it in to get some ambient soundscapes going. 
If you are a reverb pedal addict, like me, then the Astral Destiny would be right at home in your collection. It fills a space that many reverb pedals do not – the world of octave reverb. Of course, the Astral Destiny can be used in a variety of different genres, but I have found it works best when creating long, droning sounds or almost film-score-type music.
WHERE TO BUY
Pros
The Astral Destiny is an amazing pedal for ambient or experimental musicians.

Its 8 different octave reverb modes offer a variety of different sounds

It is a very unique reverb pedal and will open up a new world of sonic inspiration

The Astral Destiny sounds great on other instruments other than the guitar
Cons
I have struggled to find many cons with the Astral Destiny. Yes, it is quite a niche pedal, but if you are looking for a fun, weird octave reverb pedal to add to your collection – Definitely check it out.
While the Astral Destiny is fantastic at creating shimmering, sometimes haunting, octave reverb sounds – it may not be a great choice if you're wanting a straight-up standard reverb pedal (but that's not what it's going for anyway). That said, I would recommend pairing the Astral Destiny with your favorite reverb pedal on your pedalboard so you get the best of both worlds. If you need a new reverb pedal, check out our list of the best reverb pedals here.
Earthquaker Devices Astral Destiny Demo
Here's a demo of the Astral Destiny that I made.

About The Astral Destiny from Earthquaker Devices
While the Astral Destiny has two different footswitches and a whole host of knobs on the front, it's actually a fairly easy-to-understand pedal once you start playing with it. Check out the demo above to hear it in action.
Astral Destiny Controls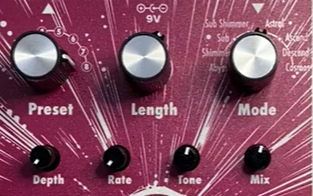 Preset Knob – The Preset knob allows you to choose between the eight editable presets that you can create and save within the pedal.
Length Knob – The Length knob controls the length of the reverb's decay.
Mode Knob – The Mode knob lets you cycle between the eight different octave reverb modes that the Astral Destiny offers.
Depth Knob – The Astral Destiny has an onboard chorusing effect that you can apply to any of the reverb modes – the Depth knob controls the depth of the chorus.
Rate Knob – The Rate knob controls the rate of the chorusing effect.
Tone Knob – The Tone knob adjusts the tone of the reverb sound. Turning it to the left cuts the treble frequencies, and turning it to the right boosts them.
Mix Knob – The Mix knob controls the mix between your dry signal and the reverb sound.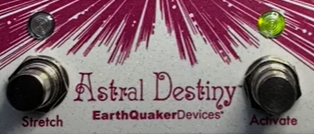 Activate Footswitch – The Activate footswitch turns the effect on or off.
Stretch Footswitch – The Stretch footswitch doubles the reverb's decay time based on what you have set the Length knob to. 
Astral Destiny Reverb Modes
As mentioned above, the Astral Destiny features 8 distinct reverb modes. Let's dig into each of those. 
Abyss – A standard, ambient reverb with no octave effect applied to it.
Shimmer – Reverb with an upper octave shimmer added.
Sub – Reverb with a lower octave added to the reverb tail.
Sub Shimmer – Reverb with both an upper and lower octave sound added.
Astral – Reverb with both an upper and lower octave applied with a regenerating reverb tail.
Ascend – Adds an upward pitch bending effect to the reverb sound.
Descend – Adds a downward pitch bending effect to the reverb sound.
Cosmos – Adds a fifth harmonic to the reverb sound
Conclusion
Overall, I would give it a 9 out of 10. the Astral Destiny is a highly unique, very usable octave reverb pedal. The amount of detail and functionality that Earthquaker Devices have packed into the Astral Destiny is hard to come by at its price point. Plus, its uniqueness makes it useful in just about any pedal collection.