This post may contain affiliate links
"We play VERY loud and it hurts."
The California-based band, Shimmer, recently put out a new record that has quickly become one of my favorite releases of 2020. I was able to chat with them to discuss how their band started, what influenced this latest record, and (of course) the pedals and gear they used to create the sounds they make.
First off, you can listen to their new self-titled record, Shimmer, here:

Pedal Haven: For the benefit of our readers, could you give us a bit of background about Shimmer? How did the band start? How long have you been a band? And what other bands or artists you'd consider to be influences on your music?
Frankie (Drums): Shimmer was formed in about 2016 by myself and lead guitarist Manny. We were both previously in a band with Edward under the name VOID that never really did anything. Mostly just jamming in manny's living room pissing off our neighbors. Some old iPhone voice memos probably exist somewhere.
Edward (Bass): Yeah we didn't really know how to be courteous in regards to volume. We had the cops called on us plenty of times. Manny has been my next-door neighbor since early childhood and I've known Frankie since middle school so I think that naturally if I was gonna be in a band, it was gonna be with these two boneheads. We tend to have the same interests. I would definitely consider bands like Earth, HUM, True Widow, Cloakroom, Slowdive, Nothing, My Bloody Valentine, Starflyer 59, etc. to be major influences in our music.
Manny (Lead Guitar): The lineup of Shimmer has been all over the place and had always been a four-piece but we could never really find someone who stuck. Lots of people have come and gone. We then decided to become a three-piece with Frankie on drums, Jordan singing and playing guitar, and myself on bass. It was like that for a long time. Edward then joined us last spring, originally to play lead guitar but we decided to switch before the recording sessions, and it's been that way since. Jordan who sang and played rhythm guitar on the record decided to pursue other projects after the sessions and we were fortunate to find Angel (our current singer/rhythm guitarist) He's done a great job so far filling in those shoes, and we can't wait to go into recording with him.
PH: Your new self-titled record, Shimmer, rocks. There is a great mix of crushingly-heavy riffs and mellowed-out parts throughout the whole record. Was this intentional? Was there a specific theme you all set out to capture when writing this record?
Edward: We don't really think there was a central theme to the record. I think we all agree that we just love the stark contrast of mellow parts that somehow just turn into something heavy that just slaps you hard in the eardrums. When we play these songs live, I think deep down we want people to feel like they're being assaulted by the sound. We play VERY loud and it hurts. I'm surprised I haven't started losing my hearing yet although, I'm sure it's coming. Sever is usually our closing track and when the last part of the song hits, people who dig the sound get really into it and the people who don't like it, they look so angry/terrified and we love it. In the famous words of the great Nigel Tufnel, "these go to 11" so we turn it up to 11.
PH: As a guitar player, I was naturally drawn to the sound of the guitars and bass on this record. They sound incredible. Quick shoutout to Shawn Sullivan at World Class Audio for capturing that. Is there a specific aspect of your guitar or bass rigs that is a must-have to accomplish your tone?
Edward: Thanks man, we really appreciate that. Yeah, Shawn (World Class Audio) is an absolute madman and we love working with him. The bulk of it was recorded live minus the vocals and some overdubbing. He made the whole experience a great one. Super fun to be around and kept us all on our toes. Never a dull moment with that man. We had an unbelievable arsenal of amps available to us is Shawn's studio for the record and we took full advantage. As far as our sound, I think we mostly have to thank the almighty Black Russian Big Muff for that. They're all over the record. The Midnight Amplification Host Moon fuzz into my 1967 Sunn Solarus had a lot to do with how heavy Chamber sounded. Shawn loved that amp so much that he literally bought one the very next day after we got done recording.
PH: Speaking of your rigs, what is your current pedalboard setup? What amps are you using? Guitars?
Edward: Currently for bass, I'm using my Reissued Fender 60's Jazz bass with a polytune2, 90's Electro-Harmonix/Sovtek Big Muff, & the occasional Boss TR-2 to get the tremolo sound on the interlude track. It all goes into Manny's Ampeg V-4B reissue head with an Ampeg 6×10 cab.
For lead guitar, Manny uses my Fender AVRI 62' Jazzmaster (gotta have the mastery bridge) into a polytune3, Ibanez Turbo Tubescreamer, Mad Professor Sweet Honey Overdrive, Black Russian Big Muff, Analogman BC-108 fuzz, Vox V46-HW wah, GURUS Echosex 2, Old Blood Noise Endeavors Black Fountain Delay, Blackout Effectors Cadavernous Reverb (my secret sauce to anything I do) and an Empress Reverb.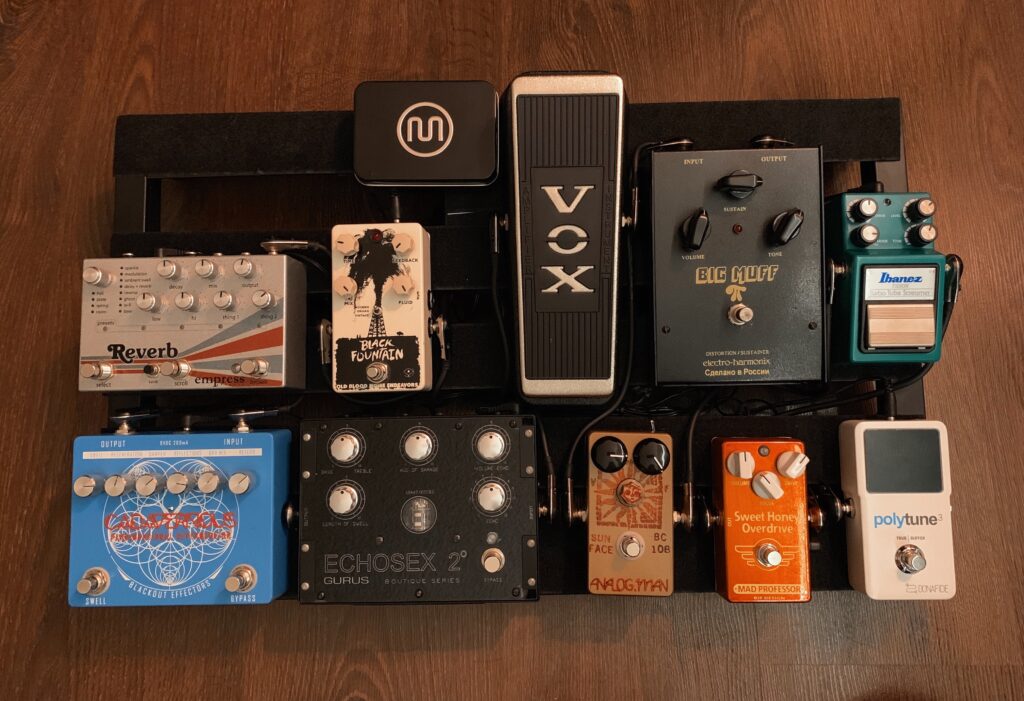 PH: Are there any guitar pedals on your wishlist? 
Edward: The Collision Devices Black Hole Symmetry is on my radar. That thing looks like endless fun. I watched a knobs video on it and fell in love. Of course, Knobs from youtube could probably make a toaster sound like endless fun…
How about a pedal that you wish existed but doesn't?
I wish there was a pedal that turned everything into the sound of a duck quacking. The worst part is that I'm not even kidding. That would really be something.
PH: Due to what's going on with COVID-19 currently, we're all pretty much on lockdown, but what are the future plans for Shimmer? Any touring plans?
Edward: We had plans to tour with our friends in Reveries from Washington starting March 30th but that got put on hold. I think Frankie is planning something for September. We'll see how that goes. Our Instagram will probably be updated with more information as it becomes available.
To learn more about Shimmer, you can find them on:
Instagram: https://www.instagram.com/shimmerband/
And you can listen to or purchase their new record on Bandcamp: https://shimmer.bandcamp.com/album/shimmer-2
Or on Spotify: