This post may contain affiliate links
TC Electronic is back with an all-new analog delay they've titled BUCKET BRIGADE Analog Delay.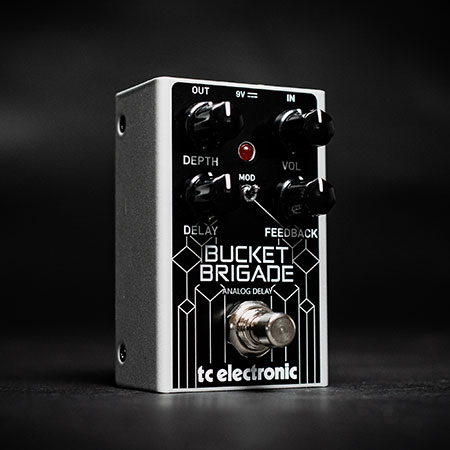 The BUCKET BRIGADE Analog Delay offers up to 600ms of analog delay time, full control over your delay sounds, and optional modulation – all packed into a compact, pedalboard-friendly enclosure with top-mounted jacks. 
TC Electronic worked to make the BUCKET BRIGADE have that distinct, vintage delay vibe with the warm repeats that we all know and love from classic analog delay pedals. 
Related: The best delay pedals
The BUCKET BRIGADE has a straightforward set of controls on the front of the pedal.
VOL

– Controls volume of the effect

DELAY

– Controls the delay time (up to 600ms)

FEEDBACK

– Controls the number of repeats

MOD

(Toggle Switch) – Turns modulation on or off

DEPTH

– Controls the depth of the optional modulation

SPEED

(Internal potentiometer) – Open up the back of the pedal to find a potentiometer that adjusts the modulation speed
For more information on the new BUCKET BRIGADE Analog Delay from TC Electronic, head over to the TC Electronic website.