This post may contain affiliate links
Whether you're a seasoned guitar player or someone just starting out, there is nothing better than plugging into a delay pedal.
Whether you're playing metal, jazz, ambient music, or plain old rock and roll – a delay pedal makes for a great addition to any guitar player's pedalboard.
But what are the best delay pedals?
There is absolutely no shortage of delay pedals on the market today, and the truth is, most of them are fantastic. But that can make it really hard to sit down and pick out the best delay pedal for you.
So what delay pedals are the best of the best? It depends on what you need, but we've compiled a list of what we think are the best delay pedals available today – and we threw together a list of the best cheap delay pedals too!
In this article you will find:
The Best Delay Pedals, Overall
The Best Cheap Delay Pedals (Under $100)
The Best Delay Pedals
BOSS – DD-8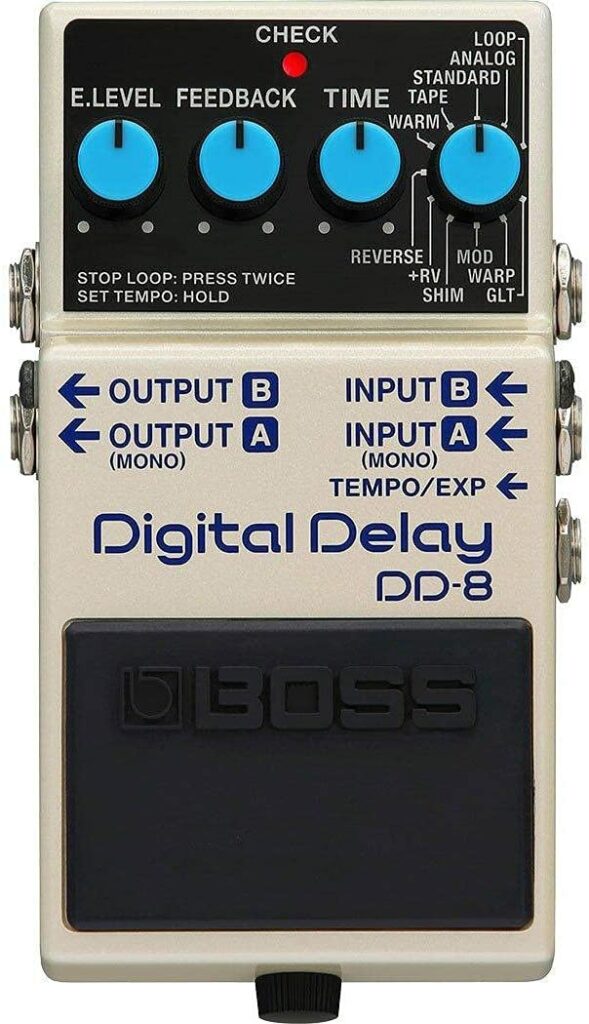 Key Features
High-quality digital delay sounds
10 delay modes to choose from
Onboard looper
Stereo inputs and outputs
Expression pedal compatibility
Built like a tank!
WHERE TO BUY
BOSS is a staple in the guitar pedal world, and the BOSS DD-8 is no exception to the rule. The DD-8 is a digital delay pedal that has a huge amount of different delay options to pick from. Whether you're looking for an analog or tape-style delay, standard digital delay, or more out-of-the-box delay sounds like reverse delay or modulated delay – the DD-8 is an incredible choice for any guitar player's rig.
And of course, BOSS makes a number of other delay pedals too. If you're looking for a more extreme delay pedal, definitely check out the BOSS DD-500.
---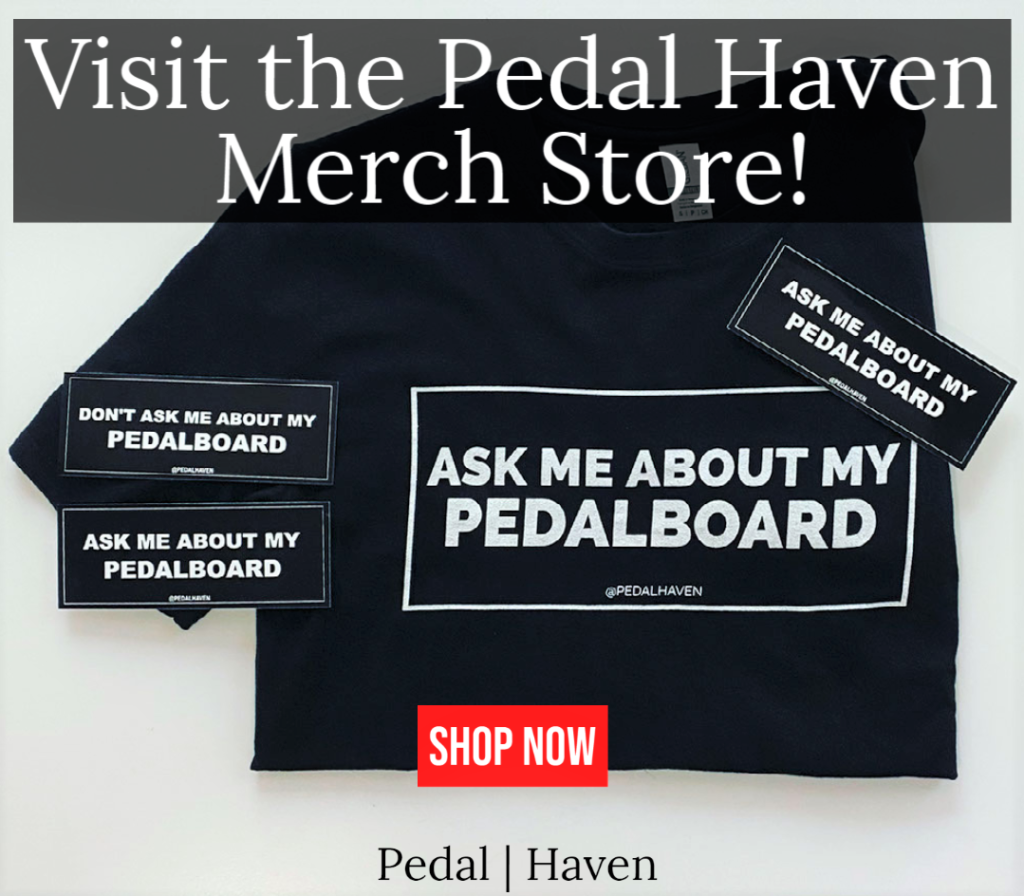 ---
Strymon Engineering – Timeline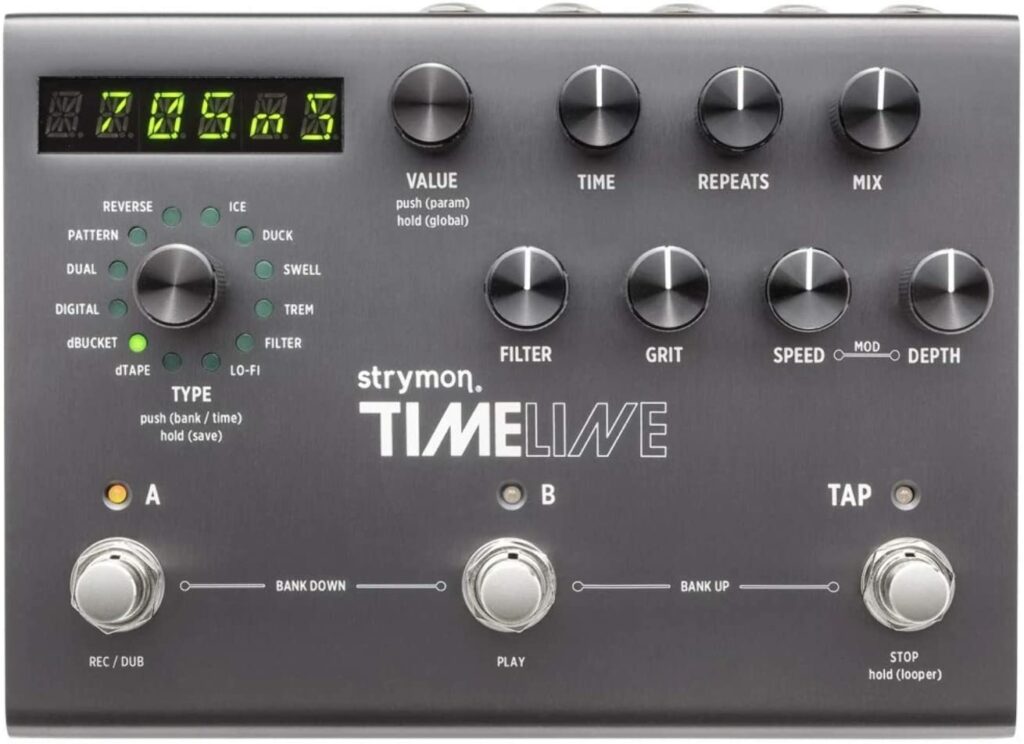 Key Features
12 delay modes
Store up to 200 presets
Fully MIDI capable
30-second onboard looper
Stereo inputs and outputs
Expression pedal compatible
Optional feedback loop to connect other pedals in the delay feedback path
WHERE TO BUY
If you've been following the Pedal Haven Instagram account, you'll know that the Strymon Timeline is a highly popular delay pedal. In fact, it is one of the most popular guitar pedals today. The Strymon Timeline is a complete powerhouse of a delay pedal. With delay sounds ranging from digital and tape delay to reverse, lo-fi, and more – the Timeline is an incredible delay pedal choice for your pedalboard or studio setup.
---
MXR – Carbon Copy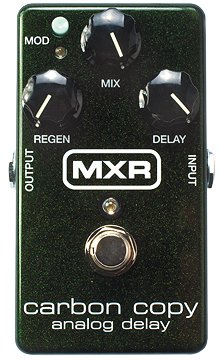 Key Features
Rich, bucket-brigade-style delay tones
Onboard modulation
600ms of delay time
Fully analog audio path
WHERE TO BUY
The Carbon Copy Analog Delay by MXR is a fantastic entry-level delay pedal for any musician. This pedal has a very standard design, does not take up too much space on a pedalboard, but houses a variety of delay options within the pedal. The Carbon Copy can create light slapback delays, or long (up to 600ms) delay trails, so it can be used in just about any genre setting.
Don't let this pedal's simplicity fool you! The Carbon Copy also has an optional modulation mode that adds an extra modulated texture to its repeats! If that is not enough, the Carbon Copy also has two internal trim pots that you can adjust to change the modulation options even more. This is a wonderful analog delay option for any musician!
---
TC Electronic – Flashback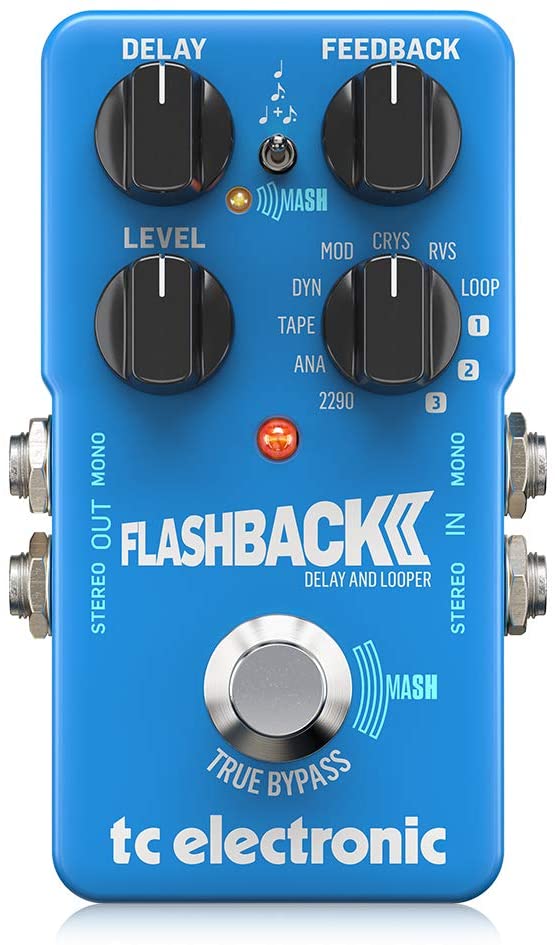 Key Features
Stereo inputs and outputs
7 delay modes and 3 editable "Tone-Print" slots
40-second looper
The "Audio Tapping" feature lets you tap in your tempo by strumming
Toggle switch offers 3 delay time subdivisions
WHERE TO BUY
When it comes to affordable delay pedals, the Flashback delay and looper from TC Electronic should be on your radar. With several different delay algorithms and a standalone looper onboard, the Flashback is the swiss army knife of delay pedals. TC Electronic has also added its groundbreaking MASH technology to the Flashback's footswitch, which acts like an expression pedal that responds to how much pressure you apply to the footswitch.
---
Strymon Engineering – El Capistan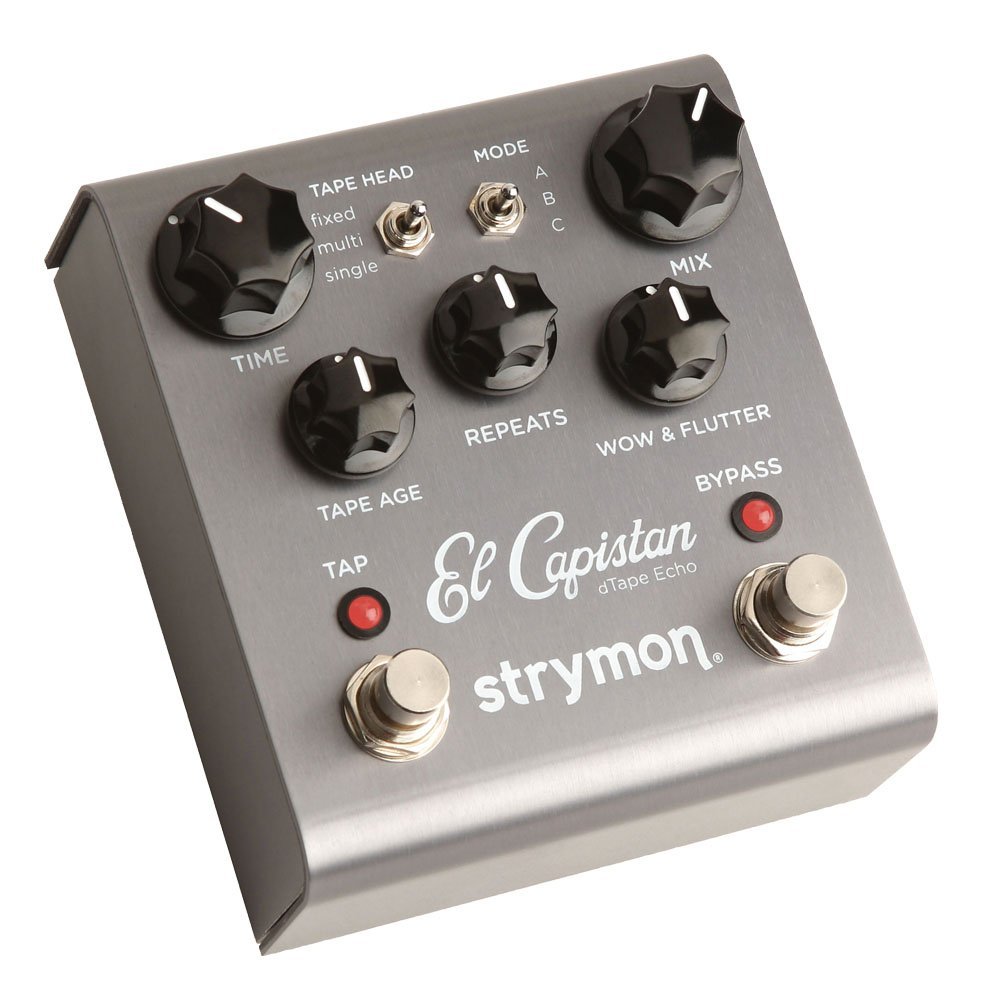 Key Features
Accurately mimics tape delay sounds
Tap tempo
Three tape delay styles
Onboard spring reverb
Onboard sound-on-sound looper
WHERE TO BUY
The El Capistan by Strymon is one of the leading options in tape delay pedals. This tape delay-style pedal has all of the options of our favorite tape echo machines, in a compact pedalboard-friendly enclosure. With five tone-shaping knobs, you can change just about every aspect of this tape delay pedal, all the way down to how "old" you'd like the tape delay to sound. These options allow the El Capistan to create gorgeous tape-style echoes to weird, warped, and detuned-type echoes.
El Capistan brings a lot to the table. With stereo operation, and a built-in spring reverb option, the El Capistan is an ambient guitarist's best friend! The optional expression pedal output on the El Capistan means the pedal can go from zero to infinite repeats very quickly! This is a very fun delay pedal if you love vintage tape echo sounds.
---
Line 6 – DL4 Delay Modeler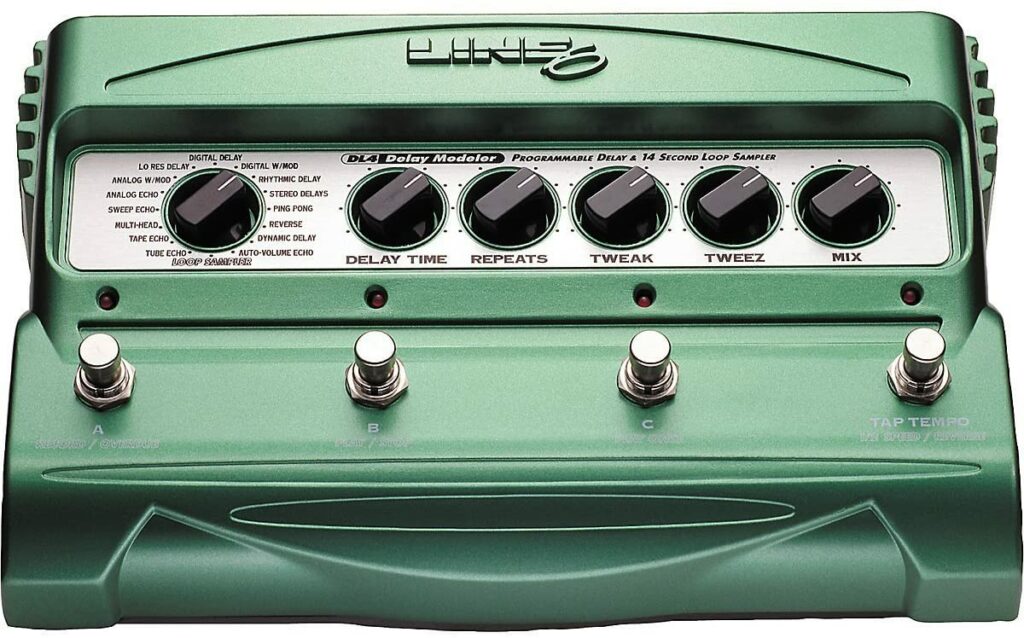 Key Features
15 different delay modes
Stereo inputs and outputs
Expression pedal compatible
Tap tempo
Onboard 14-second looper
WHERE TO BUY
The DL4 by Line 6 is an entry-level delay pedal with a smorgasbord of delay voicing options. If you are looking for options, check out the DL4. With delay options like analog delay, digital delay, reverse delay, and even tape delay, there are a lot of sounds coming out of this pedal. The DL4 has the option to save 3 presets that can be recalled by pushing the footswitch that the preset was saved to. The fourth footswitch is a tap tempo footswitch so you can tap in perfectly-timed repeats.
That's not it! This pedal also has an onboard looping option, allowing you to create 0-14 second loops. You can play these loops in real-time, ½ speed, 2x speed, or reversed. This looper ability really makes the DL4 a wonderful delay pedal. If you get one of these, check out this DL4 Looper Mod guide we created!
---
Strymon Engineering – Volante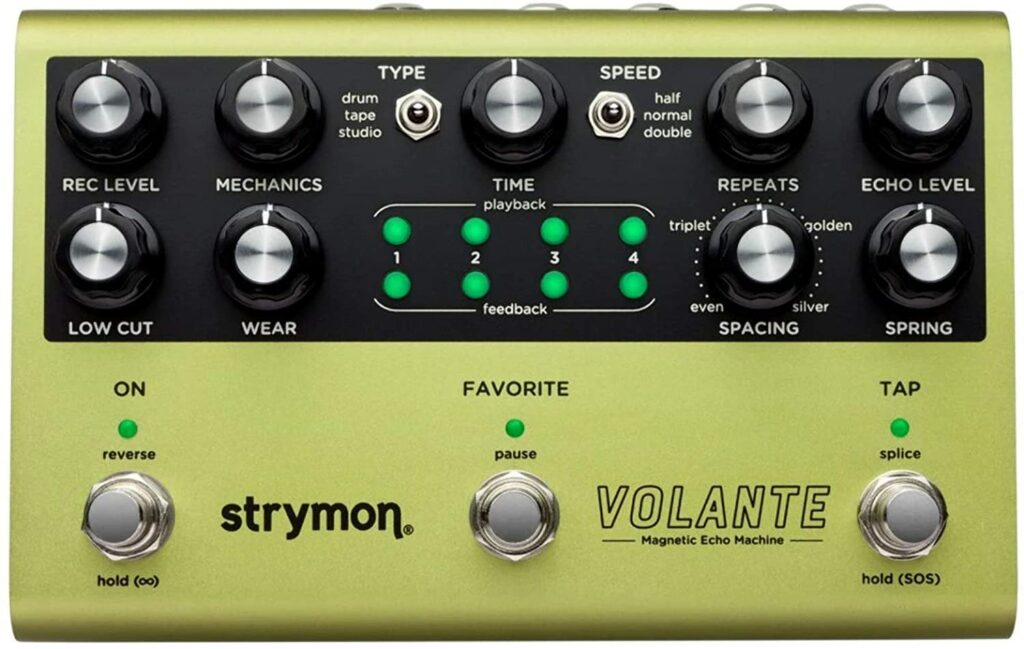 Key Features
Stereo inputs and outputs
Accurately mimics classic tape and drum echo machines
Endless control over delay sounds
Create rhythmic delay patterns with the playback/feedback buttons
Expression pedal compatible
MIDI controllable
WHERE TO BUY
The Strymon team are masterminds when it comes to building pedals, and the Volante is proof of that. The Volante is a multi-head, magnetic delay machine that features four playback heads with individual panning, level, and feedback controls. If you love vintage tape delay sounds, the Volante should absolutely be on your radar.
---
Caroline Guitar Company – Kilobyte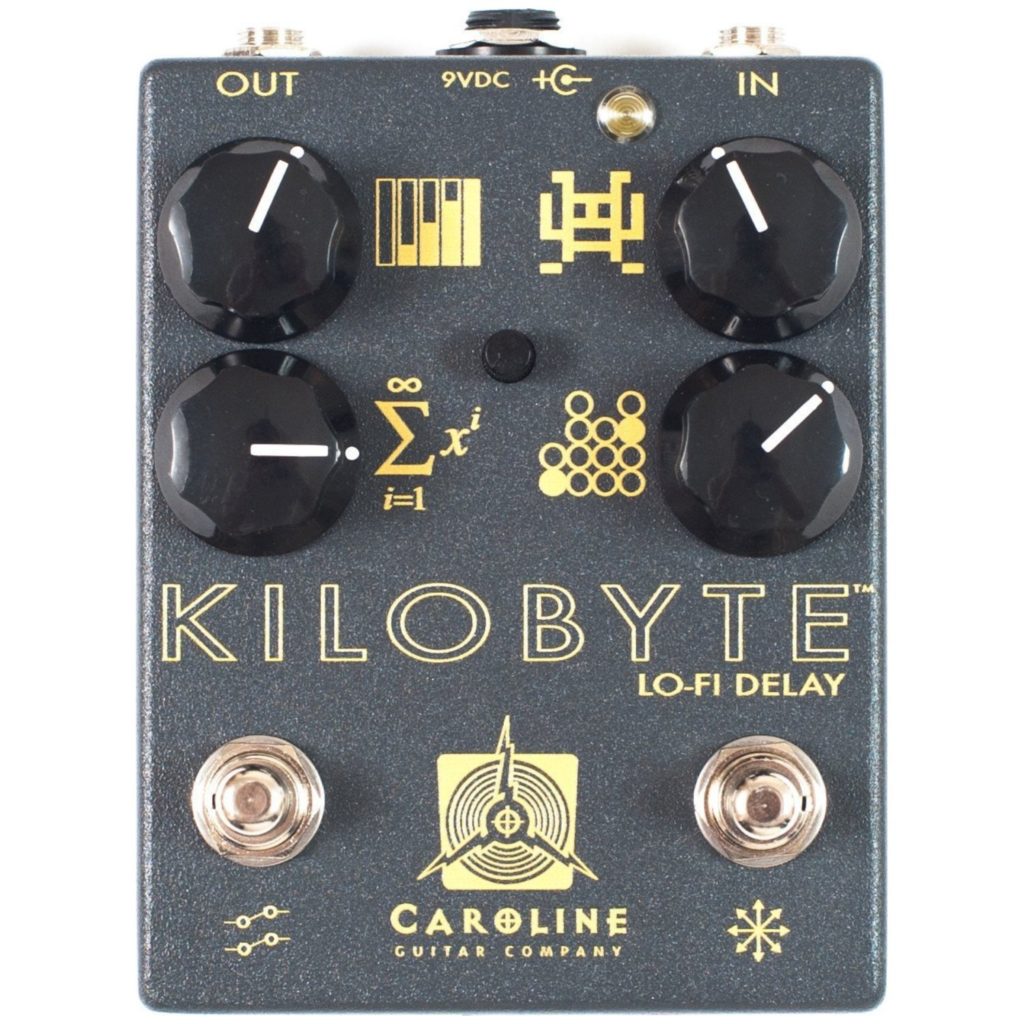 Key Features
Expressive lo-fi delay pedal
Onboard +21db boost/overdrive preamp
Onboard modulation
WHERE TO BUY
Next is the Kilobyte by Caroline Guitar Company. This is a sweet lo-fi delay pedal that has the ability to cover just about any of your delay needs. If you need quick, tight slapback delays – or long, trailing delays, the Kilobyte can get the job done. This is a digital delay pedal, but it is analog-voiced; meaning it sounds a lot like an analog delay pedal.
There are two very interesting features of the Caroline Guitar Company Kilobyte: The first is that the pedal has an overdrive option to help push *just* the repeats. This means you can add another texture, and more bite to your delay's repeats. The second interesting feature is the secondary footswitch. This footswitch causes the pedal to self-oscillate, which can create some really amazing noisescapes! This pedal can create beautiful, warm, lo-fi repeats!
---
Source Audio – Nemesis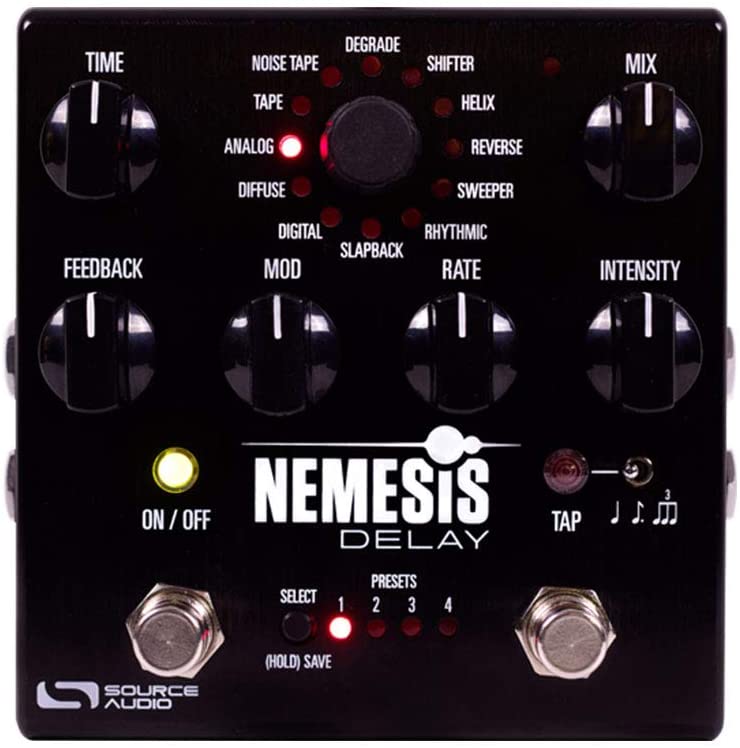 Key Features
12 delay algorithms
Additional delay modes can be downloaded
Stereo inputs and outputs
Onboard presets
Expression pedal compatible
MIDI controllable
Tap tempo with selectable tempo subdivisions
WHERE TO BUY
If you love options, the Nemesis delay from Source Audio may be the best delay pedal for you. With 12 delay algorithms onboard (and 12 more that can be downloaded from Source Audio's app), the Nemesis has a delay option for just about everybody. If you're a fan of digital delay, tape delay, reverse delay, slapback delay, and experimental delay sounds, check out the Nemesis!
---
Walrus Audio – MAKO Series D1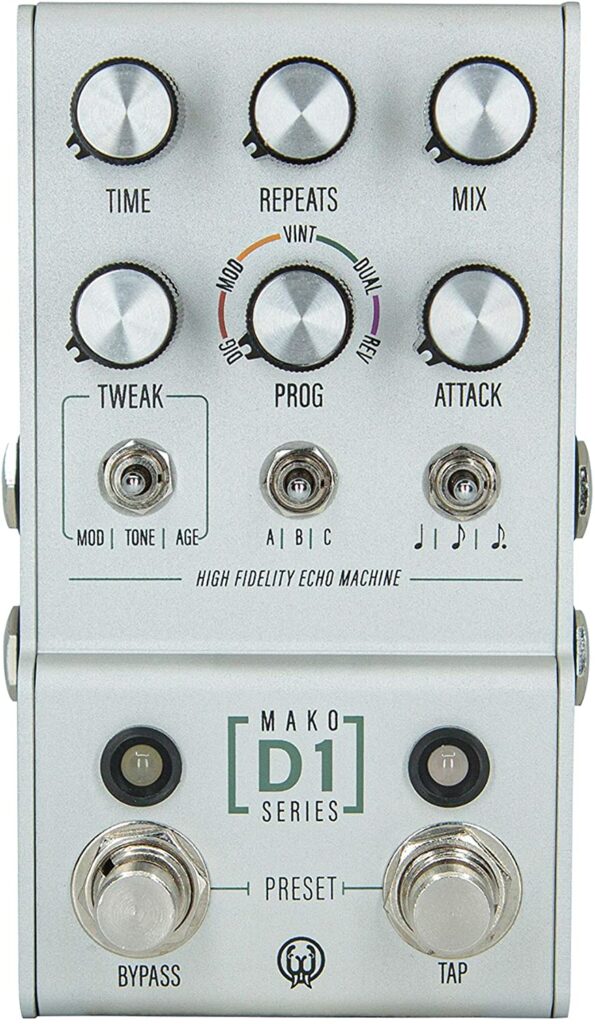 Key Features
Studio-grade, hi-fi delay
5 delay programs
Stereo inputs and outputs
Tap tempo with selectable tempo subdivisions
WHERE TO BUY
One of the newer pedals on the list, the MAKO Series D1 High Fidelity Stereo Delay from Walrus Audio is an incredible delay pedal packed into a small, pedalboard-friendly enclosure. With five finely-tuned delay algorithms onboard – digital, mod, vintage, dual, and reverse – the D1 Delay from Walrus Audio is a powerful stereo delay pedal.
---
Boss DM-2W Delay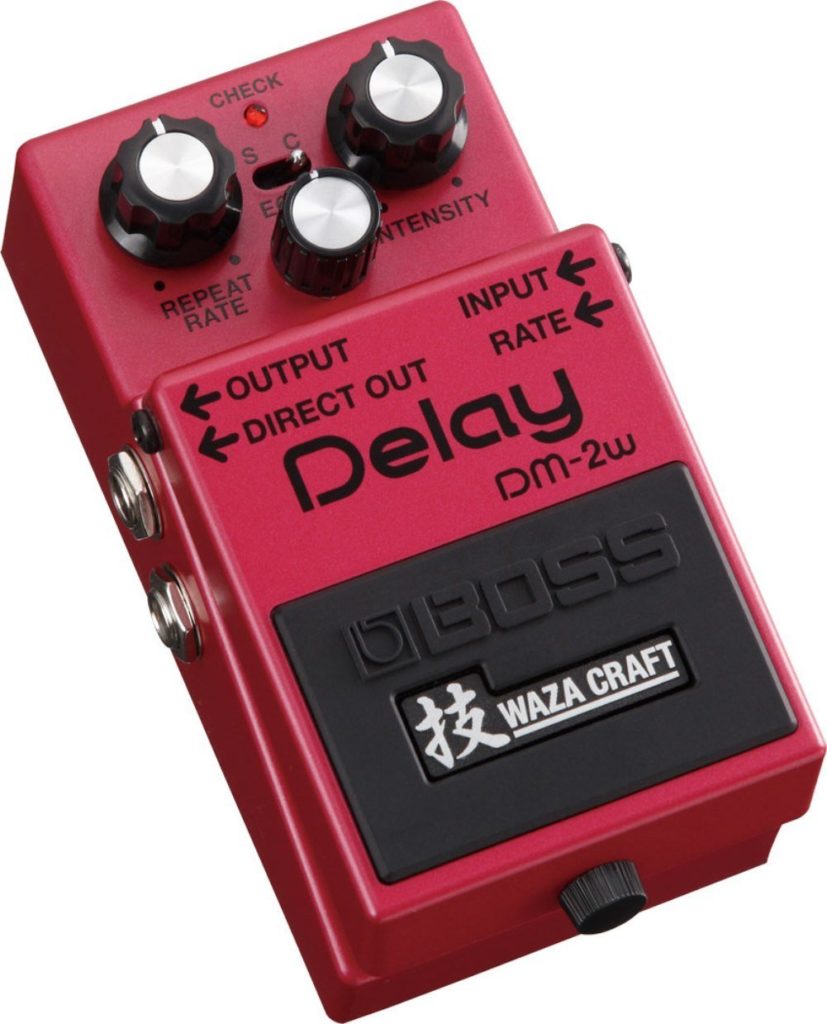 Key Features
Warm analog delay
Optional dry signal direct output
Added "Custom" mode offers more delay time than the original DM-2
WHERE TO BUY
If you were buying pedals back in the 80s, you have probably heard of the Boss DM-2. This was a classic Boss Delay pedal that was very well known for its warm, lush delay capabilities. However, it was discontinued back in 1984. Thankfully, this pedal was brought back into production as the DM-2W in their WAZA CRAFT line! The DM-2W is a fully analog "bucket brigade" style delay and has the ability to transport you back to the 1980s with warm, lush delay repeats.
The Boss DM-2W has two unique switchable modes to choose from. The first mode is the "standard" mode. This is the DM-2 sound that we all remember! Offering 20-300 milliseconds of delay time. However, the DM-2W also has a "custom" mode, which offers much more delay time (up to 800ms). The Custom option has a much more modern sound, but it still sounds amazing.
---
Red Panda – Particle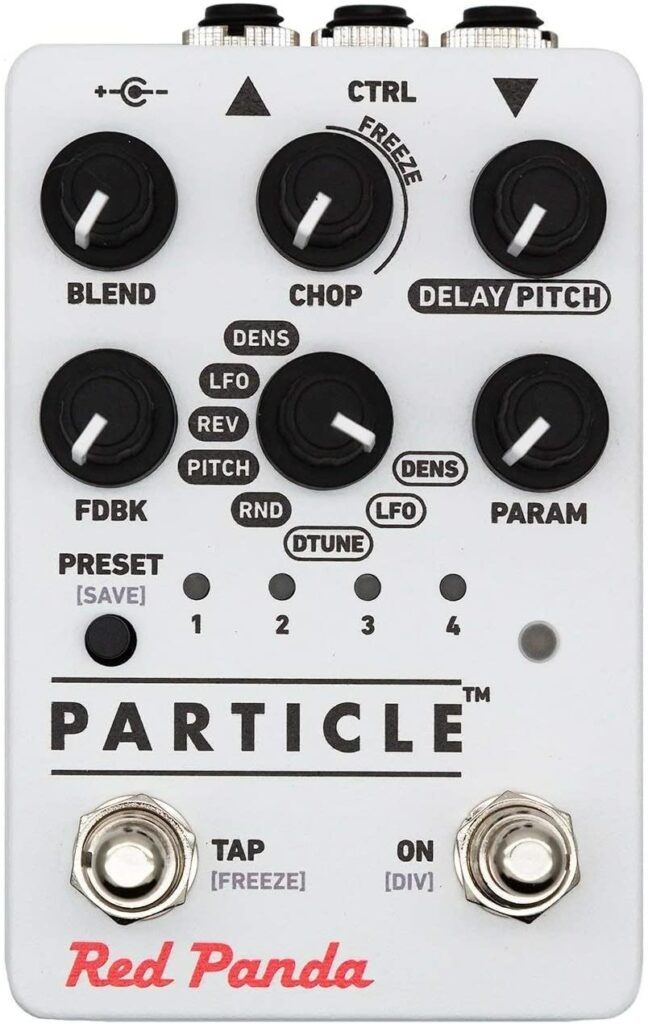 Key Features
5 unique granular delay modes
3 pitch-shifting modes
Onboard presets
MIDI compatible
Expression pedal compatible
WHERE TO BUY
Buckle your seatbelts and hold on to your hats! It is about to get weird. The Particle by Red Panda is a granular delay and pitch-shifting pedal. It is not your average delay pedal, but it is so cool and weird that I had to add it to the list. This pedal shifts the way we think about delay, because it chops your signal into small, granular bits, and then modulates those bits. This creates some really trippy, unique, and unpredictable sounds.
This pedal has the ability to create some really interesting sounds, from stutter-type delays to beautiful ambient washes. Overall, this pedal is a lot of fun, and is a must-have for any weird noise lovers or experimental musicians! You can see our demo of the Particle here.
---
The Best Cheap Delay Pedals (Under $100)
Looking for a cheap delay pedal? Finding a high-quality delay pedal for less than $100 is not an easy task, but here are a few of our top picks for good delay pedal options that are less than $100.
JOYO – Aquarius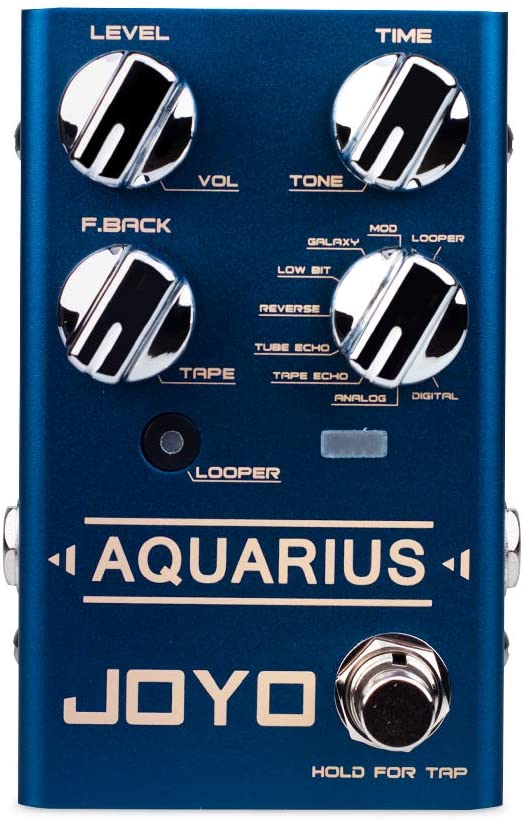 JOYO is one of the top pedal companies when it comes to cheap pedals. And the Aquarius delay is a really solid cheap delay pedal option. With several different delay modes to choose from and an onboard looper, the Aquarius gives you all of the delay sounds you need in a budget-friendly package.
WHERE TO BUY
---
Donner – Yellow Fall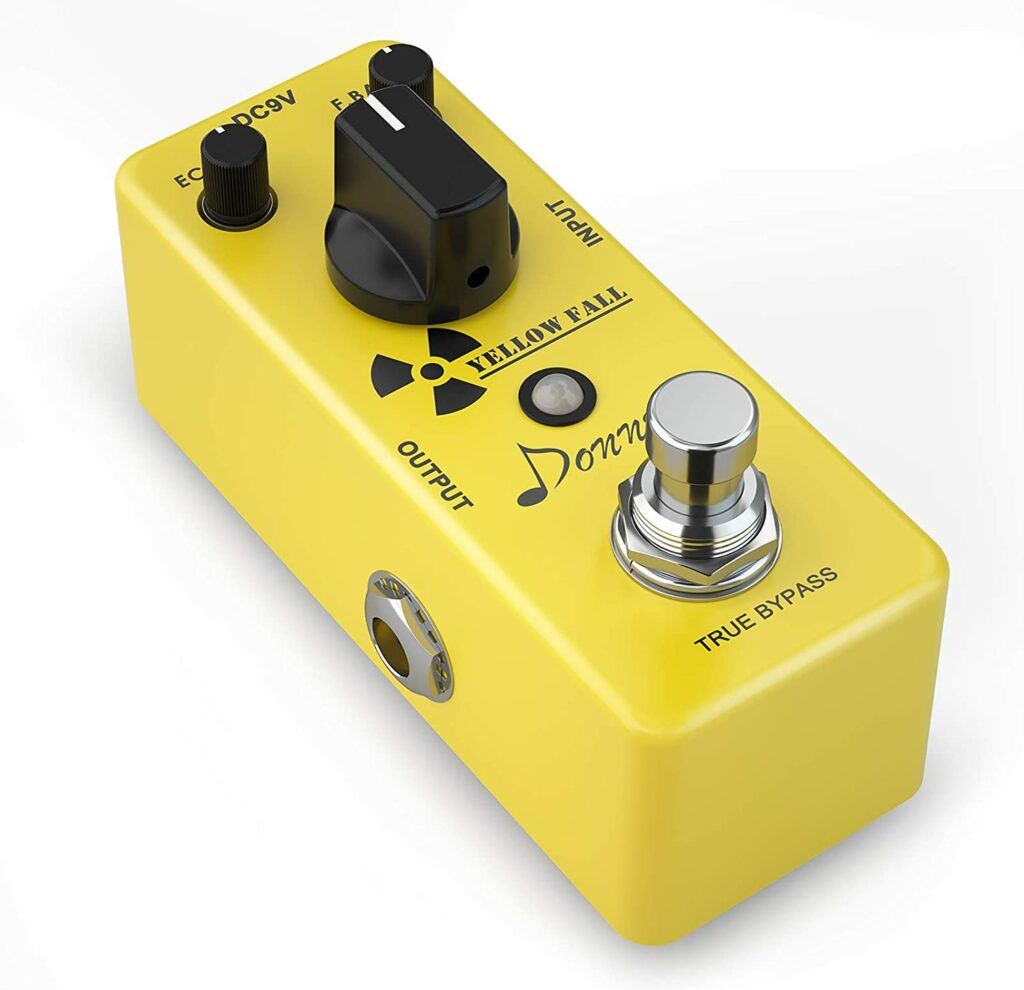 The Yellow Fall from Donner is a solid choice for a budget-friendly delay pedal. Packed in a tiny, pedalboard-friendly enclosure, the Yellow Fall provides up to 620ms of delay time in an incredibly easy-to-use format.
WHERE TO BUY
---
JOYO – Nascar Delay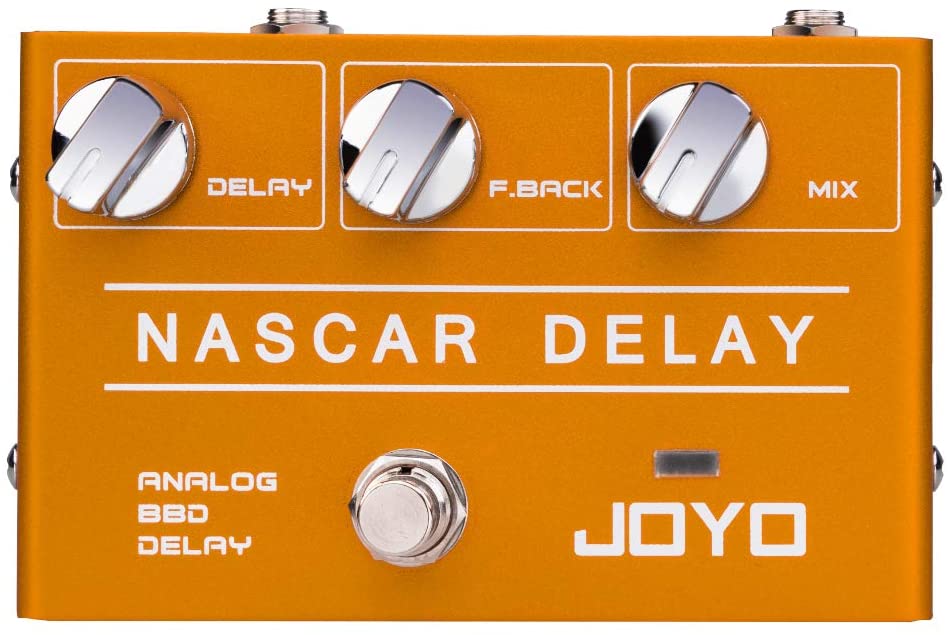 Another contender in the cheap delay pedal world is the Nascar Delay from JOYO. Inspired by the classic BBD, the Nascar Delay offers warm, analog delay sounds to spice up any of your guitar solos.
WHERE TO BUY
---
Flamma – FS03 Delay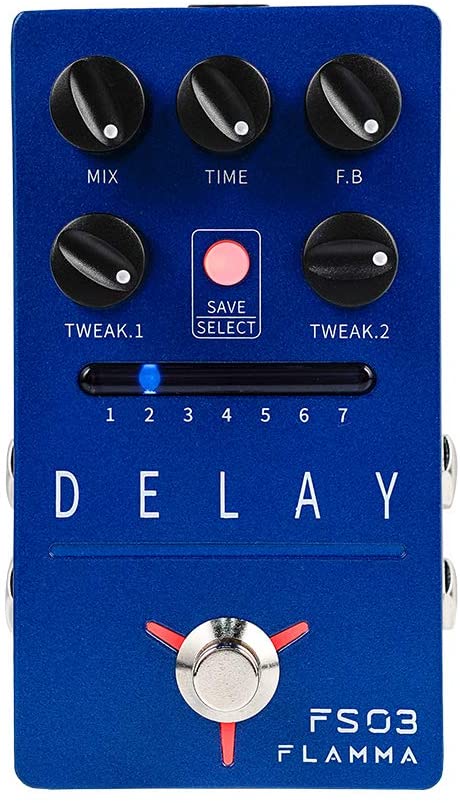 If you're looking for an affordable, stereo, digital delay pedal – check out the FS03 Delay from Flamma. With 6 unique delay algorithms and an onboard looper, the FS03 packs a ton of delay sounds into a budget-friendly format. You can find our demo of the FS03 Delay here.
WHERE TO BUY
---
Ibanez – Analog Delay Mini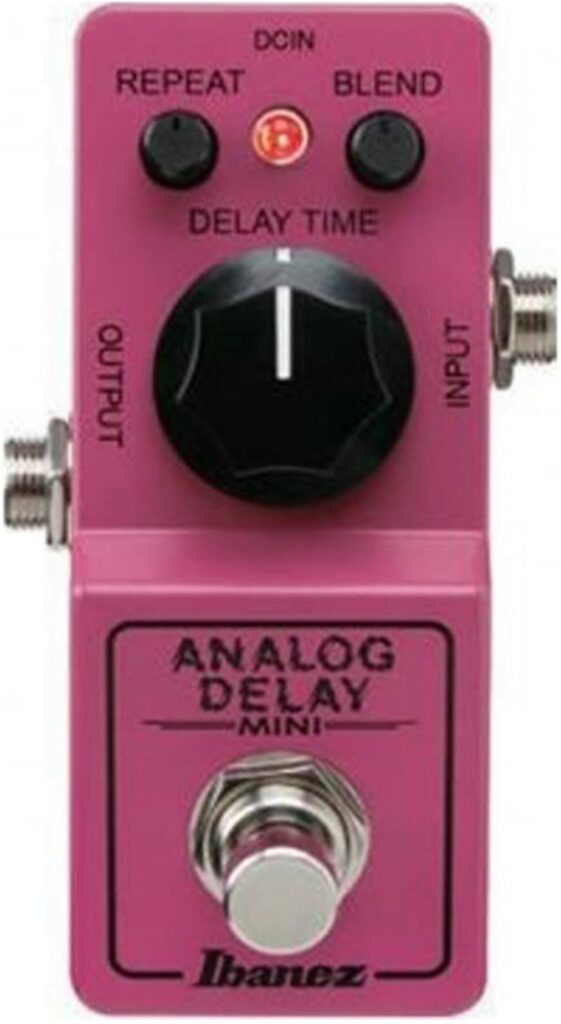 The list of cheap delay pedals wouldn't be complete without the mini Analog Delay from Ibanez. Ibanez has managed to pack an incredible analog delay pedal into this tiny enclosure. With easy-to-use controls and great delay tones, you should definitely check out the Analog Delay Mini from Ibanez.
WHERE TO BUY
---
JOYO – D-SEED II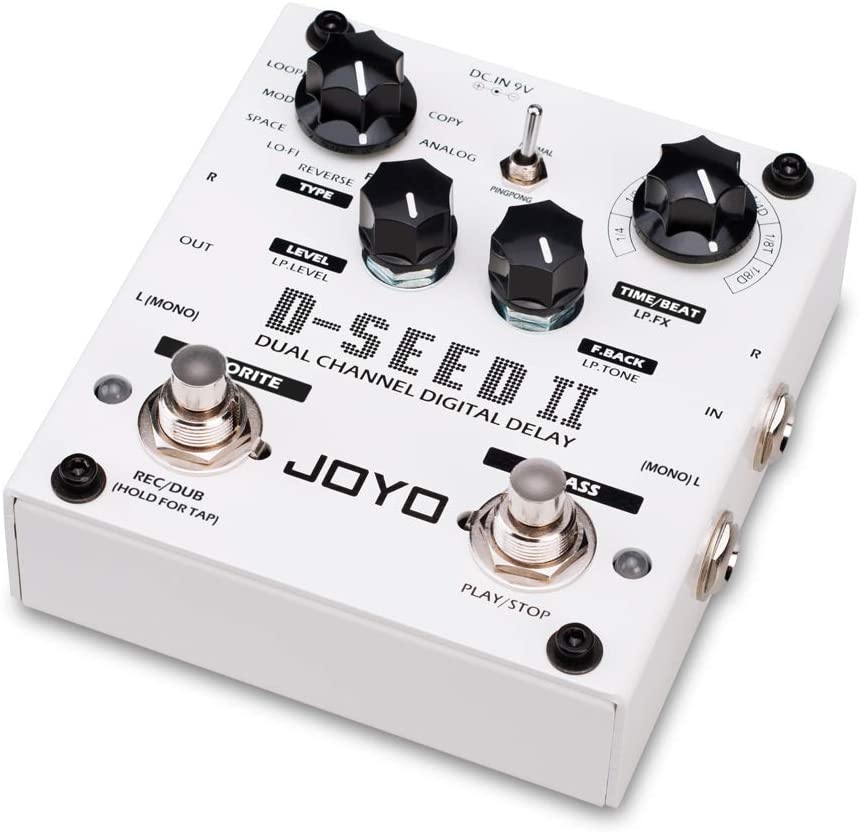 One of our favorite cheap delay pedals is the D-SEED II from JOYO. Packed with a massive amount of options and an onboard looper, the D-SEED is an absolute powerhouse of an affordable delay pedal.
WHERE TO BUY
---
RELATED: Pedal Haven's guide to the best reverb pedals.
Do you have G.A.S. (Gear Acquisition Syndrome)? Check out our other guitar pedal shopping guides for more top guitar pedal picks!