Essex, UK-based pedal company, Zander Circuitry, just released a massive 8-mode reverb pedal called the Templo.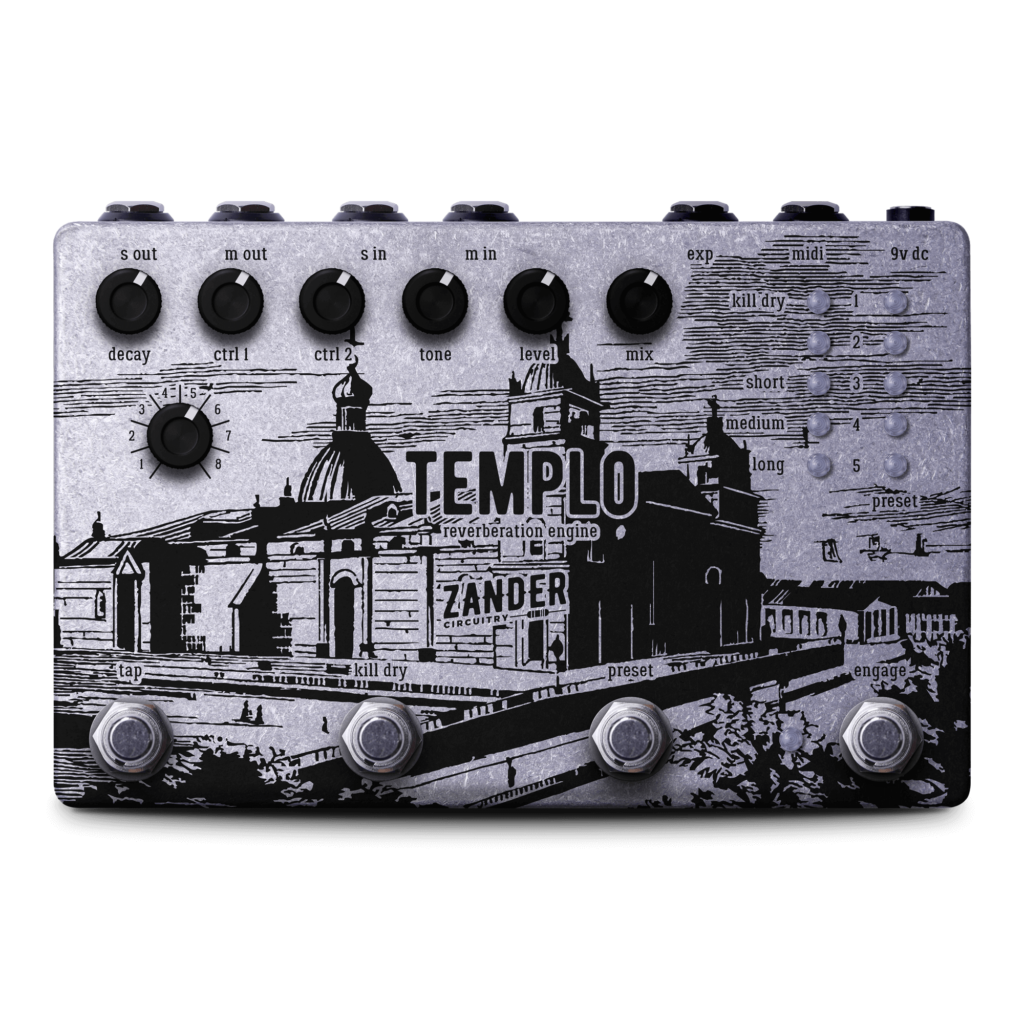 The Templo is an all-in-one reverb pedal that is packed with interesting reverb sounds, offers 5 onboard customizable presets, stereo ins and outs, can be controlled via MIDI and features expression pedal compatibility.
The Templo Reverberation Engine offers 8 different reverb modes: Four are more classic, traditional reverbs and the other four are more experimental and otherworldly. 
Related: The best reverb pedals
Templo's Reverb Modes
Spring/Tile – Based on spring reverbs found in classic amplifiers. 
Room/Hall – Classic room reverb 
Cave – Cavernous reverb with long decay times and optional modulation.
Solid State – Based on the MN3011 bucket-brigade delay chip found in many solid-state and analog reverbs.
Whirl – Large cathedral reverb with a four-voice chorus
Spectral – Large cathedral reverb with a lower octave and a high octave shimmer
Lo-Fi – Thin-sounding reverb with intense high pass filtering and modulation
Granular – Granular reverb with an added bitcrusher effect
Templo's Controls
The Templo from Zander Circuitry has a lot of footswitches, knobs, and jacks but everything is fairly straightforward and easy to understand.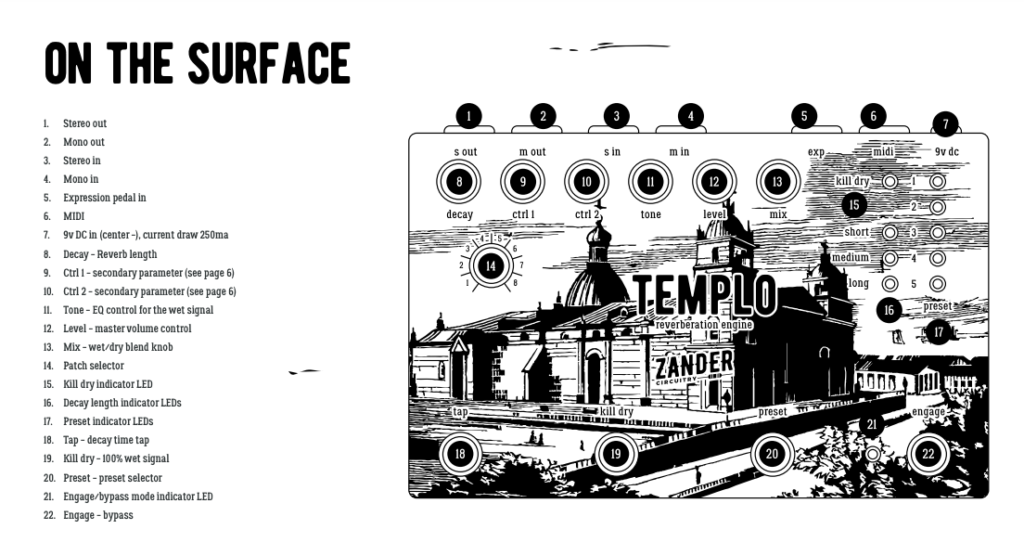 Footswitches
Engage Footswitch– Turns the effect on/off
Preset Footswitch – Change between the 5 onboard presets
Kill Dry Footswitch – Takes your dry signal out of the mix
Tap Footswitch – Tap in the length of the decay time (hold for max decay)
Knobs
Decay – Adjusts the decay time of the reverb
CTRL 1 – Changes specific parameters depending on the reverb mode being used
CTRL 2 – Changes additional parameters depending on the reverb mode being used
Tone – Adjusts the EQ of the reverb
Level – Adjusts the level of the effect
Mix – Controls the wet/dry mix
1-8 Knob – Change between each of the 8 reverb algorithms
Jacks
MIDI – Connect a MIDI controller
EXP – Connect an expression pedal
M IN – Mono Input
S IN – Optional Stereo Input
M Out – Mono Output
S Out – Optional Stereo Output
For more information about the Templo, check it out over on the Zander Circuitry website.