This post may contain affiliate links
The idea of guitar amp simulation has been around for quite some time now, but as technology advances and home studios become more accessible, the quality of guitar amp sim pedals has skyrocketed in the past few years. 
Whether you are looking for a direct-in solution for live gigs, want to practice silently in your bedroom, or just want to bring some new tones into your existing rig – an amp sim pedal is what you need. 
But what are the best amp sim pedals? Below you'll find our top picks for the best guitar amp sim pedals, from studio-grade amp sim pedals to budget-friendly options and more. 
Iridium – Strymon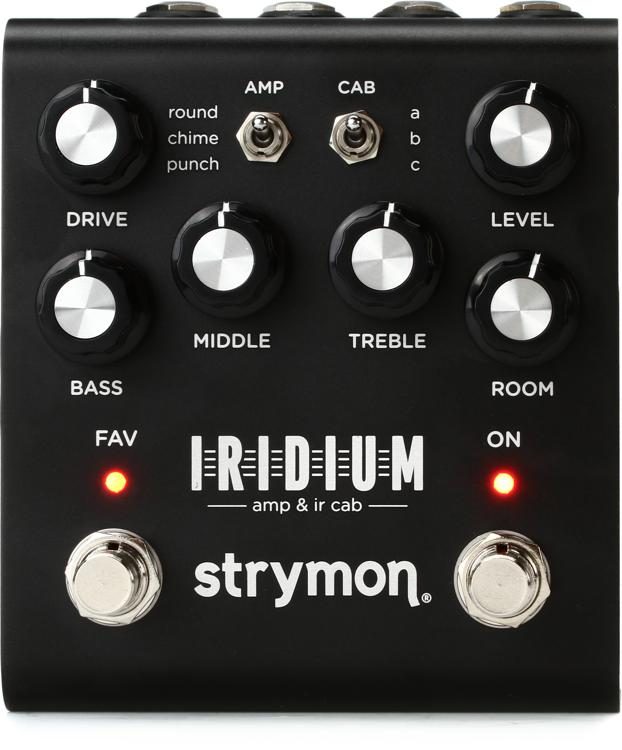 Whether you want a no-amp live gig setup, a silent amp to play at home with headphones, or a new tool for your studio – the Strymon Iridium is an incredible choice in the amp sim pedal world. 
The Iridium features three different amp models that are designed to resemble either a Fender Deluxe Reverb, a Vox AC30, or a Marshall Plexi. Each of the amp models is accompanied by three IR choices specifically designed to work with each amp model. However, Strymon also provides an IR manager software that allows you to edit the IRs and even upload new IRs to the Iridium. Needless to say, there is a nearly endless supply of tones available from the Iridium.
Aside from stereo inputs and outputs, the Iridium also features a ⅛" headphone out jack that allows you to use the Iridium silently with a pair of headphones – an awesome addition for those of us living in a place where you can't crank up your amp. 
If you've ever watched a pedal demo on the Pedal Haven YouTube channel, you're hearing the Iridium in action.
WHERE TO BUY
Dream – Universal Audio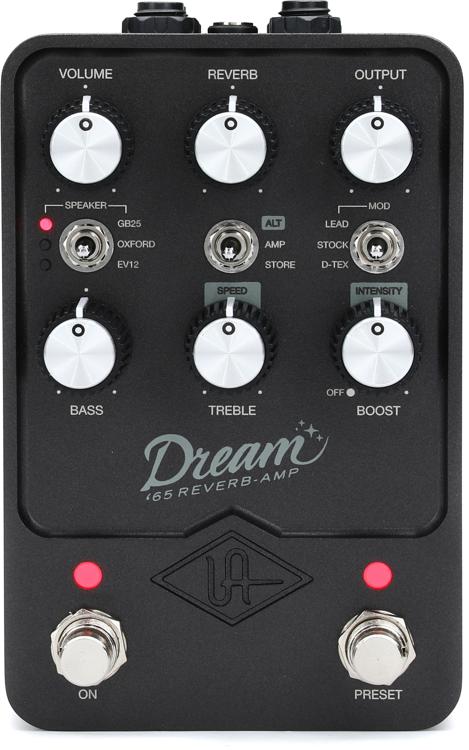 If you are a fan of Fender-style amplifiers, the Dream from Universal Audio is the choice for you. This amp sim pedal is inspired heavily by the '65 Fender Deluxe Reverb, and Universal Audio has worked tirelessly to recreate the feel, breakup, and sound of this classic Fender amp – in pedal form. 
The Dream from Universal Audio has an onboard drippy, spring-style reverb available and an amp-like vibrato effect that we all know and love from Fender-style amps. 
Universal Audio also supplies an app that can pair to the Dream and control a myriad of features like using artist-made presets, your own presets, changing IR cabinets, and even changing the function of the pedal's footswitches to suit your needs.
WHERE TO BUY
ACS1 – Walrus Audio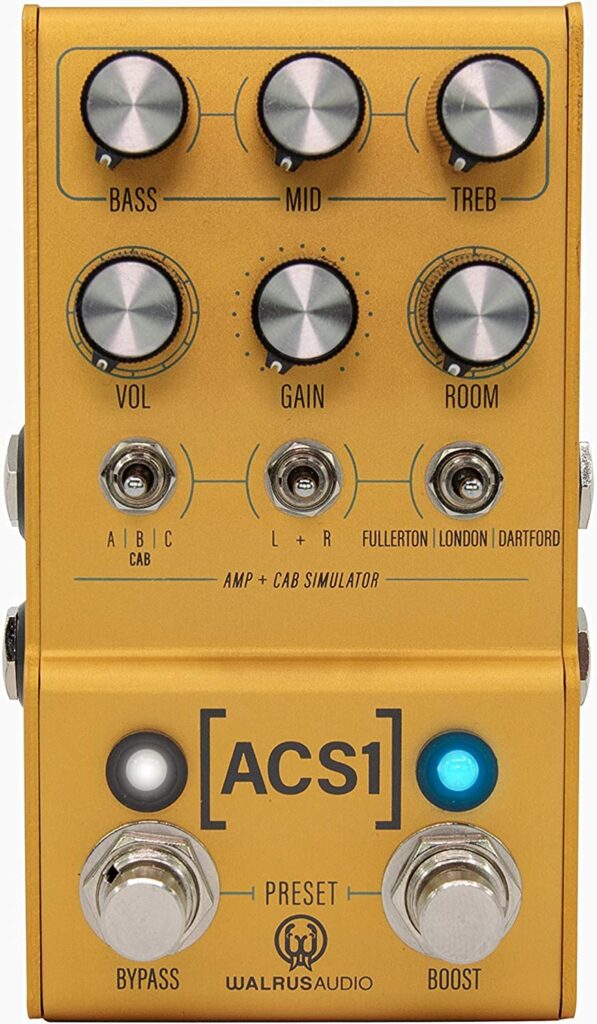 The ACS1 is another fantastic amp sim pedal, and like the Iridium mentioned above, the ACS1 features three different amp models for a variety of different tonal options. These amp models are based on the Fender Deluxe Reverb, a '62 Marshall Bluesbreaker, and a '60s Vox AC30. The Walrus Audio team has preloaded the ACS1 with 6 custom speaker cabinet IRs, and you can also add your own IRs to the pedal.
An exciting feature of the ACS1 is that not only does it have stereo inputs and outputs, but if you use the stereo outputs you can choose to send different amp models to each output – which opens up a whole new world of pseudo-two-amp tones.
The ACS1 also features a ⅛ headphone output so you can plug in your headphones and (silently) rock out without waking up the neighborhood.
WHERE TO BUY
Ruby – Universal Audio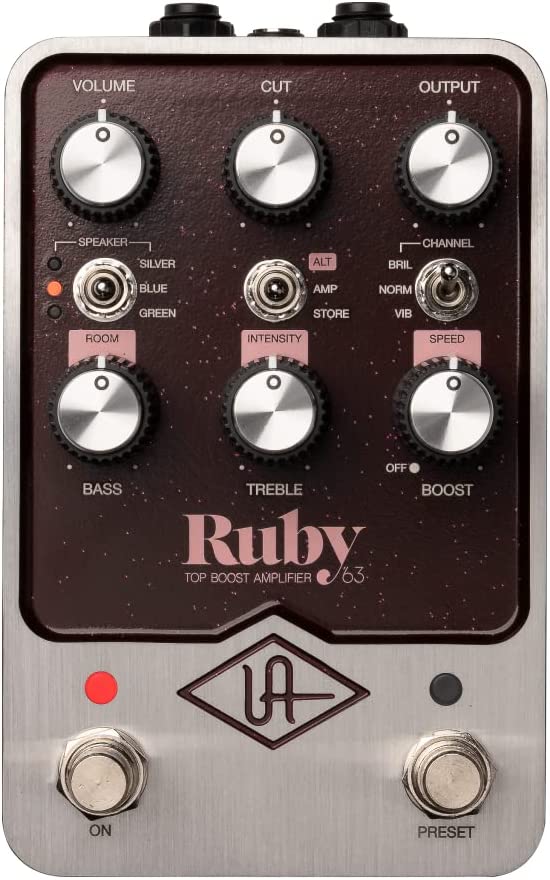 Another incredible pedal from Universal Audio's line of amp sim pedals is the Ruby. The Ruby is modeled after a '63 Top Boost Amplifier – a 1963 Vox AC30 to be specific – and does a fantastic job of replicating the tone and feel of that amplifier. 
The Ruby is equipped with an onboard vibrato effect and three different speaker cabinet IRs to choose from. And, of course, you can use the Universal Audio app to edit or change speaker cabinets, presets, and various amp settings to your liking. 
WHERE TO BUY
Simplifier – DSM & Humboldt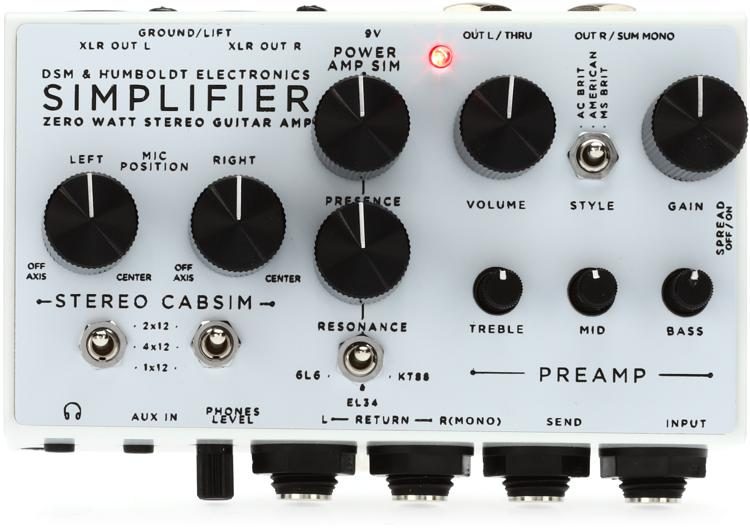 The Simplifier from DSM & Humboldt is a zero-watt stereo amplifier that is packed with features. Like some of the other amp sims mentioned above, the Simplifier features three different amp models based on a Vox AC30, a Black Panel Fender Deluxe Reverb, and a Marshall Plexi. However, the Simplifier offers a wide range of customization on both the preamp and power amp sections of the amp emulations – even including different tube emulation options. It is a fantastic amp sim choice for those who like to dive deep into their gear.
The Simplifier also features stereo cabinet simulation, allowing you to adjust the mic placement and cabinet size for each output on the Simplifier.
The Simplifier also features a headphone output to allow you to play silently too!
WHERE TO BUY
FS06 Preamp – Flamma Innovation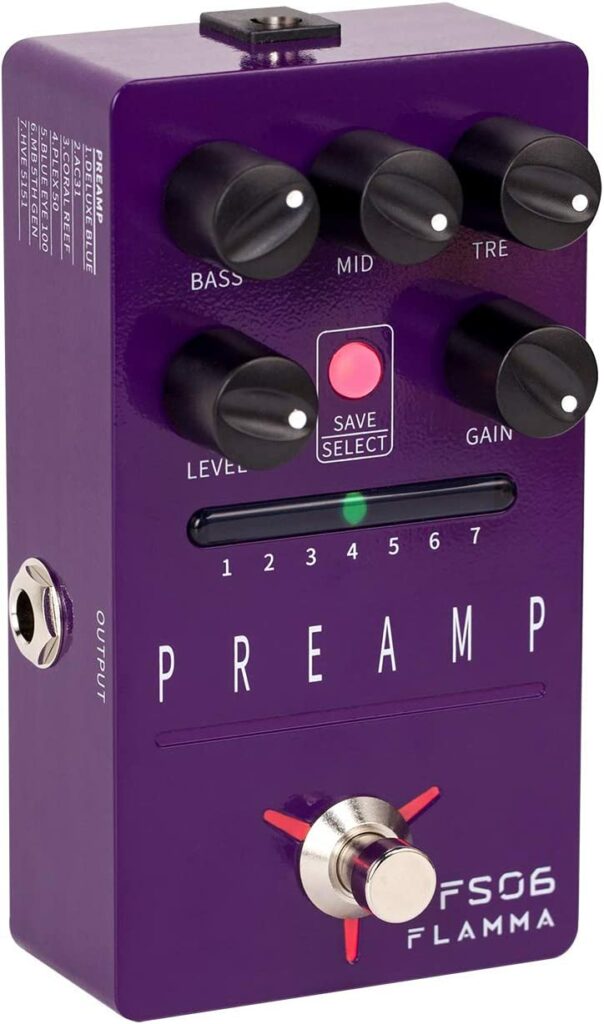 My favorite budget-friendly amp sim pedal is the FS06 Preamp from Flamma Innovation. The Flamma team has managed to pack 7 different amp models into the FS06 Preamp, ranging from Fender and Vox-inspired amp models to a Peavey 5150 model. And each of the 7 amp models has two channels (clean and dirty) – so you really get a massive range of great-sounding amp simulations within the Preamp pedal.
The Preamp from Flamma also features an internal cabinet simulation so you can plug it directly into a mixer or interface for a fully silent recording setup. I'll be honest, I wish the FS06 had more customization options for its cab emulation (it has none!), but it is not bad at all. For such a budget-friendly amp sim pedal, it is hard to beat the FS06 Preamp from Flamma Innovation.
WHERE TO BUY