This post may contain affiliate links
So you're looking for a chorus pedal?
Perhaps you've been inspired by the resurfacing of the chorus effect in modern music or you're trying to live out your goth dreams of the 1980s. Either way, a chorus pedal is an awesome effect to add to any pedalboard.
So let's check out some of our favorite chorus pedals to choose from. 
The Best Chorus Pedals
BOSS – CE-2w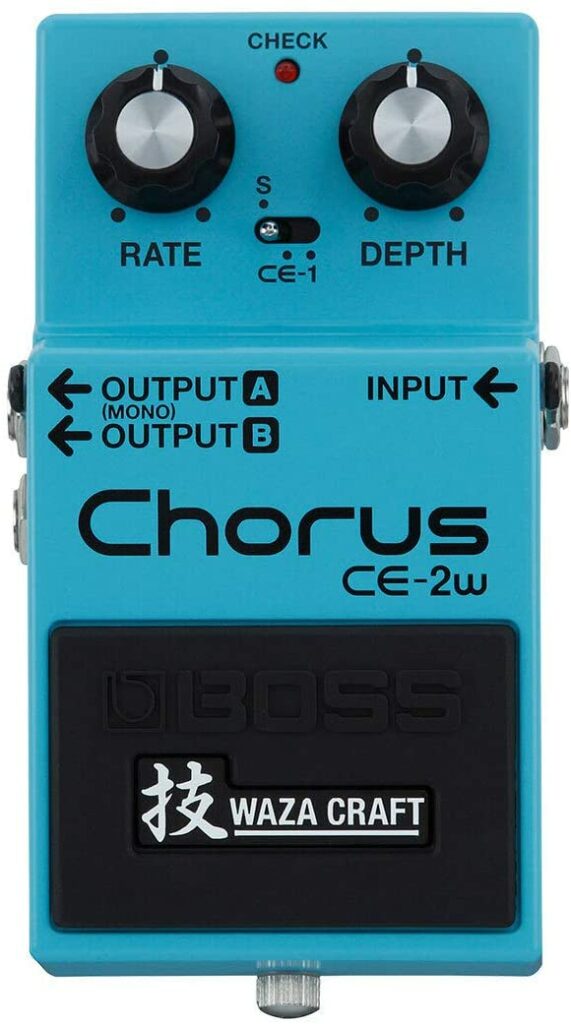 If you know your guitar pedal history, you'll know the Boss CE-1 was the first commercially available chorus pedal – released back in '76. So if you're looking for that classic chorus sound in a modern world, the BOSS CE-2w is a perfect choice. 
The modernized BOSS CE-2w features 3 different modes accessible via a small switch on the front of the pedal. The CE-1 mode perfectly recreates the original chorus sound from the beloved CE-1 pedal – and sounds amazing. However, the CE-2w also has a 'standard' mode that faithfully recreates the classic CE-2 chorus sound and a variable depth mode which is an entirely new sound to the BOSS chorus pedal range. And it has optional stereo outputs!
WHERE TO BUY
---
Walrus Audio – Julia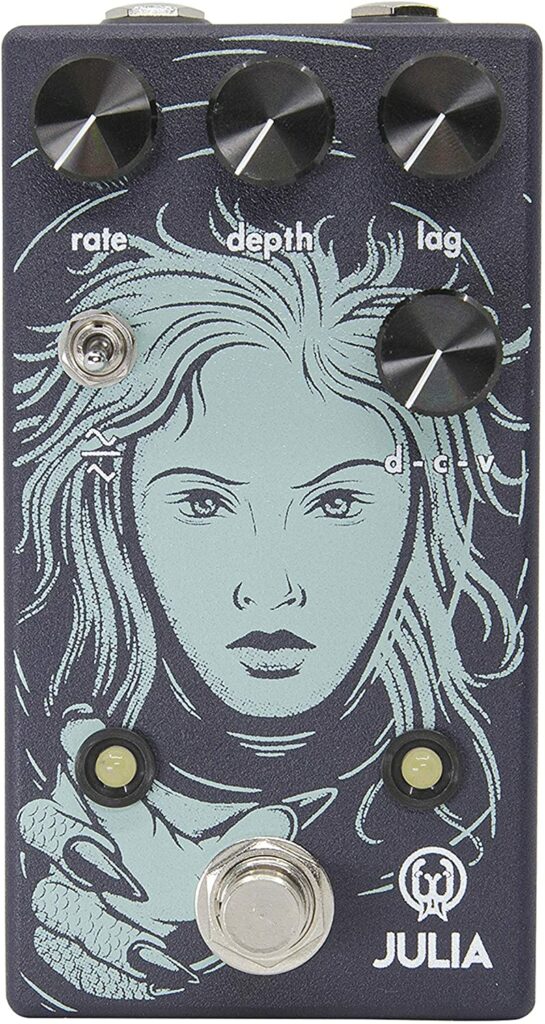 If a modernized chorus is more your thing, the Walrus Audio Julia is an incredible option. The Julia is a fantastic chorus pedal on its own but also can double as a vibrato pedal (by setting the 'D-C-V' knob to 100%) making it an all-around awesome modulation machine. 
The Julia also has options to adjust the LFO wave of the chorusing effect, which effectively changes the way it sounds, and offers a 'lag' knob that you can use to get sounds ranging from standard chorus to weird, experimental, borderline-nauseating modulation. All of that said, it is an incredible chorus pedal.
WHERE TO BUY
---
TC Electronic – Corona Mini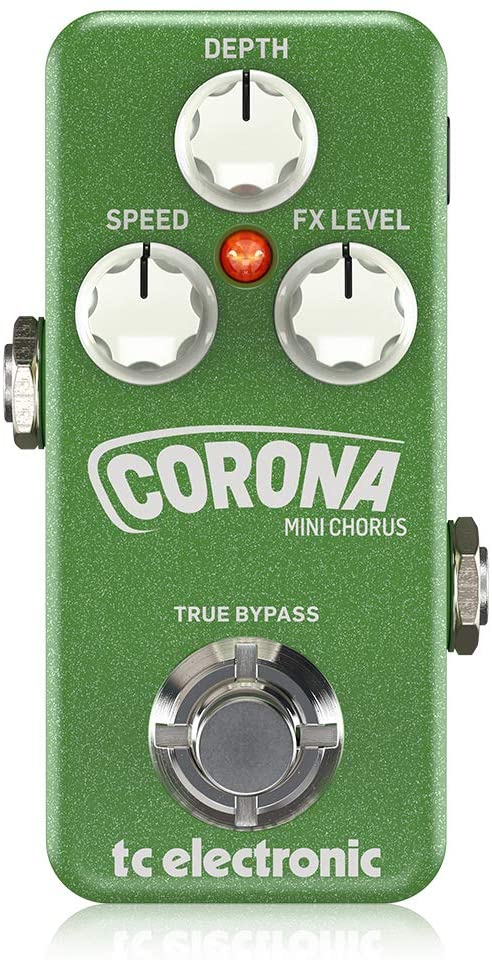 Next up is the Corona Mini chorus pedal from TC Electronic. One of the more affordable chorus pedals on the list, and definitely the smallest, the Corona Mini chorus pedal is a super easy-to-use chorus pedal for any pedalboard. 
With just three knobs to control the speed, depth, and FX level the Corona Mini is easy to understand and control. However, like most TC Electronic pedals, the Corona Mini features their 'TonePrint' technology – which allows you to upload pre-made or custom chorus sounds to the pedal directly from your smartphone or computer. Giving you a near-endless supply of fun chorus effect options.
WHERE TO BUY
Note: TC Electronic also makes a standard-sized (not mini) version of the Corona Chorus, which has a few more tone-shaping options and modes! You can find it on Amazon here.
---
Electro Harmonix – Small Clone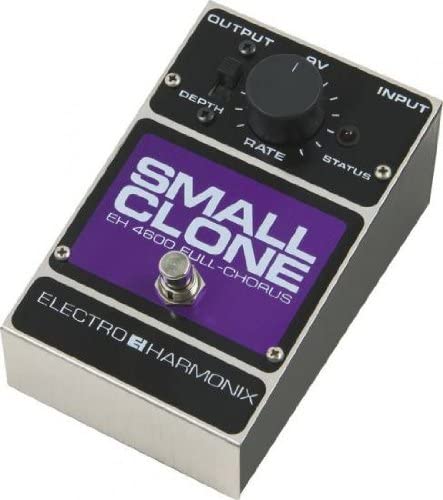 Famously used by Kurt Cobain, the Small Clone from EHX absolutely delivers when it comes to classic analog chorus sounds. 
With only a rate knob and a switch to control the depth of the chorus, the Small Clone doesn't offer much in terms of tweaking – but it still provides a wide range of the classic, warbly chorus sounds that we all know and love.
WHERE TO BUY
---
Electro Harmonix – Neo Clone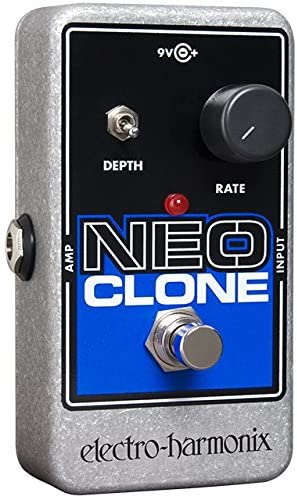 Another budget-friendly chorus pedal choice is the Neo Clone from EHX. This one-knob chorus pedal delivers all of the classic chorus sounds from the Electro Harmonix Small Clone but in a smaller package.
The Neo Clone has just one knob to control the rate of the chorusing effect and a toggle switch that allows you to choose the depth of the chorus, making it really easy to use. 
WHERE TO BUY
---
JHS Pedals – 3 Series Chorus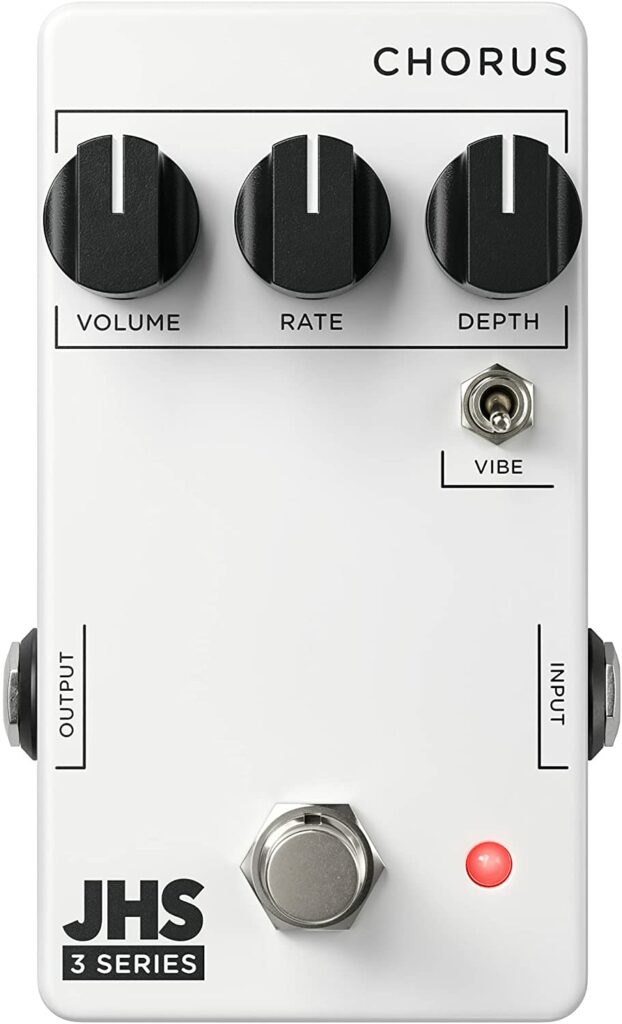 The entire line of 3 Series pedals from JHS are quite impressive, relatively cheap pedals – and the 3 Series Chorus does not disappoint. The 3 Series Chorus from JHS is another very straightforward chorus pedal with knobs to control the Volume, Rate, and Depth of the chorusing effect. But those three simple controls are all you need to get anything from subtle chorus sounds to full-blown seasick modulation.
The 3 Series Chorus also has a "Vibe" switch that removes your dry signal from the mix, turning the pedal into more of a vibrato pedal! A nice feature for such an affordable pedal. 
WHERE TO BUY
---
Fender – Bubbler Chorus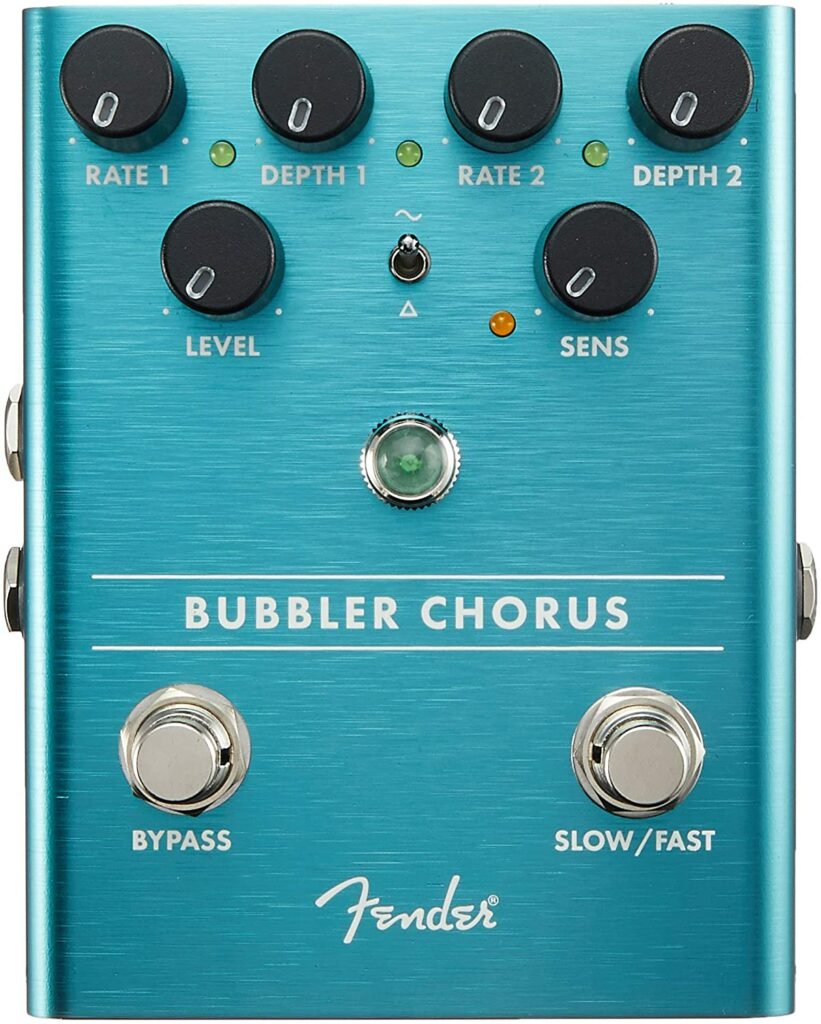 Next is the Bubbler Chorus from Fender. This is effectively two chorus pedals in one. The Bubbler Chorus gives you the option to switch between Slow and Fast chorus settings, with independent rate and depth controls for each option.
Aside from that, the Bubbler Chorus has the option to choose between two different waveforms of modulation (triangle wave or sine wave), and the 'Sensitivity" control allows you to change how the modulation rate is affected by your playing dynamics – which is quite fun. And it has stereo outputs!
WHERE TO BUY
---
MXR – Analog Chorus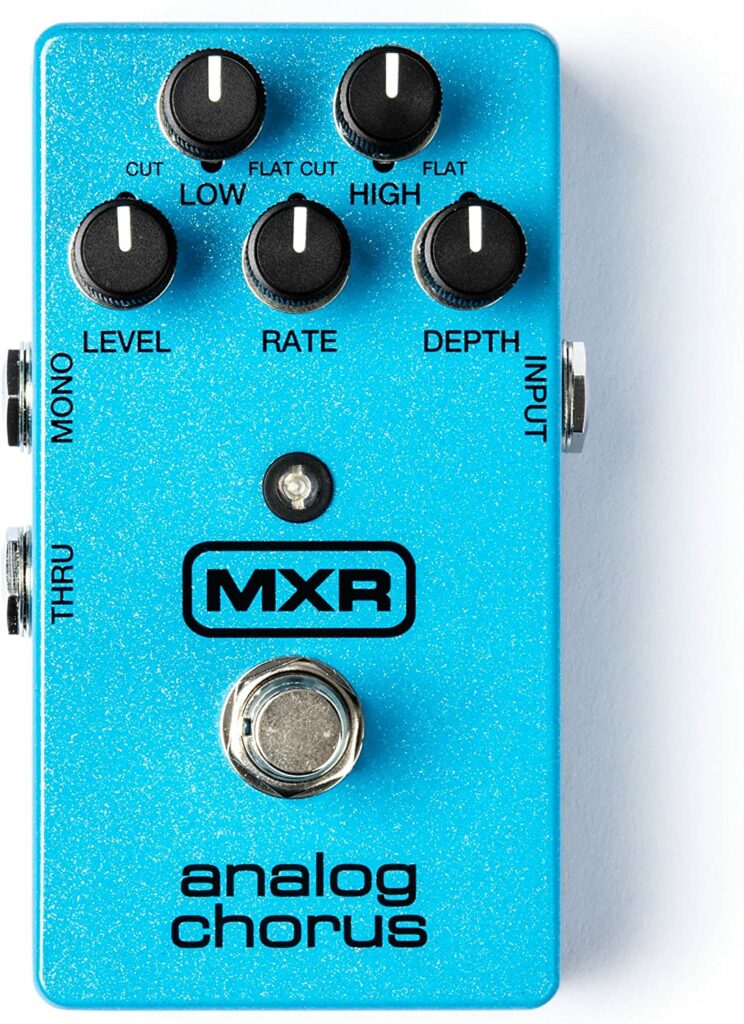 The Analog Chorus from MXR is a well-loved, classic chorus pedal for good reason. This fully analog chorus pedal delivers classic chorus sounds with a set of modern tone-shaping controls.
Like most chorus pedals, the Analog Chorus offers knobs to control your Level, Rate, and Depth. However, this pedal also has a unique set of low and high tone controls that allow you to really tweak the EQ of the pedal. Plus it has the ability to be run in stereo using the optional "thru" jack on the side of the pedal.
WHERE TO BUY
---
Chase Bliss Audio – Warped Vinyl HiFi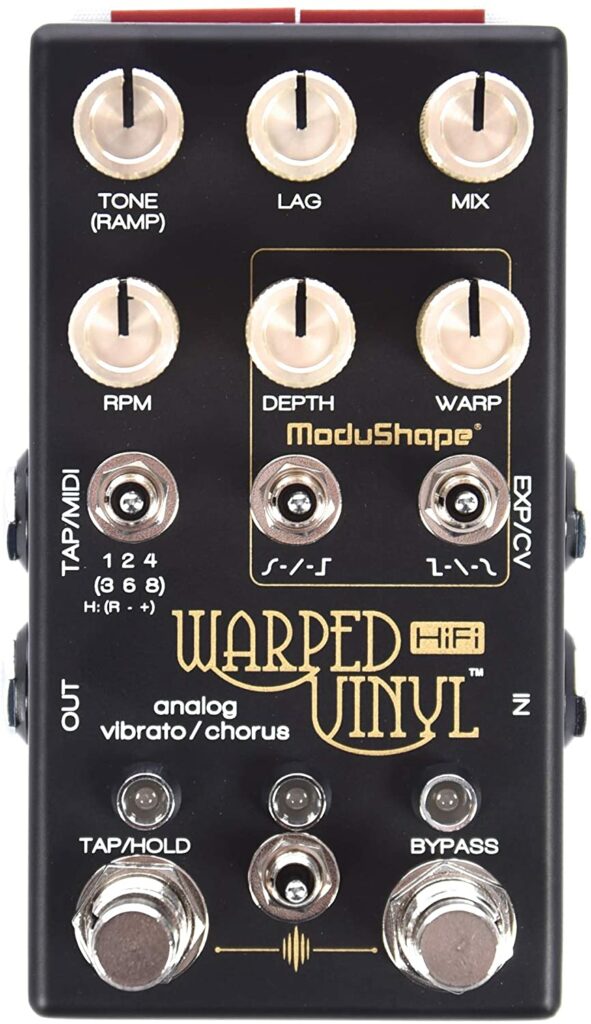 The Warped Vinyl HiFi from Chase Bliss Audio is the most tweakable chorus pedal on this list. With six knobs, four jacks, two footswitches, and four toggle switches on the front, as well as an entire row of dipswitches on the back, it would take me a lifetime and an engineering degree to describe everything this pedal is capable of. 
But what I do know is that this is an advanced chorus/vibrato pedal that offers a wide range of shimmering and lush modulation sounds. Overall, it is made to emulate the sound of an old, warbly vinyl record. With controls to shape the rate, depth, and tone of the chorusing effect and an onboard tap tempo, the Warped Vinyl is a monster of a modulation pedal. This pedal can also be controlled via MIDI and specific parameters can be controlled via an external expression pedal or CV signal.
WHERE TO BUY
---
Donner – Tutti Love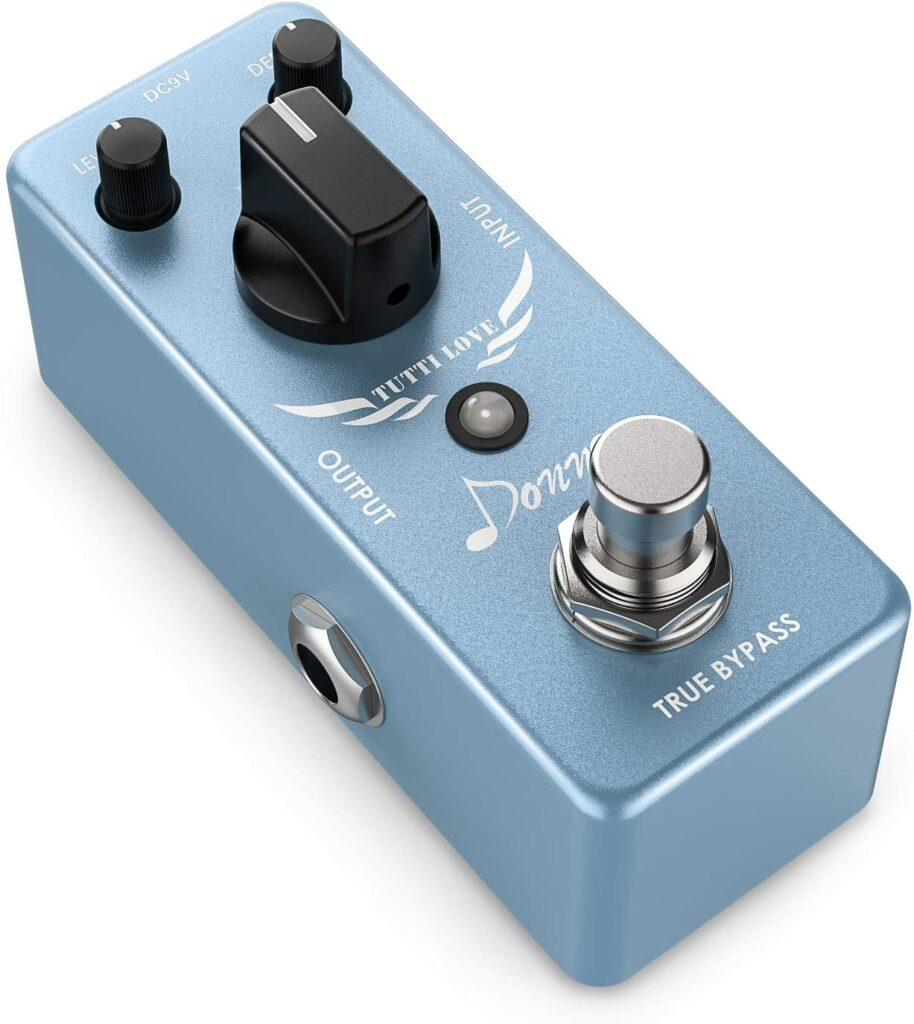 The Tutti Love chorus from Donner is the ultimate budget-friendly chorus pedal. But don't let that low price tag fool you, it is actually a pretty solid chorus pedal built into a high-quality, mini enclosure – so it won't take up much space on your pedalboard.
With just three knobs to control the Level, Rate, and Depth the Tutti Love is super easy to use and is a great choice for anyone looking for a standard chorus pedal.
WHERE TO BUY
---
BOSS – DC-2w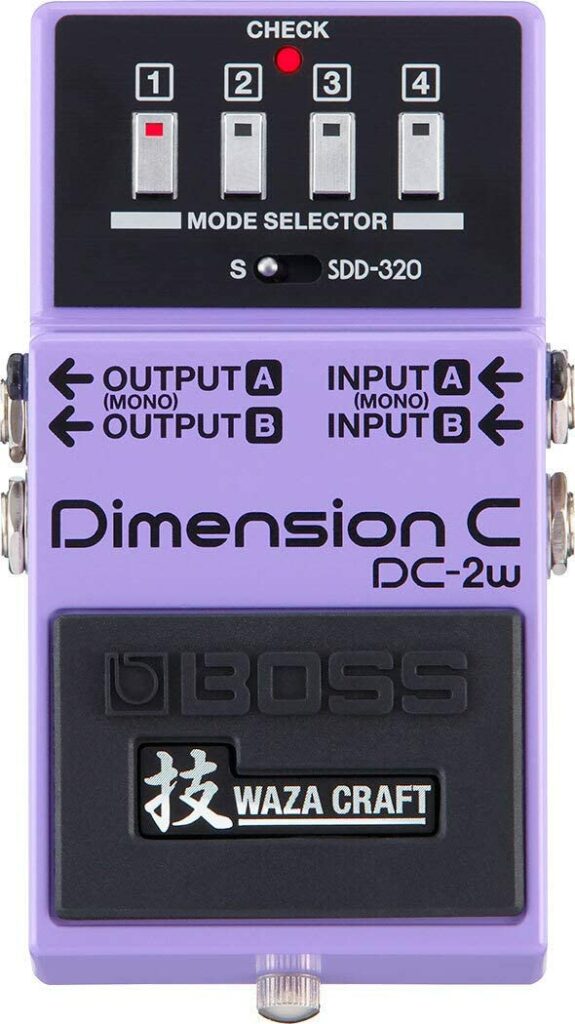 The DC-2w from BOSS is certainly one of the more unique-looking pedals on the market, and offers a wide range of unique chorus sounds. The DC-2w is a faithful recreation of the classic Dimension C (DC-2) from BOSS in their updated WAZA Craft style.
The DC-2w has two different modes. The "S" mode offers the original sound of the BOSS DC-2 pedal. And the "SDD-320" mode authentically reproduces the vintage Roland SDD-320 dimension D, an iconic studio rack effect used throughout history.
Using the unique four-button interface on the front of the pedal, the DC-2w offers up to 20 different chorus sounds. It is definitely the choice for anyone chasing those chorus sounds of the '80s.
WHERE TO BUY
---
Still have G.A.S. (Gear Acquisition Syndrome)? Check out our other guitar pedal shopping guides for more top guitar pedal picks!