As technology continues to improve, we are noticing the world shrinking around us. Our cell phones are getting thinner, computers are getting smaller and more powerful, and – most impressively – guitar pedals are getting incredibly small. 
That is good news for us pedalboard lovers, because mini guitar pedals allow us to put even more pedals on our pedalboards, without much sacrifice in terms of sound or functionality. 
What are Mini Guitar Pedals?
Mini guitar pedals are simply guitar pedals that are built to fit into a smaller enclosure – better known as a 1590A enclosure. These enclosures are about half the size of the standard 1590B enclosure that most of today's guitar pedals are built inside of.
Many of today's mini pedals sound exactly the same as their full-size counterparts but take up far less space on a pedalboard – allowing you to take full advantage of what little real estate you have on your pedalboard.
So what are some good mini guitar pedals to check out?
From overdrives and boosts to reverbs, delays, and tuners, here's a list of some of our favorite mini guitar pedals.
The Best Mini Guitar Pedals
Wampler Pedals – Tumnus Mini (Overdrive/Clean Boost)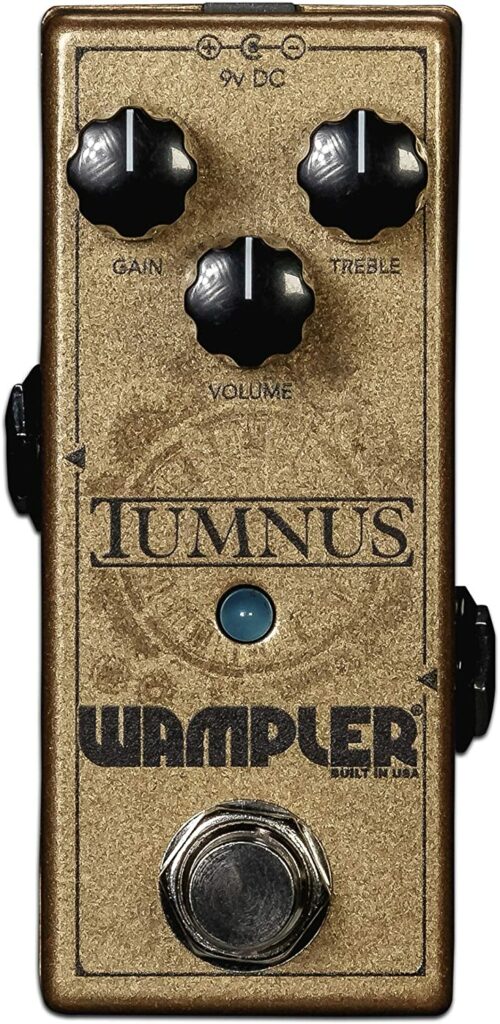 Recently featured on our list of the best Klon clones, the Wampler Tumnus Mini is an absolute force to be reckoned with in the wide world of Klon-like pedals. With its intuitive 3-knob control scheme, the Tumnus Mini offers all of the hybrid overdrive and clean boost tones at a fraction of the size (and cost).
TC Electronic – Hall of Fame 2 (Reverb)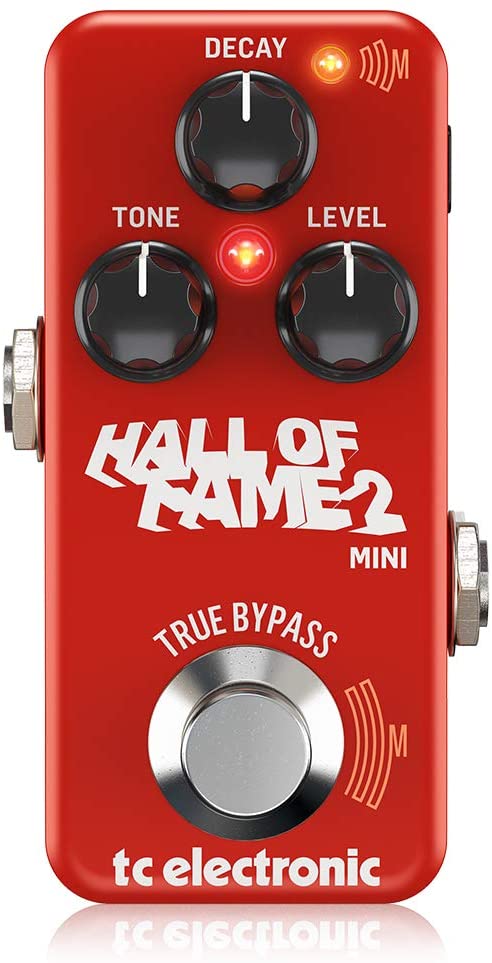 The Hall of Fame 2 Mini from TC Electronic is an excellent reverb pedal for any pedalboard. This mini pedal features TC Electronic's unique "Tone Print" software that allows you to use an app to pick out or create unique reverb algorithms and upload them directly to the pedal. That means this tiny guitar pedal offers a near-endless amount of different reverb sounds. Whether you're looking for a tiny bit of room reverb to spice up your clean tone or full-blown ambient goodness, the HOF2 can do it.
Pigtronix – Constellator (Analog Delay)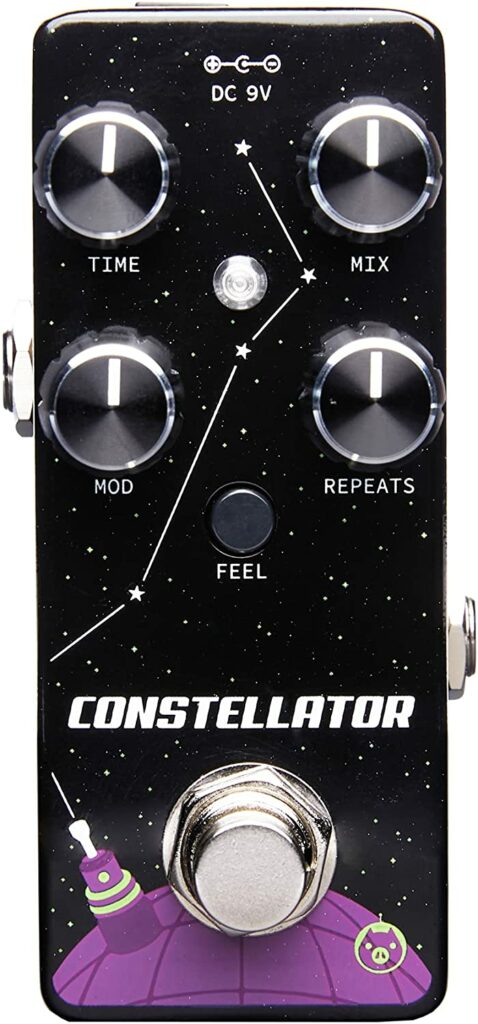 The Constellator from Pigtronix is an interesting dive into the analog delay pedal world, in a small form factor. With 4 knobs to control your delay's mix, time, repeats, and modulation – the Constellator is packed with amazing analog delay tones and can be squeezed onto any pedalboard.
Xotic – EP Boost (Boost)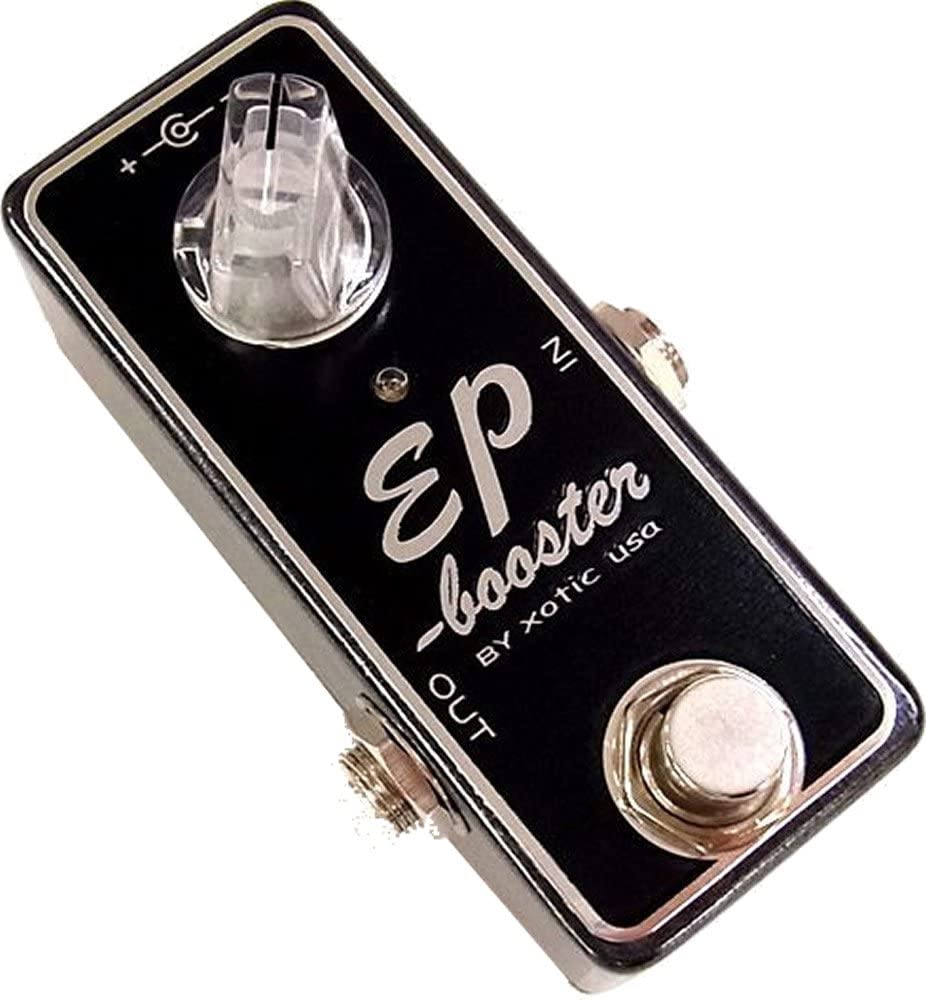 The EP Boost from Xotic is a staple in the guitar pedal world and is an easy-to-use boost pedal in a tiny package. The FET preamp-equipped boost pedal offers up to +20dB of volume gain in a small, one-knob enclosure. 
Ibanez – Tube Screamer Mini (Overdrive)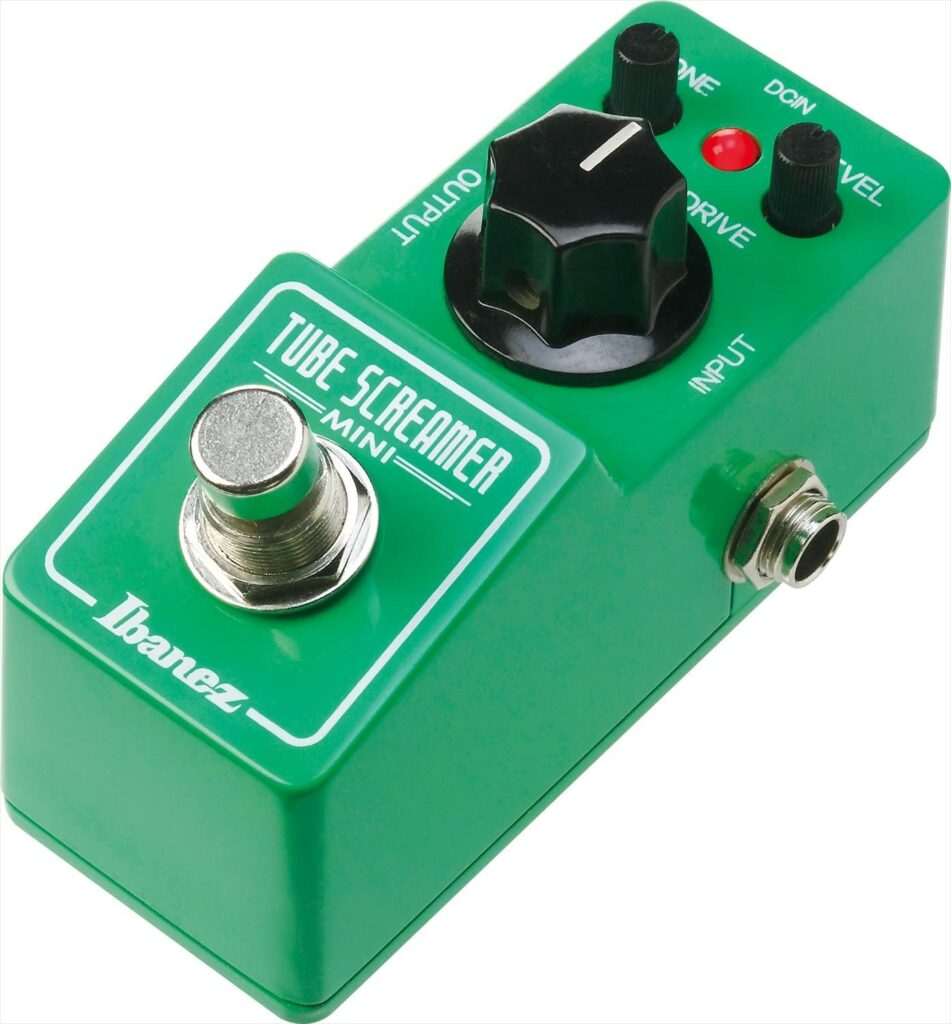 It is nearly impossible to see a pedalboard today without some form of tube screamer-style pedal on it. And the Tube Screamer Mini takes everything guitarists love about the standard-sized TS-9 and packs it into a small, miniaturized version. From the classic green paint job to the glorious mid-range growl loved by so many guitarists, the Tube Screamer Mini is a great addition to any guitarist's rig. 
JHS Pedals – Prestige (Boost)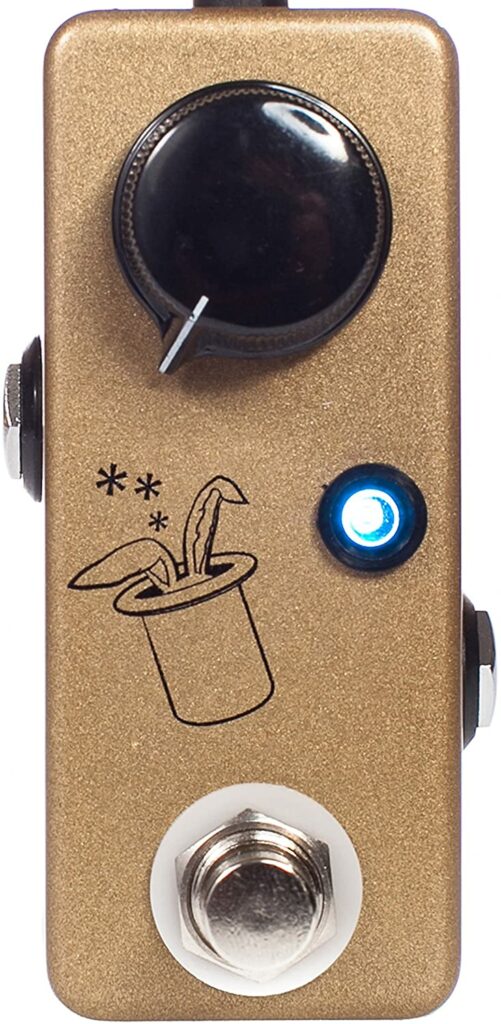 Up next, is the Prestige from JHS Pedals. JHS has surely made a name for itself in the guitar pedal world, and their Prestige Boost is an excellent choice for your boost pedal needs. This mini boost pedal can be used as an always-on buffer and boost pedal, but if you start cranking the knob past 75% it can add a lot of grit and natural overdrive to your tube amp. 
TC Electronic – Polytune 3 Mini (Tuner)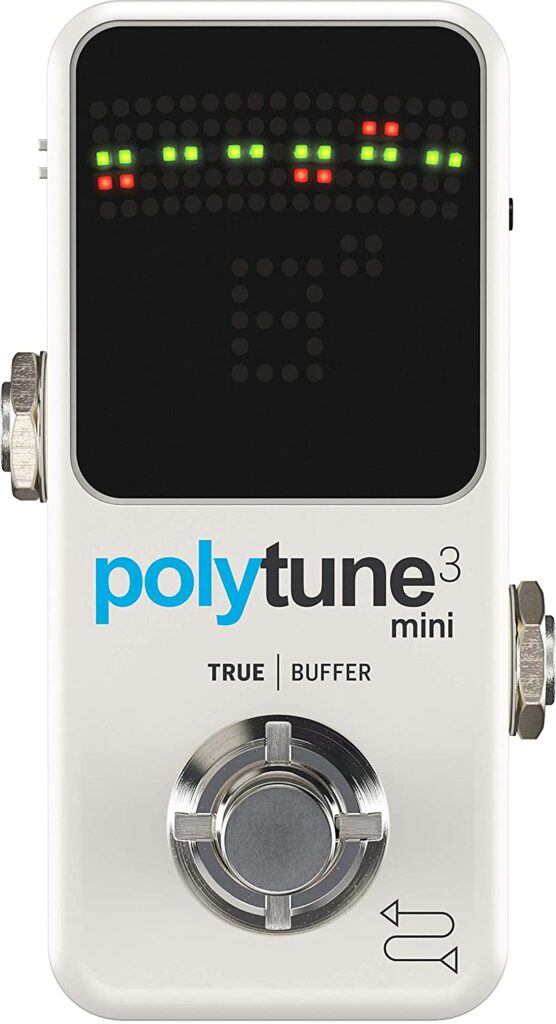 No pedalboard is complete without some form of tuner pedal. And the Polytune 3 Mini from TC Electronic is a widely-used, accurate tuner pedal that does not take up a lot of space on your pedalboard. The Polytune mini tuner pedal also has an interesting feature called the "Polyphonic" mode that allows you to tune all six of your guitar strings at the same time! 
TC Electronic – Ditto Looper Mini (Looper)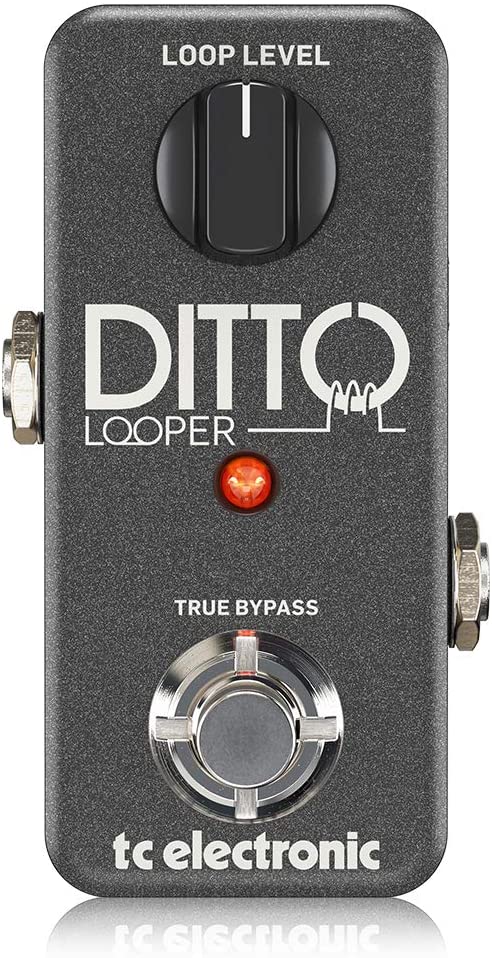 If you haven't noticed yet, TC Electronic makes some great mini guitar pedals, and the Ditto Looper Mini is an amazing choice if you're looking for a looper pedal that doesn't take up much space on your board. Although the single-knob design may not be as intuitive as some of the more advanced, full-sized looper pedals, TC Electronic has managed to pack up to 5 minutes of recording time into this mini looper pedal. And it is quite easy to use once you get the hang of it. 
MXR – Phase 95 (Phaser)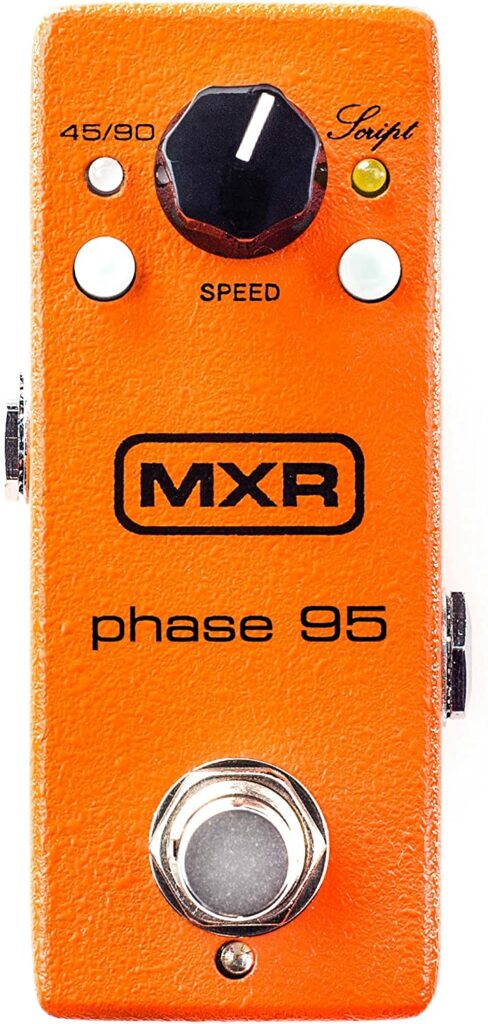 Many of the most iconic guitar riffs that use the phaser effect were recorded with an MXR Phase 90. MXR has captured the essence of that incredible phaser pedal and put it into a much smaller enclosure with their Phase 95 mini pedal. The Phase 95 has options that allow you to switch between their classic phaser circuits (the Phase 90 and the Phase 45) and even features a "Script" switch that changes between vintage and modern phaser sounds. 
Nobels – ODR-Mini (Overdrive)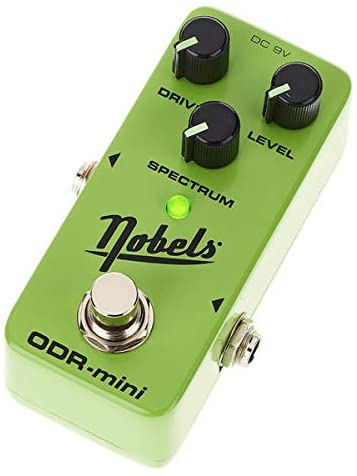 You are probably familiar with the ODR-1 overdrive from Nobels. But if you aren't, it is a spectacular overdrive pedal. The Nobels team has taken all of that overdrive goodness and put it into a mini guitar pedal format with their ODR-Mini. An overdrive pedal offering a firm low end and a warm midrange, the ODR-Mini packs an absolute punch in a tiny form factor.
Donner – Mod Square (Modulation/Multi-Effect)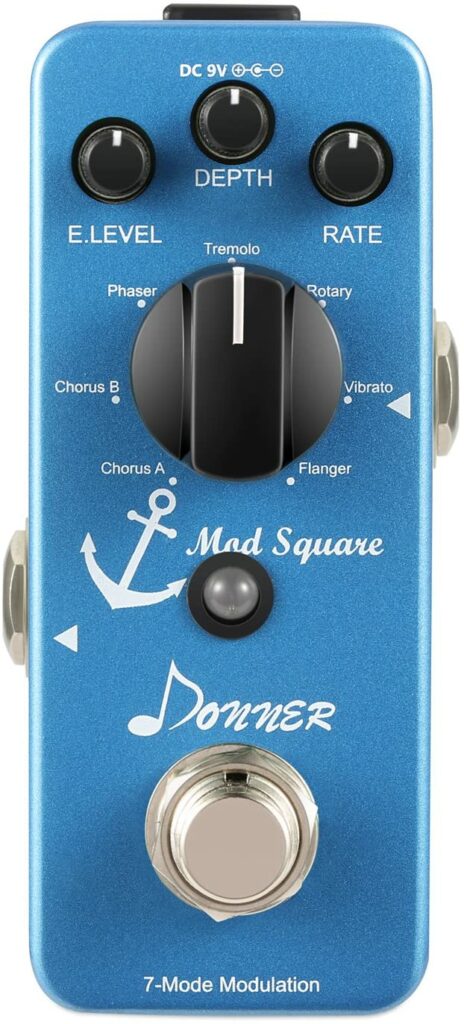 Donner is one of the frontrunners when it comes to affordable, great-sounding guitar pedals. The Mod Square is an all-in-one mini guitar pedal that offers 7 different modulation sounds in a small, pedalboard-friendly format. If you're looking for a new chorus, vibrato, tremolo, rotary, or phaser pedal – the Mod Square is a solid choice, especially if you are on a tight budget.
EX Effects Pedals – EQ-7 (Equalizer)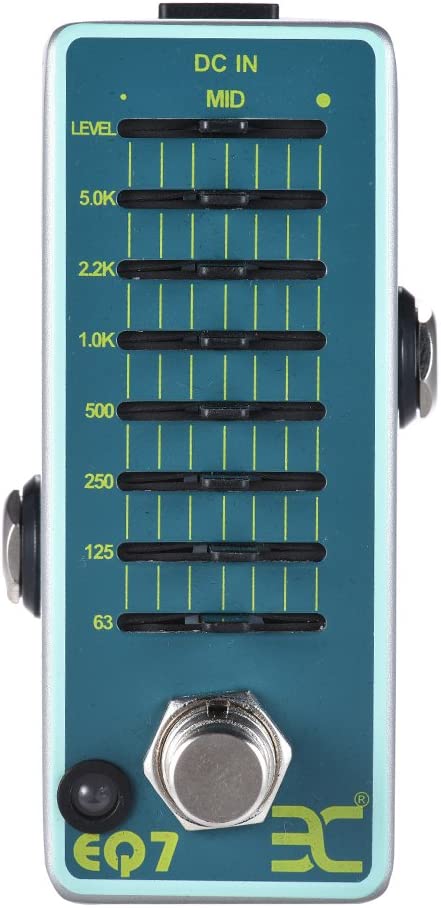 An EQ pedal is kind of a secret weapon for any guitarist's rig. And the EQ-7 from EX Effects Pedals is an incredibly budget-friendly option for anyone looking to try an EQ pedal. This mini EQ pedal offers a 7 band EQ that can be used to boost or cut out different frequencies all around the sound spectrum – allowing you to truly shape your tone exactly as you want it to sound.
Keeley Electronics – Mini Compressor (Compressor)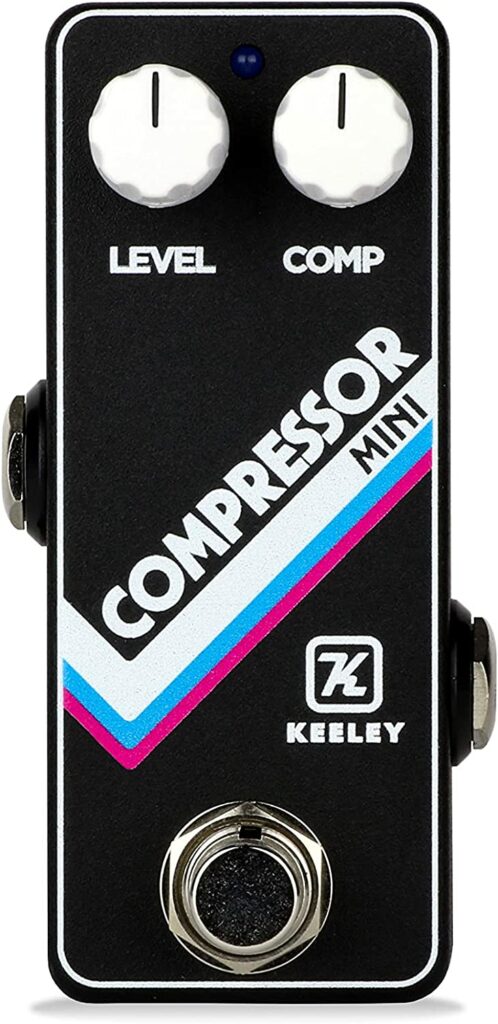 The Keeley Compressor is perhaps one of the most iconic compressor pedals of all time. And now the Keeley Electronics team has taken all of that compressor goodness and packed it into a mini, two-knob format with their Mini Compressor. With controls for Level and Compression, the Mini Compressor gives you complete control over how you want this pedal to work, all while sounding incredible.
Looking for more guitar pedal help? Check out some of our other guides below. 
Or view all of our guitar pedal shopping guides right here.