August was an exciting month on the Pedal Haven Instagram account. We posted a lot of your amazing pedalboards, and saw small pedalboards, large pedalboards, Klon pedals, nice guitars, and more! 
We dug through all of the pedalboards we posted in August 2021 to find the most-liked pedalboards of the month.
Take a look and head over to the Pedal Haven Instagram account and show everyone who submitted their boards some love!
Top Pedalboards of August 2021
#1 @janesthonhrdz's Pedalboard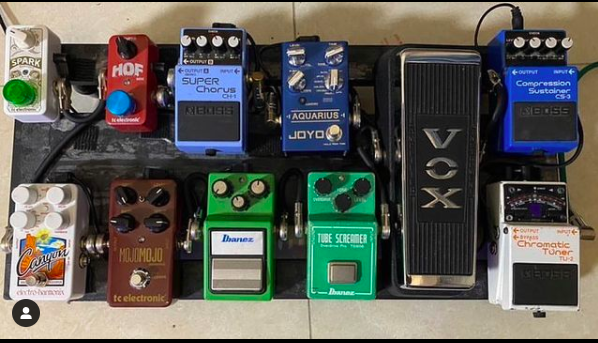 This month's most-liked pedalboard is this pedalboard from @janesthonhrdz! From the double Tube Screamer setup to the TC Electronics Hall of Fame Mini, this board is an absolute workhorse! 
#2 @faithtomove369's Pedalboard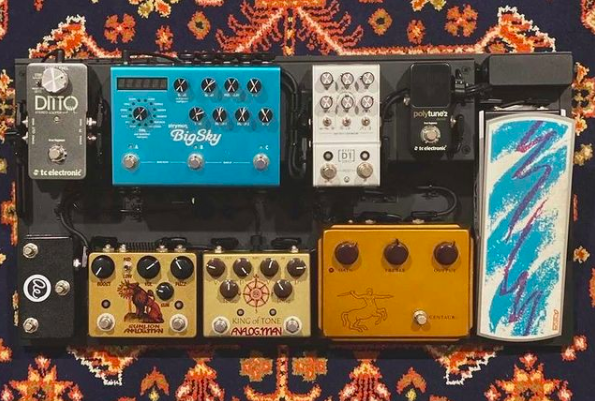 Up next, we have this incredible pedalboard from @faithtomove369! Not only do they have the holy grail, a Klon Centaur, on their board – they are also sporting two different pedals from Analog Man, a Strymon BigSky, and a Walrus Audio D1! Truly some amazing pedal choices here! And that pedal topper on the Ernie Ball volume pedal is the icing on the cake. 
Related: The Best Klon Centaur Clones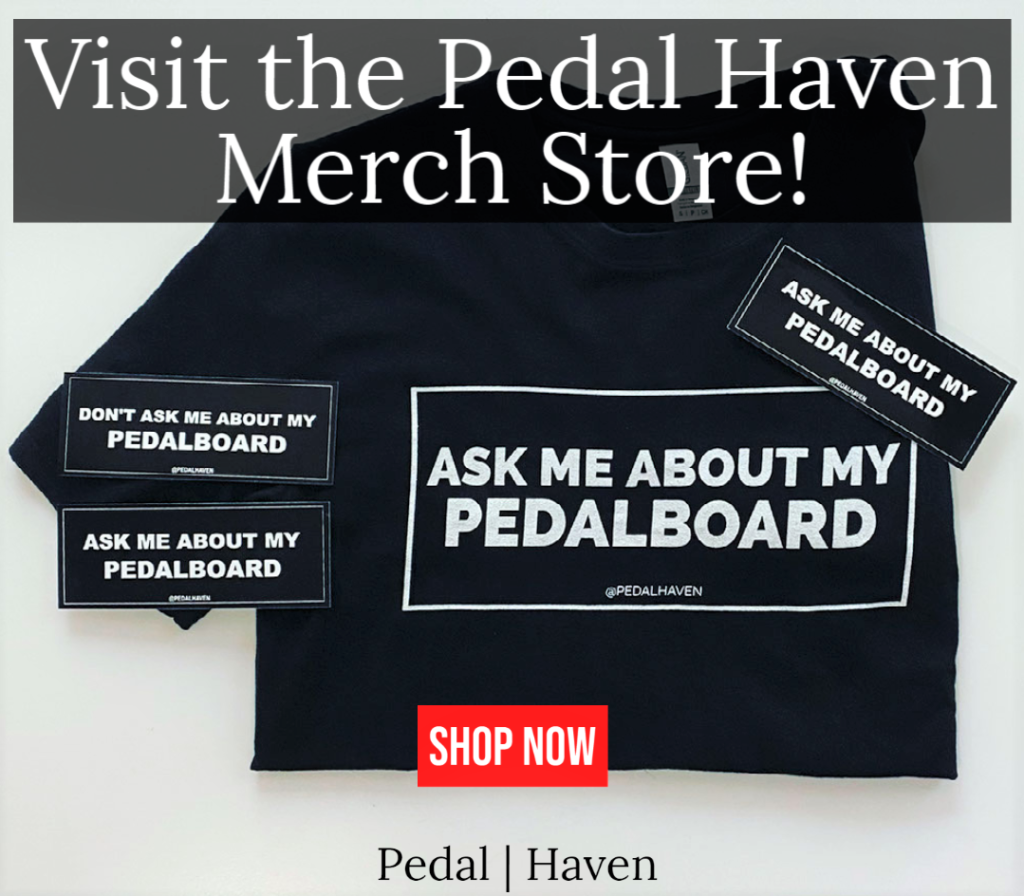 #3 @__l_a_l_o__'s Pedalboard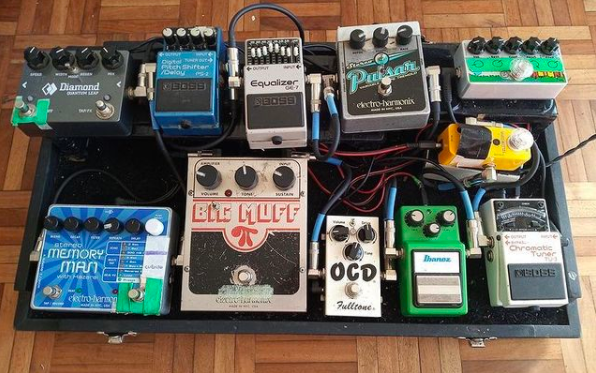 In the third-place spot, we have @__l_a_l_o__'s killer pedalboard. We all know you can't go wrong with an EHX Big Muff on your board, and they have paired theirs up with an Ibanez TS-9 and a Fulltone OCD – you know this thing sounds good! On top of that, they have one of my favorite EHX pedals, the Stereo Memory Man with Hazarai! Love this setup! 
#4 @vrc511's Pedalboard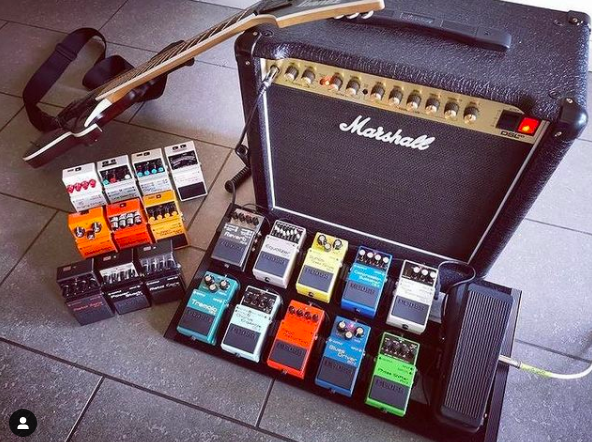 Next, we have this BOSS-pedal-packed pedalboard from @vrc511! If you love BOSS pedals, then this is the pedalboard for you. Not only do they have 10 different BOSS pedals on their pedalboard, but they also have 10 more to spare sitting right beside it! 
#5 @warpedvinyl's Pedalboard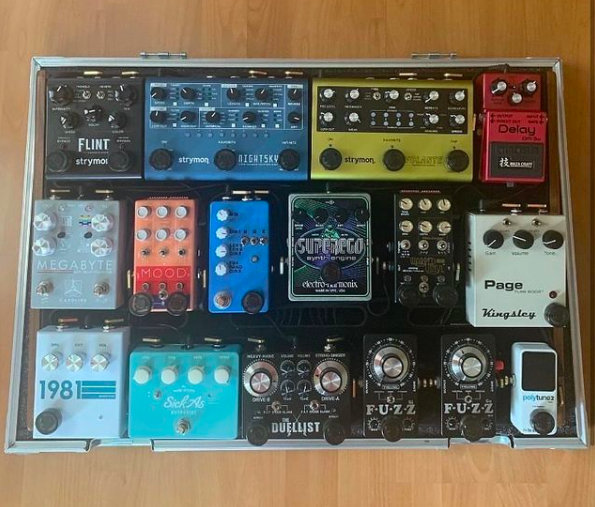 In fifth place, we have @WarpedVinyl's monster of a pedalboard. If you are a fan of big pedalboards, then you'll love this one. If you think of your top 5 guitar pedals, there is a chance that they have at least one of them on this pedalboard! From the 1981 Inventions DRV to the Chase Bliss Audio MOOD, @warpedvinyl has some incredible pedals on their board! 
Related: How to organize your pedals on your pedalboard
#6 @andymuich's Pedalboard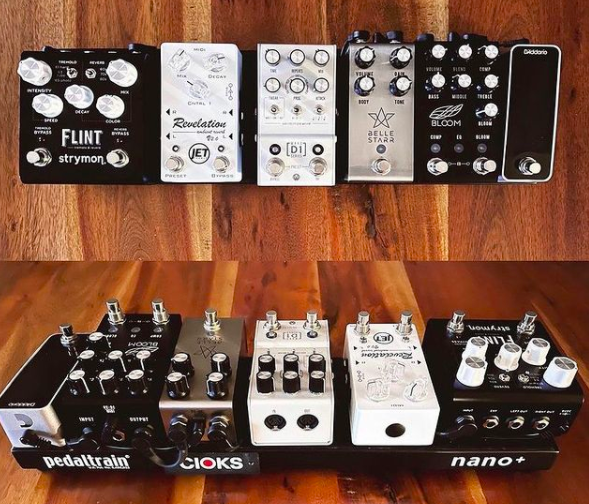 Next, we have this little powerhouse of a pedalboard from @andymuich! They have managed to pack a ton of incredible pedals onto this tiny pedalboard – and the color coordination here rocks! Even though this pedalboard only has 5 pedals and a tuner on it, I would argue you could do just about anything with it. Amazing board! 
#7 @paddyboyd_'s Pedalboard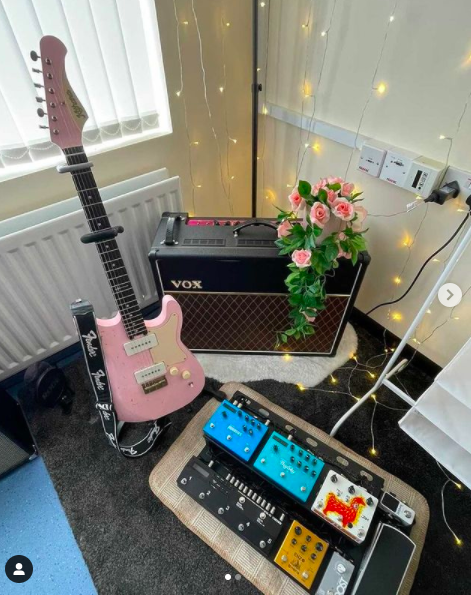 In the 7th spot is this full rig shot from @paddyboyd_! First of all, their pedalboard is amazing. They've paired the Vertex Effects Boost and the Meris Enzo with the Delay Llama from JAM Pedals and the BigSky & Mobius combo from Strymon Engineering. And they've paired the board up with a solid amp choice and a beautiful guitar.
#8 @rec_bean's Pedalboard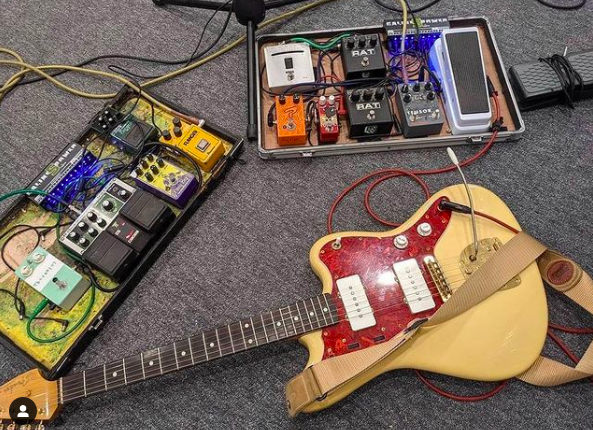 What's better than having one pedalboard? Well, I think @rec_bean has answered that question with their two pedalboard setup! They also have two RAT pedals in their rig, which is rad! And that guitar is beautiful!
#9 @brakemcgaughey's Pedalboard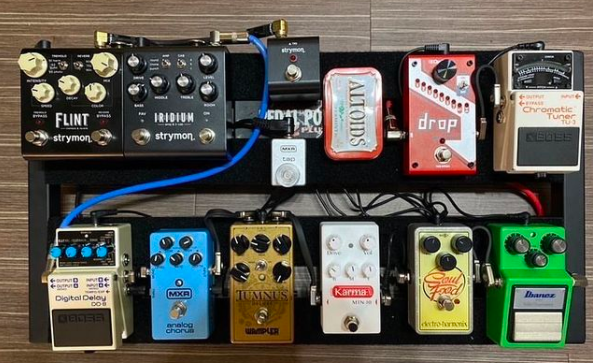 Next, is this pedalboard shot from @brakemcgaughey! I really dig this pedalboard! They have an incredible collection of drive pedals on this board, ranging from the EHX Soul Food to the Wampler Tumnus Deluxe! At the end of the chain, they are running a Strymon Iridium into a Strymon Flint! 
#10 @habitacionsonora's Pedalboard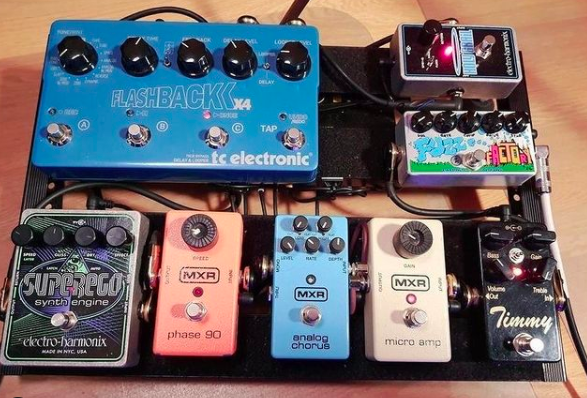 Finally, we have this amazing pedalboard from @habitacionsonora! I can't hear it, but I would imagine the ZVEX Fuzz Factory and Timmy pedals running into the MXR Micro Amp sounds incredible! This board looks like an absolute tone machine. 
Thanks to everyone who submitted their boards in August! If you would like to submit your pedalboard or check out all of the other incredible pedalboards posted in August, head over to the Pedal Haven Instagram account and give it a follow! 
And in case you missed it, here are the top pedalboards from July 2021.