This post may contain affiliate links
The first month of 2022 has been a busy month in the Pedal Haven world. I've posted a couple of new pedal demos over on the YouTube channel this month and have some more exciting things in the works as you're reading this. But more importantly, I've posted a ton of your awesome pedalboards over on the Pedal Haven Instagram account. 
In January, we saw a large mix of giant pedalboards, small pedalboards, bass pedalboards, and more. Of all of those pedalboards, here are the top 10 most-liked pedalboards posted on the Pedal Haven Instagram account in January 2022. 
Check them out and make sure to go show the owners of these pedalboards some love!
#1. @OfficialMrSpades' Pedalboard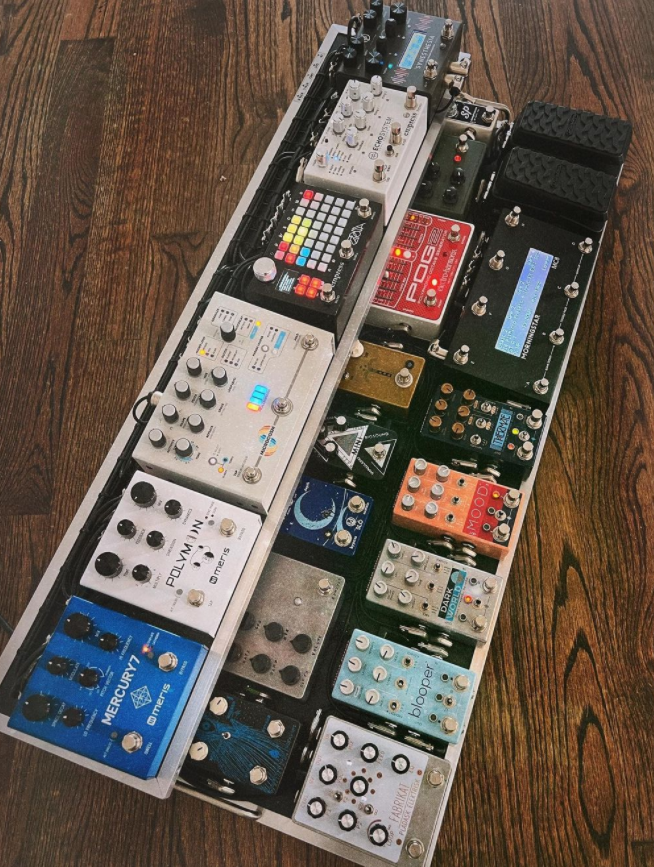 This pedalboard from @OfficialMrSpades was the most-liked pedalboard of the month and I can see why! This two-tiered board is absolutely massive and completely packed with a mix of amazing guitar pedals. You can tell that @OfficialMrSpades has spent a lot of time putting this together.
This is a pedalboard that you need to just stare at for a while to take it all in. Here's a look at what's underneath the top shelf: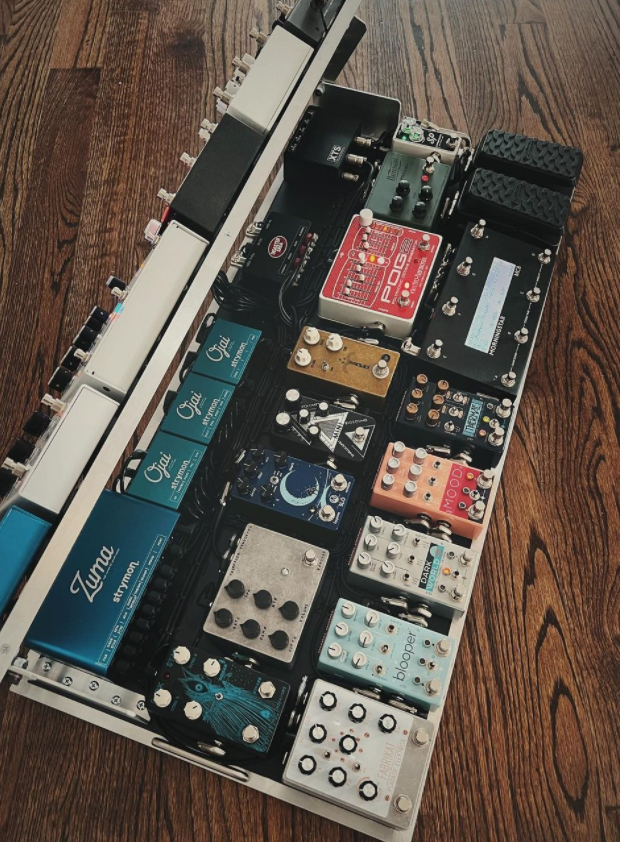 #2. @Muse.Blues' Pedalboard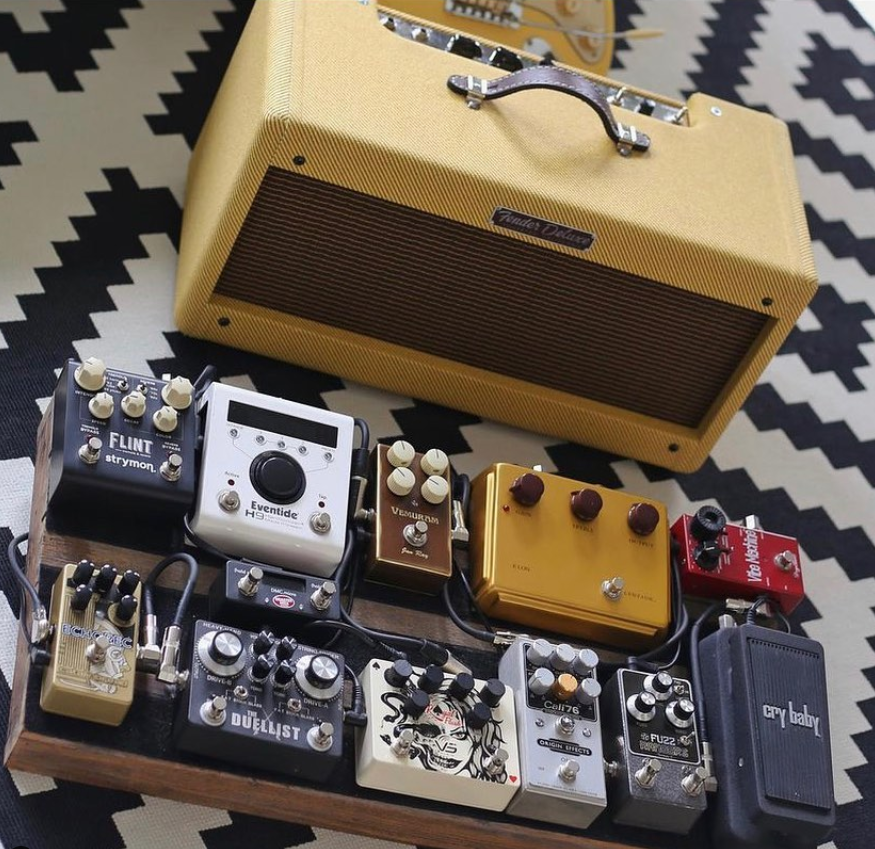 @Muse.Blues is back again! If you've been following for a while, you'll know that @Muse.Blues also had a pedalboard featured in the top pedalboards of December list. Well, they are back with a brand new, equally impressive pedalboard. 
They have a wide range of exciting pedals here on this board, from the Klon Centaur and the DryBell Vibe Machine to the Eventide H9 and the Cry Baby Wah. But aside from this awesome board, check out that cool little Fender Deluxe amp!
Related: The best Klon Centaur clones
#3. @TRowens8's Pedalboard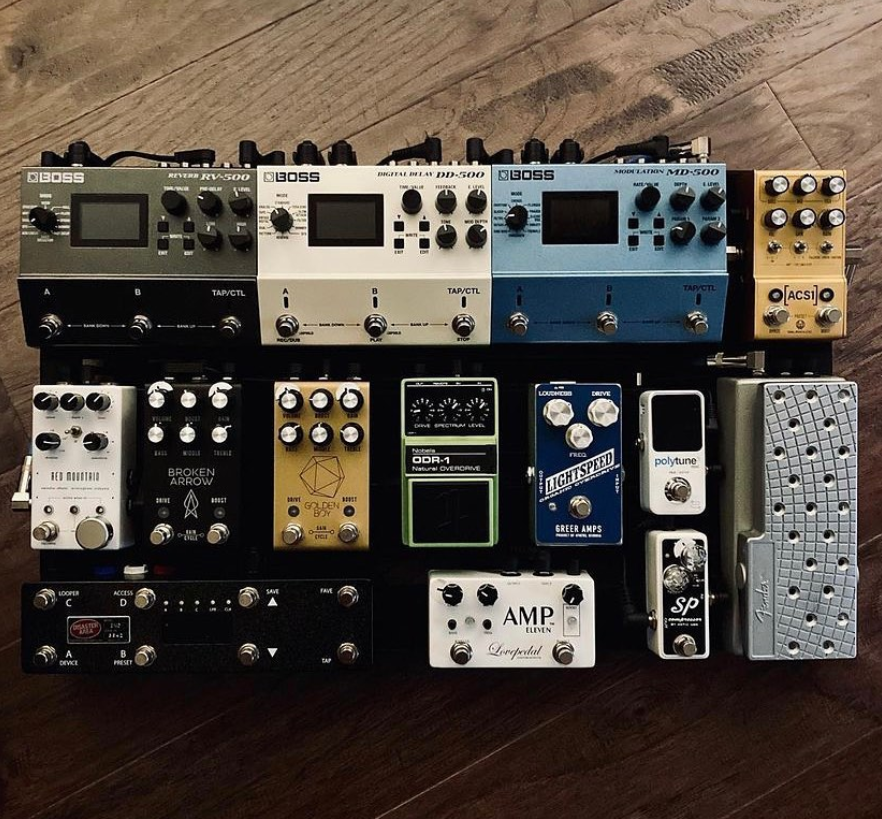 In third place, we have this incredibly-visually-appealing pedalboard from @TRowens8! This board is so clean! You can tell that @TRowens8 has meticulously planned and laid out every part of this pedalboard build.
But aside from just looking good, they have some amazing guitar pedals on this pedalboard! From those Boss 500-series pedals on the top row to the Nobels ODR-1 and the Greer Lightspeed, there is no shortage of good tones coming from this board. 
Want some Pedal Haven Stickers? Head over to the shop!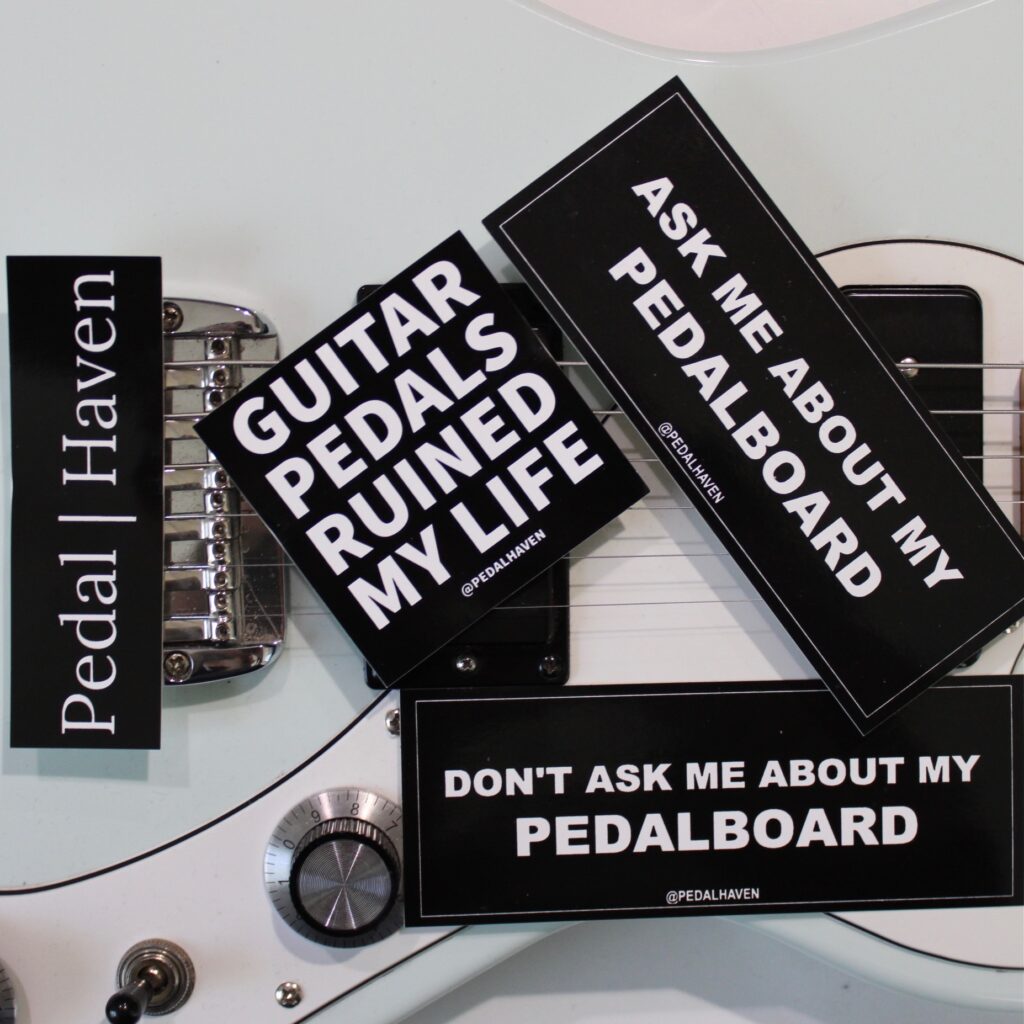 View Store
#4. @MitchellShaneJulian's Board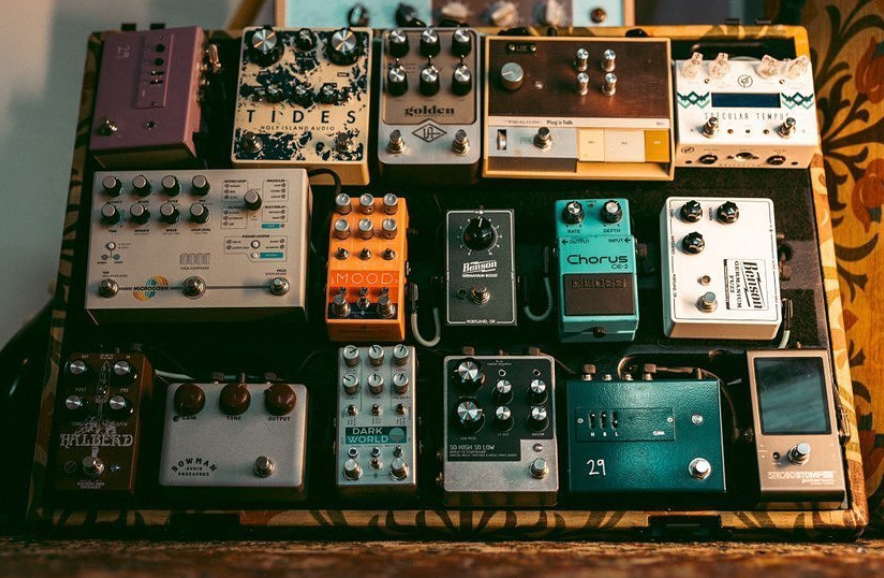 Next up, is this pedalboard from @MitchellShaneJulian! This pedalboard looks like a lot of fun!
You'll notice they have those awesome input and output buffer pedals from 29 Pedals on here, and sandwiched between those they have a ton of cool pedals like the Halberd from Electronic Audio Experiments, the Tides from Holy Island Audio, the Germanium Boost from Benson, the So High So Low from Analog Music Company, and so many more.
#5. @Michael_in_502's Pedalboard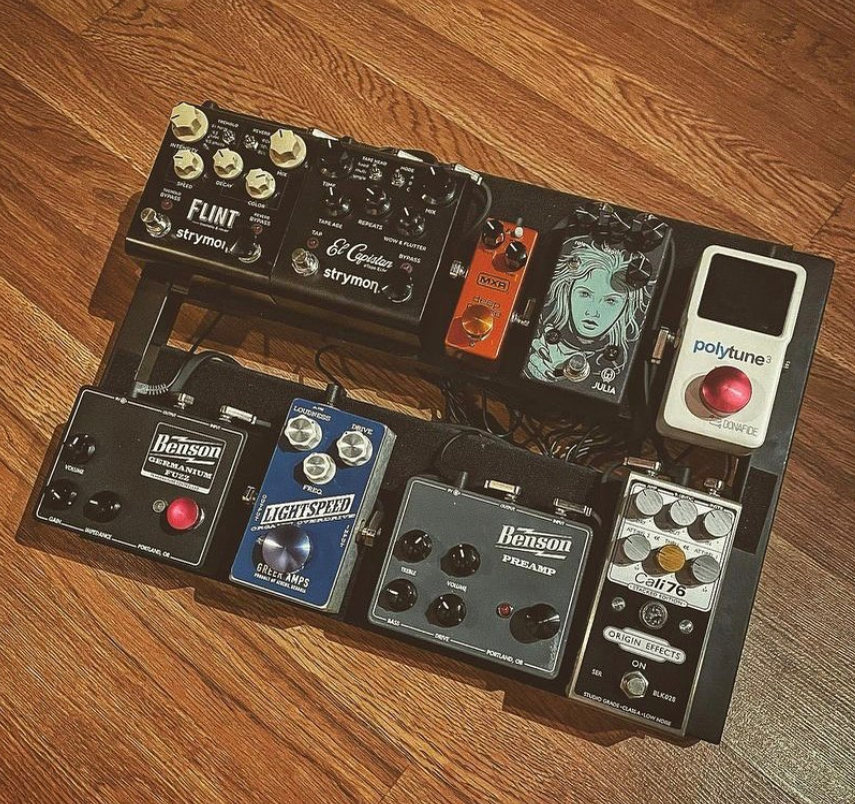 In the fifth-place spot, we have this pedalboard from @Michael_in_502! This little board is full of amazing pedal choices! 
They have the Cali76 compressor from Origin Effects (one of our top picks for the best guitar compressor pedals) running into the Benson Preamp, Greer Lightspeed, and the Benson Germanium Fuzz on the bottom row. And they have a nice mix of modulation and space up top with the Walrus Audio Julia, MXR Deep Phase, and the El Capistan and Flint from Strymon. 
Related: The Best Reverb Pedals
#6. @NateGardiner's Pedalboard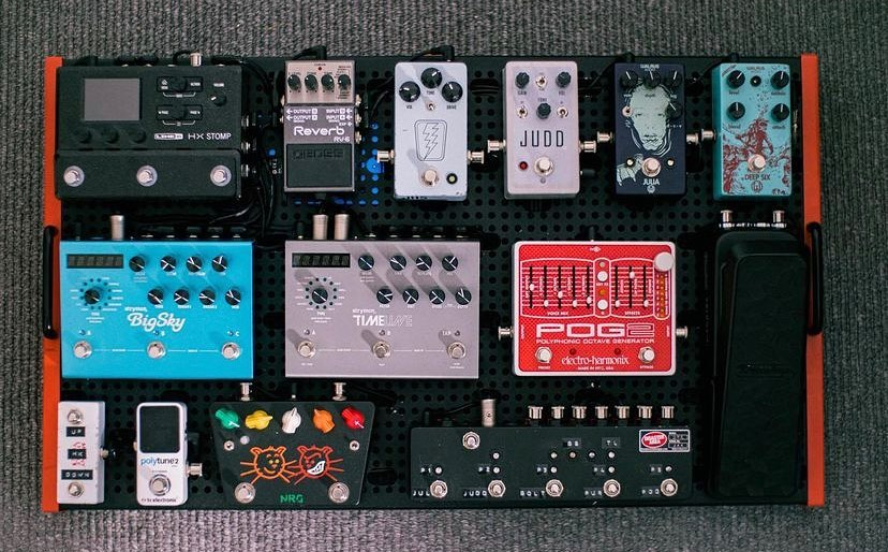 Next up, is this pedalboard from @NateGardiner! This board is so neat and clean, and they have made some great choices on here when it comes to pedal selection. 
You can't go wrong with the BigSky and TimeLine from Strymon when it comes to reverb pedals and delay pedals, but they also have a Boss RV-6 Reverb on here, the JHS SuperBolt, and the Purrer from NRG Effects. This pedalboard rocks!
Fun story: When posting this, I looked high and low trying to find out what that "Judd" pedal was on the top row. I finally had to ask Nate what it was… It turns out its a DIY guitar pedal kit they built that is based on the JHS Kilt!
Interested in building guitar pedals? Here's a guide for everything you need to build DIY guitar pedals.
#7. @Dafake's Pedalboard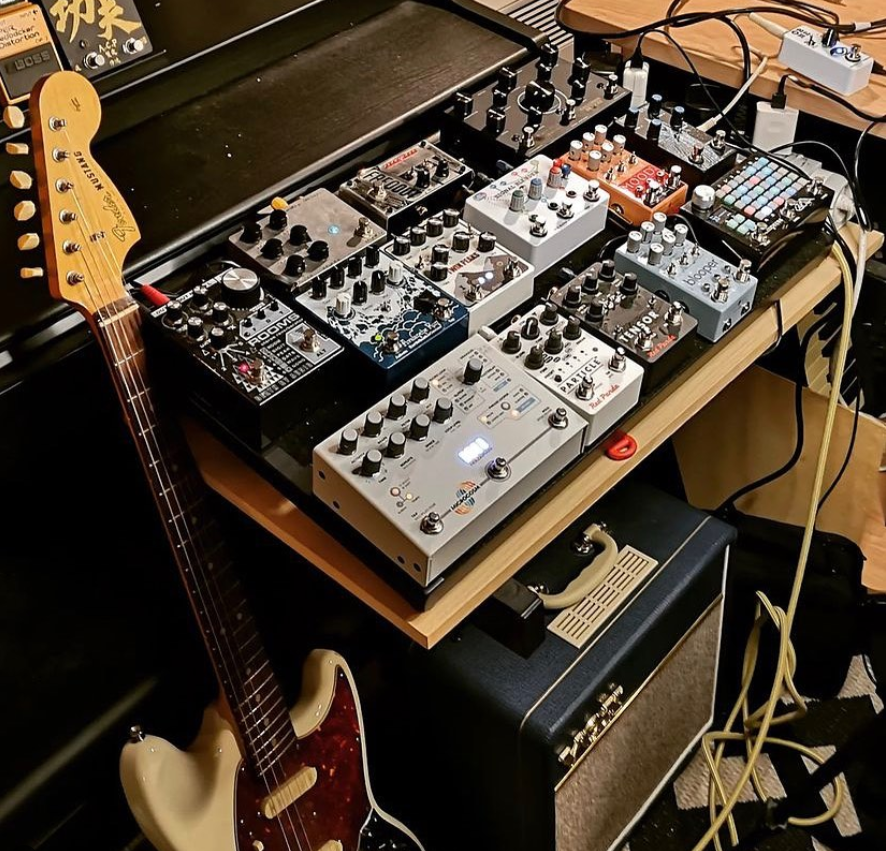 In 7th place is this board from @Dafake. This entire rig looks like a lot of fun, and that pedalboard is filled with some really cool pedals! 
I'm pretty sure every single pedal on this board is on my ever-growing list of "pedals I need to buy in the near future".
#8. @_DavidPoveda's Pedalboard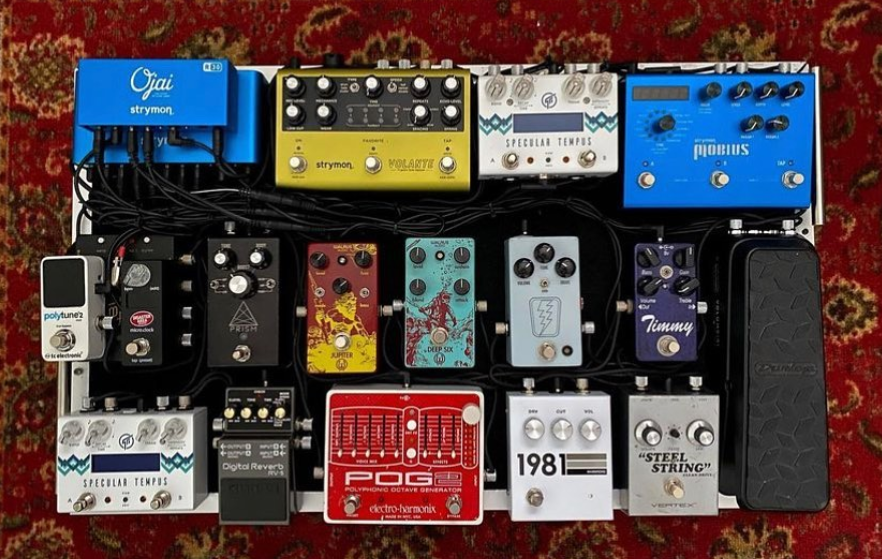 Next, we have @_DavidPoveda's awesome pedalboard! David actually submitted two different pedalboards and they were both so good that I ended up posting both. This one ended up being the 8th most popular pedalboard of January 2022, but their other pedalboard (seen here) came in 21st place! 
#9. OtterPedalboard's Pedalboard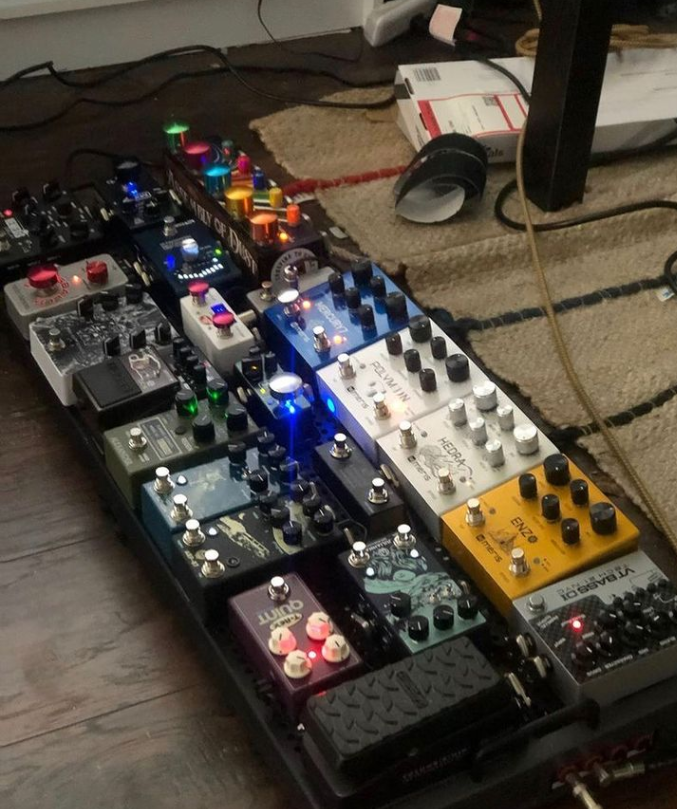 In the 9th place spot, we have this absolutely monstrous pedalboard built by @OtterPedalboards, a fairly new rig builder in the scene. 
This board is absolutely massive and packed with a huge number of really rad pedals. But despite the huge pedalboard and a large number of pedals, they have wired this up very neatly and have created what looks like an extremely cool, usable pedalboard!
#10. @Jyysopeltonen's Pedalboard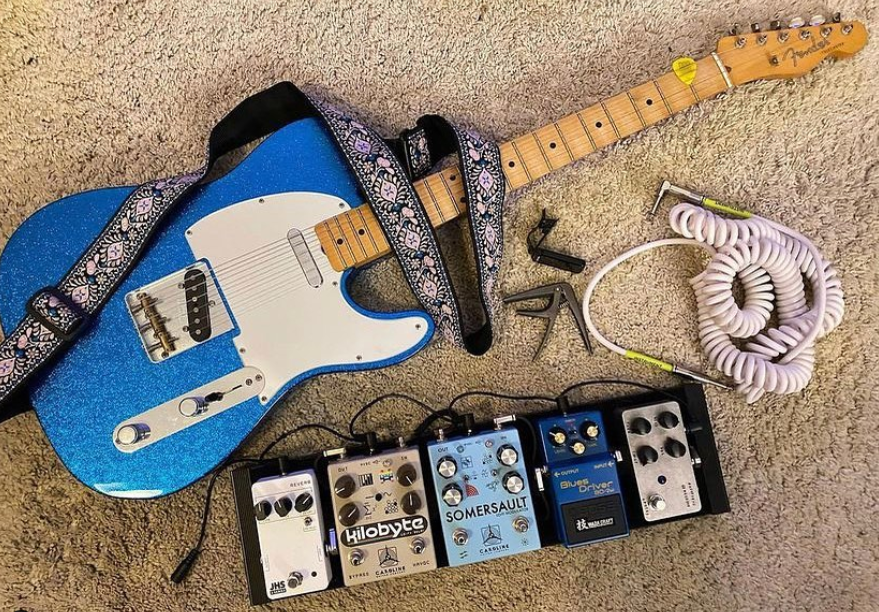 And finally, we have this sweet little mini board from @Jyysopeltonen! If you've followed Pedal Haven for a while you've probably seen a board or two from @Jyysopeltonen – and this most recent board is so rad! 
They've packed a few really solid pedals onto this little pedalboard and it pairs nicely with that sweet new J. Mascis Telecaster.


This was a wild group of pedalboards! If the top 10 weren't enough for you, head over to the Pedal Haven IG account to see all of the pedalboards posted this month!