This post may contain affiliate links
Looking for your first guitar pedal? Shopping for the guitar player in your family?
Picking out your first guitar pedal can be a daunting, yet exciting task.
But with so many options to pick from, how do you choose? What are the best guitar pedals for beginners?
Here are a few tips and tricks for how to go about picking your first guitar pedal, and a few suggestions of some of our favorite beginner-friendly guitar pedals.
The Best Guitar Pedals for Beginners
Below is a list of some of our top picks for the best guitar pedals for beginners to check out (and they're all pretty budget-friendly too).
Here are the first guitar pedals to get:
BOSS DS-1 Distortion
BOSS is an iconic guitar pedal company and the DS-1 Distortion is one of the most popular pedals in their lineup. Used by legends like Kurt Cobain of Nirvana and Steve Vai, the BOSS DS-1 Distortion is an amazing choice for a first guitar pedal. It has a wide range of distortion sounds and serves as a great learning tool to help you understand how distortion works. Plus, it is cheap!
Ibanez TS-9
Another amazing option for a beginner guitar pedal is the iconic Ibanez TS-9, otherwise known as the Tube Screamer. The TS-9 is an overdrive pedal that is great if you just want to add a bit of grit to your sound. This pedal works in just about any genre, so if you're looking to spice up your blues riffs or push your amp into a chugging metal machine, then the TS-9 should be on your radar.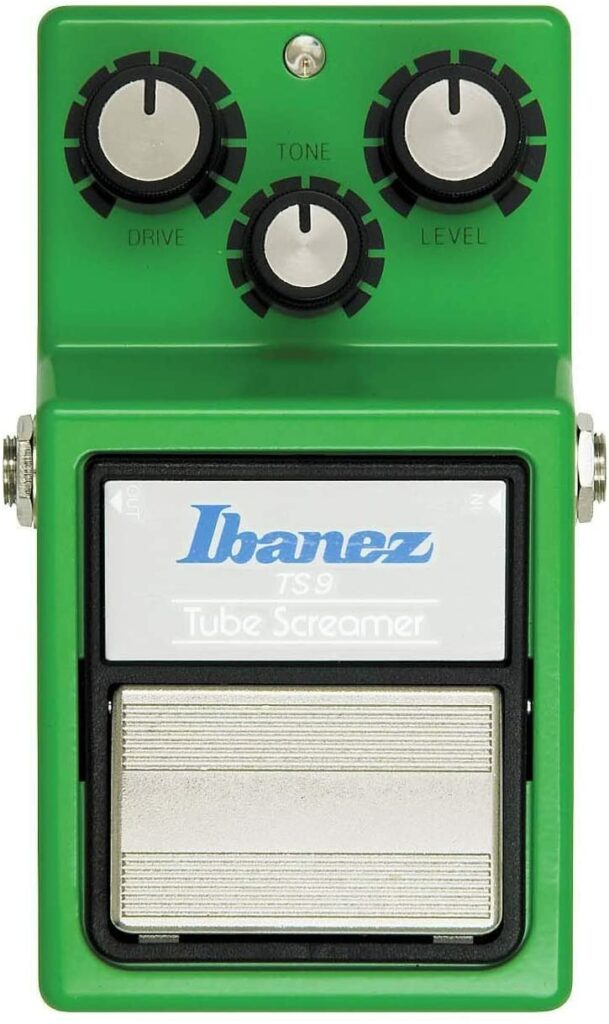 TC Electronic Hall of Fame Mini
If you're looking for a reverb pedal, then the Hall of Fame Mini from TC Electronic is a great, budget-friendly option. This tiny reverb pedal is packed with amazing features. While it sounds great out of the box, TC Electronic has created a software called "TonePrint" which allows you to upload premade reverb settings from your phone directly to the pedal. Which makes it a great tool for understanding how different reverb effects sound.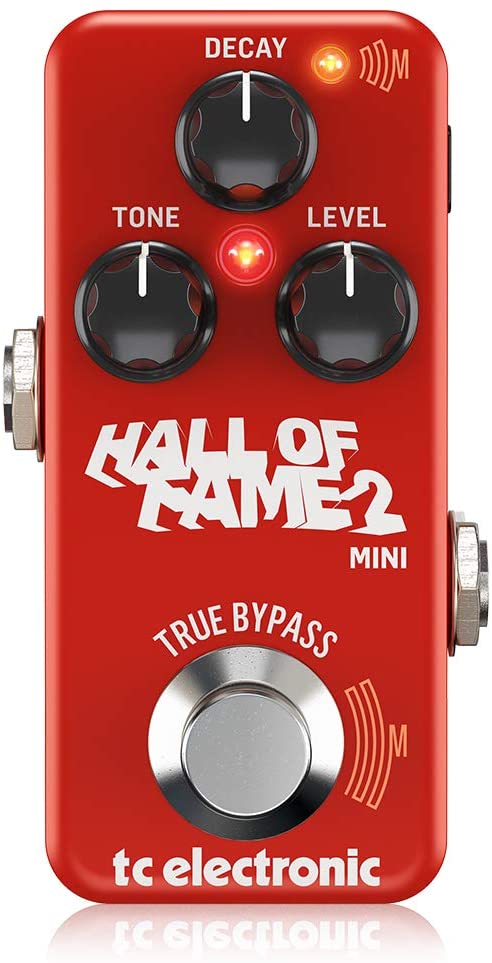 Zoom MS-70CDR
Usually, I don't recommend many multi-effect pedals, but the MS-70CDR from Zoom is one that I always recommend checking out. It has 86 different effects built into it – ranging from reverbs and delays to chorus, vibrato, flanger, and more! Some of the effects are kind of cheesy-sounding, but a lot of them are quite useful and the pedal is very easy to use. It is a great tool for any guitar player to have.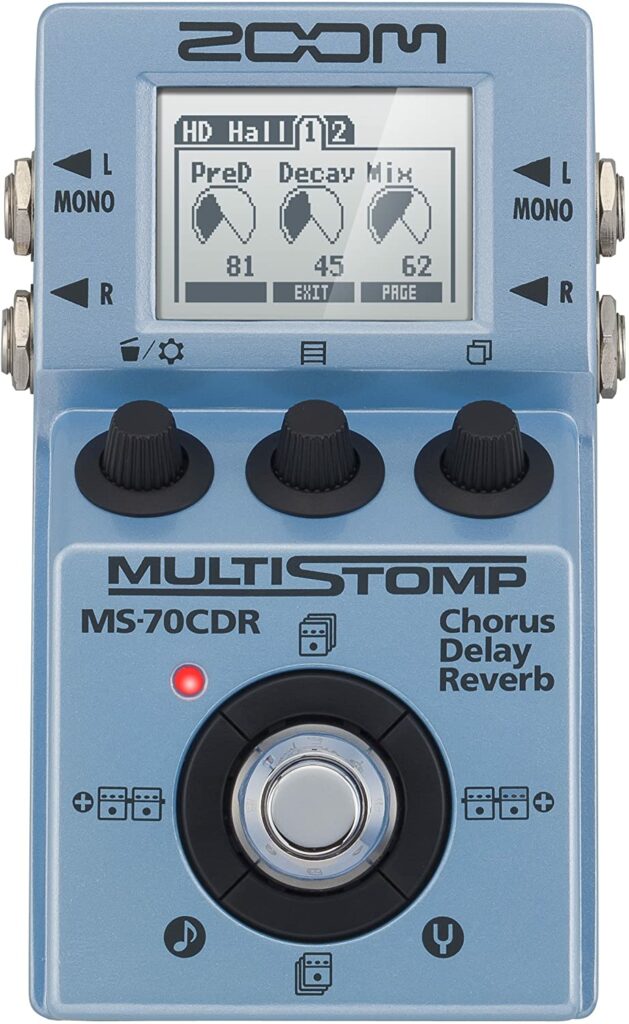 JHS 3 Series Delay
JHS Pedals have recently launched their affordable "3 Series" pedals, and one of them is this simple, yet great-sounding, delay pedal – the 3SDELAY. The 3 Series Delay from JHS Pedals gives anything from short slapback delay sounds to long, washed-out ambient tones. It is also quite budget-friendly! Plus, it just looks nice.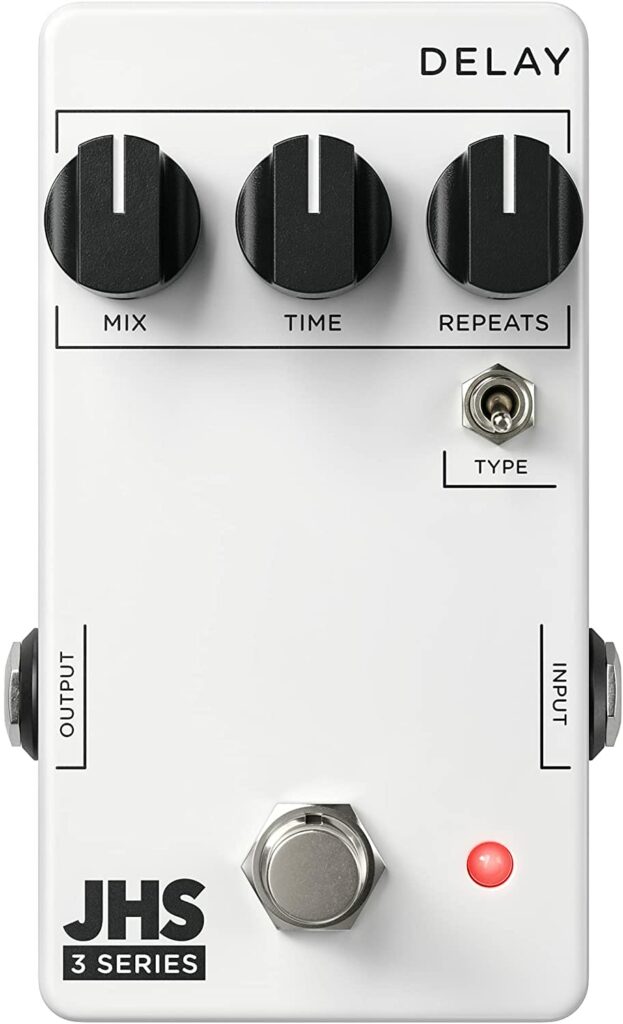 Important Information on Hooking Up Your First Guitar Pedal
If you just got your first guitar pedal, or it is coming in the mail, there are two things you need to have in order to hook it up.
A Power Supply
An extra instrument cable or patch cable
Powering Your First Guitar Pedal
All guitar pedals need power in order to work. Thankfully, many of them run on 9v batteries – but it is a good idea to invest in a power supply of some sort. This will make your life much easier without having to worry about dying batteries. If you only have one guitar pedal, then a TrueTone One Spot Adapter is a great option to power it. It is cheap, reliable, and works with just about any guitar pedal.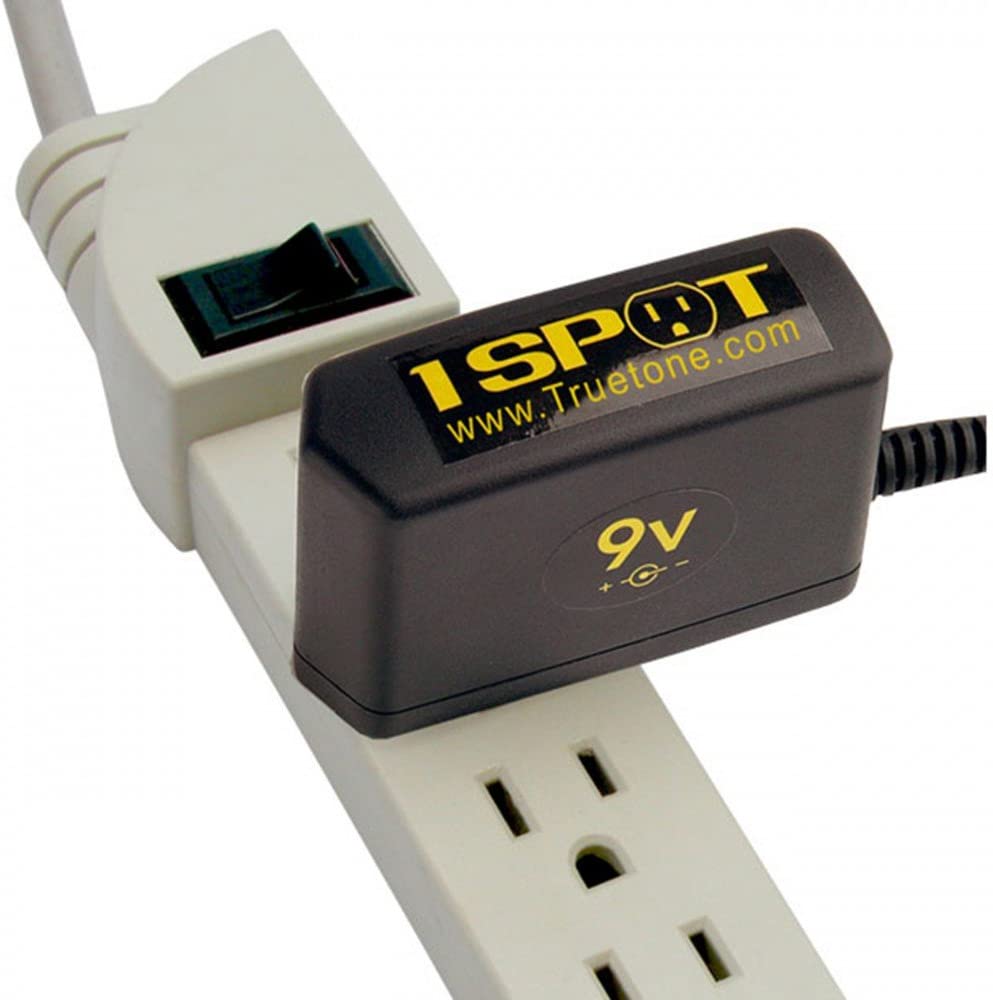 If you have (or are planning on getting) a few guitar pedals, then it is best to get a dedicated power supply to power them safely and efficiently. Here is our list of the best pedalboard power supplies.
The Cables You Need to Hook Up Your First Guitar Pedal
As mentioned above, you will need an extra instrument cable or a patch cable in order to hook your new guitar pedal up. Think of your setup like a chain that you need to connect from your guitar, through the pedal, and to your amp.
So you will need one instrument cable to run from your guitar to the input of the new guitar pedal. Then you will need another cable to run from the output of the new pedal to your amplifier – which is where the new cable comes into play.
If you just have one pedal, it might be best to get a second instrument cable, like this nice cable from Fender: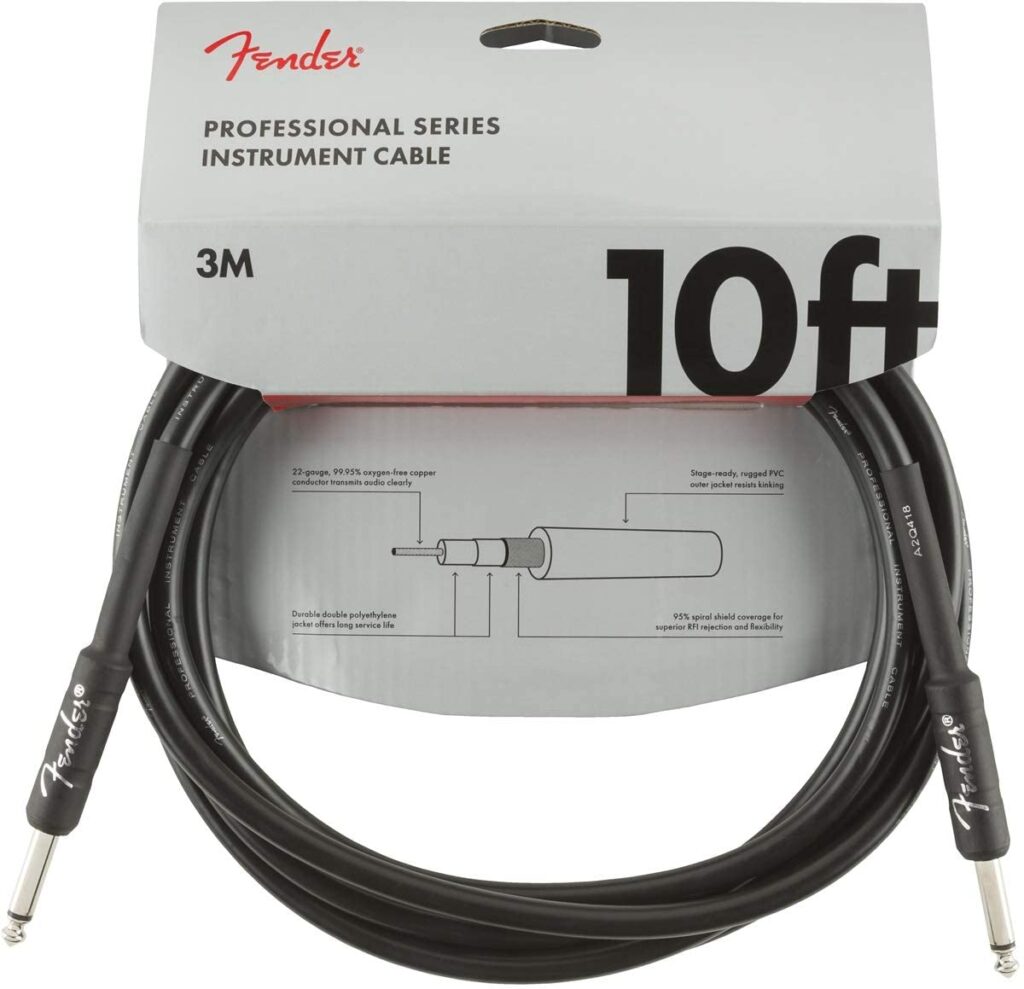 If you have two or more pedals, then it makes sense to use patch cables to connect each pedal together. These are essentially just really short instrument cables. It is always a good idea to have a few of these on hand so you can hook up new pedals whenever you need them.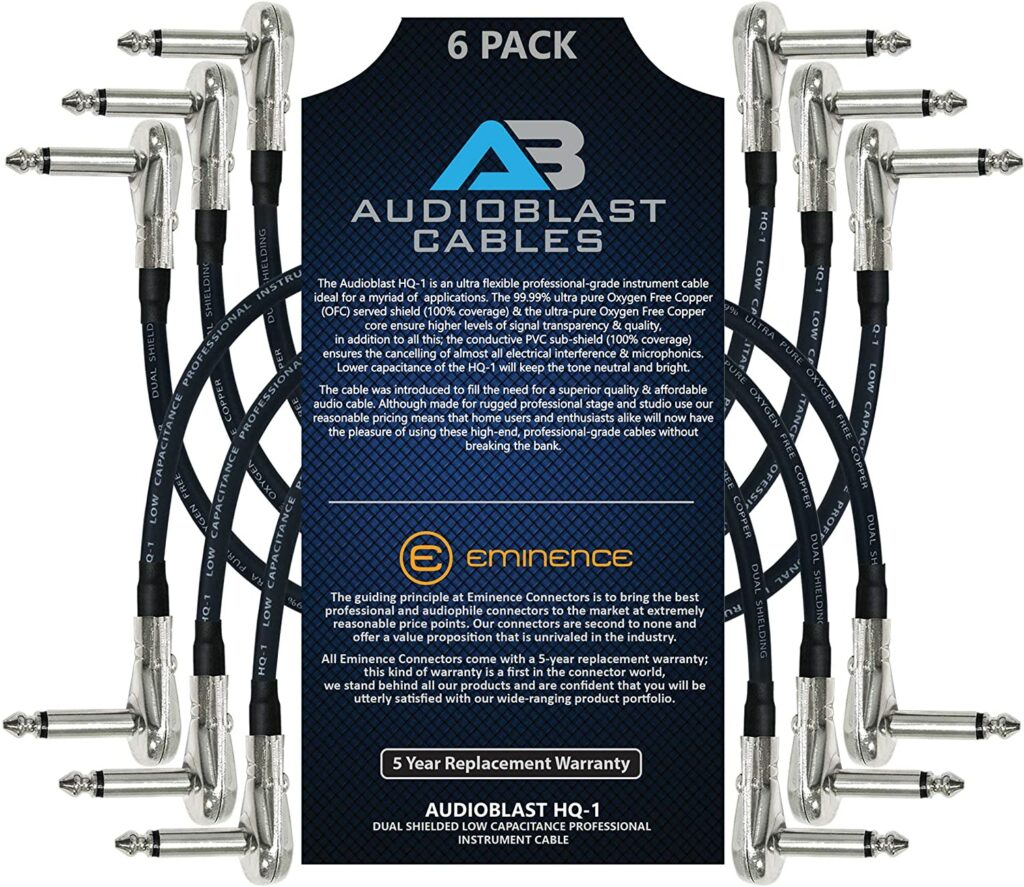 Additional Tips for How to Choose Which First Guitar Pedal to Get:
Now that you have an idea of some nice, budget-friendly, beginner guitar pedals, how do you pick one? Here are some tips and things to think about when deciding which pedal to buy.
Research What Pedals Your Favorite Artists Use
First and foremost, you should try getting a pedal that can give you a 'familiar sound'. As you continue to progress you will experiment with a plethora of different effect pedals, but for the time being, you're just getting one pedal, right? So let's make it count.
A great place to start is to research your favorite guitar players. Oftentimes, you'll be able to find a video or interview online with them talking about the gear they use to achieve their sound. Armed with that knowledge, you have somewhat of a shopping list of potential candidates for your first guitar pedal.
Research The Different Types of Guitar Pedals
There is an endless sea of different types of guitar pedals available today – which can be incredibly intimidating to anyone just starting to dip their toes into the guitar pedal world.
With so many options to choose from, it is perhaps best to look at the most common types of guitar pedals:
Overdrive
Distortion/Fuzz
Modulation
Delay
Reverb
Breaking it down like this will help you not get overwhelmed by option-paralysis and will allow you to do your research on these individual types of effects to see what may be the best choice for you.
I typically always recommend beginner guitar pedal enthusiasts to get an overdrive or distortion pedal. Something like an Ibanez TS-9 (overdrive) or a Boss DS-1 (distortion) are both incredibly affordable, high-quality guitar pedals for beginners. And hey, if legends like Stevie Ray Vaughan and Kurt Cobain used them, they can't be all that bad either.
However, if you are not a fan of overdriven or distorted guitar sounds, then I would suggest checking out a reverb pedal as your first guitar pedal purchase. A reverb pedal helps add space to your sound and will really help bring a 'clean' guitar tone to life. If you need help with this, check out our list of the best reverb pedals.
Decide On Your Budget
By now you should have at least a shortlist of a few guitar pedals that you want. Perhaps you want a distortion pedal or a nice delay pedal. But how do you narrow down your list?
As a guitar pedal addict, I'd suggest buying them all! 🙂 But if you are a reasonable human being, then one of the better ways to pick out your first guitar pedal is checking out the price tags.
If you are still new to guitar pedals, it is a lot easier to spend $50 or $60 on your first pedal than it is to spend $200.
That said, it's best to think about how much you want to spend. Maybe you only want to spend $50. That's totally fine! There are a ton of awesome budget-friendly guitar pedals out there.