This post may contain affiliate links
Orange Amps just unveiled their latest offering, The Guitar Butler, a dual-channel preamp in a pedalboard-friendly enclosure.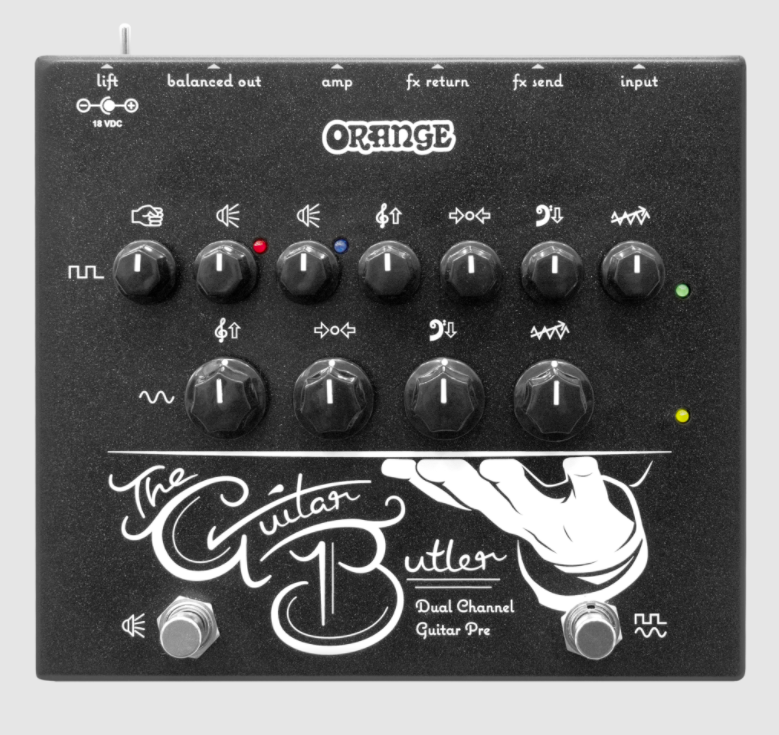 The Guitar Butler is designed for guitarists wanting a preamp solution for their pedalboard and gives you the ability to run it straight into a power amp & speaker cabinet, straight into the PA system at a gig, or directly into an interface in the studio. 
The Guitar Butler features two channels, Clean and Dirty. Each channel has its own Gain and three-band EQ controls, while the Dirty channel also has a Presence control and two Volume controls.
The Clean Channel
The Clean Channel of the Guitar Butler offers a vintage-voiced clean sound that takes pedals well and has a wide-ranging EQ section to shape your tone. 
The Dirty Channel
The Dirty Channel of the Guitar Butler uses JFET circuitry to create overdriven amp-like tones that we all know and love from Orange's amp lineup.
The Guitar Butler has two footswitches on the front of the pedal. One allows you to switch between the clean and dirty channels and the other allows you to change the volume of the dirty channel (based on how each of the Dirty channel's two volume knobs are set) – allowing you to get an added volume boost when you need to cut through the mix. 
The Guitar Butler from Orange Amps also has a built-in FX loop so you can run your modulation pedals, delay pedals, and reverb pedals after the preamp to get the cleanest sound possible.
For more information, head over to the Orange Amps website.