This post may contain affiliate links
What is the pi-Stomp?
pi-Stomp is a high definition multi-effects stompbox platform with DIY hardware and free open-source software. And with some decent soldering skills, you could build your own.
The pi-Stomp allows you to create virtual pedalboards using MOD, a powerful, easy-to-use drag and drop web interface, and then save them into the pi-Stomp pedal to recall at any time – whether that's on stage, in the studio, or at home.
The MOD interface has hundreds of pedal plugins to chose from. Including:
57 Overdrive, Distortion and Fuzz

23 Dynamic (Compressor, Limiter, DeEsser)

35 Filter (EQ, Filters, Wah, etc.)

46 Generator (Synth, Sampler, Drumkit, General Midi modules, etc.)

31 Modulation (Chorus, Flanger, Phaser, Ring Modulation, Rotary, Tremolo, Vibrato, etc.)

15 Reverb

24 Delay

29 Simulator (Preamps, Amps, Cabinets)

8 Spacial (Stereo panning and imaging)

20 Spectral (Pitch Shifting, Doubler, Harmonizer, Vocoder)

22 Utility (Midi, Noisegate, Gain, Phrase Looper, Sequencer, Switching, Tuner, etc.)
And once you've created your virtual pedalboards, you can use the controls on the front of the pedal to scroll between pedalboards and presets, toggle pedals on and off, tweak settings, and more.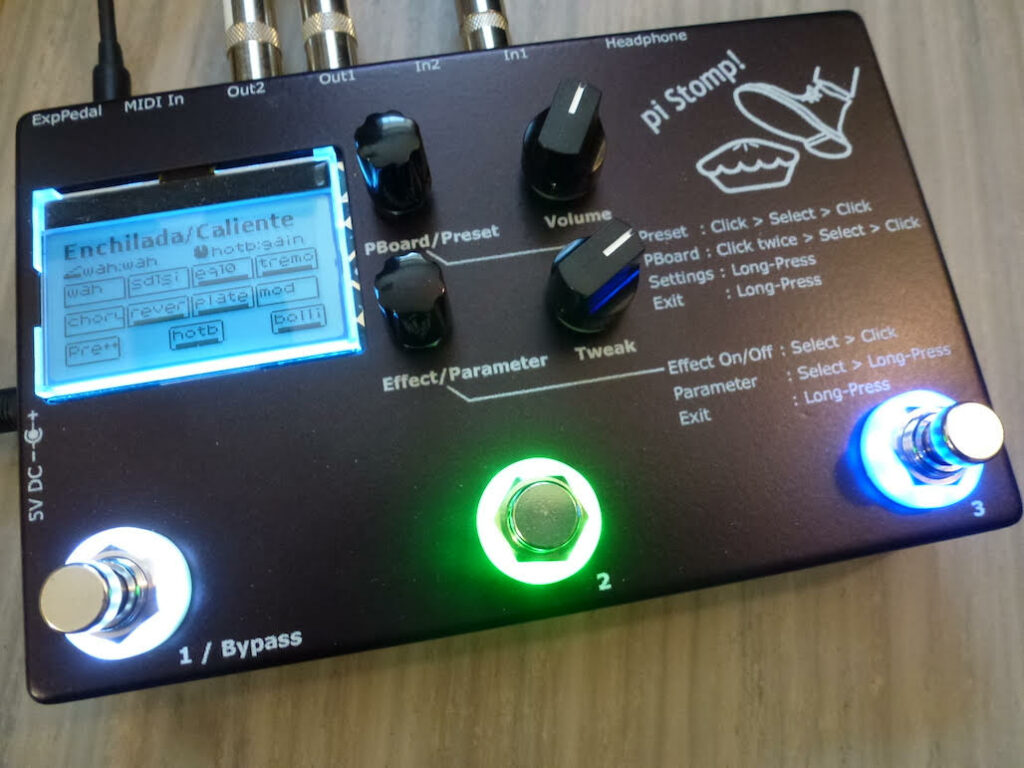 Here's a look at what you'll see when using the MOD virtual interface: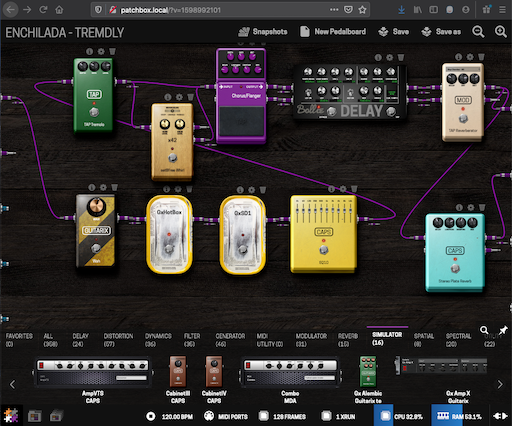 And here's a look at the internal hardware of the pi-Stomp: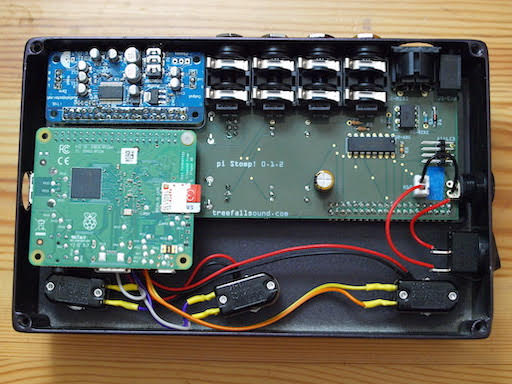 Dual ins/outs, 24-bit, 96kHz stereo audio

Raspberry Pi 1.4 GHz 64-bit quad-core processor

Three click-less footswitches with LED halos

Buffered input with true bypass via latching relays

Rugged aluminum powder-coated enclosure with UV printed graphics
Any plugin setting can be controlled by easily assigning it (per pedalboard) to a footswitch, knob, external expression pedal, MIDI controller (DIN or USB), or any device with WiFi.
It's not the first attempt at creating a DIY multi-effects pedal but is the first high definition, fully-featured pedal platform designed from the beginning to be buildable by others.  The modular hardware design and all open-source software allow for mods and upgrades. The operating system is a fork of Raspbian Linux, so hack away!
More details, videos, and sound samples are here: http://treefallsound.com.  "Half kits" including all of the custom and hard to get parts are available there.  All remaining parts can be purchased from mouser.com.  The total cost is around $198 plus applicable tax and shipping.
Be sure to check out Tree Fall Sound on social media for more details: