This post may contain affiliate links
A boost pedal is like a secret weapon on your pedalboard. 
Many guitar players may not fully understand the need for a boost pedal (I know I didn't), but once you try one you quickly discover how much of an asset it can be to your arsenal of tones. 
How to Use a Boost Pedal
There are a couple of different ways to use a boost pedal. Of course, the typical boost pedal simply amplifies the volume of your guitar's signal, so you can use it to help gain an extra bit of volume so your guitar solo stands out in the mix. However, boost pedals can also be highly effective in other ways. 
For example, you can place a boost pedal before your other drive pedals, like overdrive pedals or fuzz pedals, in your pedalboard's signal chain. And when you kick it on, that added volume boost is fed into these drive pedals and pushes them harder – which typically leads to more of an overdriven or distorted sound. This is a great way to get some more sounds from your favorite drive pedals. 
Alternatively, a boost pedal can also be used in a similar manner to help push your amplifier's tone further into that sweet overdriven territory. This works especially well for tube amplifiers. 
So now that we know a few ways to use a boost pedal, what are some boost pedals that should be on your radar? 
The Best Boost Pedals
EP Booster – Xotic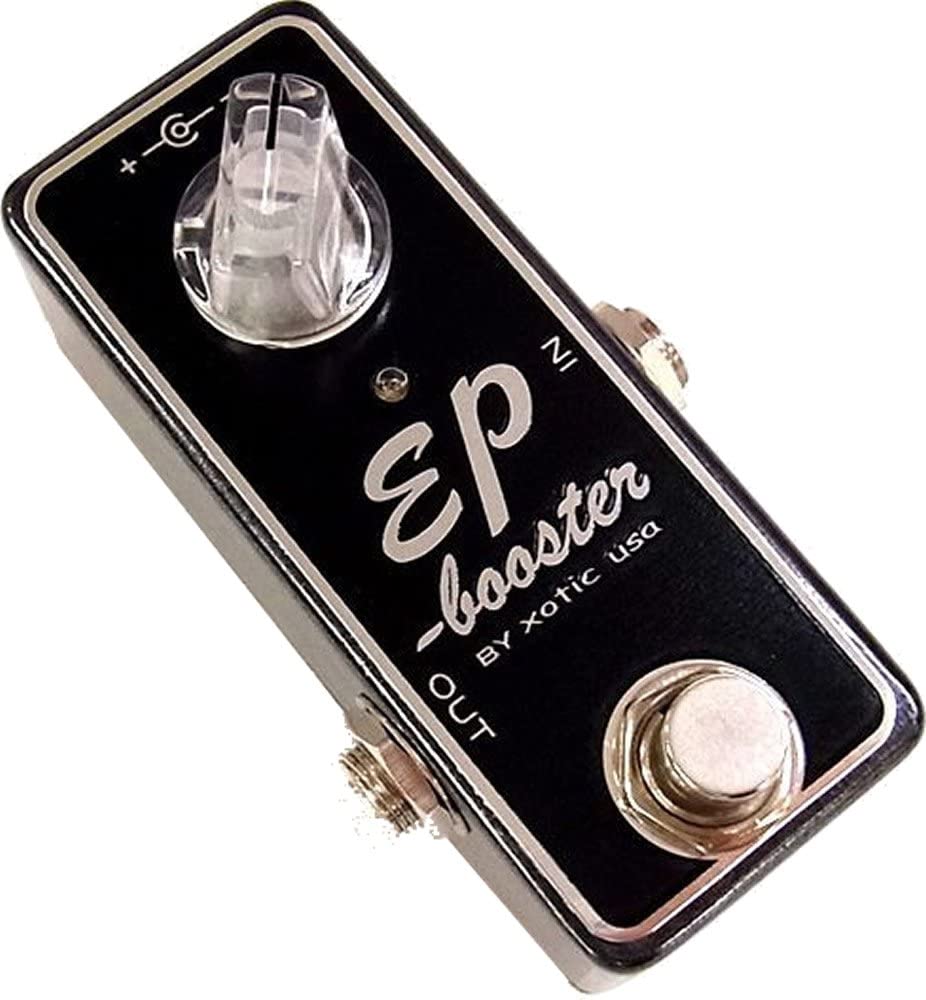 The EP Booster from Xotic Effects is a highly popular boost pedal that offers up to +20dB of gain inside of an incredibly pedalboard-friendly mini enclosure, ensuring it won't take up too much space on your pedalboard. 
The EP Booster also has internal switches that you can use to help boost the bass frequencies of your instrument or the treble frequencies, so you can really dial in the pedal to match with just about any guitar and amplifier setup. 
WHERE TO BUY
---
Prism – Jackson Audio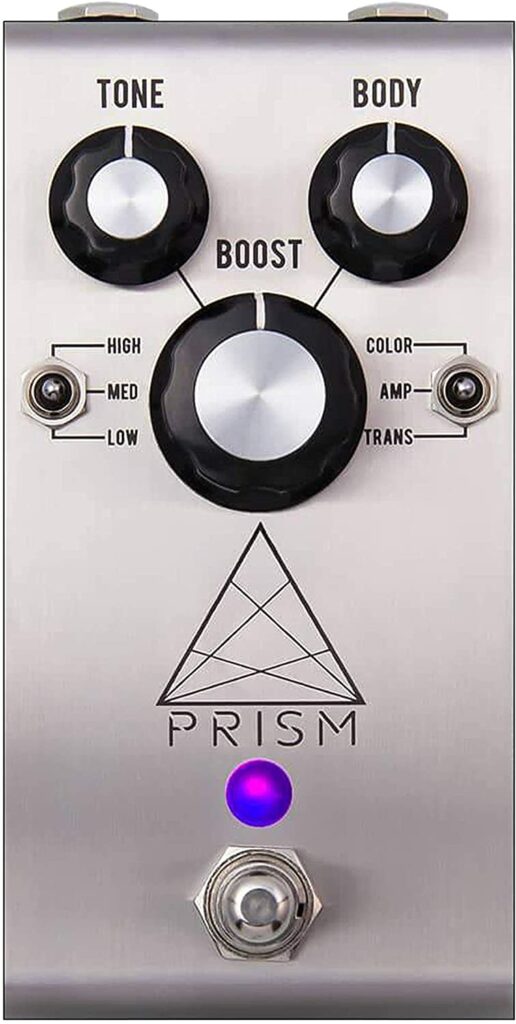 Next up, is the Prism from Jackson Audio. The Prism is really like the Swiss Army Knife of boost pedals. Much like any boost pedal, it amplifies the signal coming into it from your instrument, but the Prism features a host of different tone-shaping tools to help dial in your sound. 
You'll notice the Prism has a Tone knob that cuts or boosts your high frequencies, and a Body knob that cuts or boosts your low frequencies. But you'll also notice the pedal has a Pre Gain switch that allows you to select between Low, Medium, or High gain to account for different tonal pursuits, and a toggle switch that offers 3 different boost types (Color, Amp, and Transparent). If you like options, this is a great choice for a boost pedal.
WHERE TO BUY
---
Katana Mini – Keeley Electronics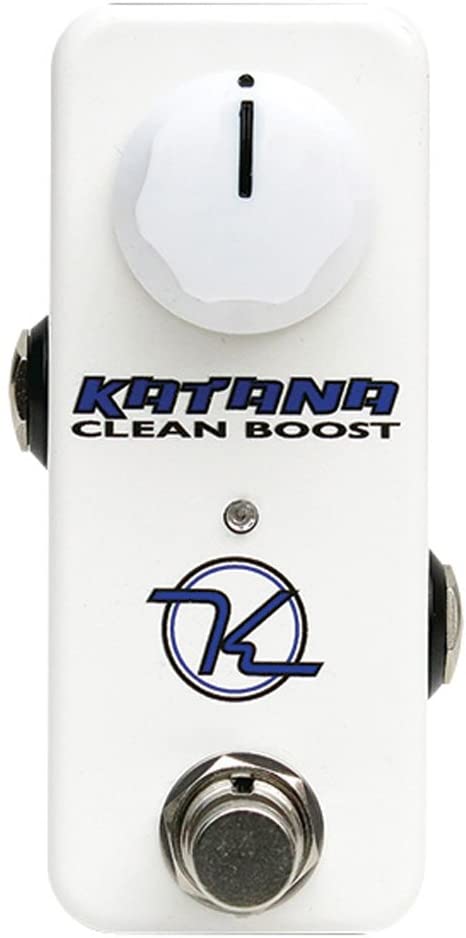 Another widely-used boost pedal is the Katana Mini from Keeley Electronics. It is no secret that Keeley makes some iconic pedals, and the Katana Mini is no exception to the rule. 
Based on one of Keeley's oldest pedal designs, the Katana Mini is a tiny, one-knob boost pedal that can fit on any pedalboard. But don't let its size fool you, the Katana Mini offers up to +35dB of boost! Aside from its one knob, the Katana Mini offers two internal dipswitches – a Treble Cut switch and a High Gain switch – which allow you to further dial in the pedal to your needs. 
WHERE TO BUY
---
Prestige – JHS Pedals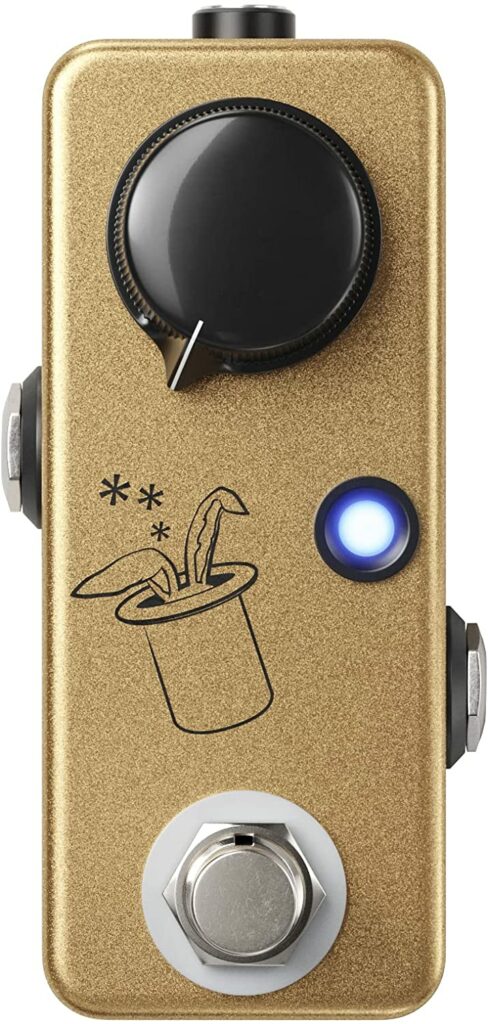 Next is another mini pedal, the Prestige from JHS Pedals. This super simple boost pedal has some tricks up its sleeve. 
With only one knob, the Prestige looks like a straightforward boost pedal, but the tricks are in the knob itself. As you turn it up, the pedal morphs between a buffer and a boost pedal. The first 25% of the knob acts as a buffer, simply adding a touch of brightness to your sound. But as you surpass 25% the volume boost kicks in, and as you pass 75% you will be sending your tube amp into a nice, natural, overdriven sound.
WHERE TO BUY
---
Tsukuyomi – Ground Control Audio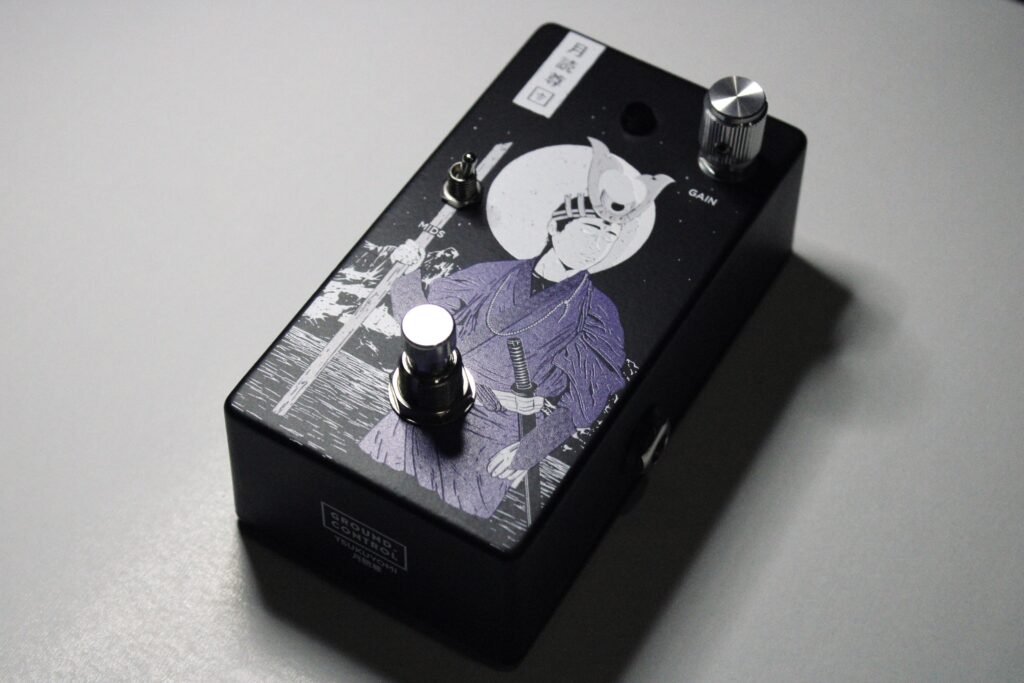 Perhaps my favorite-looking pedal in this list is the Tsukuyomi from Ground Control Audio. But looks aside, this is also an incredible boost pedal. 
The Tsukuyomi offers +26dB of boost through the single knob on the front of the pedal, meaning it is great to use as a standalone volume boost or to stack with other pedals to push them harder into overdrive territory. However, the Tsukuyomi has a Mids switch that allows you to boost just the mid-frequencies of your signal up by +12dB! This is great for helping you stand out in a full-band mix.
WHERE TO BUY
I demoed this pedal a while back, and you can find that video below.
---
Micro Amp – MXR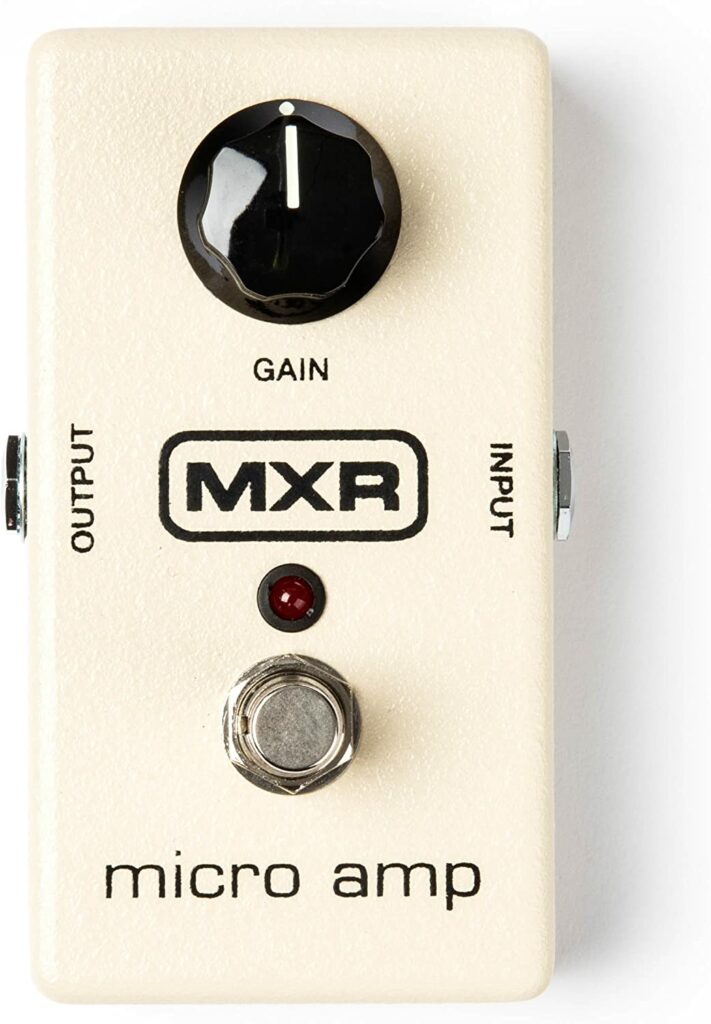 Next in line is the Micro Amp from MXR. This one-knob boost pedal is incredibly straightforward and is a great entry-level boost pedal for those looking to try out a boost pedal for the first time. But don't let that simplicity fool you, this is a high-quality boost pedal that does exactly what you need it to.
WHERE TO BUY
---
Boost MKII – Vertex Effects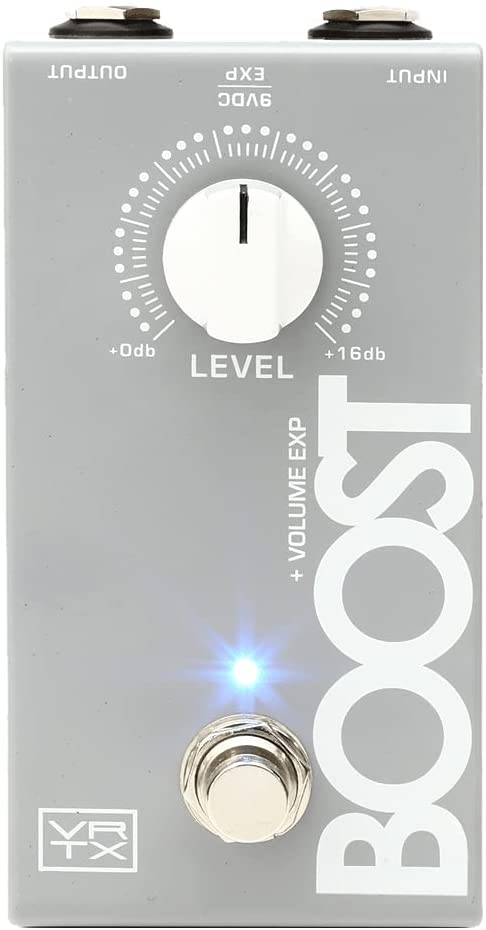 Vertex Effects have created something special with their Boost MKII pedal. While it is just a one-knob boost pedal, the folks over at Vertex Effects have incorporated some great features. 
First off, the Boost MKII offers up to +16dB of volume gain, which is perfect for adding a touch of volume to your guitar solos or you can really crank it up to push your amp or overdrive pedals further into saturation. But what is really cool is that you can use an external volume pedal or expression pedal to adjust the output volume of the pedal – meaning you can get all of the benefits of this pedal's single knob without ever bending down to change it!
WHERE TO BUY
---
Spark – TC Electronic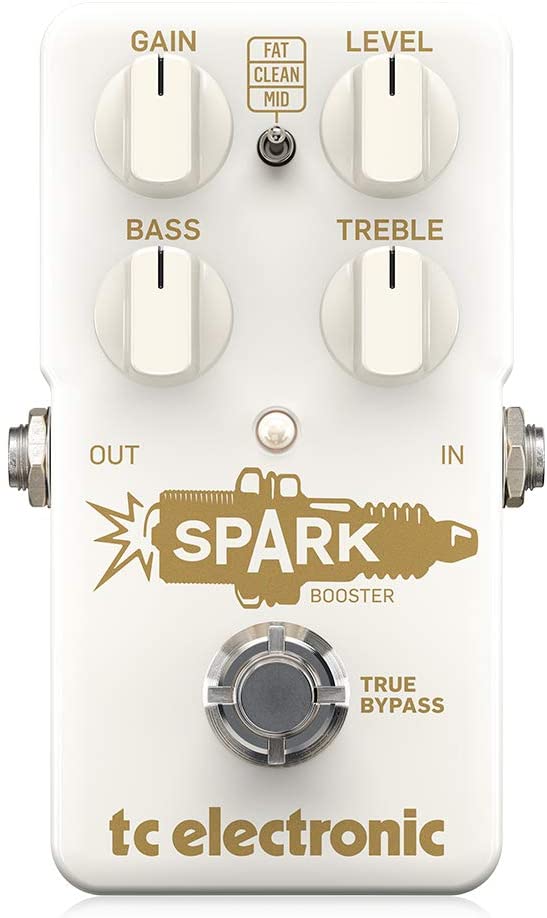 Next up is the Spark Booster from TC Electronic. This moderately-priced boost pedal not only packs a punch when it comes to volume, but it has a nice selection of knobs and switches to really help shape your tone. 
Aside from the massive +26dB of volume on tap from the pedal, the Spark also features a separate "Gain" knob that allows you to dial in a touch of grit to bring out some different tonal characteristics, as well as Bass and Treble knobs that allows you to shape your sound exactly as you need it. The Spark also has a 3-way toggle switch that lets you select between Fat, Clean, or Mid boost depending on what you need. 
WHERE TO BUY
---
Tone Job – Earthquaker Devices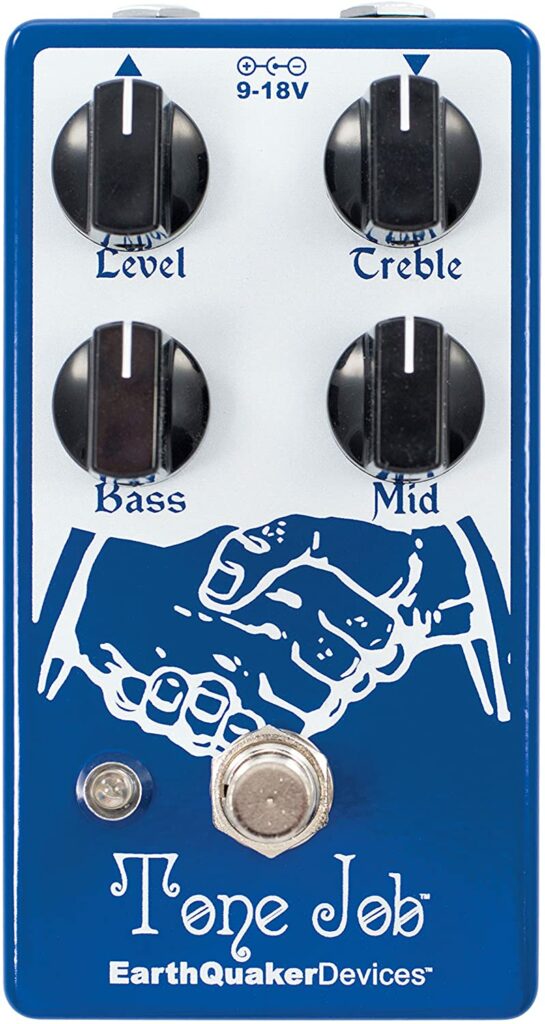 The Tone Job from Earthquaker Devices is both an EQ pedal and a boost pedal wrapped into one. 
With individual knobs for Bass, Mids, and Treble the Tone Job is a great tool for really sculpting your sound to work exactly how you need it with your current guitar and amp setup. But the Tone Job's Level knob works as a boost that amplifies your signal up to 5x louder than it would be – which makes it an incredibly versatile boost pedal!
 WHERE TO BUY
---
Nano – AWOL Pedals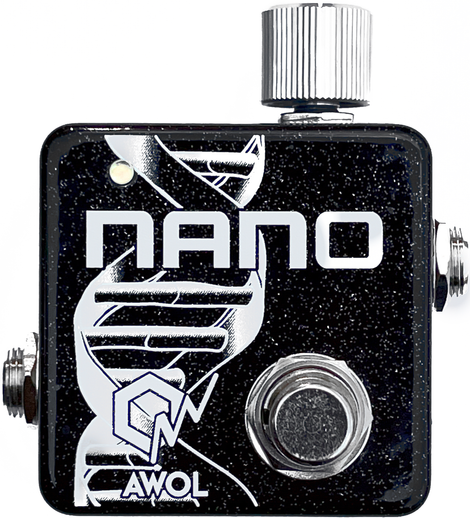 Lastly, we have the Nano from AWOL Pedals. AWOL Pedals are known for making their TINY guitar pedals, and the Nano is their take on a boost pedal. 
What the Nano lacks in size, it makes up for in volume – this pedal is loud! The Nano is built into a tiny enclosure (about half the size of your average mini pedal) and features one knob to control the output volume of the pedal. This is a great choice if you are looking for a boost pedal that will take up virtually no space on your pedalboard.
WHERE TO BUY
---
Looking for more? Check out some of our other guitar pedal shopping guides for help picking out your next guitar pedal!