This post may contain affiliate links
Caline Technology just released its offering to the portable guitar amplifier world.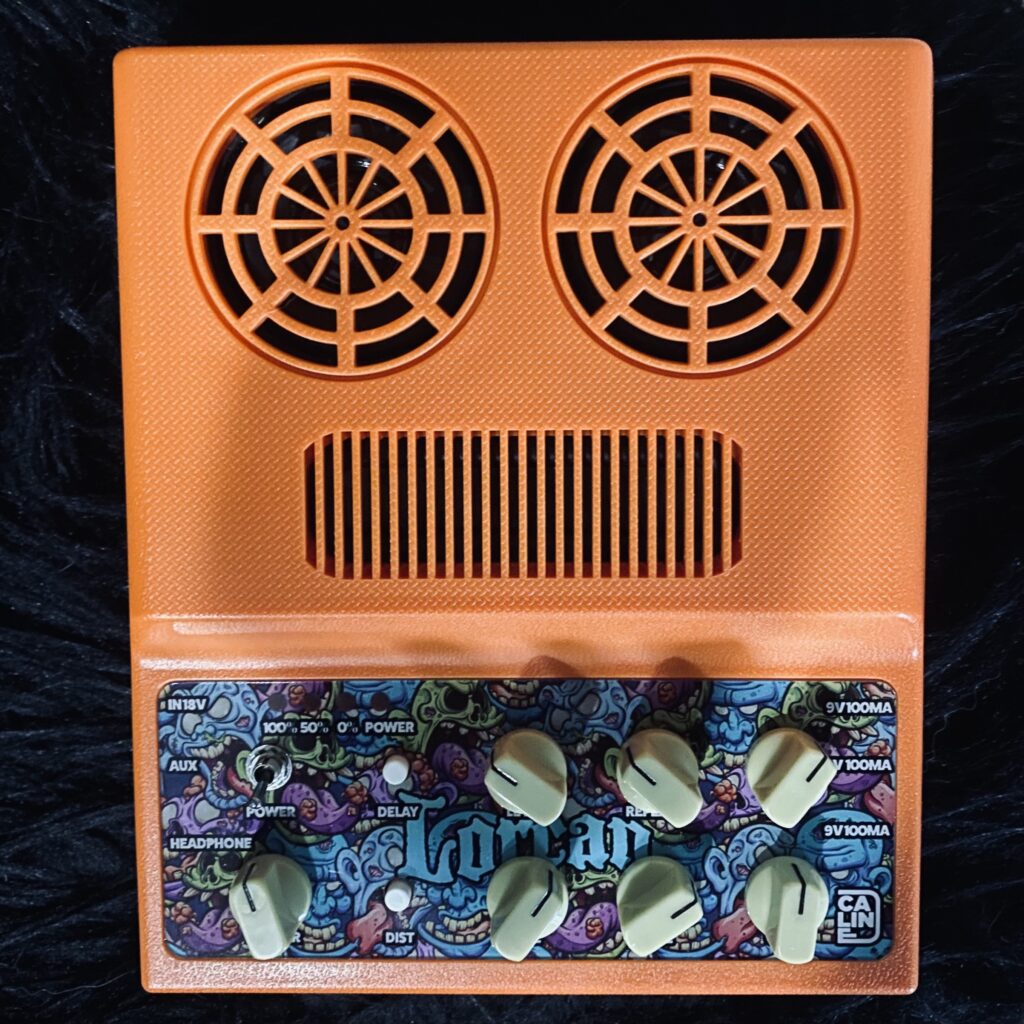 Tiny. Portable. Budget Friendly.
These are not words you would typically associate with a guitar amplifier, but that's precisely what you get with the new Lorcan Mini Guitar Amp from Caline Technology.
The Lorcan is the ultimate travel companion for any guitar player on the go. This tiny, single-channel guitar amp is fully battery-powered and features two 4-ohm 10W speakers on the front so you don't need anything else (other than a guitar and a cable) to plug in and play wherever you are.
That said, the Lorcan also offers a ¼" output on the left side which allows you to plug it into a mixer, audio interface, or another guitar amp. And if you're into playing silently, the Lorcan has a ⅛" output so you can plug in a pair of headphones and play without waking up the whole house.
As mentioned above, the Lorcan is powered by an internal battery. The manual states that the battery has about a three-hour run time, and based on my experience with it so far – that is correct. The battery can be charged using the 18v power adapter included with the Lorcan.
The Lorcan also features both an onboard delay circuit and an onboard distortion circuit – which can be turned on & off and tweaked using the knobs on the front of the Lorcan.
Delay Controls
"Delay" Button

– Turns the Delay effect on and off

"Level" Knob

– Sets the level of the delay effect

"Repeats" Knob

– Sets the number of delay repeats

"Time" Knob

– Sets the delay time
Distortion Controls
"Dist" Button – Turns the distortion effect on and off
"Vol" Knob – Sets the output volume of the distortion effect
"Tone" Knob – Adjusts the tone of the distortion effect
"Gain" Knob – Sets the amount of distortion
Aside from the onboard delay and distortion effects, the Lorcan also offers three 9v (100Ma) power outlets on the right side, allowing you to power your guitar pedals directly from the amplifier's battery.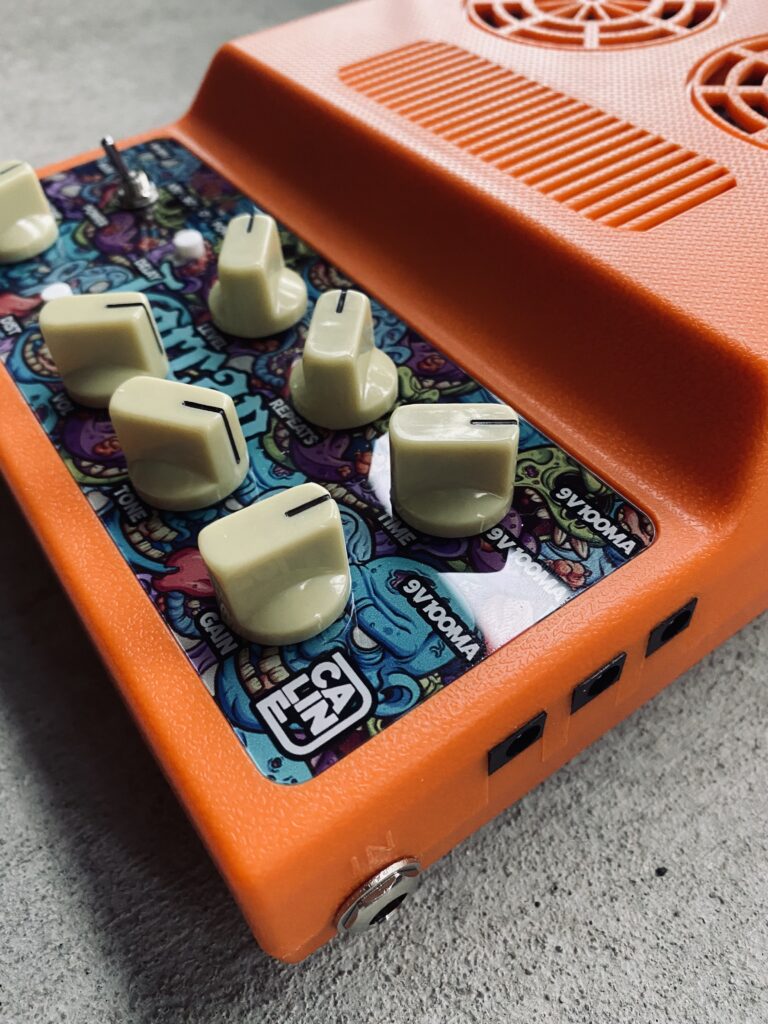 The Lorcan Mini Guitar Amp takes guitar pedals well too. I've run it through its paces and it has performed well with fuzz pedals, overdrive pedals, reverb pedals, and anything else I've plugged into it.


Lorcan Mini Amp Demo

How Does The Caline Technology Lorcan Mini Amp Sound?
In short, It sounds great! 
Obviously, you won't get screaming, tube-saturated guitar tones out of the Lorcan, but that isn't the purpose of this amp. In my opinion, the purpose of this amp is to offer a convenient solution for playing guitar on the go or at home when you can't play your big guitar amps. And for a portable, budget-friendly amplifier of this size – it sounds surprisingly good! The two speakers on the front of the amp are more than capable of handling the output of the amplifier and it is certainly loud enough to be heard wherever you go with it. 
Overall Thoughts on the Lorcan Mini Guitar Amp
The Lorcan Guitar Mini Amp from Caline Technology is the perfect amp for somebody looking for a travel-friendly guitar setup. It would make a nice practice amp to use backstage, in the tour van, in a tent, on the beach, or just about anywhere else you can think of. The internal battery and the three 9v power outlets allow you to have a full-on guitar rig (with pedals!) wherever you go.
It also is a great little desktop guitar amp to use at home – that's how I'm using mine! While it can get pretty loud, it sounds great at "bedroom" volume, which is nice for everyone else in the house. It is also very convenient to be able to quickly turn it on and work on some riffs or test a guitar pedal without turning on my entire guitar rig. 
Overall, at just $89.99, the Lorcan is honestly a very cool guitar amp and worth that price, in my opinion. It has definitely earned a permanent home on my desk and I will for sure be taking it with me on my next road trip.
Caline Technology Lorcan Mini Guitar Amp Specifications
2 x 4ohm 10W speakers. 

Built-in battery (3-hour run time / 2-hour charge time)

18v Power supply input for charging

⅛" Aux In Jack (play along to music or even use it as a speaker)

⅛" Headphone Output

Two built-in effects: Delay & Distortion 

3 x 9v 100mA power outputs for external pedals (3 DC Cables included)
Lorcan weight: 2.71 lbs (1.23 kg)
Lorcan size: 8 ½" x 7 ½" x 3" (22x19x8cm)
The Lorcan Mini Guitar Amp will be available soon, so head over to the Caline Technology website to stay up to date.
Shop for Caline Technology gear on Amazon
Shop for Caline Technology gear on Reverb.com
Disclosure: Caline Technology sent me the Lorcan amp for review and demo purposes.