This post may contain affiliate links
Throughout the year, we posted over 300 of your pedalboards on the @PedalHaven Instagram account.
Recently, we found 2022's most popular guitar pedals, based on these posts, but which of these pedalboards generated the most buzz on Instagram?
Let's take a look over the past year's posts to find the most-liked pedalboards posted on @PedalHaven in 2022.
2022's Most Liked Pedalboards
#10 – @Jason_Mathews10's Pedalboard (Built by @GoodwoodAudio)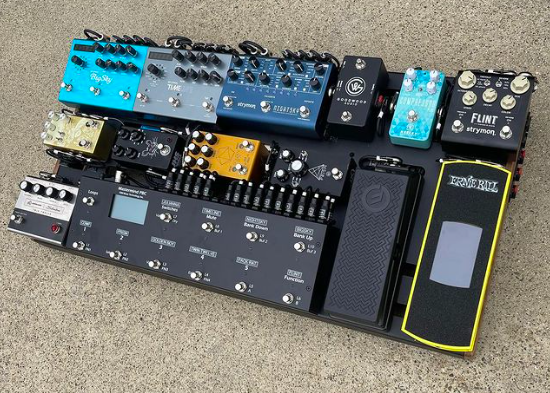 In the tenth spot is this incredible pedalboard from @Jason_Mathews10 (built by @GoodwoodAudio). This board is completely stacked with incredible pedal choices – from the tuner-equipped VPJR volume pedal from Ernie Ball and the new 1484 Twin Twelve from Jackson Audio to the Strymon-packed top row. Aside from the awesome pedal choices, Goodwood Audio has done a fantastic job of building this rig. 
---
#9 – @JacobProvo's Pedalboard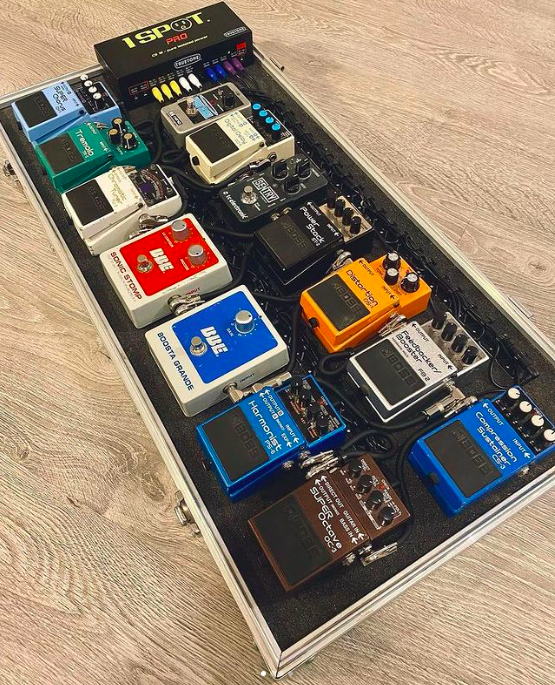 Next up, is this extremely Boss-heavy pedalboard from @JacobProvo. We all know that Boss pedals rock, but @JacobProvo has shown their love for Boss pedals with this board. From the DS-1 and the PS-6 to the OC-3 and the TR-2, there is no shortage of Boss goodness on this board. 
---

---
#8 – @Jonathan_Guitars's Pedalboard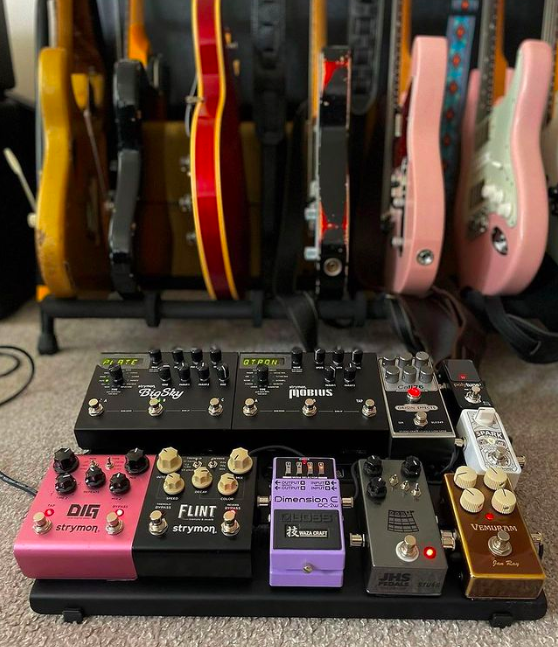 In the eighth-place position is this killer medium-sized board from @Jonathan_Guitars. Fun Fact, 6 of the 10 pedals on this pedalboard were among the most popular guitar pedals of 2022! So it is safe to say that @Jonathan_Guitars has great taste in pedals. Not to mention the gorgeous Midnight Edition Strymon pedals, the BigSky and Mobius, on the top row. This board rocks!
---
#7 – @Diego.F.Munoz's Pedalboard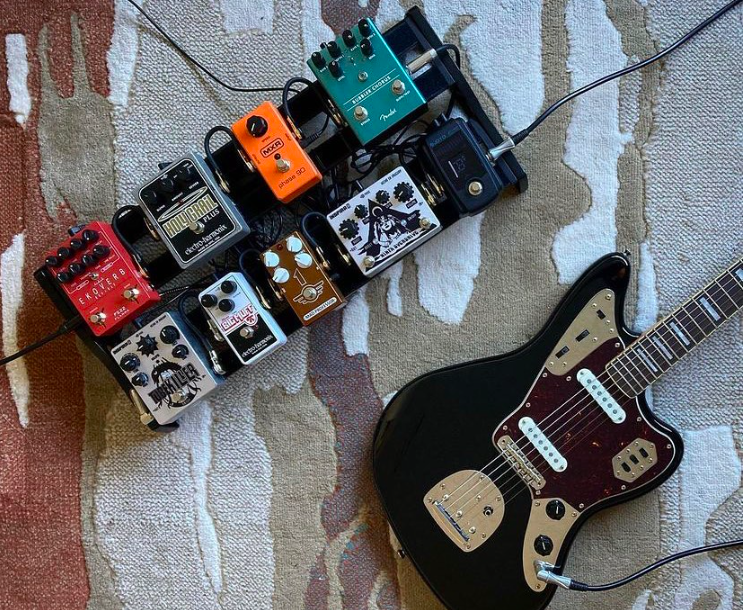 If you've followed @PedalHaven for a while, you'll be familiar with @Diego.F.Munoz's pedalboards – I've posted a few! However, this board was quite popular among the community, landing it in the seventh-place spot for 2022! This pedalboard has everything you need! 
---
#6 – @Ethanyacee's Pedalboard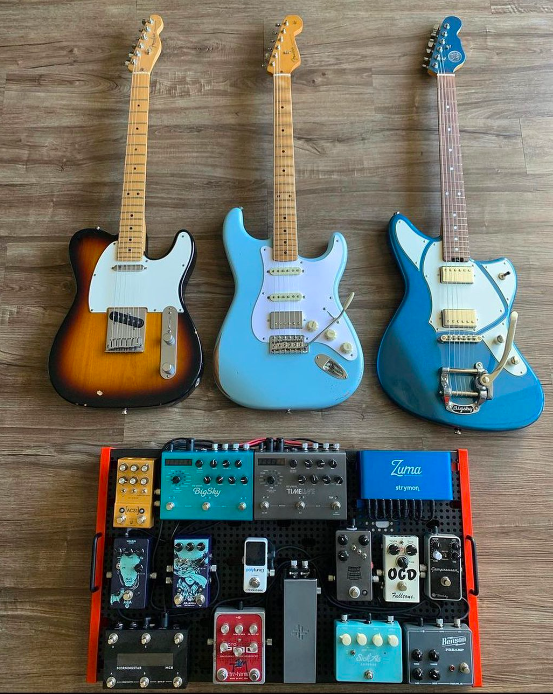 In the sixth-place position is this rig from @Ethan__Andrew__. What's not to love about this pedalboard?! Aside from being accompanied by three gorgeous guitars, this pedalboard is absolutely packed with some amazing pedals. From the Keeley Compressor+ and the Benson Preamp to ACS1 from Walrus Audio (one of our top picks for the best amp sim pedals) – there is no shortage of great pedals on this board.
---
#5 – @Cleantones.NZ's Pedalboard Build (Built for
@ChrisDies
)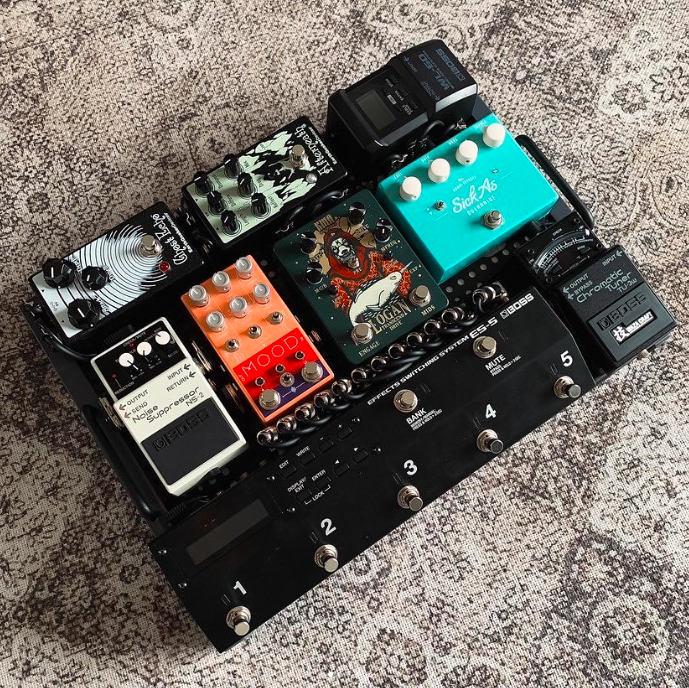 @Cleantones.NZ regularly builds mind-blowingly-cool rigs. I have posted a few of their builds throughout 2022, but this one they built for @ChrisDies was extremely liked by the community – landing it in the 5th place spot! This build is impressively clean and you should go check out @Cleantones.NZ to see what else they've built!
---
#4 – @Muse.Blues's Pedalboard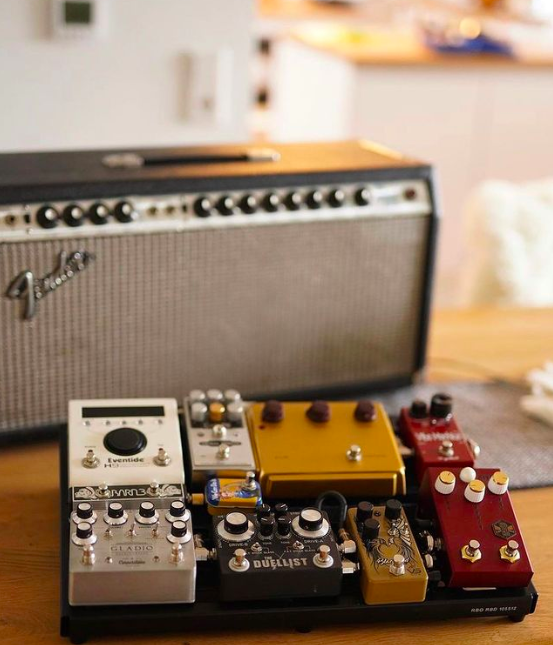 Next up, is this rig from @Muse.Blues! @Muse.Blues is always posting fantastic pedalboard builds and this one is absolutely stacked! Most notably, this board features a Klon Centaur! But it also features two other incredible drive pedals – the Cornerstone Music Gear Gladio and the KingTone Duellist! 
Related: The best Klon Centaur clones
---
#3 – Cleantones.NZ's Pedalboard Build (Built for @Casemysta)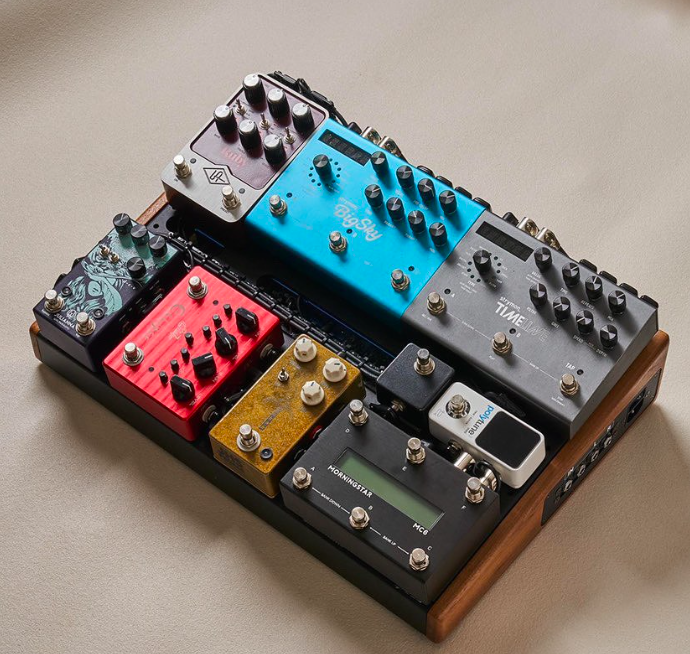 In the third-place spot is another build from the aforementioned @Cleantones.NZ! This pedalboard was built for @Casemysta. @Cleanton es.NZ's pedalboard-building expertise really shines through in this rig – from the extremely clean wiring job to the Wampler Ego Compressor cleverly hidden underneath the board (check out the original post to see it!). This is a true work of rig-building art!
---
#2 – @SantiosPinaMusic's Pedalboard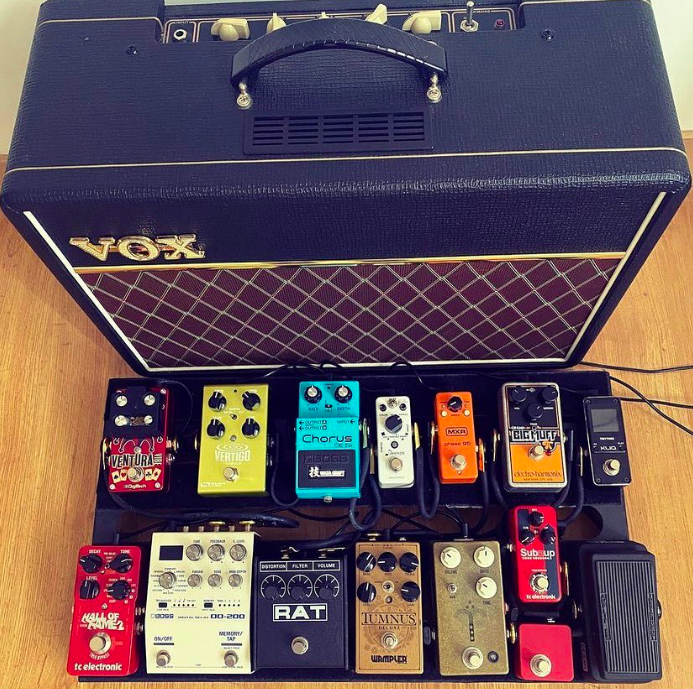 In second place is this board from @SantiosPinaMusic! From the JHS Morning Glory and the Wampler Tumnus Deluxe to the ProCo RAT and the EHX Op-Amp Big Muff – the selection of drive pedals on this board is amazing! 
---
#1 – @AntromAlexander's Pedalboard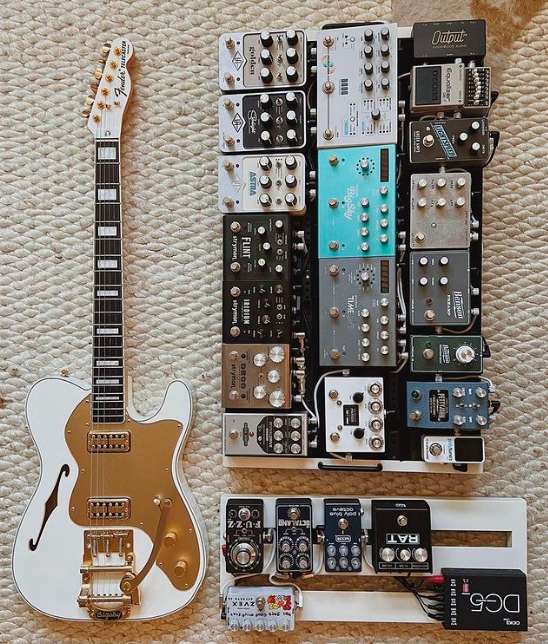 Finally, 2022's most-liked pedalboard was this incredible setup from @AntromAlexander! From the moment I posted this way back in March, I knew it was going to make this list – in fact, I still find myself scrolling back and looking at it every once in a while. 
@AntromAlexander has two pedalboards here – both packed with an array of amazing pedal choices! This pedal setup is seriously impressive and if you check out the original post you'll find it lives in an equally amazing, and aesthetically pleasing studio. 
---
There were so many awesome boards featured on the Pedal Haven IG account this year! Thanks to everyone that submitted their pedalboards and thanks to the entire Pedal Haven community for showing these boards some love. If you aren't, please consider following Pedal Haven on Instagram ( @pedalhaven )! And submit your board while you're there!
If you need a set of stickers, a new hat, or a cool shirt – head over to the Pedal Haven shop!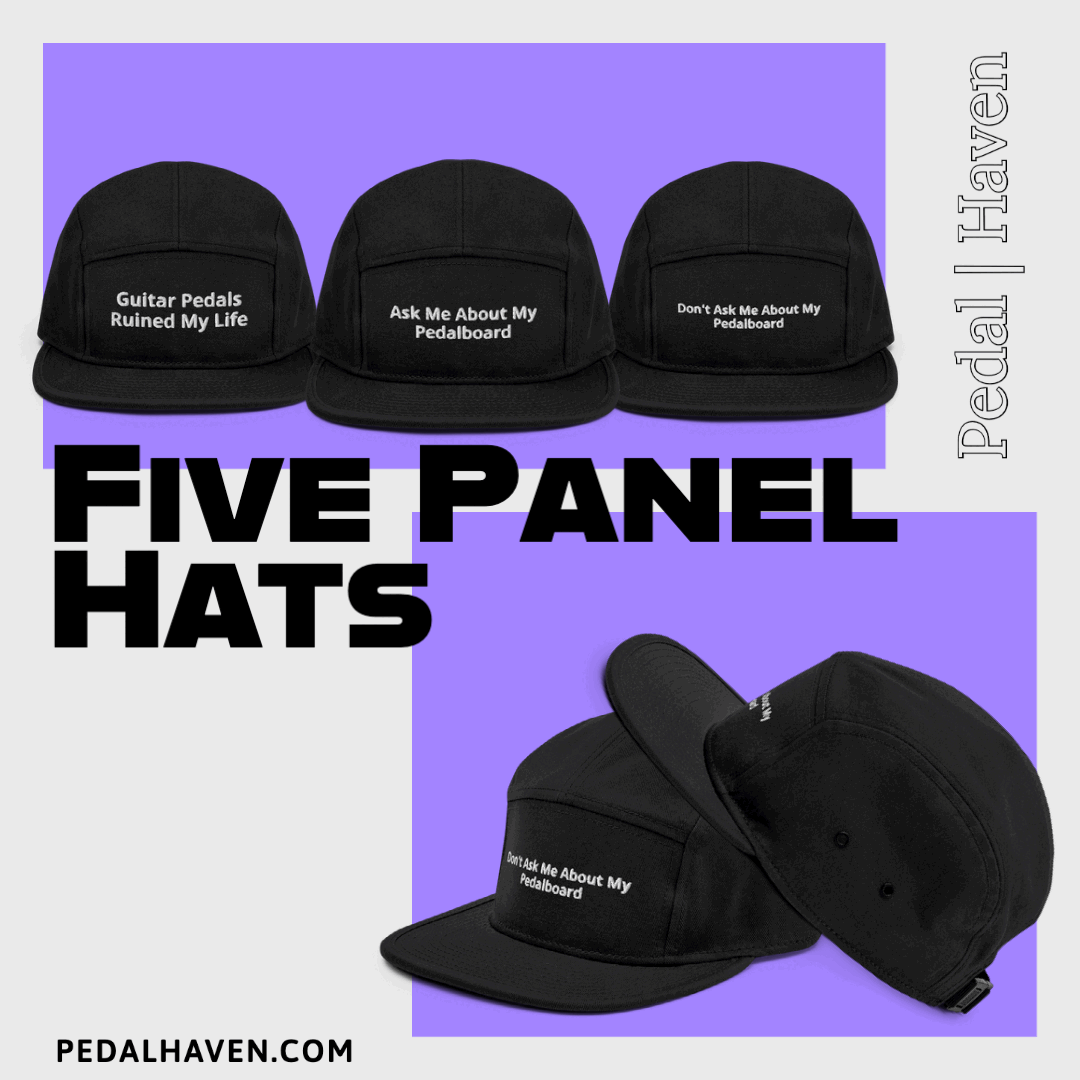 Have a happy new year and I can't wait to see all of your boards in 2023!