If you've been following @PedalHaven on Instagram, you'll know that I've posted hundreds of pedalboards filled with thousands of pedals (3,352 pedals to be exact) in 2021. But of these 3000+ pedals…what were the most popular guitar pedals found on pedalboards in 2021?
To find out, I dug into every single pedalboard that was posted this year and listed out each of the pedals on them in order to uncover the most popular pedals that have been featured on @PedalHaven in 2021.
So without further ado, let's dive in…
KEY FINDINGS
The most common pedal found across all pedalboards is the

Polytune tuner

from

TC Electronic

.

Boss is the most popular pedal brand

, with

449 pedals featured

throughout 2021. Followed by

TC Electronic

(263) and

Electro Harmonix

(245).

The Most Popular non-tuner pedals are

Boss's DD-Series

delay pedals and the

Strymon BigSky

reverb.

The average number of pedals

on a pedalboard was

11

.

Each pedalboard had an average of

$2077.67

worth of pedals on it.
The Most Popular Pedals on Pedalboards (Overall)
To begin, let's take a look at the most popular pedals found on pedalboards overall. Of course, this list is topped by tuner pedals, as just about every pedalboard has some sort of tuner pedal on it (at least it should!). The most popular pedal is the Polytune tuner from TC Electronic, followed by the classic Boss TU-series tuners. But delay pedals are very prevalent in this list, with the Boss DD-series delays and the Strymon TimeLine ranking quite high.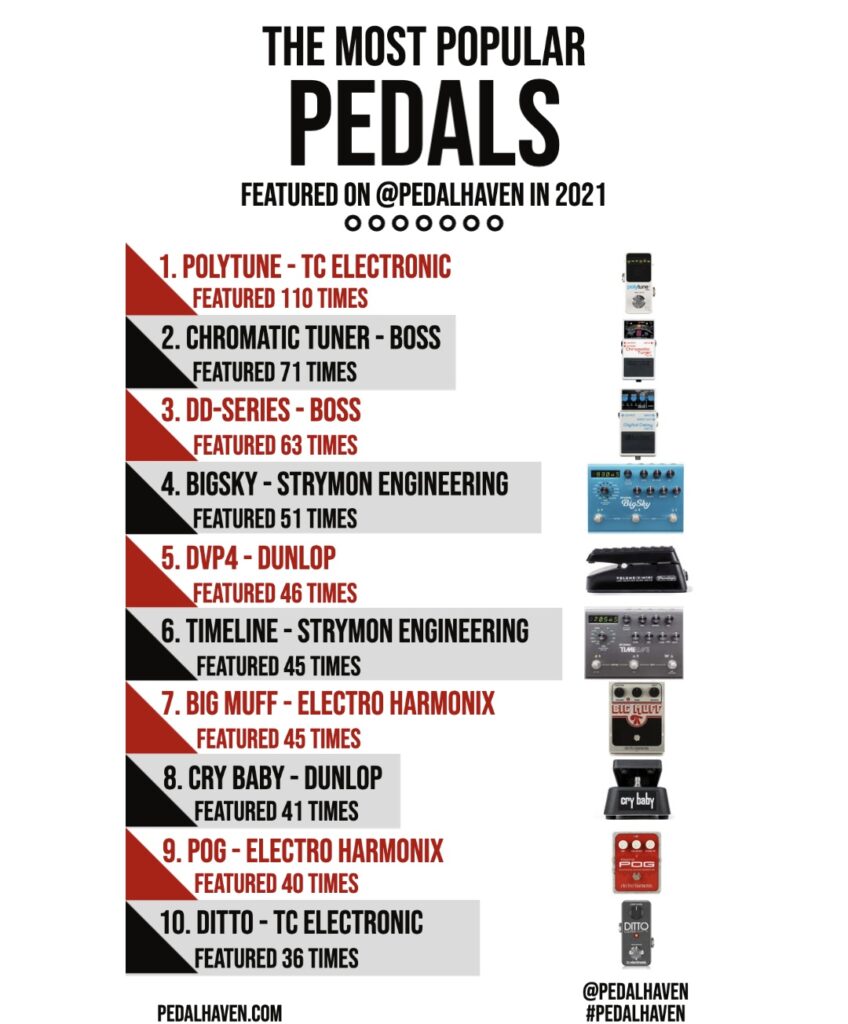 The Most Popular Guitar Pedal Manufacturers in 2021
Here's a look at the top 10 most featured guitar pedal manufacturers in 2021. Of course, the list is topped with Boss and TC Electronic (largely due to the Boss TU-Series Tuners and TC Electronic's Polytune Tuner being so popular), but it is awesome to see brands like Strymon, Walrus Audio, JHS, and Earthquaker Devices up here competing with these monolithic brands.
| | |
| --- | --- |
| Manufacturer | # of Pedals Featured |
| Boss | 449 |
| TC Electronic | 263 |
| Electro Harmonix | 245 |
| Strymon Engineering | 241 |
| MXR | 164 |
| Walrus Audio | 138 |
| Dunlop | 129 |
| JHS Pedals | 124 |
| Earthquaker Devices | 119 |
| Xotic | 64 |
The Most Popular Guitar Effect Types of 2021
There is a near-endless sea of guitar effects on the market today. But when you break them down by type, some effect types (like overdrive and fuzz) tend to pop up more often than others. Here is a breakdown of the most common effect types on pedalboards in 2021 along with the most popular pedal in each type.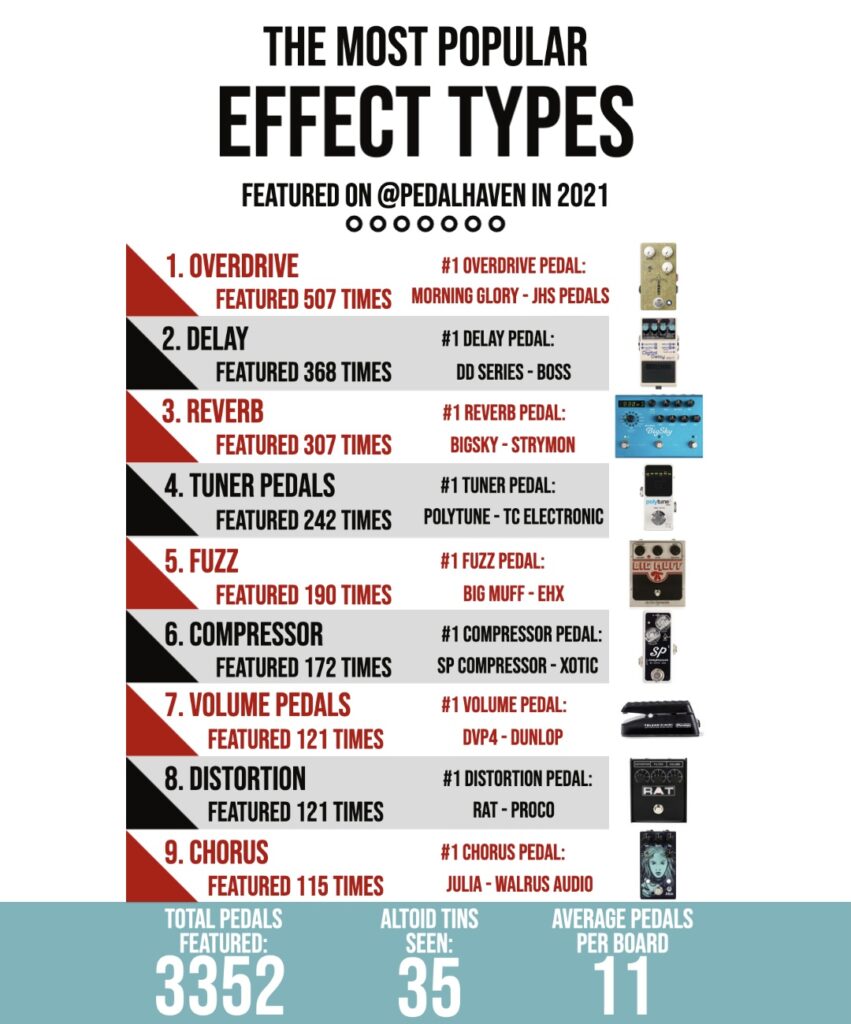 Shameless plug of the Pedal Haven shop in case you need a new shirt or some stickers. You can check it out here!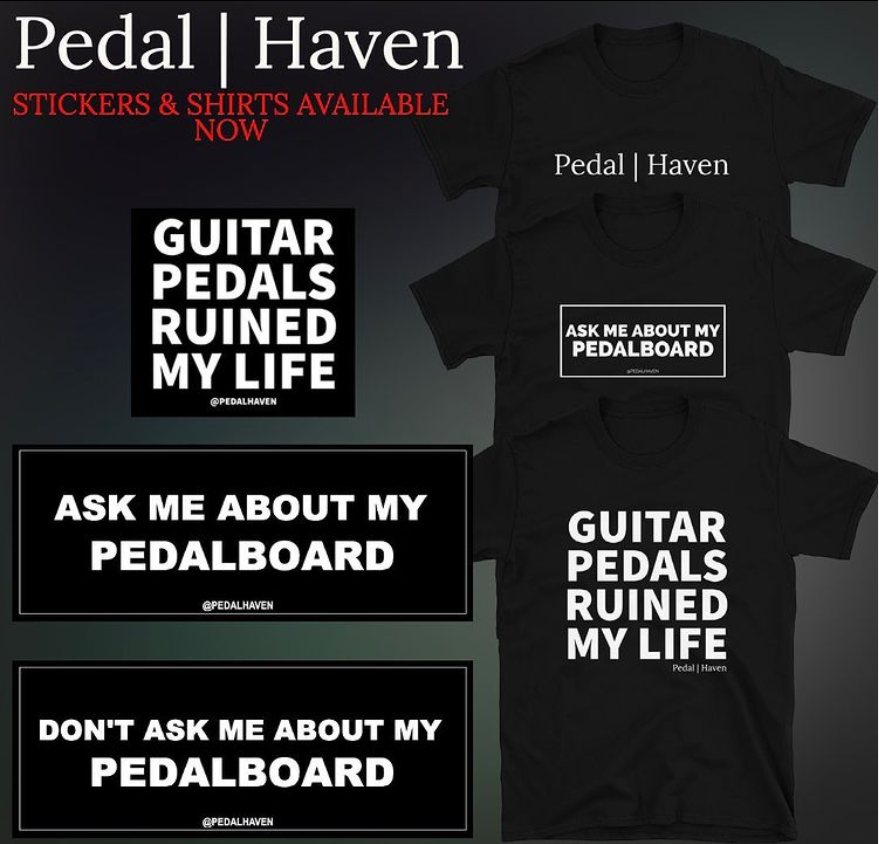 The Most Popular Pedals on Pedalboards, by Effect Type
The Most Popular Overdrive Pedals of 2021
Now let's dive into the most popular overdrive pedals found on pedalboards this year. With overdrive pedals being the most used effect type, I saw a ton of different overdrive pedals.
Digging into the top 10, we see the Morning Glory from JHS is the most popular overdrive pedal this year – featured 27 different times! This is followed extremely closely by both the OCD from Fulltone and the Plumes from Earthquaker Devices. 
Digging deeper, we see the Wampler Pedals Tumnus, the J. Rockett Audio Designs Archer, and the Electro Harmonix Soul Food in this list – all three of which were featured in our list of the best Klon Centaur clones.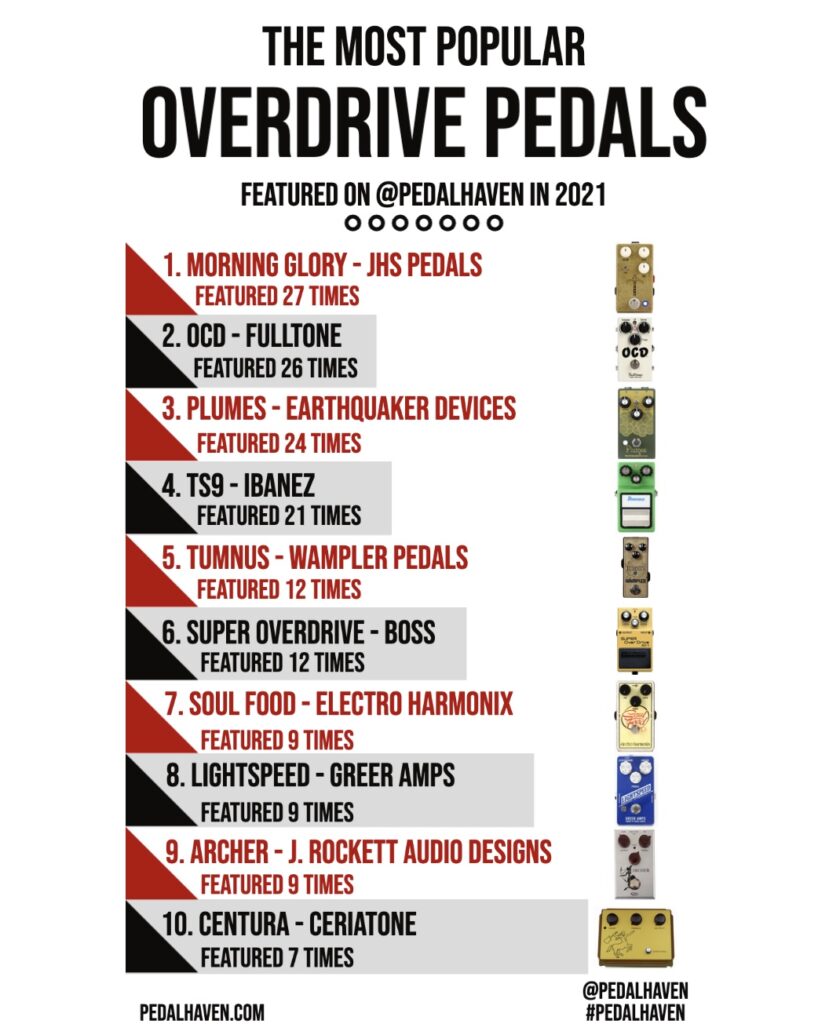 Related: Pedal Haven's List of The Best Overdrive Pedals
The Most Popular Delay Pedals of 2021
Up next, is the second-most-popular effect type: delay pedals. This list is dominated by Boss's iconic line of DD-Series delay pedals (like the DD-7, DD-3, DD-200, or the DD-500) which were featured 63 times overall.
However, Strymon Engineering takes over this list with 3 of their pedals – the TimeLine, Volante, and the El Capistan – making it into the top 10.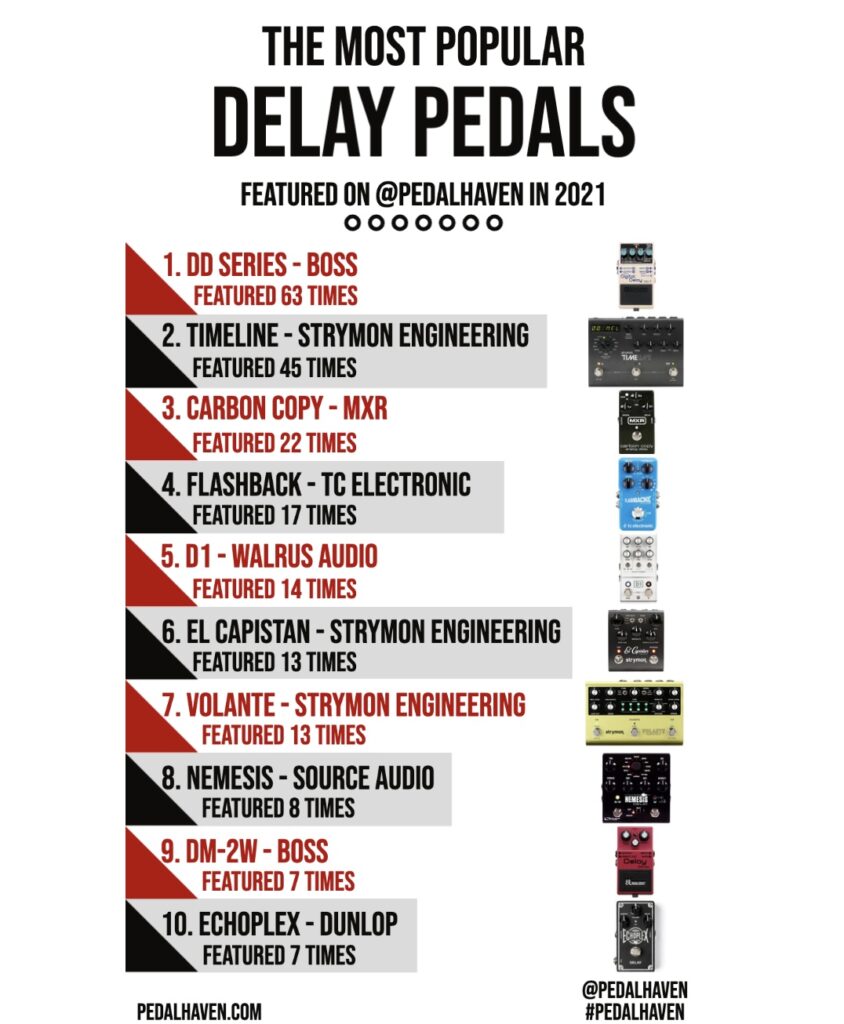 Related: Pedal Haven's List of The Best Delay Pedals
The Most Popular Reverb Pedals of 2021
Reverb pedals are a staple of any pedalboard, and there was no shortage of reverb pedals found on pedalboards in 2021.
Just like last year's study, the Strymon Engineering BigSky tops the list as the most popular reverb pedal. But the rest of the list looks quite different compared to last year. Here are 2021's most popular reverb pedals: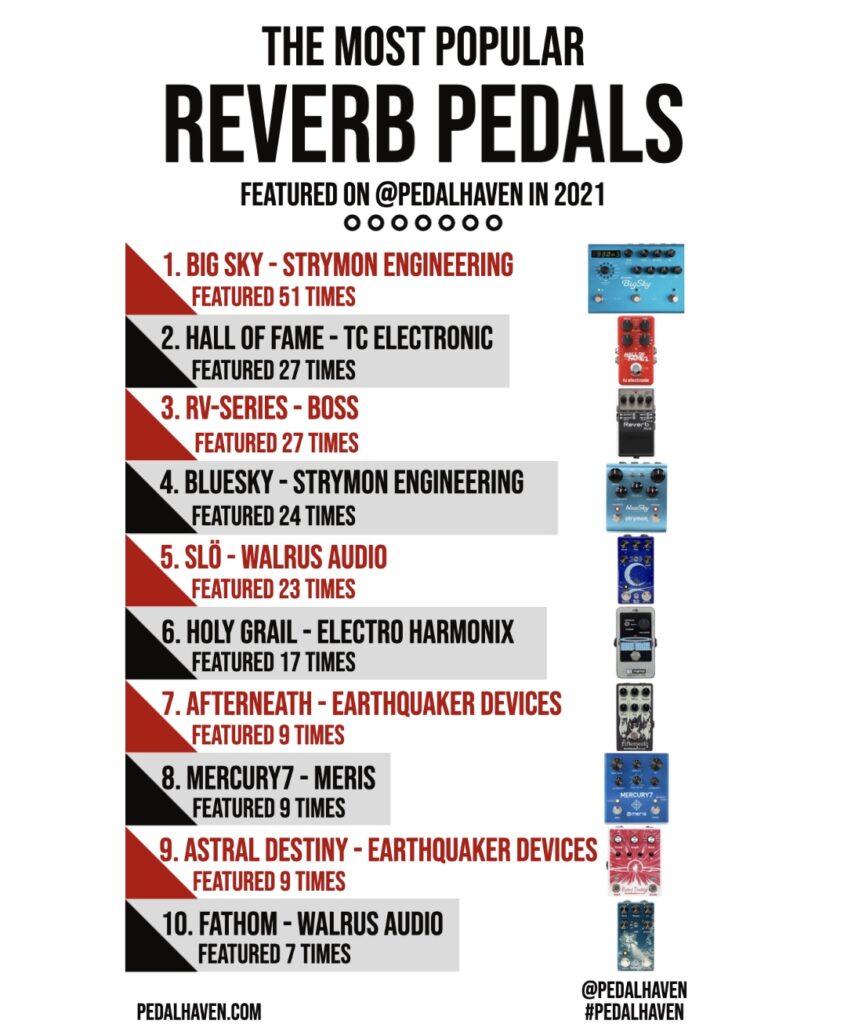 Related: Pedal Haven's List of The Best Reverb Pedals
The Most Popular Fuzz Pedals of 2021
There was a nice mix of classic and modern fuzz pedals in this year's list. Unsurprisingly, the Electro Harmonix Big Muff takes first place in the list, with 45 different Big Muff pedals featured on pedalboards in 2021. It is cool to see a few of the new Boss TB-2W Tone Benders popping up on boards! I'm guessing 2022 will have even more of those. 
The Most Popular Compressor Pedals of 2021
The list of the most featured compressor pedals looks quite similar to last year's list, but there have been a few mixups! This year, the SP Compressor from Xotic took first place – featured 23 times – followed by the classic Keeley Compressor+, and the Deep Six from Walrus Audio.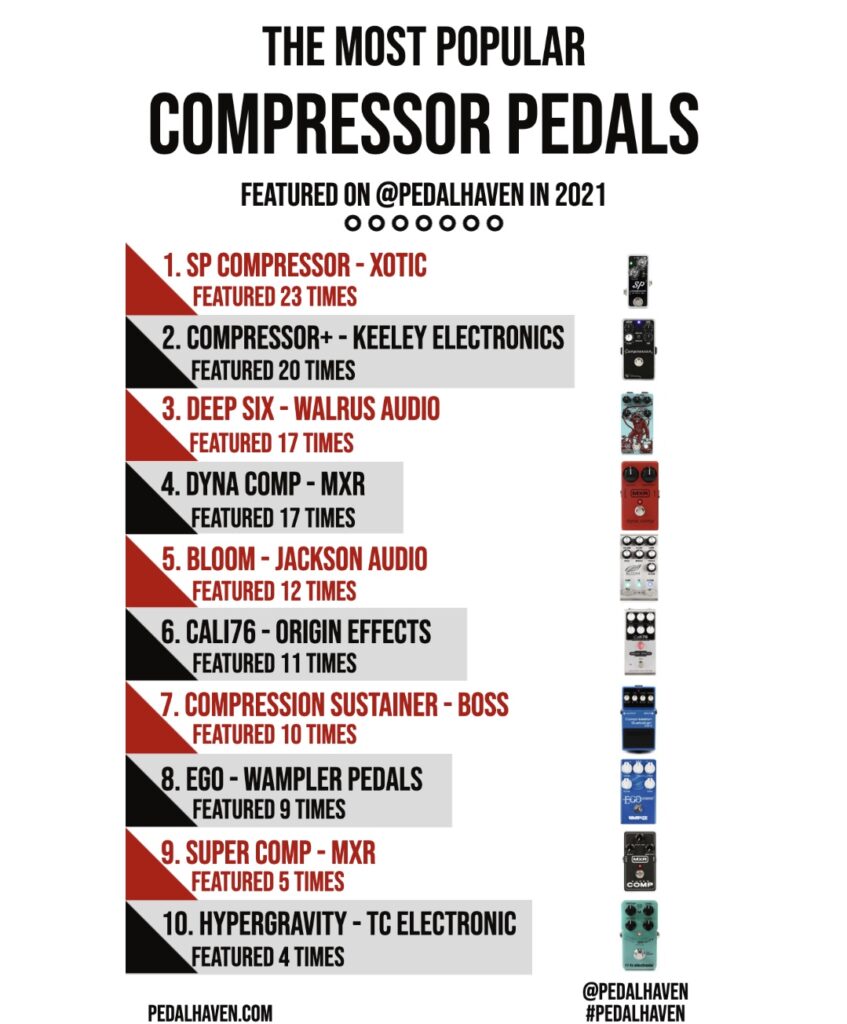 Related: The Ultimate Guide to Compressor Pedals
The Most Popular Distortion Pedals of 2021
Let's get heavy! This year's list of the most popular distortion pedals is a wide-ranging mix of awesome pedals. At the top of the list is the iconic RAT pedal that we all know and love. However, it is cool to see so many pedals inspired by the RAT making the top 10 list this year.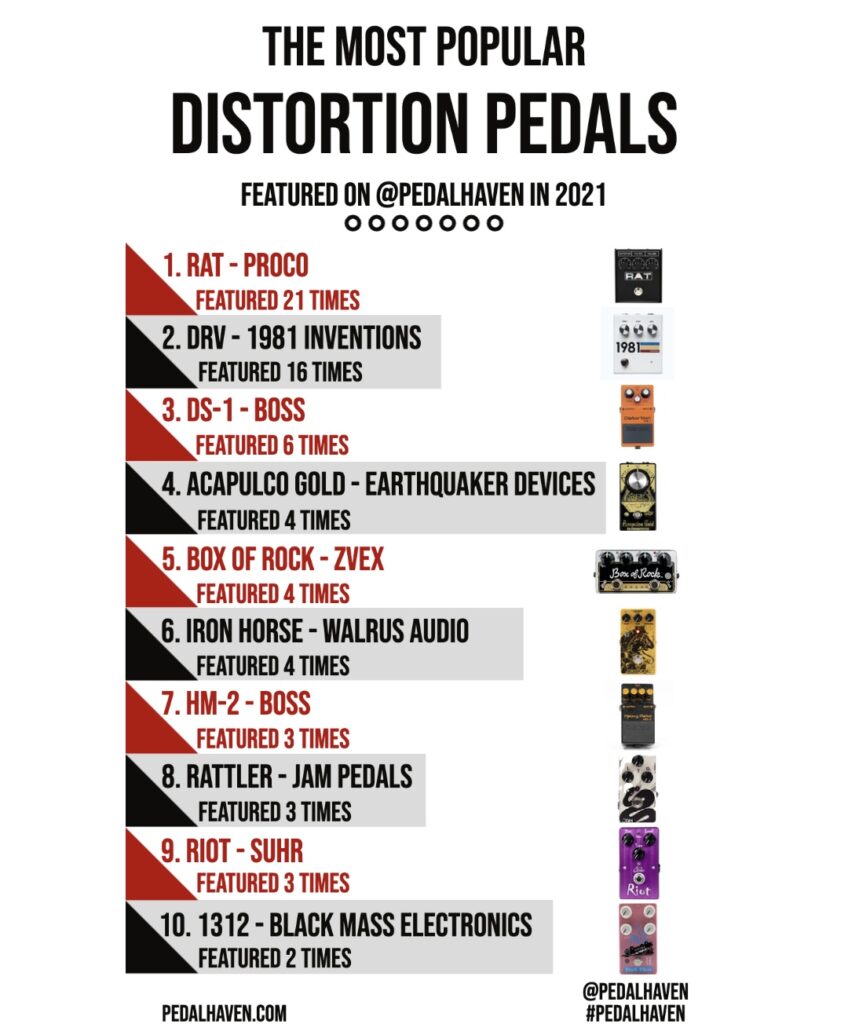 The Most Popular Chorus & Vibrato Pedals of 2021
I decided to combine the Chorus and Vibrato sections this year because so many chorus pedals are marketed as both chorus and vibrato pedals. With that said, there are some fantastic chorus/vibrato pedals found here and some familiar faces when compared to last year's list.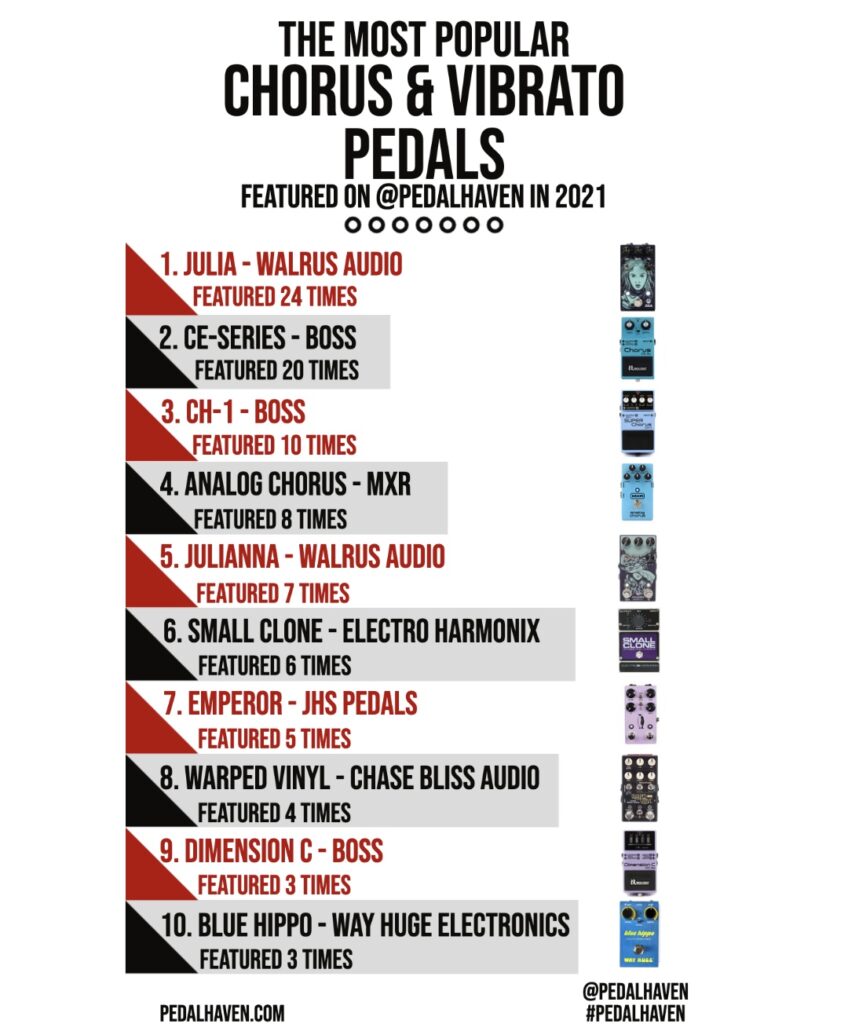 Related: Pedal Haven's List of the Best Chorus Pedals
The Most Popular Boost Pedals of 2021
Now let's check out the most featured boost pedals from 2021! This list is topped by the incredibly-popular EP Booster from Xotic. Followed by the classic Micro Amp from MXR and the TC Electronic Spark & the Vertex Effects Boost tied for 3rd place.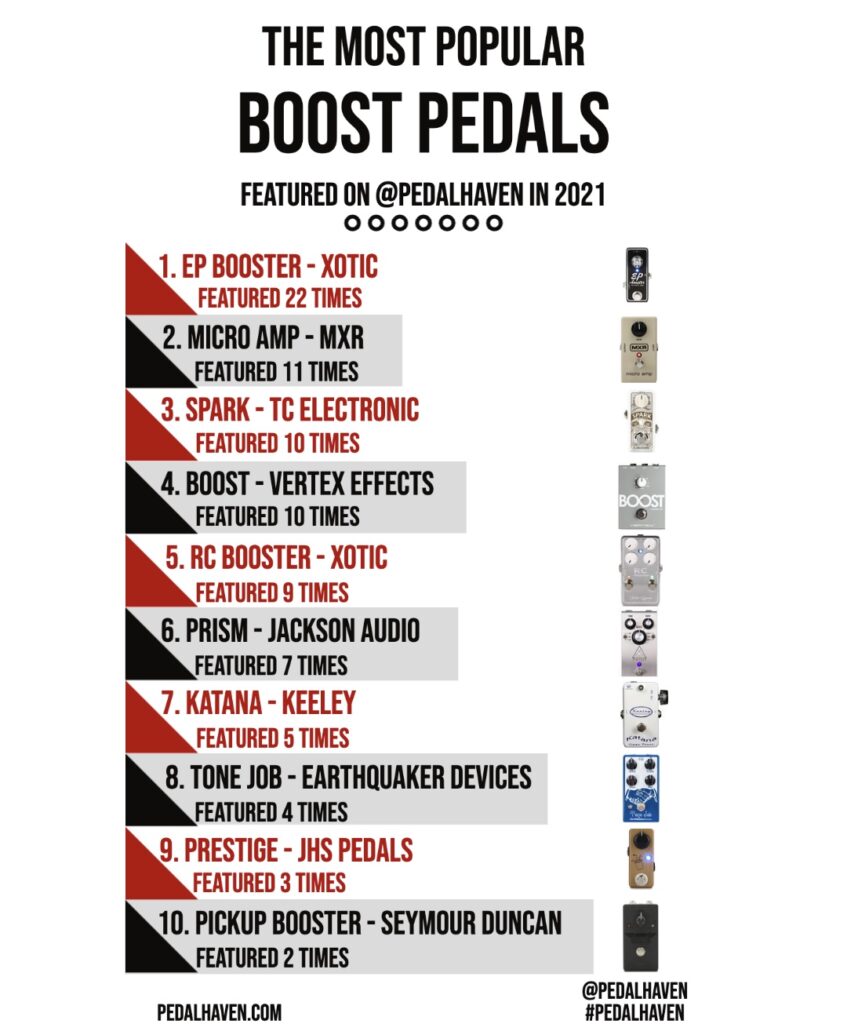 The Average Cost of a Pedalboard
So how much does it cost to fill up a pedalboard? While doing this study, I went through and grabbed the retail price of (nearly) every pedal* featured on pedalboards in 2021. With this data in hand, I was able to work out the cost of each pedalboard (if all pedals were purchased brand new) and found that the average pedalboard has $2077.67 worth of pedals on it.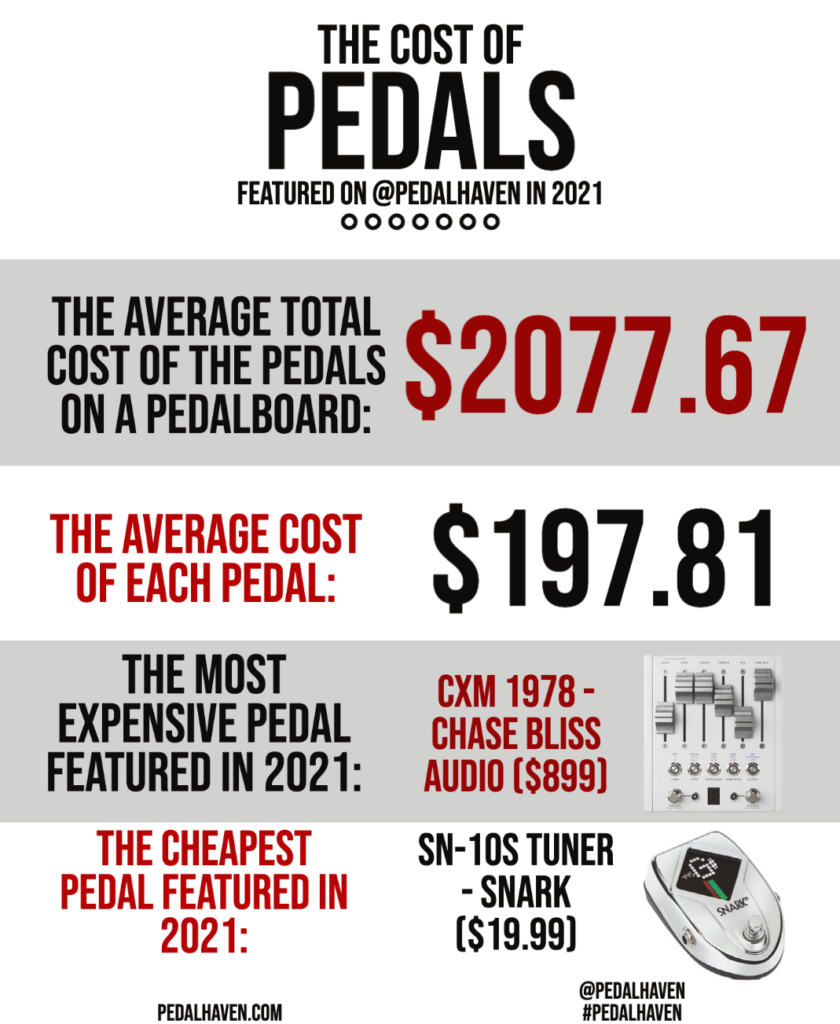 *Some out-of-production pedals with massively marked-up secondhand prices (like the Klon Centaur, which was featured twice in 2021) were left out as they would have drastically changed the average cost figures.
*"Average Total Cost of the Pedals on a Pedalboard" number is based only on the price of the pedals themselves and does not include the pedalboard itself, patch cables, power supply,..etc…
The Most Expensive Guitar Pedal Featured in 2021
The most expensive guitar pedal that was featured on @PedalHaven in 2021 was the Chase Bliss Audio CXM 1978 Reverb – which retails for $899. 
The Cheapest Guitar Pedal Featured in 2021
The cheapest guitar pedal that was featured on @PedalHaven in 2021 was a tuner – the Snark SN-10S Stage & Studio Tuner, which retails for $19.99. 
The cheapest non-tuner pedal featured was the Behringer SF300 Super Fuzz, which retails for around $25.
The Most Popular Pedals Under $100 in 2021
As the price of guitar pedals seems to constantly be rising, there are still a few amazing guitar pedals that cost well under $100. Here are the top 10 most-featured guitar pedals that cost less than $100.
Big shoutout to my friend Matt (@guitarsforidiots) for recommending this idea!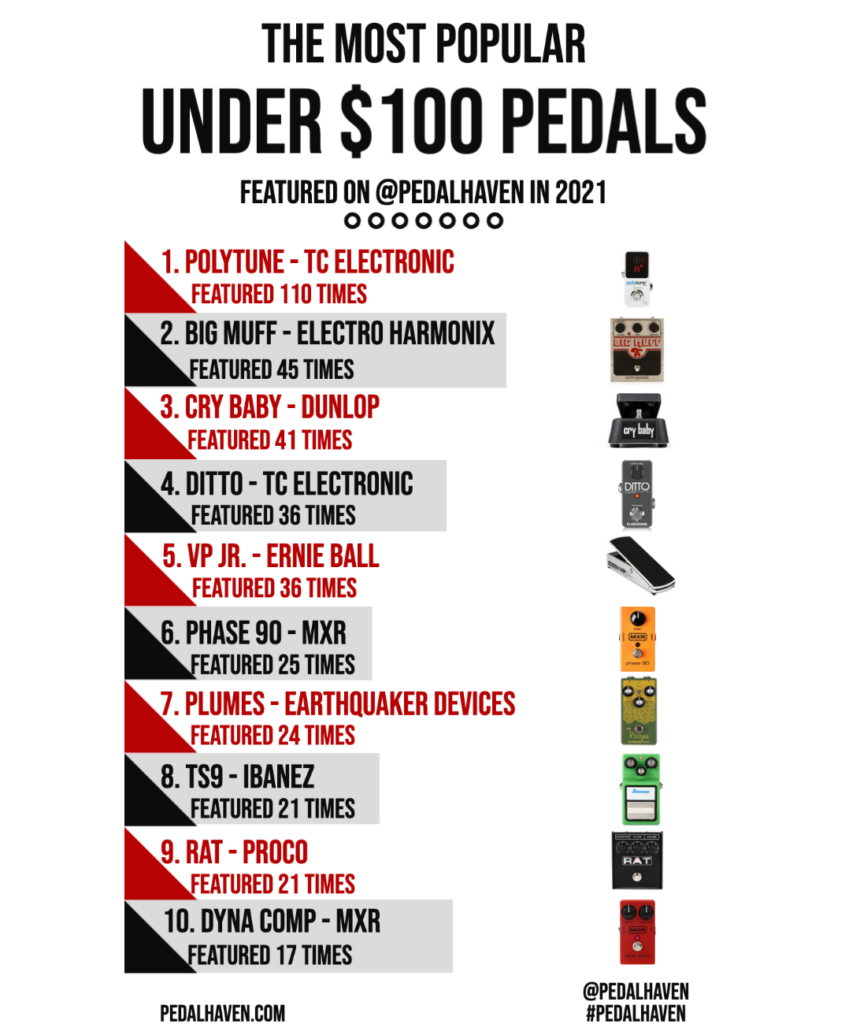 Building the Most Popular Pedalboard of 2021
So now that we know what 2021's most popular pedals were on @PedalHaven, how would it look if we built a pedalboard using all of the top pedals in each category?
Using PedalboardPlanner.com, I put together the ultimate 2021 pedalboard: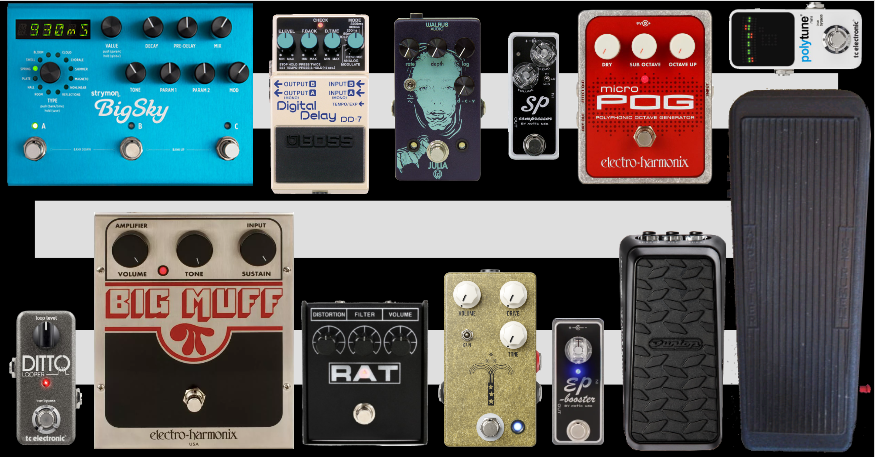 I think you could have some fun with this board! 🙂
Thank you all for another exciting year! Please do share this around if you feel so inclined (it helps a lot) and consider following me on Instagram (@PedalHaven) or grabbing some merch from the shop if you'd like to help support. However, even if you're just reading this, thank you so much. 
If you have any questions about this study or have questions about some data points that I may have missed, please reach out to me over on Instagram @PedalHaven and I am happy to answer your questions.